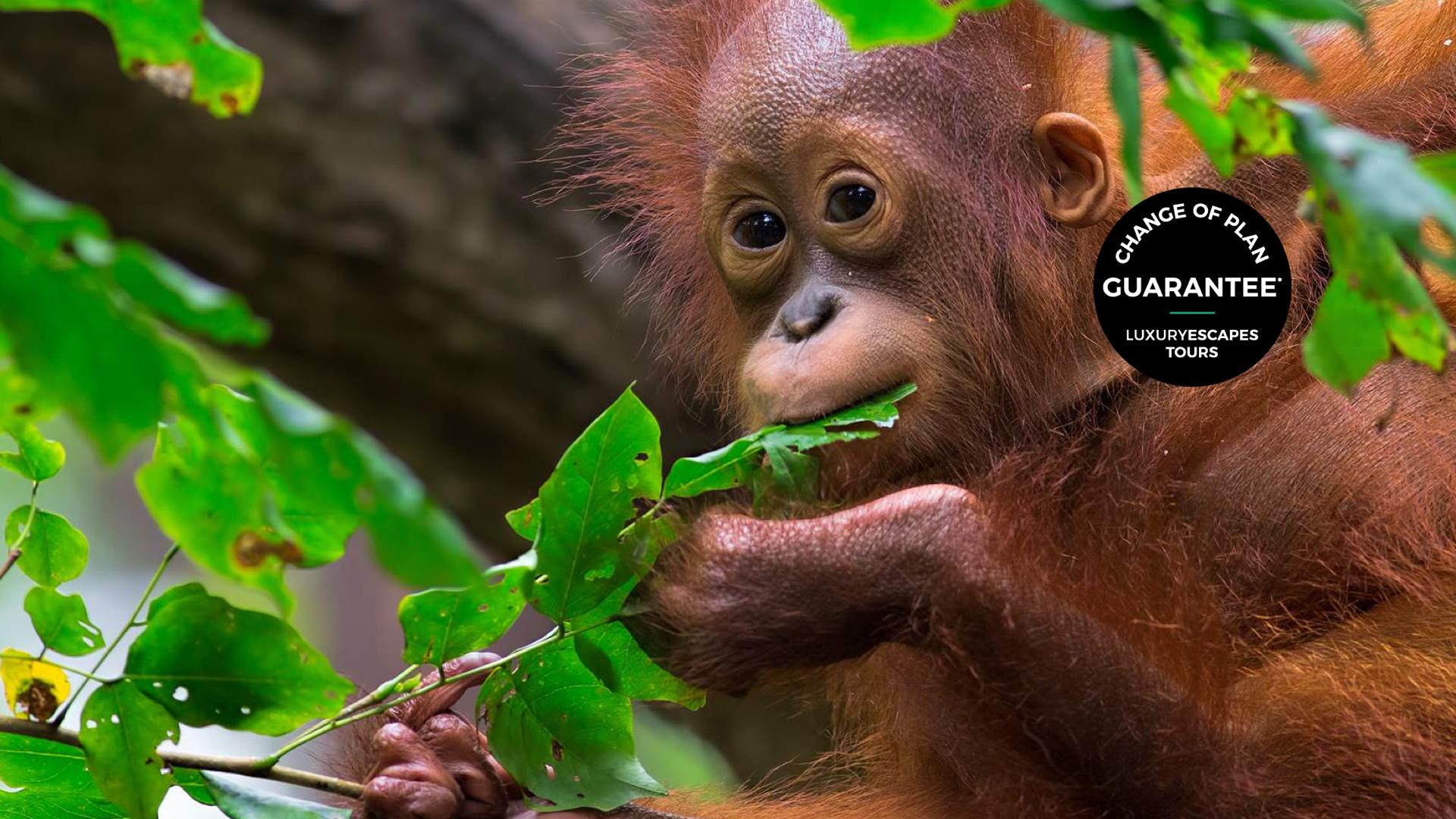 Borneo & Malaysia: 9-Day Luxury Small-Group Tour with Sepilok Orangutan Centre Visit & Penang & Ipoh Extension
Experience the natural beauty of Borneo and cultural diversity of Malaysia on this nine-day luxury small-group tour (max. 16 travellers). Enjoy unforgettable animal encounters – including visits to the Bornean Sun Bear Conservation Centre and the Sepilok Orangutan Rehabilitation Centre – a tasting trail walking tour through the hidden alleys of Kuala Lumpur, and a memorable boat cruise on the Lower Kinabatangan River, spotting wildlife along the way.
Includes accommodation in Malaysia's finest five-star hotels (including Shangri-La hotels in Kuala Lumpur and Kota Kinabalu), and boutique wilderness retreats, daily breakfast and a selection of dining experiences, all internal flights, expert English-speaking naturalist guides in Borneo and English-speaking local guides in Malaysia, private transportation in most locations, incredible insider experiences and more.
VIP upgrade: Take luxury to the next level and choose the VIP package with upgraded hotel rooms, including club access at selected Shangri-La hotels.
Penang and Ipoh extension available: Upgrade and extend your tour with six days in Malaysia, where you'll discover fascinating Penang, historic Ipoh and the mesmerising Tempurung Cave, an incredible natural limestone structure where you will admire the Golden Flowstone – a smoothed stone cascade that appears golden when the river is in flow.
Your journey takes you to: Kuala Lumpur – Malacca – Sandakan – Bornean Sun Bear Conservation Centre – Sepilok Orangutan Rehabilitation Centre – Kinabatangan River – Kota Kinabalu.
Book with confidence: Our Change of Plan Guarantee will permit you to alter your booking, no questions asked up to 90 days before departure. Furthermore, if you are unable to travel as a result of Government travel restrictions, Luxury Escapes will assist you with a date change, provide you with a credit or process a refund for your booking less any non-recoverable costs. See Fine Print for details.
package Options
9 Days From
Valued up to US$2,711
Inclusion highlights:
Package valid for one person (twin share) – you MUST purchase two packages
Eight nights of luxury accommodation, including two nights in the heart of Kuala Lumpur at the iconic Shangri-La Hotel, two nights at Kinabatangan Wetlands Resort – an exclusive nature retreat surrounded by pristine freshwater swamps and mangrove forests, and two nights of indulgent luxury at the stunning Shangri-La's Rasa Ria Resort in Kota Kinabalu
An internal flight from Kuala Lumpur, Malaysia to Sandakan, Borneo and from Sandakan to Kota Kinabalu
Daily breakfast and select dining experiences
VIP UPGRADE LOW SEASON – TWIN SHARE
9 Days From
Valued up to US$2,854
Inclusion highlights:
Package valid for one person (twin share) – you MUST purchase two packages
Upgraded room types, offering ultra-luxe accommodation, plus club access at Shangri-La Hotel, Kuala Lumpur
Eight nights of luxury accommodation, including two nights in the heart of Kuala Lumpur at the iconic Shangri-La Hotel, two nights at Kinabatangan Wetlands Resort – an exclusive nature retreat surrounded by pristine freshwater swamps and mangrove forests, and two nights of indulgent luxury at the stunning Shangri-La's Rasa Ria Resort in Kota Kinabalu
An internal flight from Kuala Lumpur, Malaysia to Sandakan, Borneo and from Sandakan to Kota Kinabalu
TWIN SHARE LOW SEASON – EXTENSION
14 Days From
Valued up to US$4,871
Inclusion highlights:
Package valid for one person (twin share) – you MUST purchase two packages
Eight nights of luxury accommodation, including two nights in the heart of Kuala Lumpur at the iconic Shangri-La Hotel, two nights at Kinabatangan Wetlands Resort – an exclusive nature retreat surrounded by pristine freshwater swamps and mangrove forests, and two nights of indulgent luxury at the stunning Shangri-La's Rasa Ria Resort in Kota Kinabalu
An internal flight from Kuala Lumpur, Malaysia to Sandakan, Borneo and from Sandakan to Kota Kinabalu
Daily breakfast and select dining experiences
VIP UPGRADE LOW SEASON – TWIN SHARE EXTENSION
14 Days From
Valued up to US$5,076
Inclusion highlights:
Package valid for one person (twin share) – you MUST purchase two packages
Upgraded room types, offering ultra-luxe accommodation, plus club access at Shangri-La Hotel, Kuala Lumpur and Shangri-La's Rasa Sayang Resort, Penang
Eight nights of luxury accommodation, including two nights in the heart of Kuala Lumpur at the iconic Shangri-La Hotel, two nights at Kinabatangan Wetlands Resort – an exclusive nature retreat surrounded by pristine freshwater swamps and mangrove forests, and two nights of indulgent luxury at the stunning Shangri-La's Rasa Ria Resort in Kota Kinabalu
An internal flight from Kuala Lumpur, Malaysia to Sandakan, Borneo and from Sandakan to Kota Kinabalu
9 Days From
Valued up to US$2,972
Inclusion highlights:
Package valid for one person (twin share) – you MUST purchase two packages
Eight nights of luxury accommodation, including two nights in the heart of Kuala Lumpur at the iconic Shangri-La Hotel, two nights at Kinabatangan Wetlands Resort – an exclusive nature retreat surrounded by pristine freshwater swamps and mangrove forests, and two nights of indulgent luxury at the stunning Shangri-La's Rasa Ria Resort in Kota Kinabalu
An internal flight from Kuala Lumpur, Malaysia to Sandakan, Borneo and from Sandakan to Kota Kinabalu
Daily breakfast and select dining experiences
VIP UPGRADE HIGH SEASON – TWIN SHARE
9 Days From
Valued up to US$3,182
Inclusion highlights:
Package valid for one person (twin share) – you MUST purchase two packages
Upgraded room types, offering ultra-luxe accommodation, plus club access at Shangri-La Hotel, Kuala Lumpur
Eight nights of luxury accommodation, including two nights in the heart of Kuala Lumpur at the iconic Shangri-La Hotel, two nights at Kinabatangan Wetlands Resort – an exclusive nature retreat surrounded by pristine freshwater swamps and mangrove forests, and two nights of indulgent luxury at the stunning Shangri-La's Rasa Ria Resort in Kota Kinabalu
An internal flight from Kuala Lumpur, Malaysia to Sandakan, Borneo and from Sandakan to Kota Kinabalu
TWIN SHARE HIGH SEASON – EXTENSION
14 Days From
Valued up to US$5,431
Inclusion highlights:
Package valid for one person (twin share) – you MUST purchase two packages
Eight nights of luxury accommodation, including two nights in the heart of Kuala Lumpur at the iconic Shangri-La Hotel, two nights at Kinabatangan Wetlands Resort – an exclusive nature retreat surrounded by pristine freshwater swamps and mangrove forests, and two nights of indulgent luxury at the stunning Shangri-La's Rasa Ria Resort in Kota Kinabalu
An internal flight from Kuala Lumpur, Malaysia to Sandakan, Borneo and from Sandakan to Kota Kinabalu
Daily breakfast and select dining experiences
VIP UPGRADE HIGH SEASON – TWIN SHARE EXTENSION
14 Days From
Valued up to US$5,660
Inclusion highlights:
Package valid for one person (twin share) – you MUST purchase two packages
Upgraded room types, offering ultra-luxe accommodation, plus club access at Shangri-La Hotel, Kuala Lumpur and Shangri-La's Rasa Sayang Resort, Penang
Eight nights of luxury accommodation, including two nights in the heart of Kuala Lumpur at the iconic Shangri-La Hotel, two nights at Kinabatangan Wetlands Resort – an exclusive nature retreat surrounded by pristine freshwater swamps and mangrove forests, and two nights of indulgent luxury at the stunning Shangri-La's Rasa Ria Resort in Kota Kinabalu
An internal flight from Kuala Lumpur, Malaysia to Sandakan, Borneo and from Sandakan to Kota Kinabalu
LOW SEASON – SOLO TRAVELLER
9 Days From
Valued up to US$4,709
Inclusion highlights:
Package valid for one person
Eight nights of luxury accommodation, including two nights in the heart of Kuala Lumpur at the iconic Shangri-La Hotel, two nights at Kinabatangan Wetlands Resort – an exclusive nature retreat surrounded by pristine freshwater swamps and mangrove forests, and two nights of indulgent luxury at the stunning Shangri-La's Rasa Ria Resort in Kota Kinabalu
An internal flight from Kuala Lumpur, Malaysia to Sandakan, Borneo and from Sandakan to Kota Kinabalu
Daily breakfast and select dining experiences
VIP UPGRADE LOW SEASON – SOLO TRAVELLER
9 Days From
Valued up to US$5,180
Inclusion highlights:
Package valid for one person
Upgraded room types, offering ultra-luxe accommodation, plus club access at Shangri-La Hotel, Kuala Lumpur
Eight nights of luxury accommodation, including two nights in the heart of Kuala Lumpur at the iconic Shangri-La Hotel, two nights at Kinabatangan Wetlands Resort – an exclusive nature retreat surrounded by pristine freshwater swamps and mangrove forests, and two nights of indulgent luxury at the stunning Shangri-La's Rasa Ria Resort in Kota Kinabalu
An internal flight from Kuala Lumpur, Malaysia to Sandakan, Borneo and from Sandakan to Kota Kinabalu
SOLO TRAVELLER LOW SEASON – EXTENSION
14 Days From
Valued up to US$8,725
Inclusion highlights:
Package valid for one person
Eight nights of luxury accommodation, including two nights in the heart of Kuala Lumpur at the iconic Shangri-La Hotel, two nights at Kinabatangan Wetlands Resort – an exclusive nature retreat surrounded by pristine freshwater swamps and mangrove forests, and two nights of indulgent luxury at the stunning Shangri-La's Rasa Ria Resort in Kota Kinabalu
An internal flight from Kuala Lumpur, Malaysia to Sandakan, Borneo and from Sandakan to Kota Kinabalu
Daily breakfast and select dining experiences
HIGH SEASON – SOLO TRAVELLER
9 Days From
Valued up to US$7,500
Inclusion highlights:
Package valid for one person
Eight nights of luxury accommodation, including two nights in the heart of Kuala Lumpur at the iconic Shangri-La Hotel, two nights at Kinabatangan Wetlands Resort – an exclusive nature retreat surrounded by pristine freshwater swamps and mangrove forests, and two nights of indulgent luxury at the stunning Shangri-La's Rasa Ria Resort in Kota Kinabalu
An internal flight from Kuala Lumpur, Malaysia to Sandakan, Borneo and from Sandakan to Kota Kinabalu
Daily breakfast and select dining experiences
VIP UPGRADE HIGH SEASON – SOLO TRAVELLER
9 Days From
Valued up to US$5,775
Inclusion highlights:
Package valid for one person
Upgraded room types, offering ultra-luxe accommodation, plus club access at Shangri-La Hotel, Kuala Lumpur
Eight nights of luxury accommodation, including two nights in the heart of Kuala Lumpur at the iconic Shangri-La Hotel, two nights at Kinabatangan Wetlands Resort – an exclusive nature retreat surrounded by pristine freshwater swamps and mangrove forests, and two nights of indulgent luxury at the stunning Shangri-La's Rasa Ria Resort in Kota Kinabalu
An internal flight from Kuala Lumpur, Malaysia to Sandakan, Borneo and from Sandakan to Kota Kinabalu
HIGH SEASON SOLO TRAVELLER – EXTENSION
14 Days From
Valued up to US$9,590
Inclusion highlights:
Package valid for one person
Eight nights of luxury accommodation, including two nights in the heart of Kuala Lumpur at the iconic Shangri-La Hotel, two nights at Kinabatangan Wetlands Resort – an exclusive nature retreat surrounded by pristine freshwater swamps and mangrove forests, and two nights of indulgent luxury at the stunning Shangri-La's Rasa Ria Resort in Kota Kinabalu
An internal flight from Kuala Lumpur, Malaysia to Sandakan, Borneo and from Sandakan to Kota Kinabalu
Daily breakfast and select dining experiences
VIP UPGRADE HIGH SEASON – SOLO TRAVELLER EXTENSION
14 Days From
Valued up to US$10,101
Inclusion highlights:
Package valid for one person
Upgraded room types, offering ultra-luxe accommodation, plus club access at Shangri-La Hotel, Kuala Lumpur and Shangri-La's Rasa Sayang Resort, Penang
Eight nights of luxury accommodation, including two nights in the heart of Kuala Lumpur at the iconic Shangri-La Hotel, two nights at Kinabatangan Wetlands Resort – an exclusive nature retreat surrounded by pristine freshwater swamps and mangrove forests, and two nights of indulgent luxury at the stunning Shangri-La's Rasa Ria Resort in Kota Kinabalu
An internal flight from Kuala Lumpur, Malaysia to Sandakan, Borneo and from Sandakan to Kota Kinabalu
VIP UPGRADE LOW SEASON – SOLO TRAVELLER EXTENSION
14 Days From
Valued up to US$9,061
Inclusion highlights:
Package valid for one person
Upgraded room types, offering ultra-luxe accommodation, plus club access at Shangri-La Hotel, Kuala Lumpur and Shangri-La's Rasa Sayang Resort, Penang
Eight nights of luxury accommodation, including two nights in the heart of Kuala Lumpur at the iconic Shangri-La Hotel, two nights at Kinabatangan Wetlands Resort – an exclusive nature retreat surrounded by pristine freshwater swamps and mangrove forests, and two nights of indulgent luxury at the stunning Shangri-La's Rasa Ria Resort in Kota Kinabalu
An internal flight from Kuala Lumpur, Malaysia to Sandakan, Borneo and from Sandakan to Kota Kinabalu