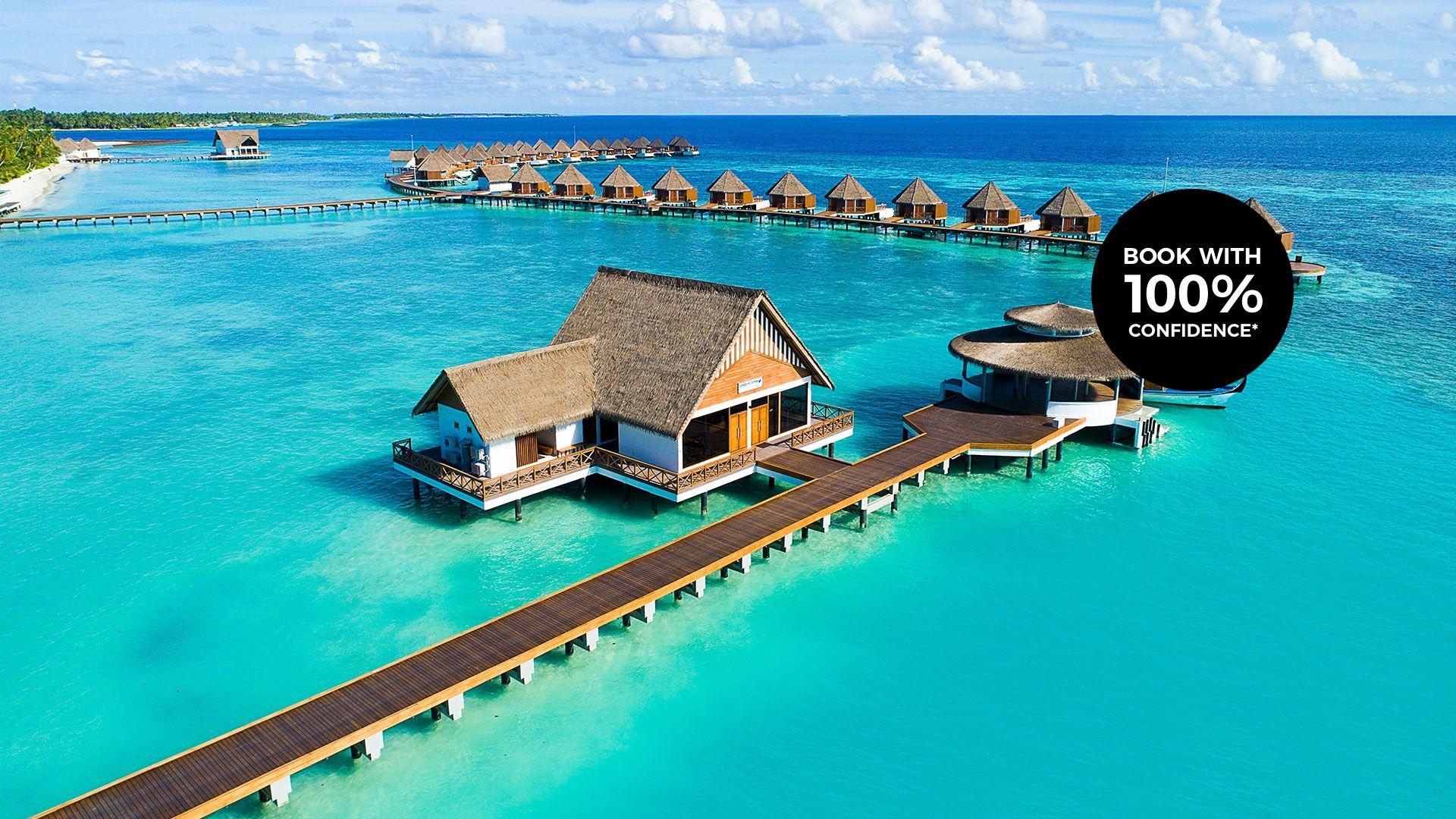 Mercure Maldives Kooddoo
All-Inclusive Maldives Romance with Free-Flow Cocktails & Roundtrip Malé Flights

All-inclusive drinks and dining, stunning white-sand beachfront and an underwater world of colourful marine life make Mercure Maldives Kooddoo the obvious choice for your Maldives escape. Surrender yourself to pure indulgence at this private hideaway, surrounded by breathtaking natural wonders. Let your worries float away in the azure ocean — a beauty that needs to be seen to be believed — lounge on sunkissed powder-white sands and immerse yourself in this unspoilt corner of the world, a long-standing favourite with honeymooners.
Escape to the idyllic island of Kooddoo, where you'll be treated to daily taste sensations at Alita restaurant, mouthwatering signature cocktails at the Pool Bar and a front-row seat to the island's stunning sunsets at Vistas bar. Choose to experience an oasis of tranquility at Suvadiva Spa or grab your snorkelling gear and plunge into turquoise waters to explore the atoll's pristine underwater ecosystem.
Your handpicked inclusions:
Unlimited all-inclusive dining with daily breakfast, lunch and dinner at Alita restaurant
Free-flow drinks, including spirits, fine and sparkling wine, beer, handcrafted cocktails and all soft drinks, from milkshakes and smoothies to barista coffee and specialty teas
Complimentary roundtrip flights between Malé and Kooddoo and shuttle from Kooddoo to the resort
Daily afternoon snacks featuring handcrafted cocktails, speciality coffees, teas and more at the pool bar
In-villa minibar filled with soft drinks, juices, beer and selected snacks (refreshed daily)
One-time two-course à la carte dinner at Vistas plus 30% off any additional purchases at Vistas
Complimentary airport lounge service on arrival at Malè Airport with an escort to Moonimaa Lounge
Unlimited use of snorkelling and non-motorised watersport equipment
Board a traditional dhoni boat and sail the mesmerising Gaafu Alifu Atoll on a spectacular one-time dolphin-watching cruise
Overwater Sunset Pool Villa Upgrade: Heighten the romance with a stay in a quintessentially Maldivian overwater villa with private pool. Upgrade to a spacious Overwater Sunset Pool Villa and spend tranquil days overlooking the sparkling lagoon from your own private pool.
Book with 100% Confidence: If for whatever reason you don't want to go on your holiday, you can cancel right up to 72 hours before check-in and get a 100% credit to use at Luxury Escapes for any other accommodation offer. Excludes flights, see the Fine Print for details.
package Options
Select your package type
ALL-INCLUSIVE MALDIVES ESCAPE
Beach Villa
Find yourself footsteps from the beach in this private villa, complete with plush queen bed, expansive terrace and romantic outdoor bathtub
Room Size: 67 m²
Inclusion highlights:
Unlimited all-inclusive dining with daily breakfast, lunch and dinner at Alita restaurant
Free-flow drinks, including spirits, fine and sparkling wine, beer, handcrafted cocktails and all soft drinks
Complimentary roundtrip flights between Malé and Kooddoo and shuttle from Kooddoo to the resort
Daily afternoon snacks featuring handcrafted cocktails, speciality coffees, teas and more at the pool bar
In-villa minibar filled with soft drinks, juices, beer and selected snacks (refreshed daily)
One-time two-course à la carte dinner at Vistas plus 30% off any additional purchases at Vistas
Complimentary airport lounge service on arrival at Malè Airport with an escort to Moonimaa Lounge
Unlimited use of snorkelling and non-motorised watersport equipment
One-time dolphin-watching cruise
Inclusions valid for up to two guests
Check-in: 2pm / Checkout: 12pm
Beach Pool Villa
Plunge into your private infinity pool when you choose this spacious, palm-fringed villa located moments from the lapping waves of the Indian Ocean, with two refreshing rainshowers, a romantic outdoor bathtub and direct beach access
Room Size: 82 m²
Inclusion highlights:
Unlimited all-inclusive dining with daily breakfast, lunch and dinner at Alita restaurant
Free-flow drinks, including spirits, fine and sparkling wine, beer, handcrafted cocktails and all soft drinks
Complimentary roundtrip flights between Malé and Kooddoo and shuttle from Kooddoo to the resort
Daily afternoon snacks featuring handcrafted cocktails, speciality coffees, teas and more at the pool bar
In-villa minibar filled with soft drinks, juices, beer and selected snacks (refreshed daily)
One-time two-course à la carte dinner at Vistas plus 30% off any additional purchases at Vistas
Complimentary airport lounge service on arrival at Malè Airport with an escort to Moonimaa Lounge
Unlimited use of snorkelling and non-motorised watersport equipment
One-time dolphin-watching cruise
Inclusions valid for up to two guests
Check-in: 2pm / Checkout: 12pm
Overwater Villa
The quintessential Maldives experience awaits in a villa suspended on stilts over the lagoon, with a traditional thatched roof, luxurious ensuite and direct ocean access
Room Size: 62 m²
Inclusion highlights:
Unlimited all-inclusive dining with daily breakfast, lunch and dinner at Alita restaurant
Free-flow drinks, including spirits, fine and sparkling wine, beer, handcrafted cocktails and all soft drinks
Complimentary roundtrip flights between Malé and Kooddoo and shuttle from Kooddoo to the resort
Daily afternoon snacks featuring handcrafted cocktails, speciality coffees, teas and more at the pool bar
In-villa minibar filled with soft drinks, juices, beer and selected snacks (refreshed daily)
One-time two-course à la carte dinner at Vistas plus 30% off any additional purchases at Vistas
Complimentary airport lounge service on arrival at Malè Airport with an escort to Moonimaa Lounge
Unlimited use of snorkelling and non-motorised watersport equipment
One-time dolphin-watching cruise
Inclusions valid for up to two guests
Check-in: 2pm / Checkout: 12pm
Overwater Sunset Villa
Enjoy spectacular sunset views in a west-facing overwater villa complete with a plush queen bed, luxurious ensuite and private terrace with direct ocean access
Room Size: 62 m²
Inclusion highlights:
Unlimited all-inclusive dining with daily breakfast, lunch and dinner at Alita restaurant
Free-flow drinks, including spirits, fine and sparkling wine, beer, handcrafted cocktails and all soft drinks
Complimentary roundtrip flights between Malé and Kooddoo and shuttle from Kooddoo to the resort
Daily afternoon snacks featuring handcrafted cocktails, speciality coffees, teas and more at the pool bar
In-villa minibar filled with soft drinks, juices, beer and selected snacks (refreshed daily)
One-time two-course à la carte dinner at Vistas plus 30% off any additional purchases at Vistas
Complimentary airport lounge service on arrival at Malè Airport with an escort to Moonimaa Lounge
Unlimited use of snorkelling and non-motorised watersport equipment
One-time dolphin-watching cruise
Inclusions valid for up to two guests
Check-in: 2pm / Checkout: 12pm
OVERWATER SUNSET POOL UPGRADE
Overwater Sunset Pool Villa
The Maldives at its finest — offering a private pool, suspended over the water and west facing for breathtaking sunset views, this luxurious villa is complete with a plush queen bed and romantic outdoor bathtub
Room Size: 81 m²
Inclusion highlights:
Unlimited all-inclusive dining with daily breakfast, lunch and dinner at Alita restaurant
Free-flow drinks, including spirits, fine and sparkling wine, beer, handcrafted cocktails and all soft drinks
Complimentary roundtrip flights between Malé and Kooddoo and shuttle from Kooddoo to the resort
Daily afternoon snacks featuring handcrafted cocktails, speciality coffees, teas and more at the pool bar
In-villa minibar filled with soft drinks, juices, beer and selected snacks (refreshed daily)
One-time two-course à la carte dinner at Vistas plus 30% off any additional purchases at Vistas
Complimentary airport lounge service on arrival at Malè Airport with an escort to Moonimaa Lounge
Unlimited use of snorkelling and non-motorised watersport equipment
One-time dolphin-watching cruise
Inclusions valid for up to two guests
Check-in: 2pm / Checkout: 12pm
*Price is indicative and based on sample return fares (inclusive of booking fees on Low Cost Carriers). To view live pricing, conduct a full search. Luxury Escapes full Terms and Conditions apply