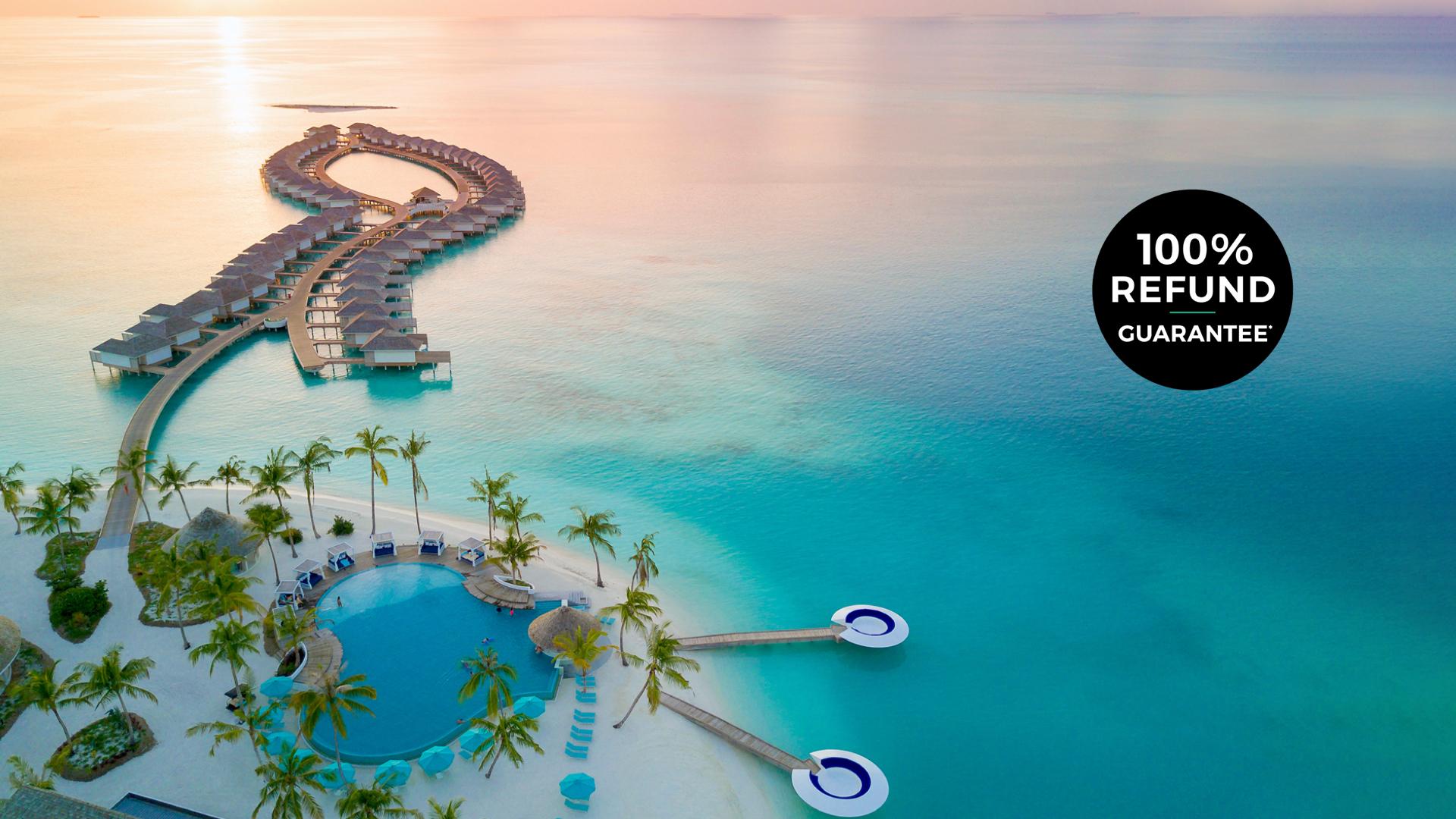 Kandima Maldives
Five-Star Maldives Resort Luxury with Roundtrip Malé Transfers, Daily Dining & Cocktails

Could this be the coolest resort in the Maldives? With a carnival of exciting events from live DJs to Latin nights, a stylish beach club complete with futuristic ocean cabanas, and its very own art studio, the luxuriously fun Kandima Maldives has thought of it all. Boasting a picture-perfect setting, this energetic sanctuary runs deeper than its breathtaking surface — harnessing incredible energy that embraces you from the moment you arrive. Consider this an unspoken invitation to curate your own paradise through myriad activities, exquisite dining and first-class facilities.
Head to Breeze Bar, where funky tunes reverberate through one of the longest pools in the Maldives or stroll out along the Beach Club boardwalk with a cocktail in hand, then watch the sunset from a unique UFO-style cabana. Hop onboard the shuttle to Kandima's exclusive snorkelling pontoon and plunge into the azure waters to explore the impressive house reef, or simply sink your toes into three kilometres of uninhabited shoreline and watch pods of resident dolphins play in the waves. At Kandima, you'll be spoilt for choice with an array of dining delights — pamper your palate with a buffet of exceptional cuisine at the resort's two main restaurants, Flavour and Zest, or take your tastebuds on an epicurean adventure at the resort's three exclusive à la carte eateries.
Your handpicked inclusions:
Relax with roundtrip domestic flights and boat transfers from Malé to the resort
Toast your escape with a daily sunset cocktail per person at Breeze Pool Bar or Beach Club
Enjoy daily breakfast and dinner at Flavour or Zest, and indulge in a rotating global buffet with live cooking stations, free-flow soft drinks, tea and coffee
Treat yourself to a 20% dining discount at three à la carte restaurants: Azure, Smoked and Seadragon
Feel refreshed on arrival with a welcome fruit juice served at HQ
Stay entertained with Kids Club activities, fitness classes, beach games, unlimited gym and hydro pool access, and complimentary use of tennis, badminton, volleyball courts and more
Make lasting memories with a one-time 30-minute photoshoot from SNAP studio
Explore the underwater world that inhabits Kandima's impressive house reef with frequent shuttles to an exclusive snorkelling platform
Choose your check-in time, then check out at the same hour (e.g. 2pm check-in / 2pm checkout)
Travelling with family? Up to two children (aged 11 years and under) stay, play and eat for free (half-board only, surcharge applies for all-inclusive) with complimentary access to Kandiland — the Maldives' largest Kids Club.
All-Inclusive Upgrade: Enjoy daily breakfast, lunch and dinner across five restaurants (two buffet and three à la carte) as well as unlimited alcoholic and non-alcoholic drinks when you choose an all-inclusive upgrade. Plus, you'll receive complimentary access to non-motorised watersports, including kayaks, paddleboards and windsurfing equipment.
100% Refund Guarantee: Book your escape with peace of mind thanks to our 100% Refund Guarantee, offering flexible date changes or a full refund up until 21 days before check-in. Refund is on accommodation only, excludes flights. See the Fine Print for details.
Earn KrisFlyer miles on this holiday
package Options
Select your package type
Sky Studio
Admire stunning beach and lagoon views from the treetops in this gorgeous first-level studio, complete with a plush king bed, invigorating rain shower, and a private balcony with luxurious swinging sofa
Room Size: 55 m²
Inclusion highlights:
Up to two children (11 and under) stay, play and eat free with daily breakfast and dinner only (excludes roundtrip transfers)
Roundtrip domestic flights and boat transfers
Daily buffet breakfast and dinner
20% dining discount at three à la carte restaurants
Daily cocktail per adult
Welcome drink
Complimentary Kids Club activities, group fitness classes, beach games and more
Unlimited access to the gym and hydro pool
Use of tennis, badminton and volleyball courts and the football field
One-time 30-minute photoshoot from SNAP studio
Twice-daily boat shuttles out to the nearby reef
Flexible check-in and checkout time
Inclusions valid for up two adults
MALDIVES ESCAPE — ALL-INCLUSIVE
Sky Studio
Admire stunning beach and lagoon views from the treetops in this gorgeous first-level studio, complete with a plush king bed, invigorating rain shower, and a private balcony with luxurious swinging sofa
Room Size: 55 m²
Inclusion highlights:
Daily breakfast, lunch and dinner across five restaurants
Unlimited selected alcoholic and non-alcoholic drinks
Up to two children (5 and under) stay and play free (excludes roundtrip transfers) — See the Room Policy for children (6-11)
Roundtrip domestic flights and boat transfers
Welcome drink
Complimentary Kids Club activities, group fitness classes, beach games and more
Unlimited access to the gym and hydro pool
Use of tennis, badminton and volleyball courts and the football field
One-time 30-minute photoshoot from SNAP studio
Twice-daily boat shuttles out to the nearby reef
Flexible check-in and checkout time
Inclusions valid for up two adults
BEACHFRONT STUDIO UPGRADE
Beach Studio
Enjoy direct beach access from this light-filled and stylish ground-floor retreat, with a plush king bed, invigorating rain shower, gorgeous lagoon views and private balcony with swinging sofa
Room Size: 55 m²
Inclusion highlights:
Up to two children (11 and under) stay, play and eat free with daily breakfast and dinner only (excludes roundtrip transfers)
Roundtrip domestic flights and boat transfers
Daily buffet breakfast and dinner
20% dining discount at three à la carte restaurants
Daily cocktail per adult
Welcome drink
Complimentary Kids Club activities, group fitness classes, beach games and more
Unlimited access to the gym and hydro pool
Use of tennis, badminton and volleyball courts and the football field
One-time 30-minute photoshoot from SNAP studio
Twice-daily boat shuttles out to the nearby reef
Flexible check-in and checkout time
Inclusions valid for up two adults
BEACHFRONT STUDIO UPGRADE — ALL-INCLUSIVE
Beach Studio
Enjoy direct beach access from this light-filled and stylish ground-floor retreat, with a plush king bed, invigorating rain shower, gorgeous lagoon views and private balcony with swinging sofa
Room Size: 55 m²
Inclusion highlights:
Daily breakfast, lunch and dinner across five restaurants
Unlimited selected alcoholic and non-alcoholic drinks
Up to two children (5 and under) stay and play free (excludes roundtrip transfers) — See the Room Policy for children (6-11)
Roundtrip domestic flights and boat transfers
Welcome drink
Complimentary Kids Club activities, group fitness classes, beach games and more
Unlimited access to the gym and hydro pool
Use of tennis, badminton and volleyball courts and the football field
One-time 30-minute photoshoot from SNAP studio
Twice-daily boat shuttles out to the nearby reef
Flexible check-in and checkout time
Inclusions valid for up two adults
Aqua Villa
Perched over the water, with direct access to the lagoon, these stunning villas feature a plush king bed, private sundeck with sunbeds, and a luxurious bathtub with gorgeous sea views
Room Size: 73 m²
Inclusion highlights:
Up to two children (11 and under) stay, play and eat free with daily breakfast and dinner only (excludes roundtrip transfers)
Roundtrip domestic flights and boat transfers
Daily buffet breakfast and dinner
20% dining discount at three à la carte restaurants
Daily cocktail per adult
Welcome drink
Complimentary Kids Club activities, group fitness classes, beach games and more
Unlimited access to the gym and hydro pool
Use of tennis, badminton and volleyball courts and the football field
One-time 30-minute photoshoot from SNAP studio
Twice-daily boat shuttles out to the nearby reef
Flexible check-in and checkout time
Inclusions valid for up two adults
OVERWATER VILLA UPGRADE — ALL-INCLUSIVE
Aqua Villa
Perched over the water, with direct access to the lagoon, these stunning villas feature a plush king bed, private sundeck with sunbeds, and a luxurious bathtub with gorgeous sea views
Room Size: 73 m²
Inclusion highlights:
Daily breakfast, lunch and dinner across five restaurants
Unlimited selected alcoholic and non-alcoholic drinks
Up to two children (5 and under) stay and play free (excludes roundtrip transfers) — See the Room Policy for children (6-11)
Roundtrip domestic flights and boat transfers
Welcome drink
Complimentary Kids Club activities, group fitness classes, beach games and more
Unlimited access to the gym and hydro pool
Use of tennis, badminton and volleyball courts and the football field
One-time 30-minute photoshoot from SNAP studio
Twice-daily boat shuttles out to the nearby reef
Flexible check-in and checkout time
Inclusions valid for up two adults
OVERWATER JACUZZI VILLA UPGRADE
Aqua Villa with Swirl Pool
Reignite romance in this luxurious overwater villa complete with private outdoor jacuzzi and lavish sundeck with direct access to the breathtaking lagoon
Room Size: 73 m²
Inclusion highlights:
Up to two children (11 and under) stay, play and eat free with daily breakfast and dinner only (excludes roundtrip transfers)
Roundtrip domestic flights and boat transfers
Daily buffet breakfast and dinner
20% dining discount at three à la carte restaurants
Daily cocktail per adult
Welcome drink
Complimentary Kids Club activities, group fitness classes, beach games and more
Unlimited access to the gym and hydro pool
Use of tennis, badminton and volleyball courts and the football field
One-time 30-minute photoshoot from SNAP studio
Twice-daily boat shuttles out to the nearby reef
Flexible check-in and checkout time
Inclusions valid for up two adults
OVERWATER JACUZZI VILLA UPGRADE — ALL-INCLUSIVE
Aqua Villa with Swirl Pool
Reignite romance in this luxurious overwater villa complete with private outdoor jacuzzi and lavish sundeck with direct access to the breathtaking lagoon
Room Size: 73 m²
Inclusion highlights:
Daily breakfast, lunch and dinner across five restaurants
Unlimited selected alcoholic and non-alcoholic drinks
Up to two children (5 and under) stay and play free (excludes roundtrip transfers) — See the Room Policy for children (6-11)
Roundtrip domestic flights and boat transfers
Welcome drink
Complimentary Kids Club activities, group fitness classes, beach games and more
Unlimited access to the gym and hydro pool
Use of tennis, badminton and volleyball courts and the football field
One-time 30-minute photoshoot from SNAP studio
Twice-daily boat shuttles out to the nearby reef
Flexible check-in and checkout time
Inclusions valid for up two adults
*Price is indicative and based on sample return fares (inclusive of booking fees on Low Cost Carriers). To view live pricing, conduct a full search. Luxury Escapes full Terms and Conditions apply