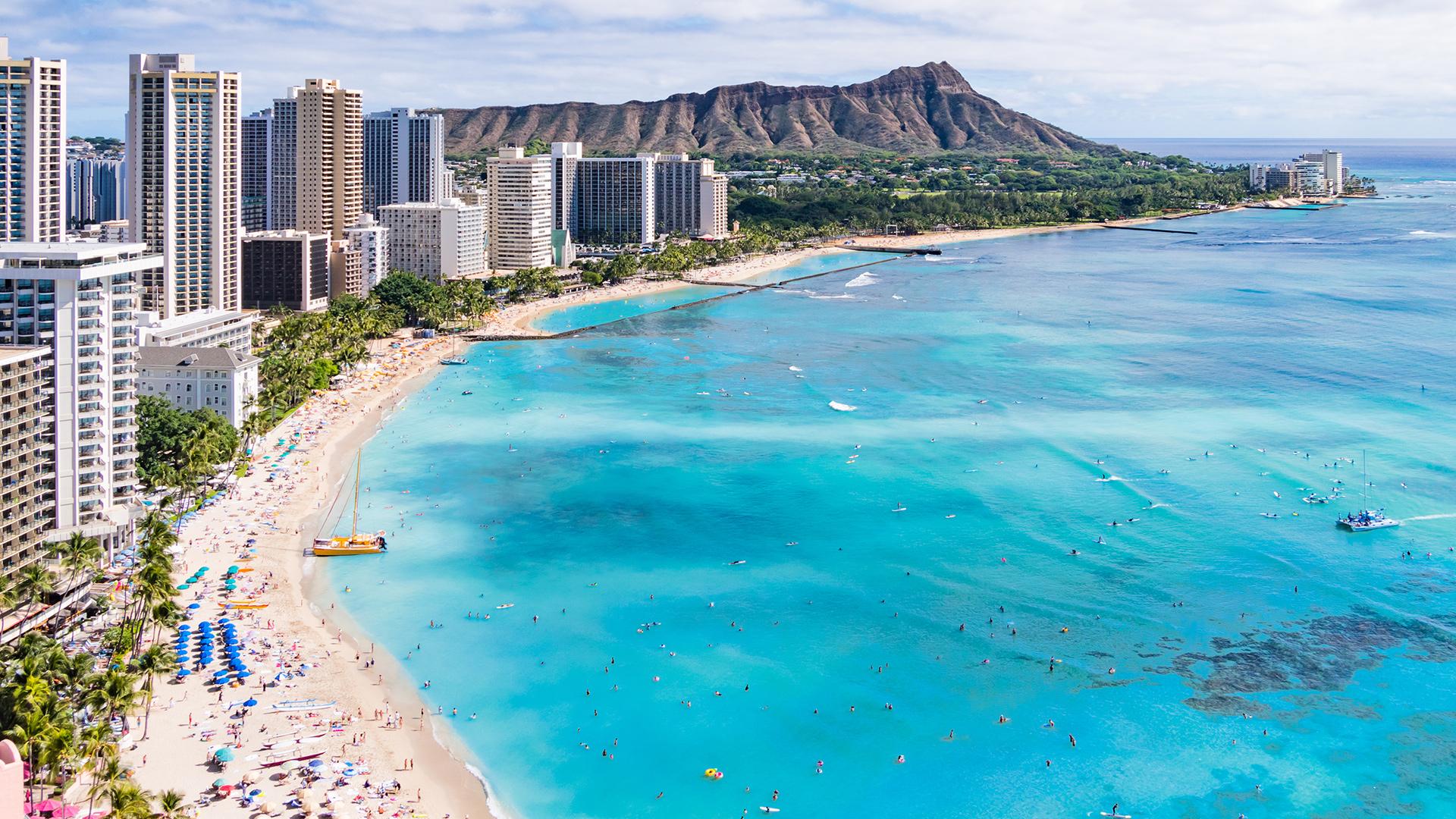 Grand Opening: Waikiki's Newest Luxury Hotel from Halekulani
Experience Waikiki's newest luxury hotel, brought to you by the iconic Halekulani brand: Halepuna Waikiki by Halekulani – the island's most anticipated hotel opening. With an unbeatable location in the heart of it all, sleek and modern design and an infinity pool with sprawling vistas over Waikiki, this newly opened tropical oasis is the name on everyone's lips.
Your Hawaiian escape includes daily buffet breakfast, USD$120 credit to be used at any of the resort's restaurant and bars as well as select venues at the legendary Halekulani Hotel, a glass of wine or beer during your stay, weekly free-flow manager's wine reception with finger food, a premier passport with discounts at Ala Moana Shopping centre, no resort fees and all taxes included in your package.
package Options
HAWAII ESCAPE
Waikiki View Room
Inclusion highlights:
Inclusions valid for two adults
USD$120 credit at any of the hotel's restaurant, bakery, or bar or select venues at Waikiki's iconic Halekulani hotel
Deluxe daily buffet breakfast with an array of artisan breads, pastries, cakes, live cooking stations and more
Glass of wine or beer during your stay
VIP UPGRADE
Waikiki Mountain View Room
Inclusion highlights:
Inclusions valid for two adults
USD$120 credit at any of the hotel's restaurant, bakery, or bar or select venues at Waikiki's iconic Halekulani hotel
Deluxe daily buffet breakfast with an array of artisan breads, pastries, cakes, live cooking stations and more
Glass of wine or beer during your stay
OCEAN-VIEW UPGRADE
Ocean View Room
Inclusion highlights:
Inclusions valid for two adults
USD$180 credit at any of the hotel's restaurant, bakery, or bar or select venues at Waikiki's iconic Halekulani hotel
Deluxe daily buffet breakfast with an array of artisan breads, pastries, cakes, live cooking stations and more
Glass of wine or beer during your stay
HAWAII ESCAPE
Waikiki View Room
Inclusion highlights:
Inclusions valid for two adults
USD$160 credit at any of the hotel's restaurant, bakery, or bar or select venues at Waikiki's iconic Halekulani hotel
Deluxe daily buffet breakfast with an array of artisan breads, pastries, cakes, live cooking stations and more
Glass of wine or beer during your stay
VIP UPGRADE
Waikiki Mountain View Room
Inclusion highlights:
Inclusions valid for two adults
USD$160 credit at any of the hotel's restaurant, bakery, or bar or select venues at Waikiki's iconic Halekulani hotel
Deluxe daily buffet breakfast with an array of artisan breads, pastries, cakes, live cooking stations and more
Glass of wine or beer during your stay
OCEAN-VIEW UPGRADE
Ocean View Room
Inclusion highlights:
Inclusions valid for two adults
USD$240 credit at any of the hotel's restaurant, bakery, or bar or select venues at Waikiki's iconic Halekulani hotel
Deluxe daily buffet breakfast with an array of artisan breads, pastries, cakes, live cooking stations and more
Glass of wine or beer during your stay
HAWAII ESCAPE
Waikiki View Room
Inclusion highlights:
Inclusions valid for two adults
USD$200 credit at any of the hotel's restaurant, bakery, or bar or select venues at Waikiki's iconic Halekulani hotel
Deluxe daily buffet breakfast with an array of artisan breads, pastries, cakes, live cooking stations and more
Glass of wine or beer during your stay
VIP UPGRADE
Waikiki Mountain View Room
Inclusion highlights:
Inclusions valid for two adults
USD$200 credit at any of the hotel's restaurant, bakery, or bar or select venues at Waikiki's iconic Halekulani hotel
Deluxe daily buffet breakfast with an array of artisan breads, pastries, cakes, live cooking stations and more
Glass of wine or beer during your stay
OCEAN-VIEW UPGRADE
Ocean View Room
Inclusion highlights:
Inclusions valid for two adults
USD$300 credit at any of the hotel's restaurant, bakery, or bar or select venues at Waikiki's iconic Halekulani hotel
Deluxe daily buffet breakfast with an array of artisan breads, pastries, cakes, live cooking stations and more
Glass of wine or beer during your stay