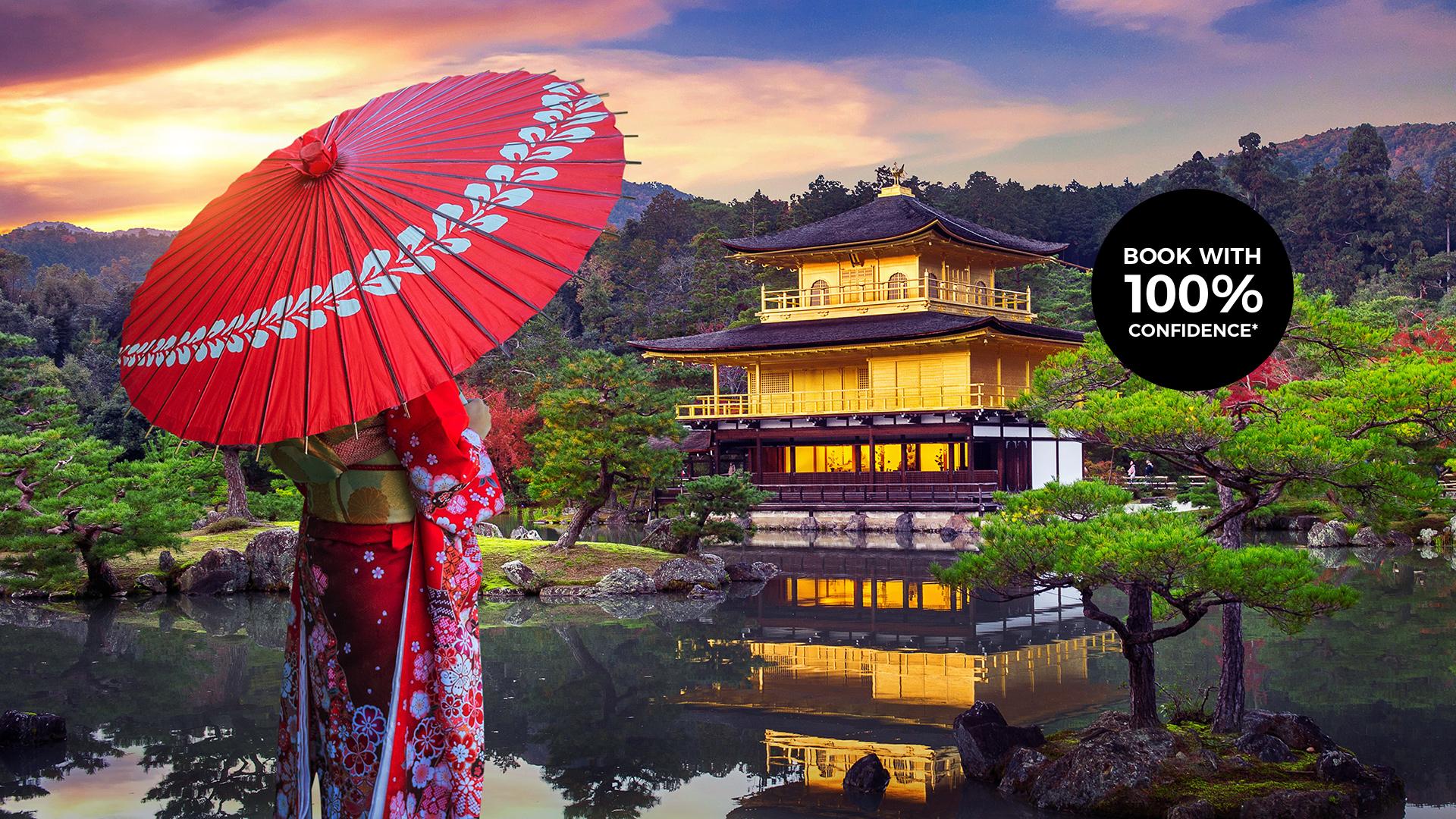 Japan: 10-Day Tour with Mt. Fuji Bullet Train, UNESCO Sites & Cherry Blossom Dates Available

Delight in the ancient customs and traditions of Nara and Kyoto, the history of Hiroshima, and the neon-lit, futuristic cityscapes of Osaka and Tokyo on this 10-day tour of Japan's most iconic sights. Take a once-in-a-lifetime journey through stunning landscapes — from Shinto shrines to wartime ruins to glistening islands with free-roaming deer — and enjoy a Shinkansen bullet train experience en route to the snowcapped majesty of Mt. Fuji.
Visit the UNESCO World Heritage-listed Himeji Castle and learn about the nuclear devastation of Hiroshima, home to the haunting A-Dome. See the surreal 'floating' Itsukushima Shrine on Miyajima Island and visit the world-famous Nara Park, both filled with tame Sika deer. Take a stroll through time as you're immersed in the beauty of Kyoto's Golden Pavilion and the surreal Arashiyama Bamboo Forest, before an overnight stay in Mt. Fuji, with the opportunity to experience a traditional onsen.
Take in the delightful natural scenery with a tranquil Lake Ashi cruise and visit Mt. Fuji's fifth station — where you can see the mountain at its finest (weather dependent), before free time to explore Tokyo's eclectic nightlife, vibrant cafés and bustling streets.
Your tour includes:
Nine nights of premium accommodation, including one night at the base of Mt. Fuji at HOTEL MYSTAYS Fuji Onsen Resort or similar
Daily breakfast with select dining experiences throughout, including a guided beer tasting at one of Japan's most famous breweries
Free time in Hiroshima with visits to the Peace Memorial Park and Atomic Bomb Museum
Visit the UNESCO World Heritage-listed Himeji Castle — one of Japan's most beautiful feudal castles
Roundtrip ferry ride to Miyajima Island to see the iconic 'floating' Itsukushima Shrine
Nara Park exploration with Todaiji Temple and tame Sika deer
Admire the ancient Niji Castle, a former residence of the Tokugawa Shogunate
Marvel at Kyoto's Kinkakuji (Golden Pavilion) and the soaring Arashiyama Bamboo Forest
A Shinkansen bullet train experience from Kyoto to Mt. Fuji
Ascend to Mt. Fuji's fifth station and enjoy a Lake Ashi cruise
Free time to discover Tokyo at your leisure
The services of an expert guide throughout your journey
All sightseeing and entrance fees per itinerary
Dedicated air-conditioned coach transportation, including roundtrip airport transfers
Your journey takes you to: Osaka — Himeji — Hiroshima — Miyajima Island — Nara — Kyoto — Mt. Fuji — Tokyo.
Cherry blossom dates available: See Japan through a pink-hued lens with dates available during the ephemeral cherry blossom season — there's no experience quite like it.
Book with 100% Confidence: Right up until 60 days before departure you can enjoy unlimited, free date changes, or cancel and get a 100% credit to use at Luxury Escapes for any other Limited Time Lux Exclusive accommodation, tour or cruise offer. Excludes flights, see the Fine Print for details.
Furthermore, if you are unable to travel on your tour as a result of Government travel restrictions, even right up to the day of departure, Luxury Escapes will assist you with a date change. We can also provide you with a credit or refund for your booking (less any non-recoverable costs). See below for full terms and conditions.
package Options
10 Days from
Valued up to US$2,839
Sold out
Inclusion highlights:
Inclusions valid for one person (twin share) — you must purchase TWO packages
Includes private room and bath throughout tour, with king or queen bed, or two-bed options
Nine of nights of premium accommodation, including one night at the base of Mt. Fuji at HOTEL MYSTAYS Fuji Onsen Resort or similar
Daily breakfast with select dining experiences throughout, including a guided beer tasting at one of Japan's most famous breweries
Free time in Hiroshima with visits to the Peace Memorial Park and Atomic Bomb Museum
Visit to the UNESCO World Heritage-listed Himeji Castle
Return ferry ride to Miyajima Island to see the iconic 'floating' Itsukushima Shrine
Nara Park exploration, home to 1,000 Sika deer, with Todaiji Temple visit
Admire the ancient Niji Castle, a former residence of the Tokugawa Shogunate
Marvel at Kyoto's Kinkakuji (Golden Pavilion) and the soaring stalks of the Arashiyama Bamboo Forest
A Shinkansen bullet train experience from Kyoto to Mt. Fuji
Ascend to Mt. Fuji's fifth station and enjoy a Lake Ashi cruise
Free time to discover Tokyo at your leisure
The services of an expert guide throughout your journey
All sightseeing and entrance fees per itinerary
Dedicated air-conditioned coach transportation, including return airport transfers
10 Days from
Valued up to US$3,052
Sold out
Inclusion highlights:
Inclusions valid for one person (twin share) — you must purchase TWO packages
Includes private room and bath throughout tour, with king or queen bed, or two-bed options
Nine of nights of premium accommodation, including one night at the base of Mt. Fuji at HOTEL MYSTAYS Fuji Onsen Resort or similar
Daily breakfast with select dining experiences throughout, including a guided beer tasting at one of Japan's most famous breweries
Free time in Hiroshima with visits to the Peace Memorial Park and Atomic Bomb Museum
Visit to the UNESCO World Heritage-listed Himeji Castle
Return ferry ride to Miyajima Island to see the iconic 'floating' Itsukushima Shrine
Nara Park exploration, home to 1,000 Sika deer, with Todaiji Temple visit
Admire the ancient Niji Castle, a former residence of the Tokugawa Shogunate
Marvel at Kyoto's Kinkakuji (Golden Pavilion) and the soaring stalks of the Arashiyama Bamboo Forest
A Shinkansen bullet train experience from Kyoto to Mt. Fuji
Ascend to Mt. Fuji's fifth station and enjoy a Lake Ashi cruise
Free time to discover Tokyo at your leisure
The services of an expert guide throughout your journey
All sightseeing and entrance fees per itinerary
Dedicated air-conditioned coach transportation, including return airport transfers
TWIN SHARE — CHERRY BLOSSOM SEASON
10 Days from
Valued up to US$3,265
Sold out
Inclusion highlights:
Inclusions valid for one person (twin share) — you must purchase TWO packages
Includes private room and bath throughout tour, with king or queen bed, or two-bed options
Nine of nights of premium accommodation, including one night at the base of Mt. Fuji at HOTEL MYSTAYS Fuji Onsen Resort or similar
Daily breakfast with select dining experiences throughout, including a guided beer tasting at one of Japan's most famous breweries
Free time in Hiroshima with visits to the Peace Memorial Park and Atomic Bomb Museum
Visit to the UNESCO World Heritage-listed Himeji Castle
Return ferry ride to Miyajima Island to see the iconic 'floating' Itsukushima Shrine
Nara Park exploration, home to 1,000 Sika deer, with Todaiji Temple visit
Admire the ancient Niji Castle, a former residence of the Tokugawa Shogunate
Marvel at Kyoto's Kinkakuji (Golden Pavilion) and the soaring stalks of the Arashiyama Bamboo Forest
A Shinkansen bullet train experience from Kyoto to Mt. Fuji
Ascend to Mt. Fuji's fifth station and enjoy a Lake Ashi cruise
Free time to discover Tokyo at your leisure
The services of an expert guide throughout your journey
All sightseeing and entrance fees per itinerary
Dedicated air-conditioned coach transportation, including return airport transfers
SOLO TRAVELLER — LOW SEASON
10 Days from
Valued up to US$4,011
Sold out
Inclusion highlights:
Inclusions valid for one person (solo traveller)
Includes private room and bath throughout tour, with king or queen bed, or two-bed options
Nine of nights of premium accommodation, including one night at the base of Mt. Fuji at HOTEL MYSTAYS Fuji Onsen Resort or similar
Daily breakfast with select dining experiences throughout, including a guided beer tasting at one of Japan's most famous breweries
Free time in Hiroshima with visits to the Peace Memorial Park and Atomic Bomb Museum
Visit to the UNESCO World Heritage-listed Himeji Castle
Return ferry ride to Miyajima Island to see the iconic 'floating' Itsukushima Shrine
Nara Park exploration, home to 1,000 Sika deer, with Todaiji Temple visit
Admire the ancient Niji Castle, a former residence of the Tokugawa Shogunate
Marvel at Kyoto's Kinkakuji (Golden Pavilion) and the soaring stalks of the Arashiyama Bamboo Forest
A Shinkansen bullet train experience from Kyoto to Mt. Fuji
Ascend to Mt. Fuji's fifth station and enjoy a Lake Ashi cruise
Free time to discover Tokyo at your leisure
The services of an expert guide throughout your journey
All sightseeing and entrance fees per itinerary
Dedicated air-conditioned coach transportation, including return airport transfers
SOLO TRAVELLER — HIGH SEASON
10 Days from
Valued up to US$4,224
Sold out
Inclusion highlights:
Inclusions valid for one person (solo traveller)
Includes private room and bath throughout tour, with king or queen bed, or two-bed options
Nine of nights of premium accommodation, including one night at the base of Mt. Fuji at HOTEL MYSTAYS Fuji Onsen Resort or similar
Daily breakfast with select dining experiences throughout, including a guided beer tasting at one of Japan's most famous breweries
Free time in Hiroshima with visits to the Peace Memorial Park and Atomic Bomb Museum
Visit to the UNESCO World Heritage-listed Himeji Castle
Return ferry ride to Miyajima Island to see the iconic 'floating' Itsukushima Shrine
Nara Park exploration, home to 1,000 Sika deer, with Todaiji Temple visit
Admire the ancient Niji Castle, a former residence of the Tokugawa Shogunate
Marvel at Kyoto's Kinkakuji (Golden Pavilion) and the soaring stalks of the Arashiyama Bamboo Forest
A Shinkansen bullet train experience from Kyoto to Mt. Fuji
Ascend to Mt. Fuji's fifth station and enjoy a Lake Ashi cruise
Free time to discover Tokyo at your leisure
The services of an expert guide throughout your journey
All sightseeing and entrance fees per itinerary
Dedicated air-conditioned coach transportation, including return airport transfers
SOLO TRAVELLER — CHERRY BLOSSOM SEASON
10 Days from
Valued up to US$4,437
Sold out
Inclusion highlights:
Inclusions valid for one person (solo traveller)
Includes private room and bath throughout tour, with king or queen bed, or two-bed options
Nine of nights of premium accommodation, including one night at the base of Mt. Fuji at HOTEL MYSTAYS Fuji Onsen Resort or similar
Daily breakfast with select dining experiences throughout, including a guided beer tasting at one of Japan's most famous breweries
Free time in Hiroshima with visits to the Peace Memorial Park and Atomic Bomb Museum
Visit to the UNESCO World Heritage-listed Himeji Castle
Return ferry ride to Miyajima Island to see the iconic 'floating' Itsukushima Shrine
Nara Park exploration, home to 1,000 Sika deer, with Todaiji Temple visit
Admire the ancient Niji Castle, a former residence of the Tokugawa Shogunate
Marvel at Kyoto's Kinkakuji (Golden Pavilion) and the soaring stalks of the Arashiyama Bamboo Forest
A Shinkansen bullet train experience from Kyoto to Mt. Fuji
Ascend to Mt. Fuji's fifth station and enjoy a Lake Ashi cruise
Free time to discover Tokyo at your leisure
The services of an expert guide throughout your journey
All sightseeing and entrance fees per itinerary
Dedicated air-conditioned coach transportation, including return airport transfers