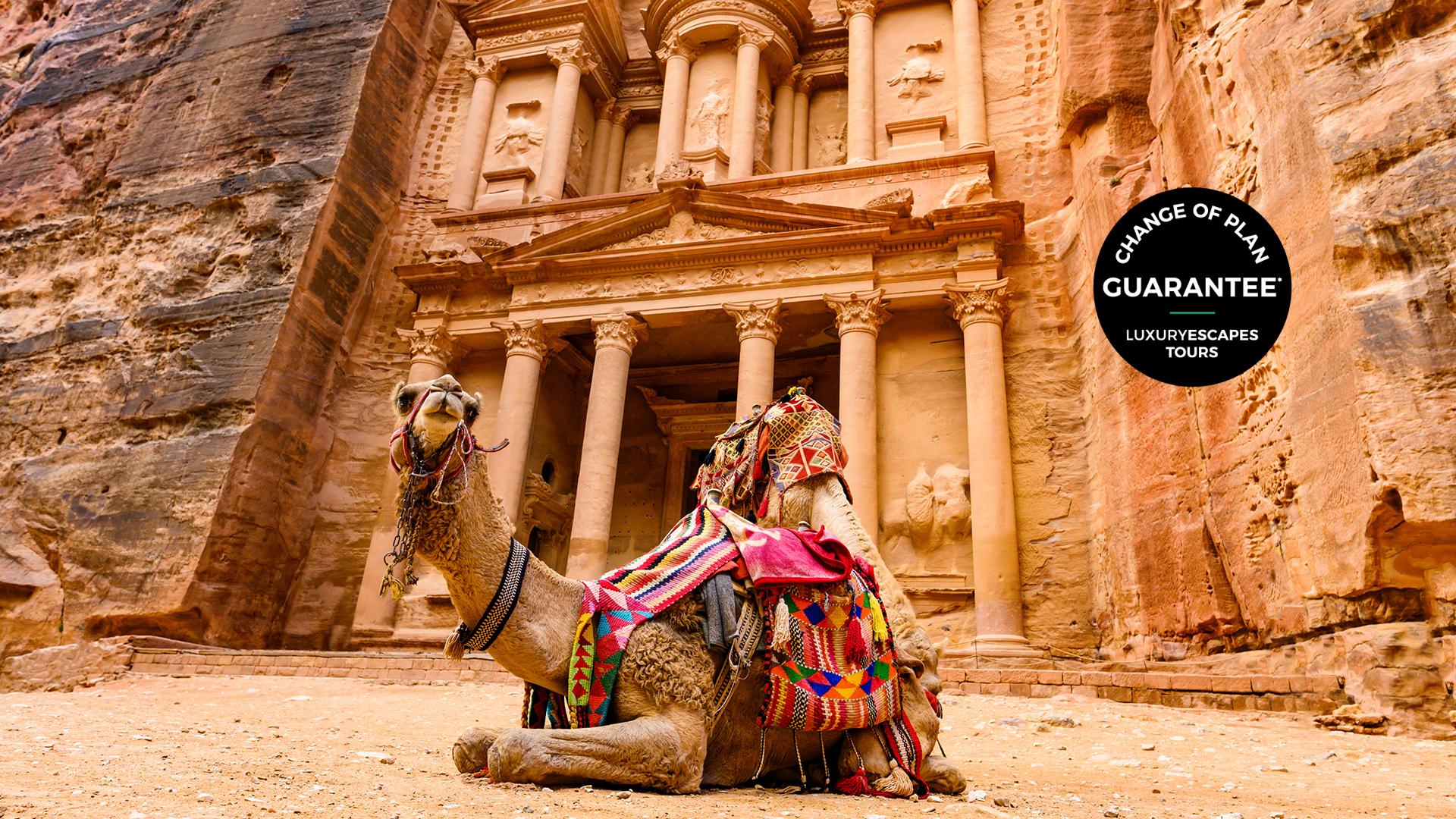 Treasures of Jordan: 8-Day Luxury Small-Group Tour with Four Seasons Stay, Desert Glamping & Night-Time Tour of Petra
Uncover the treasures of Jordan on this incredible eight-day luxury small-group tour (max. 16 travellers). Indulge in unique dining experiences, tasting your way through the country's diverse heritage with a vibrant mix of Bedouin flavours and local variations of the Levant's most iconic dishes. Visit the striking UNESCO World Heritage-listed site of Petra, experience the wilderness of the Wadi Rum desert, float in the Dead Sea, discover ancient religious sites and marvel at vast rose-red desert landscapes dotted with towering cliffs and camels.
Experience unparalleled luxury as you travel, staying in five-star accommodation throughout. The Four Seasons Hotel Amman is your indulgent base in the country's capital and promises to pamper you with a world-class spa and multiple fine-dining options. Witness the majesty of the desert at night with the ultimate glamping experience at Memories Aicha Luxury Camp – upgrade to a Stargazing Dome Tent for an unbelievable romantic experience under the stars. Kempinski Ishtar Dead Sea welcomes you at the lowest point on Earth, where you can float in the mystical waters and split your time between lazing on the private beach or at the hotel's pools.
This is a travel experience unlike any other, where ancient cities are infused with centuries of history, the desert offers spectacular sunsets and stargazing, and the sea is said to hold mystical healing powers.
Your tour includes:
Seven nights five-star accommodation including two nights at Four Seasons Hotel Amman, one night in a romantic desert setting at Memories Aicha Luxury Camp, two nights at Kempinski Ishtar Dead Sea and two nights at Mövenpick Resort Petra
Daily breakfast and select local dining experiences, including lunch at the authentic Haret Jdoudna Restaurant in Madaba and a farewell dinner at the popular Fakhreldin Restaurant in Amman
Experience one of the New Seven Wonders of the World with a night-time tour of UNESCO World Heritage-listed Petra
Take a thrilling 4WD safari in the Wadi Rum desert
Enjoy sunset in the Wadi Rum desert with champagne and canapés
Take a tour of Amman city with its monumental Temple of Hercules, Umayyad Palace, National Archaeological Museum and Roman Theatre
Float in the Dead Sea, revered for its alleged healing powers
Hike to Petra's Monastery, offering spectacular views of the city
Visit the Baptism Site at Bethany, where it is believed John the Baptist lived and Jesus was baptised
Discover Madaba, best known for its superb, historically significant Byzantine-era mosaics
Experience Mt Nebo, offering spectacular views over Jordan, the Dead Sea and Israel
Walk among the ruins of Jerash, one of the best-preserved Roman cities of the Middle East
Return airport transfers and fast-track meet and greet upon arrival
Transfers and excursions by private air-conditioned vehicle
The services of an English-speaking guide
Entrance fees and sightseeing per itinerary
Your journey takes you to: Amman – Petra – Wadi Rum – Dead Sea – Bethany – Madaba – Mt Nebo – Dead Sea – Jerash – Amman.
VIP accommodation upgrade: Experience the epitome of luxury when you choose the VIP accommodation package. Stay in an opulent Executive Suite at the Four Seasons Hotel Amman and spacious Junior Suites at Kempinski Ishtar Dead Sea and Mövenpick Resort Petra. The highlight: a Stargazing Dome Tent at Memories Aicha Luxury Camp, where you can sleep under a clear canopy offering panoramic views of the stars above and surrounding mountains.
Why not choose to uncover ancient Egypt before your Jordan tour? Step back in time to a storied land of pharaohs and pyramids on our once-in-a-lifetime nine-day luxury small-group tour and Nile River cruise.
Book with confidence: This tour is covered by our Change of Plan Guarantee, which will permit you to alter your travel plans up to 90 days before departure. You can rest easy knowing that should you not be able to travel as a result of Government travel restrictions, even right up to the day of departure Luxury Escapes will assist you with a date change, provide you with a credit or process a refund for your booking less any non-recoverable costs. See below for full terms and conditions.
package Options
8 Days from
Valued up to ₪ 13,544
Sold out
Inclusion highlights:
Inclusions valid for one person (twin share) — you must purchase two packages
Seven nights five-star accommodation including two nights at Four Seasons Hotel Amman, one night in a romantic desert setting at Memories Aicha Luxury Camp, two nights at Kempinski Ishtar Dead Sea and two nights at Mövenpick Resort Petra
Daily breakfast and select local dining experiences, including lunch at the authentic Haret Jdoudna Restaurant in Madaba and a farewell dinner at the popular Fakhreldin Restaurant in Amman
Experience one of the New Seven Wonders of the World with a night-time tour of UNESCO World Heritage-listed Petra
8 Days from
Valued up to ₪ 23,005
Sold out
Inclusion highlights:
Inclusions valid for one person (twin share) — you must purchase two packages
Seven nights five-star accommodation including two nights at Four Seasons Hotel Amman, one night in a romantic desert setting at Memories Aicha Luxury Camp, two nights at Kempinski Ishtar Dead Sea and two nights at Mövenpick Resort Petra
Daily breakfast and select local dining experiences, including lunch at the authentic Haret Jdoudna Restaurant in Madaba and a farewell dinner at the popular Fakhreldin Restaurant in Amman
Experience one of the New Seven Wonders of the World with a night-time tour of UNESCO World Heritage-listed Petra
VIP UPGRADE — TWIN SHARE — LOW SEASON
8 Days from
Valued up to ₪ 27,068
Sold out
Inclusion highlights:
Inclusions valid for one person (twin share) — you must purchase two packages
Seven nights of upgraded five-star accommodation including two nights in an Executive Suite at Four Seasons Hotel Amman, one night in a Stargazing Dome Tent at Memories Aicha Luxury Camp, where you can sleep under a clear canopy offering panoramic views of the stars above, two nights in a Junior Suite at Kempinski Ishtar Dead Sea and two nights in a Junior Suite at Mövenpick Resort Petra
Daily breakfast and select local dining experiences, including lunch at the authentic Haret Jdoudna Restaurant in Madaba and a farewell dinner at the popular Fakhreldin Restaurant in Amman
Experience one of the New Seven Wonders of the World with a night-time tour of UNESCO World Heritage-listed Petra
VIP UPGRADE — TWIN SHARE — HIGH SEASON
8 Days from
Valued up to ₪ 32,652
Sold out
Inclusion highlights:
Inclusions valid for one person (twin share) — you must purchase two packages
Seven nights of upgraded five-star accommodation including two nights in an Executive Suite at Four Seasons Hotel Amman, one night in a Stargazing Dome Tent at Memories Aicha Luxury Camp, where you can sleep under a clear canopy offering panoramic views of the stars above, two nights in a Junior Suite at Kempinski Ishtar Dead Sea and two nights in a Junior Suite at Mövenpick Resort Petra
Daily breakfast and select local dining experiences, including lunch at the authentic Haret Jdoudna Restaurant in Madaba and a farewell dinner at the popular Fakhreldin Restaurant in Amman
Experience one of the New Seven Wonders of the World with a night-time tour of UNESCO World Heritage-listed Petra
SOLO TRAVELLER — LOW SEASON
8 Days from
Valued up to ₪ 24,916
Sold out
Inclusion highlights:
Inclusions valid for one person
Seven nights five-star accommodation including two nights at Four Seasons Hotel Amman, one night in a romantic desert setting at Memories Aicha Luxury Camp, two nights at Kempinski Ishtar Dead Sea and two nights at Mövenpick Resort Petra
Daily breakfast and select local dining experiences, including lunch at the authentic Haret Jdoudna Restaurant in Madaba and a farewell dinner at the popular Fakhreldin Restaurant in Amman
Experience one of the New Seven Wonders of the World with a night-time tour of UNESCO World Heritage-listed Petra
SOLO TRAVELLER — HIGH SEASON
8 Days from
Valued up to ₪ 41,879
Sold out
Inclusion highlights:
Inclusions valid for one person
Seven nights five-star accommodation including two nights at Four Seasons Hotel Amman, one night in a romantic desert setting at Memories Aicha Luxury Camp, two nights at Kempinski Ishtar Dead Sea and two nights at Mövenpick Resort Petra
Daily breakfast and select local dining experiences, including lunch at the authentic Haret Jdoudna Restaurant in Madaba and a farewell dinner at the popular Fakhreldin Restaurant in Amman
Experience one of the New Seven Wonders of the World with a night-time tour of UNESCO World Heritage-listed Petra
VIP UPGRADE — SOLO TRAVELLER — LOW SEASON
8 Days from
Valued up to ₪ 51,540
Sold out
Inclusion highlights:
Inclusions valid for one person
Seven nights of upgraded five-star accommodation including two nights in an Executive Suite at Four Seasons Hotel Amman, one night in a Stargazing Dome Tent at Memories Aicha Luxury Camp, where you can sleep under a clear canopy offering panoramic views of the stars above, two nights in a Junior Suite at Kempinski Ishtar Dead Sea and two nights in a Junior Suite at Mövenpick Resort Petra
Daily breakfast and select local dining experiences, including lunch at the authentic Haret Jdoudna Restaurant in Madaba and a farewell dinner at the popular Fakhreldin Restaurant in Amman
Experience one of the New Seven Wonders of the World with a night-time tour of UNESCO World Heritage-listed Petra
VIP UPGRADE — SOLO TRAVELLER — HIGH SEASON
8 Days from
Valued up to ₪ 60,136
Sold out
Inclusion highlights:
Inclusions valid for one person
Seven nights of upgraded five-star accommodation including two nights in an Executive Suite at Four Seasons Hotel Amman, one night in a Stargazing Dome Tent at Memories Aicha Luxury Camp, where you can sleep under a clear canopy offering panoramic views of the stars above, two nights in a Junior Suite at Kempinski Ishtar Dead Sea and two nights in a Junior Suite at Mövenpick Resort Petra
Daily breakfast and select local dining experiences, including lunch at the authentic Haret Jdoudna Restaurant in Madaba and a farewell dinner at the popular Fakhreldin Restaurant in Amman
Experience one of the New Seven Wonders of the World with a night-time tour of UNESCO World Heritage-listed Petra