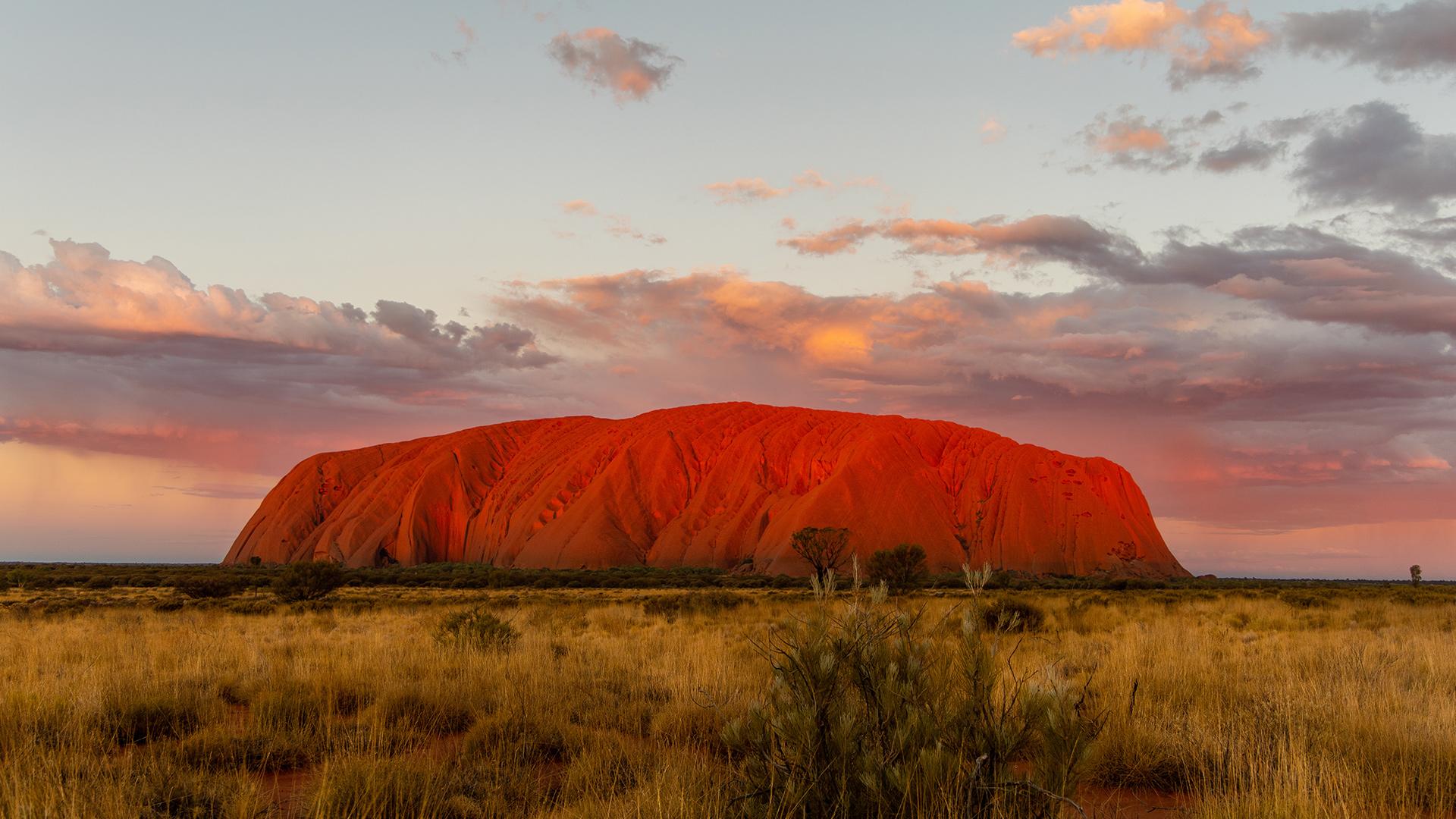 Red Centre to Kangaroo Island: 11-Day Small-Group Tour with All Meals, Scenic Flights & Iconic Outback Experiences

Take in the Northern Territory's breathtaking Red Centre and the majestic sights of South Australia on an unforgettable 11-day small-group tour (max. 12 travellers). Watch the scenery transform before your eyes as you travel from the arid desert of Uluru to the quaint outback charms of Coober Pedy and William Creek, on to the otherworldly landscapes of Ikara-Flinders Ranges National Park and Wilpena Pound, the rolling hills and mesmerising vines of Clare Valley, the vast protected parks of Kangaroo Island and cosmopolitan cityscape of Adelaide.
Unbelievable experiences await along the way: in Uluru, listen to the haunting calls of the outback over a unique 'Sounds of Silence' desert dinner and witness Bruce Munro's Field of Light at sunrise. Stay at the world's first underground hotel in Coober Pedy and get to know the quirky residents of Australia's smallest town, William Creek, a remote outback town with a population of less than 16. Soar over the incredible landscape of Anna Creek Painted Hills and Lake Eyre, and Flinders Ranges/Wilpena Pound on scenic flights, marvelling at the rugged terrain, vast lakes and majestic gorges. Indulge your inner gourmand in Clare Valley, sampling wine from some of the world's oldest vines and the finest regional produce. Australia's answer to the Galapagos awaits on Kangaroo Island, where you can walk among sea lions, impossible rock formations and dense bush alive with myriad wildlife. Your tour concludes in Adelaide, where cosmopolitan city life buzzes around you as you reflect on the vast and varied beauty of Australia.
Your tour includes:
Ten nights of handpicked accommodation, including Uluru's iconic Sails in the Desert, the underground Desert Cave Hotel in Coober Pedy, Ikara Safari Camp in the heart of Flinders Ranges, and Majestic Roof Garden Hotel in Adelaide
Daily breakfast, lunch and dinner (with drinks as per itinerary)
Roundtrip flights between Adelaide and Kangaroo Island
Scenic flight over Anna Creek Painted Hills and Lake Eyre, with a landing at Mount Eba Station
Take a second scenic flight over Ikara-Flinders Ranges National Park and Wilpena Pound
Mesmerising 'Sounds of Silence' dinner near Uluru
Walking tour through Kata Tjuta and Walpa Gorge
Visit Bruce Munro's Field of Light art installation at sunrise
Stop at The First and Last Pub in The Northern Territory and the Most Central Pub in Australia, Kulgera Roadhouse
Desert Cave Experience and Sunset Tour of Coober Pedy and Kanku-Breakaways Conservation Park
Discover Australia's smallest town, William Creek
Sunset Spectacular Tour of Flinders Ranges and Wilpena Pound with drinks and canapés
Wine tasting and gourmet food experiences in Clare Valley
Tour Kangaroo Island's top sights, including Seal Bay Conservation Park, Flinders Chase National Park, Remarkable Rocks and Admirals Arch
Taste spirits and liqueurs at Kangaroo Island Spirits
The services of expert driver-guides and knowledgeable local guides
All national park entry fees
Private arrival transfer from Ayers Rock Airport, Uluru (AYQ)
Shared transfer to Kingscote Airport (KGC) at the end of the tour
Transportation in an air-conditioned coach throughout
Your journey takes you to: Uluru – Coober Pedy – William Creek – Wilpena Pound (Ikara-Flinders Ranges National Park) – Clare Valley – Adelaide – Kangaroo Island – Adelaide.
Book with 100% Confidence: If you are unable to travel as a result of Government travel restrictions, Luxury Escapes will assist you with a date change, provide you with a credit or process a refund for your booking less any non-recoverable costs. See Fine Print for details.
Interest-free payment options available 

package Options
11 Days from
Valued up to A$13,250
Sold out
Inclusion highlights:
Package valid for one person (twin share) – you must purchase TWO packages
Ten nights of handpicked accommodation, including Uluru's iconic Sails in the Desert, the underground Desert Cave Hotel in Coober Pedy, Ikara Safari Camp in the heart of Flinders Ranges, and Majestic Roof Garden Hotel in Adelaide
Daily breakfast, lunch and dinner (with drinks as per itinerary)
Roundtrip flights between Adelaide and Kangaroo Island
Scenic flight over Anna Creek Painted Hills, Lake Eyre, with a landing at Mount Eba Station
Take a second scenic flight over Ikara-Flinders Ranges National Park and Wilpena Pound
Mesmerising 'Sounds of Silence' dinner in the Uluru desert
Walking tour through Kata Tjuta and Walpa Gorge
Visit Bruce Munro's Field of Light art installation at sunrise
Stop at The First and Last Pub in The Northern Territory and the Most Central Pub in Australia, Kulgera Roadhouse
Desert Cave Experience & Sunset Tour of Coober Pedy and Kanku-Breakaways Conservation Park
Discover Australia's smallest town, William Creek
Sunset Spectacular Tour of Flinders Ranges and Wilpena Pound with drinks and canapés
Wine tasting and gourmet food experiences in Clare Valley
Tour Kangaroo Island's top sights, including Seal Bay Conservation Park, Flinders Chase National Park, Remarkable Rocks and Admirals Arch
Taste spirits and liqueurs at Kangaroo Island Spirits
The services of expert driver-guides and knowledgeable local guides
All national park entry fees
Private arrival transfer from Ayers Rock Airport, Uluru, and shared transfer to Kingscote Airport (KGC) at the end of the tour
Transportation in an air-conditioned coach throughout
11 Days from
Valued up to A$14,294
Sold out
Inclusion highlights:
Inclusions valid for one person (solo traveller)
Ten nights of handpicked accommodation, including Uluru's iconic Sails in the Desert, the underground Desert Cave Hotel in Coober Pedy, Ikara Safari Camp in the heart of Flinders Ranges, and Majestic Roof Garden Hotel in Adelaide
Daily breakfast, lunch and dinner (with drinks as per itinerary)
Roundtrip flights between Adelaide and Kangaroo Island
Scenic flight over Anna Creek Painted Hills, Lake Eyre, with a landing at Mount Eba Station
Take a second scenic flight over Ikara-Flinders Ranges National Park and Wilpena Pound
Mesmerising 'Sounds of Silence' dinner in the Uluru desert
Walking tour through Kata Tjuta and Walpa Gorge
Visit Bruce Munro's Field of Light art installation at sunrise
Stop at The First and Last Pub in The Northern Territory and the Most Central Pub in Australia, Kulgera Roadhouse
Desert Cave Experience & Sunset Tour of Coober Pedy and Kanku-Breakaways Conservation Park
Discover Australia's smallest town, William Creek
Sunset Spectacular Tour of Flinders Ranges and Wilpena Pound with drinks and canapés
Wine tasting and gourmet food experiences in Clare Valley
Tour Kangaroo Island's top sights, including Seal Bay Conservation Park, Flinders Chase National Park, Remarkable Rocks and Admirals Arch
Taste spirits and liqueurs at Kangaroo Island Spirits
The services of expert driver-guides and knowledgeable local guides
All national park entry fees
Private arrival transfer from Ayers Rock Airport, Uluru, and shared transfer to Kingscote Airport (KGC) at the end of the tour
Transportation in an air-conditioned coach throughout