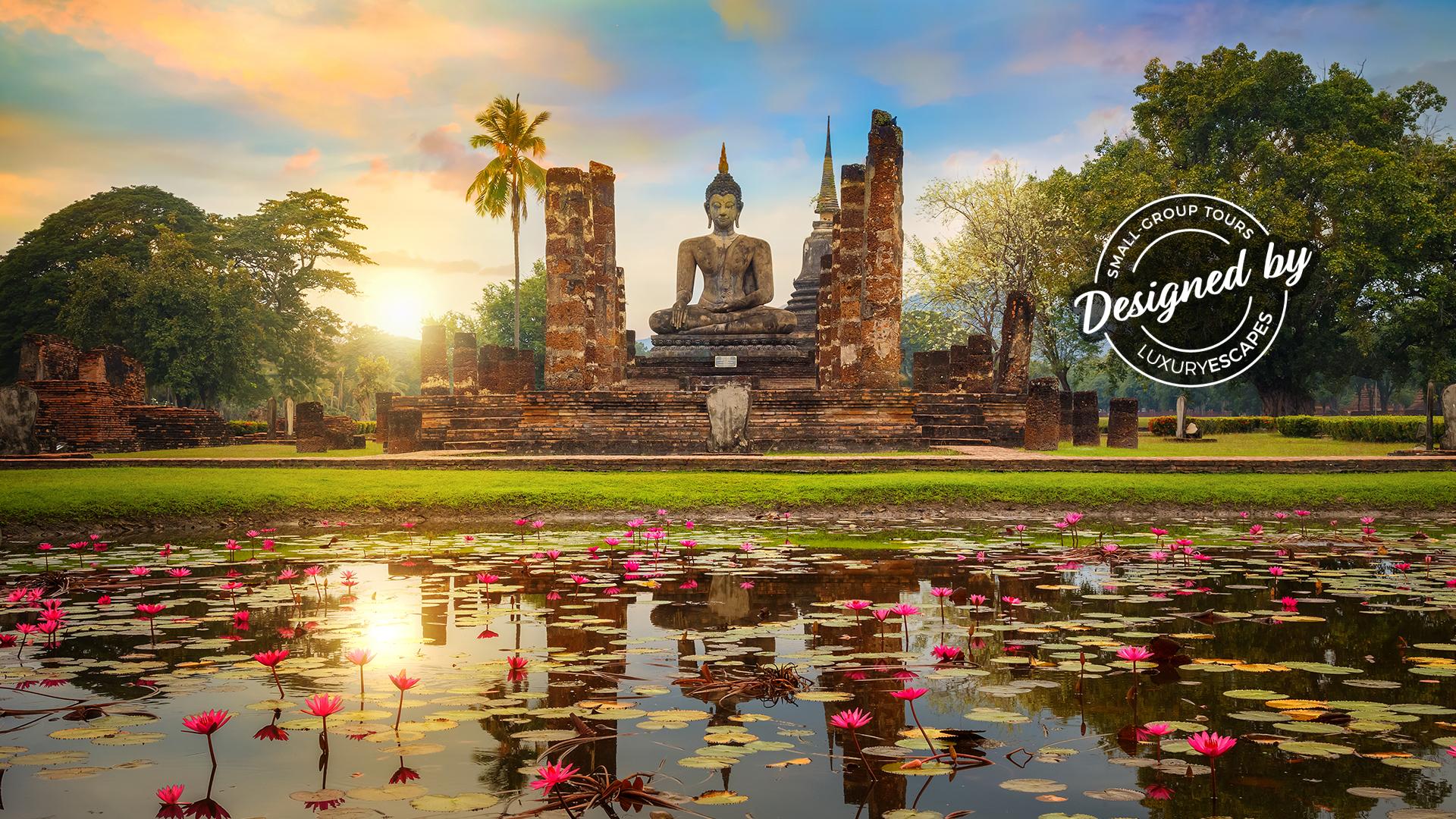 Thailand: 12-Day Luxury Small-Group Cultural Tour with Floating Hotel Stay & Boat Cruise on the River Kwai
From sacred spaces and bustling cities to palm-fringed rivers and ancient Buddhist temples: immerse yourself in the historic beauty of Thailand on a 12-day luxury small-group tour (max. 16 travellers). Delve into the country's cultured and curious past as you tour ancient, UNESCO World Heritage-listed sites and embrace the Thailand of today with the help of knowledgeable local guides. Learn the secrets of traditional Thai recipes during a hands-on cooking class, cycle your way through the historic ruins of Old Sukhothai, soak in the surrounds on a scenic cruise on the River Kwai, and indulge in local flavours during lunch onboard a traditional rice barge.
Your tour includes 11 nights of luxury accommodation – including an incredible stay in a floating hotel on the River Kwai, accessible only by boat – daily breakfast plus additional dining experiences, private return airport transfers and private transportation throughout, the services of expert local, English-speaking guides, a 60-minute massage and so much more.
Your journey takes you to: Bangkok – Kanchanaburi – Ayutthaya – Uthai Thani – Sukhothai — Chiang Mai — Chiang Rai — The Golden Triangle — Chiang Rai.
package Options
Inclusion highlights:
Package valid for one person (twin share) – you must purchase two packages
11 nights' accommodation in handpicked luxury hotels and feature stays
Daily breakfast and select dining experiences
Boat cruise on the River Kwai to the floating markets
Inclusion highlights:
Package valid for one person (twin share) – you must purchase two packages
11 nights' accommodation in handpicked luxury hotels and feature stays
Daily breakfast and select dining experiences
Boat cruise on the River Kwai to the floating markets
SOLO TRAVELLER – LOW SEASON
Inclusion highlights:
Package valid for one person
11 nights' accommodation in handpicked luxury hotels and feature stays
Daily breakfast and select dining experiences
Boat cruise on the River Kwai to the floating markets
SOLO TRAVELLER – HIGH SEASON
Inclusion highlights:
Package valid for one person
11 nights' accommodation in handpicked luxury hotels and feature stays
Daily breakfast and select dining experiences
Boat cruise on the River Kwai to the floating markets