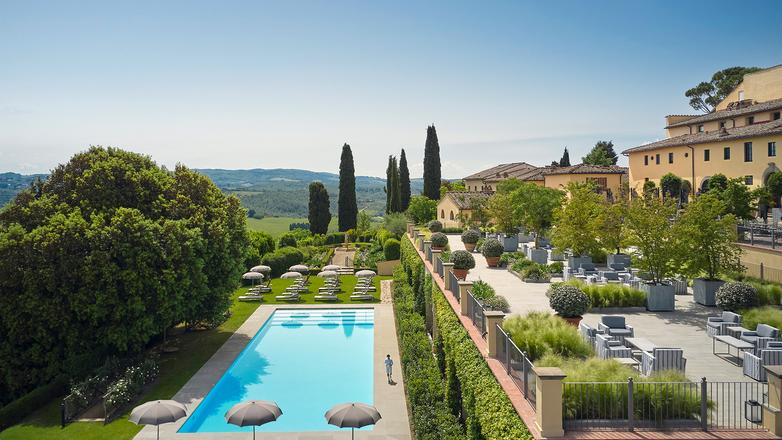 Italy & Austria - LETV Season 6 Episode 1
13 days
  ·  
4 places
  ·  
3 countries
Luxury Escapes Episode 1: Italy & Austria
Relax into the Italian way of life from the moment you step foot in the COMO Castello Del Nero. This elegant five-star retreat with Michelin-starred restaurant offers stunning views over the rolling hills of Tuscany, as well as a touch of history within its breathtaking 12th-century castle walls, draped with Renaissance frescoes.
Take this first day to settle in, enjoy your room and adjust to that lovely Mediterranean climate.
Toscana, Italy
COMO Castello Del Nero
COMO Castello Del Nero
Day 1 - Day 4 • 3 nights • 2 adults
Strada Spicciano 7, Barberino Tavarnelle 50028, Tuscany, Italy
Florence, Metropolitan City of Florence, Italy
Castello Del Nari is only 40 minutes from Florence and is the gateway to the region's world-class Chianti vineyards and olive groves dotted across the hilltops. Take advantage and experience Tuscany - Italian style - by booking a scooter through the property, or by hiring a car with Luxury Escapes.
Venture to the town of Sienna, a stunning medieval city in the heart of Tuscany known for its Gothic architecture and famous Palio horse race. Make sure to stop at Osteria Il Vinaio for lunch - we recommend ordering the same feast of regional specialities Jo (Name) prepared for Cam and Miguel for an authentic Italian dining experience.
53100 Siena, Province of Siena, Italy
Toscana, Italy
Osteria il Vinaio
Osteria il Vinaio
Via Camollia, 167, 53100 Siena SI, Italy
Today is all about indulgence. Maybe you take after Cam and want to spend your day at the COMO Shambhala Retreat, where the bespoke treatments induce deep relaxation and restore balance to the mind, body and soul. From Pilates to yoga, the gym, steam room, sauna & breathtaking hot tub will keep you entertained and fulfilled.
Or perhaps you're more like Miguel and prefer to experience the local delicacies up close and in person with truffle foraging. Discover the thrill of the hunt as specially trained dogs sniff out these 'black gold' funghi, which taste their best fresh from the soil. If you're not a fan of truffles, you can choose from a range of other experiences, including wine and cheese tastings, tours of the spectacular surrounding art and architecture, and authentic cooking classes.
Either way, bookend your day with some quality time together as Cam & Miguel did; starting with a relaxing couples massage and ending with a unique dinner set among the olive groves. Embark on a culinary journey thanks to Michelin-starred La Torre restaurant, which uses local produce to enhance the authentic flavours and spirit of the region.
After a short flight hour and half flight to Vienna, you'll arrive in one of the most underrated capital cities in Europe. Once the seat of the Hapsburg empire, Vienna has all the charm of Paris and the culture of London without the crowds.
Aside from the lure of its historical connection to culture and the arts (it was, after all, the home of Beethoven, Mozart and Sigmund Freud), the Austrian capital is the destination for lovers of romantic architecture. From the UNESCO World Heritage-listed Schönbrunn Palace to the glorious style mishmash of the imperial Hofburg and the Gothic St. Stephen's Cathedral, Vienna's architectural legacy is often overlooked in comparison to the likes of Barcelona and Paris.
Do as the locals do and ease into the morning over a newspaper at a specialty Kaffeehaus (coffee house – Vienna's 'bean scene' rivals that of Melbourne) along Naschmarkt, before jumping onto a bicycle to take in the sights. The Danube Cycle Path starts at the German border and continues towards Slovakia, while the Ringstrasse trail circles the Old Town and many of the city's most iconic landmarks (locals tip: take the #1 tram).
Spend your afternoon wandering the verdant gardens or viewing the architecture up close with a visit to one of the many museums - our favourite being the Kunsthistorisches (Art History) Museum, home to one of the most beautiful cafes in all of Austria.
Optional: to extend your journey and experience more of the countryside, opt for a direct, 10 hour Nightjet train from Florence to Vienna's Hauptbahnhof. Departing at 10pm and arriving at 8pm, you'll be transported back to the glamorous old world of travel with deluxe sleeping cars offering a comfortable bed and shower, enjoy the stunning scenery before you are rocked gentle to sleep, ready to wake up in refreshed & ready to explore Vienna.
Vienna, Austria
Vienna
Vienna
Vienna Austria
Max Brown Hotel 7th District
Max Brown Hotel 7th District
Day 5 - Day 7 • 2 nights • 2 adults
Schottenfeldgasse 74, 1070 Vienna, Austria
After two days of exploration, you'll be ready to sit back, relax and experience luxury like you've never seen before. Follow in the footsteps of Cam and Miguel and board the all-inclusive Riverside Mozart Cruise - setting the standard for river cruising, this voyage allows you to unlock the awe-inspiring beauty of central Europe in opulence above and beyond your wildest dreams. Be spoilt for choice with carefully curated excursions, tours and tastings – from Vienna's musical offerings to Linz's storied squares, the fairytale charm of Bratislava and the enchanting hot spring spas of Budapest.
Whether savouring haute Rhine-style mussels and freshly made Alsatian Kougelhof, cocooned in Waterside's pristine leather armchairs, or noshing on freshly grilled scampi paired with local Riesling at the open-air Vista Grill & Bar, rest assured the only finger you'll ever raise is for the next round.
Uncover legendary composers, fairytale architecture and culinary inventions well beyond schnitzel on a guided walk through Vienna, or visit its Spanish Riding School – home to the stately Lipizzaner horses – where you can spend a day watching these graceful creatures train and perform. Budapest offers the chance to take a dip in its legendary thermal bathhouses – though touring famous landmarks such as the Szechenyi Chain Bridge and Buda Castle with a guide, or being shown the city's beloved ruin bars, may be more your speed. With your choice of curated excursions offered in every port – and personal butler service to prepare you for each day ahead – Riverside Luxury Cruises ensures you'll treasure your time on the Danube.
Want to go on this trip? Start planning yours today!
Make it your own by saving individual trip items or customising this entire trip below