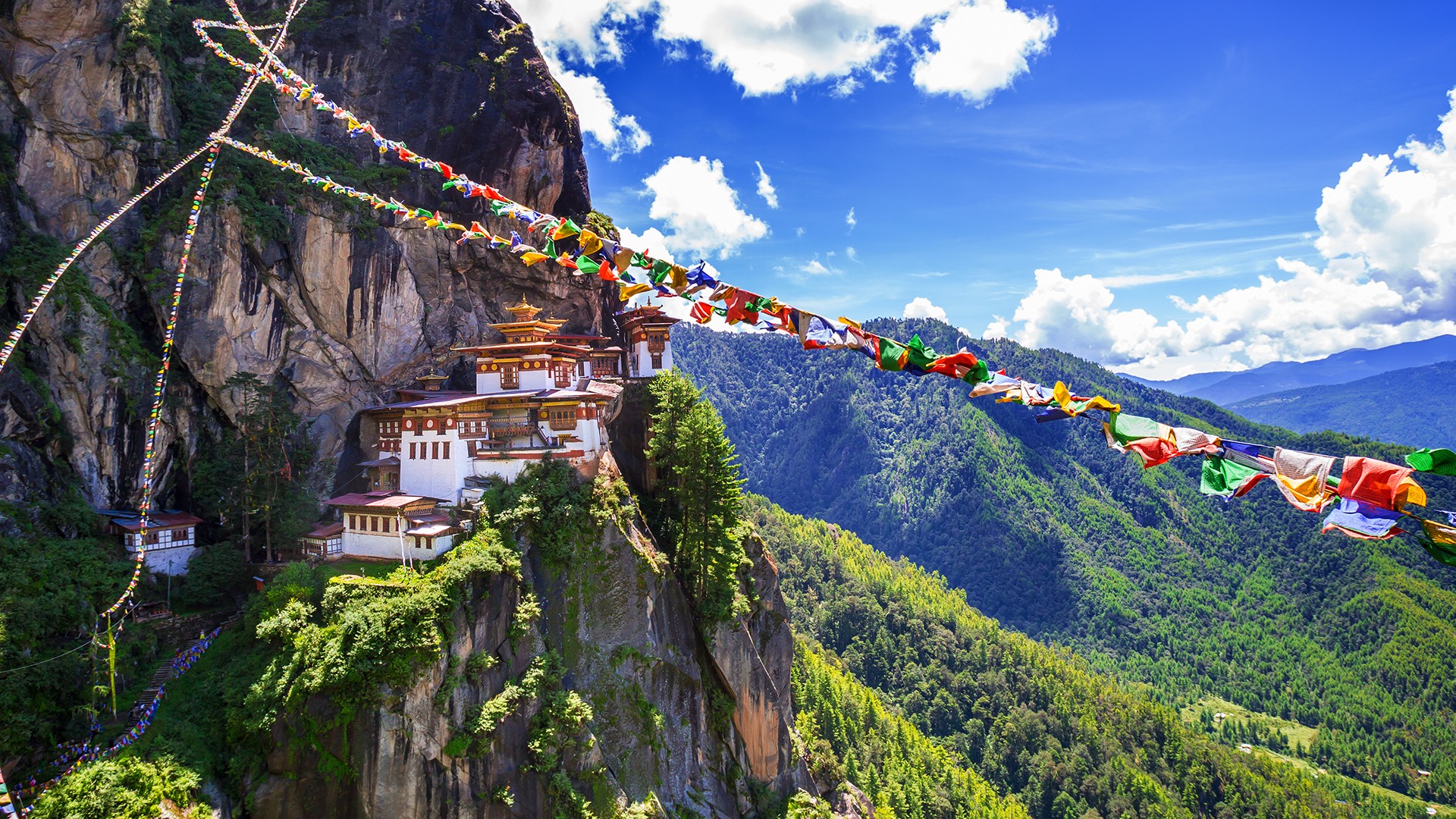 Bhutan 2022 & 2023: 7-Day Luxury Small-Group Cultural & Spiritual Tour with All-Inclusive Dining, Tiger's Nest Visit & Optional Nepal Extension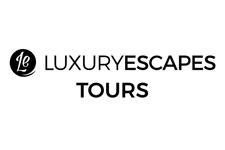 Set amid the beautiful scenery of the Himalayas, the small mountain kingdom of Bhutan is a unique destination that retains a distinct character largely untouched by the modern world. On this luxury small-group tour (max 16. travellers), immerse yourself in authentic Buddhism and discover its impact on this unique and untouched country, witness the magnificence of the famed 'Tiger's Nest' monastery with a spectacular hike to the clifftop and visit local marketplaces with authentic local arts and crafts.
Experience this breathtaking region's famed beauty by staying in luxury, handpicked accommodation, including two nights at the five-star Le Méridien Thimphu, two nights at the stunning Dhensa Boutique Hotel in picturesque Punakha and two nights at Le Méridien Paro, Riverfront, offering panoramic views of the Eastern Himalayas. Throughout this unique journey, you'll savour the delights of the region with daily breakfast, lunch and dinner, be regaled with expert knowledge thanks to the service of local guides, enjoy the convenience of a Bhutan visa fee, private transportation throughout and so much more, including insider experiences.
Your tour includes:
Six nights of luxury accommodation at some of the best hotels in the country, including the stunning Le Méridien Paro, Riverfront, offering panoramic views of the Eastern Himalayas
Daily breakfast, lunch and dinner, including unique local dining experiences
Once-in-a-lifetime hike to 'Tiger's Nest' Monastery
An exploration into Buddhism with included visits to Bhutan's famous monasteries
Guided visits to Bhutan's most important museums and cultural centres
Journey through the scenic mountain pass of Dochula
Visits to local markets showcasing genuine Bhutanese arts and crafts
Private airport transfers on arrival and departure
Private air-conditioned transportation throughout
The services of an expert, English-speaking local guide
Bhutan visa fee
Government royalty and taxes as applicable
Sightseeing and entrance fees as per the itinerary
Nepal extension available: Upgrade and extend your tour with four exciting nights in Nepal, where you'll discover the regal beauty of famous Kathmandu, the incredible mountainous backdrop of Nagarkot and the grand aura of Mt. Everest with an included scenic flight over the famed mountaintop.
Your journey takes you to: Paro – Thimphu – Punakha – Paro – Tiger's Nest – Paro.
Book with Confidence: We work directly with our trusted partners and provide 24/7 customer service to ensure that no matter what happens, we're here to help. If your escape is affected by Covid-19 restrictions, we will do our best to assist you with a date change or provide you with a Luxury Escapes credit for another Limited Time Lux Exclusive accommodation, tour or cruise offer, less any unrecoverable costs; excludes flights. Find out more.
package Options
7 Days from
Includes taxes & fees
Sold out
Inclusion highlights:
Package valid for one person (twin share) – you MUST purchase two packages
Includes private room with ensuite throughout tour with king or queen bed, or two bed options
Six nights of luxury accommodation at some of the best hotels in the country, including two nights at the five-star Le Meridien Thimphu, two nights at the stunning Dhensa Boutique Hotel in picturesque Punakha and two nights at the stunning Le Meridien Paro Riverfront, offering panoramic views of the Eastern Himalayas
Daily breakfast, lunch and dinner, including unique local dining experiences
Spectacular hike to 'Tiger's Nest' Monastery
An exploration of Buddhism with included visits to Bhutan's famous monasteries
Guided visits to Bhutan's most important museums and cultural centres
Journey through the scenic mountain pass of Dochula
Visits to local markets showcasing genuine Bhutanese arts and crafts
Private airport transfers on arrival and departure
Private air-conditioned transportation throughout
The services of an expert, English-speaking local guide
Bhutan visa
Government royalty and taxes as applicable
Sightseeing and entrance fees as per the itinerary
7 Days from
Includes taxes & fees
Sold out
Inclusion highlights:
Package valid for one person (twin share) – you MUST purchase two packages
Includes private room with ensuite throughout tour with king or queen bed, or two bed options
Six nights of luxury accommodation at some of the best hotels in the country, including two nights at the five-star Le Meridien Thimphu, two nights at the stunning Dhensa Boutique Hotel in picturesque Punakha and two nights at the stunning Le Meridien Paro Riverfront, offering panoramic views of the Eastern Himalayas
Daily breakfast, lunch and dinner, including unique local dining experiences
Spectacular hike to 'Tiger's Nest' Monastery
An exploration of Buddhism with included visits to Bhutan's famous monasteries
Guided visits to Bhutan's most important museums and cultural centres
Journey through the scenic mountain pass of Dochula
Visits to local markets showcasing genuine Bhutanese arts and crafts
Private airport transfers on arrival and departure
Private air-conditioned transportation throughout
The services of an expert, English-speaking local guide
Bhutan visa
Government royalty and taxes as applicable
Sightseeing and entrance fees as per the itinerary
Solo Traveller – Low Season
7 Days from
Includes taxes & fees
Sold out
Inclusion highlights:
Package valid for one person (solo traveller)
Includes private room with ensuite throughout tour with king or queen bed, or two bed options
Six nights of luxury accommodation at some of the best hotels in the country, including two nights at the five-star Le Meridien Thimphu, two nights at the stunning Dhensa Boutique Hotel in picturesque Punakha and two nights at the stunning Le Meridien Paro Riverfront, offering panoramic views of the Eastern Himalayas
Daily breakfast, lunch and dinner, including unique local dining experiences
Spectacular hike to 'Tiger's Nest' Monastery
An exploration of Buddhism with included visits to Bhutan's famous monasteries
Guided visits to Bhutan's most important museums and cultural centres
Journey through the scenic mountain pass of Dochula
Visits to local markets showcasing genuine Bhutanese arts and crafts
Private airport transfers on arrival and departure
Private air-conditioned transportation throughout
The services of an expert, English-speaking local guide
Bhutan visa
Government royalty and taxes as applicable
Sightseeing and entrance fees as per the itinerary
Solo Traveller – High Season
7 Days from
Includes taxes & fees
Sold out
Inclusion highlights:
Package valid for one person (solo traveller)
Includes private room with ensuite throughout tour with king or queen bed, or two bed options
Six nights of luxury accommodation at some of the best hotels in the country, including two nights at the five-star Le Meridien Thimphu, two nights at the stunning Dhensa Boutique Hotel in picturesque Punakha and two nights at the stunning Le Meridien Paro Riverfront, offering panoramic views of the Eastern Himalayas
Daily breakfast, lunch and dinner, including unique local dining experiences
Spectacular hike to 'Tiger's Nest' Monastery
An exploration of Buddhism with included visits to Bhutan's famous monasteries
Guided visits to Bhutan's most important museums and cultural centres
Journey through the scenic mountain pass of Dochula
Visits to local markets showcasing genuine Bhutanese arts and crafts
Private airport transfers on arrival and departure
Private air-conditioned transportation throughout
The services of an expert, English-speaking local guide
Bhutan visa
Government royalty and taxes as applicable
Sightseeing and entrance fees as per the itinerary
Nepal Extension – Twin Share – Low Season
11 Days from
Includes taxes & fees
Sold out
Inclusion highlights:
Package valid for one person (twin share) – you MUST purchase two packages
Nepal Extension:
International economy flight from Paro to Kathmandu
Four nights of luxury accommodation including three nights at the five-star Hyatt Regency Kathmandu and one night at the charming Hotel Mystic Mountain Nagarkot
Breathtaking scenic flight over Mt. Everest
Guided visits through Kathmandu's most iconic temples and shrines including Pashupatinath and Boudhanath Stupa
Visit to Bhaktapur known as the 'place of devotees'
Overnight stay in the breathtaking mountain retreat of Nagarkot
You'll also receive:
Includes private room with ensuite throughout tour with king or queen bed, or two bed options
Six nights of luxury accommodation at some of the best hotels in the country, including two nights at the five-star Le Meridien Thimphu, two nights at the stunning Dhensa Boutique Hotel in picturesque Punakha and two nights at the stunning Le Meridien Paro Riverfront, offering panoramic views of the Eastern Himalayas
Daily breakfast, lunch and dinner, including unique local dining experiences
Spectacular hike to 'Tiger's Nest' Monastery
An exploration of Buddhism with included visits to Bhutan's famous monasteries
Guided visits to Bhutan's most important museums and cultural centres
Journey through the scenic mountain pass of Dochula
Visits to local markets showcasing genuine Bhutanese arts and crafts
Private airport transfers on arrival and departure
Private air-conditioned transportation throughout
The services of an expert, English-speaking local guide
Bhutan visa
Government royalty and taxes as applicable
Sightseeing and entrance fees as per the itinerary
Nepal Extension – Twin Share – High Season
11 Days from
Includes taxes & fees
Sold out
Inclusion highlights:
Package valid for one person (twin share) – you MUST purchase two packages
Nepal Extension:
International economy flight from Paro to Kathmandu
Four nights of luxury accommodation including three nights at the five-star Hyatt Regency Kathmandu and one night at the charming Hotel Mystic Mountain Nagarkot
Breathtaking scenic flight over Mt. Everest
Guided visits through Kathmandu's most iconic temples and shrines including Pashupatinath and Boudhanath Stupa
Visit to Bhaktapur known as the 'place of devotees'
Overnight stay in the breathtaking mountain retreat of Nagarkot
You'll also receive:
Includes private room with ensuite throughout tour with king or queen bed, or two bed options
Six nights of luxury accommodation at some of the best hotels in the country, including two nights at the five-star Le Meridien Thimphu, two nights at the stunning Dhensa Boutique Hotel in picturesque Punakha and two nights at the stunning Le Meridien Paro Riverfront, offering panoramic views of the Eastern Himalayas
Daily breakfast, lunch and dinner, including unique local dining experiences
Spectacular hike to 'Tiger's Nest' Monastery
An exploration of Buddhism with included visits to Bhutan's famous monasteries
Guided visits to Bhutan's most important museums and cultural centres
Journey through the scenic mountain pass of Dochula
Visits to local markets showcasing genuine Bhutanese arts and crafts
Private airport transfers on arrival and departure
Private air-conditioned transportation throughout
The services of an expert, English-speaking local guide
Bhutan visa
Government royalty and taxes as applicable
Sightseeing and entrance fees as per the itinerary
Nepal Extension – Solo Traveller – Low Season
11 Days from
Includes taxes & fees
Sold out
Inclusion highlights:
Package valid for one person (solo traveller)
Nepal Extension:
International economy flight from Paro to Kathmandu
Four nights of luxury accommodation including three nights at the five-star Hyatt Regency Kathmandu and one night at the charming Hotel Mystic Mountain Nagarkot
Breathtaking scenic flight over Mt. Everest
Guided visits through Kathmandu's most iconic temples and shrines including Pashupatinath and Boudhanath Stupa
Visit to Bhaktapur known as the 'place of devotees'
Overnight stay in the breathtaking mountain retreat of Nagarkot
You'll also receive:
Includes private room with ensuite throughout tour with king or queen bed, or two bed options
Six nights of luxury accommodation at some of the best hotels in the country, including two nights at the five-star Le Meridien Thimphu, two nights at the stunning Dhensa Boutique Hotel in picturesque Punakha and two nights at the stunning Le Meridien Paro Riverfront, offering panoramic views of the Eastern Himalayas
Daily breakfast, lunch and dinner, including unique local dining experiences
Spectacular hike to 'Tiger's Nest' Monastery
An exploration of Buddhism with included visits to Bhutan's famous monasteries
Guided visits to Bhutan's most important museums and cultural centres
Journey through the scenic mountain pass of Dochula
Visits to local markets showcasing genuine Bhutanese arts and crafts
Private airport transfers on arrival and departure
Private air-conditioned transportation throughout
The services of an expert, English-speaking local guide
Bhutan visa
Government royalty and taxes as applicable
Sightseeing and entrance fees as per the itinerary
Nepal Extension – Solo Traveller – High Season
11 Days from
Includes taxes & fees
Sold out
Inclusion highlights:
Package valid for one person (solo traveller)
Nepal Extension:
International economy flight from Paro to Kathmandu
Four nights of luxury accommodation including three nights at the five-star Hyatt Regency Kathmandu and one night at the charming Hotel Mystic Mountain Nagarkot
Breathtaking scenic flight over Mt. Everest
Guided visits through Kathmandu's most iconic temples and shrines including Pashupatinath and Boudhanath Stupa
Visit to Bhaktapur known as the 'place of devotees'
Overnight stay in the breathtaking mountain retreat of Nagarkot
You'll also receive:
Includes private room with ensuite throughout tour with king or queen bed, or two bed options
Six nights of luxury accommodation at some of the best hotels in the country, including two nights at the five-star Le Meridien Thimphu, two nights at the stunning Dhensa Boutique Hotel in picturesque Punakha and two nights at the stunning Le Meridien Paro Riverfront, offering panoramic views of the Eastern Himalayas
Daily breakfast, lunch and dinner, including unique local dining experiences
Spectacular hike to 'Tiger's Nest' Monastery
An exploration of Buddhism with included visits to Bhutan's famous monasteries
Guided visits to Bhutan's most important museums and cultural centres
Journey through the scenic mountain pass of Dochula
Visits to local markets showcasing genuine Bhutanese arts and crafts
Private airport transfers on arrival and departure
Private air-conditioned transportation throughout
The services of an expert, English-speaking local guide
Bhutan visa
Government royalty and taxes as applicable
Sightseeing and entrance fees as per the itinerary