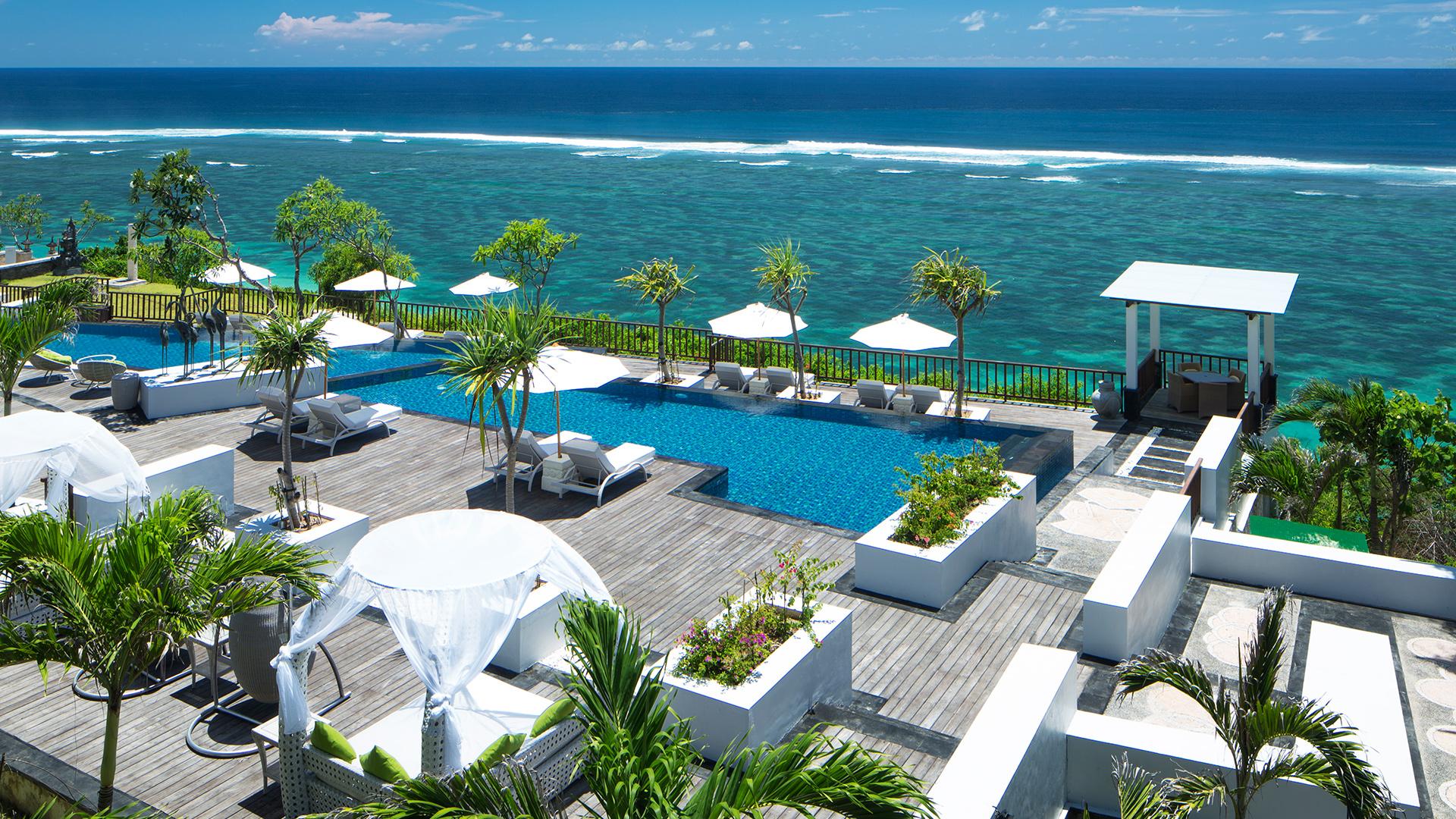 All-Inclusive Cliffside Indulgence with 24-Hour Butler Service
Take luxury to new heights with an indulgent clifftop stay at the 2019 winner of the World's Best Luxury Beach Resort, Samabe Bali Suites & Villas. Soak up the warm Balinese sun and truly unwind as you enjoy all-inclusive dining.
Includes daily buffet breakfast, daily lunch, nightly dinner, daily free-flow alcoholic beverages from 3pm onwards, a romantic four-course dining experience, 24-hour butler service, daily 60-minute in-room couples' massages and much more.
package Options
LUXURY CLIFFTOP ESCAPE
Ocean Front Family Suite or Ocean Front Samabe Suite
Inclusion highlights:
Inclusions valid for two people
All-inclusive dining: buffet breakfast, two-course lunches and dinners, free-flow alcoholic drinks, afternoon high tea & more
Daily 60-minute in-room massage per adult
One-way transfer from Denpasar Airport
PRIVATE POOL VILLA UPGRADE
One Bedroom Pool Villa
Inclusion highlights:
Inclusions valid for two people
All-inclusive dining: buffet breakfast, two-course lunches and dinners, free-flow alcoholic drinks, afternoon high tea & more
Daily 60-minute in-room massage per adult
One-way transfer from Denpasar Airport
GROUP VILLA UPGRADE
Two Bedroom Garden Pool Villa
Inclusion highlights:
Inclusions valid for four people
All-inclusive dining: buffet breakfast, two-course lunches and dinners, free-flow alcoholic drinks, afternoon high tea & more
Daily 60-minute in-room massage per adult
One-way transfer from Denpasar Airport
LUXURY CLIFFTOP ESCAPE
Ocean Front Family Suite or Ocean Front Samabe Suite
Inclusion highlights:
Inclusions valid for two people
All-inclusive dining: buffet breakfast, two-course lunches and dinners, free-flow alcoholic drinks, afternoon high tea & more
Daily 60-minute in-room massage per adult
Return transfers from Denpasar Airport
PRIVATE POOL VILLA UPGRADE
One Bedroom Pool Villa
Inclusion highlights:
Inclusions valid for two people
All-inclusive dining: buffet breakfast, two-course lunches and dinners, free-flow alcoholic drinks, afternoon high tea & more
Daily 60-minute in-room massage per adult
Return transfers from Denpasar Airport
GROUP VILLA UPGRADE
Two Bedroom Garden Pool Villa
Inclusion highlights:
Inclusions valid for four people
All-inclusive dining: buffet breakfast, two-course lunches and dinners, free-flow alcoholic drinks, afternoon high tea & more
Daily 60-minute in-room massage per adult
Return transfers from Denpasar Airport
LUXURY CLIFFTOP ESCAPE
Ocean Front Family Suite or Ocean Front Samabe Suite
Inclusion highlights:
Inclusions valid for two people
All-inclusive dining: buffet breakfast, two-course lunches and dinners, free-flow alcoholic drinks, afternoon high tea & more
Daily 60-minute in-room massage per adult
Return transfers from Denpasar Airport
PRIVATE POOL VILLA UPGRADE
One Bedroom Pool Villa
Inclusion highlights:
Inclusions valid for two people
All-inclusive dining: buffet breakfast, two-course lunches and dinners, free-flow alcoholic drinks, afternoon high tea & more
Daily 60-minute in-room massage per adult
Return transfers from Denpasar Airport
GROUP VILLA UPGRADE
Two Bedroom Garden Pool Villa
Inclusion highlights:
Inclusions valid for four people
All-inclusive dining: buffet breakfast, two-course lunches and dinners, free-flow alcoholic drinks, afternoon high tea & more
Daily 60-minute in-room massage per adult
Return transfers from Denpasar Airport