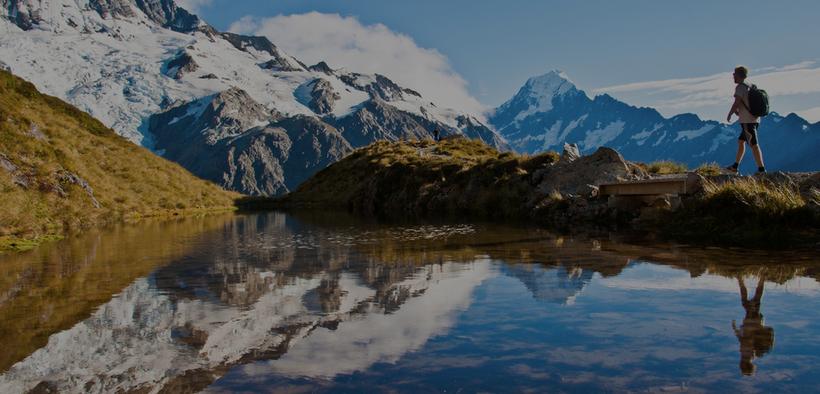 New Zealand
Discover New Zealand's coastal, island and alpine highlights before raising a glass to the nation's beauty in relaxed cafes, innovative restaurants and spectacular vineyards.
Get exclusive offers to New Zealand and other amazing destinations
1,206,988 people like us
Get exclusive offers to New Zealand and other amazing destinations
1,206,988 people like us
Featured escapes in New Zealand
We are currently sold out of our New Zealand escapes!
Our travel experts are working hard on curating new New Zealand offers. In the meantime check out our available offers in other exciting destinations.
Travel guides to explore New Zealand
Discover the beauty of New Zealand
Exciting Auckland is a vibrant urban destination. Explore Karangahape Road's cafes and bars before travelling by ferry or floatplane to Waiheke Island's arcing coves and vineyard restaurants. Experience West Auckland's spectacular black-sand surf beaches followed by more excellent food and wine.
South of Auckland, Rotorua's landscape of geothermal valleys is framed by forest-clad lakes. Ride the Skyline gondola for views of Lake Rotorua, or kayak to hot springs on Lake Rotoiti. Discover traditional Māori culture before the gentle thrills of a forest zipline or the Redwoods Treewalk.
To the north, the Bay of Islands is the historic birthplace of modern New Zealand. Māori and European heritage combine in Waitangi, Kerikeri and Russell, while bayside Paihia is the gateway for exploring the bay by boat. The region's sub-tropical climate supports a tasty menu of wine artisan food producers and cosmopolitan restaurants.
Negotiate the laneways and heritage neighbourhoods of the nation's capital to seek out Wellington's surprising cafes, restaurants and world-class craft beer scene. Aotearoa's natural and cultural heritage is showcased at Zealandia and Te Papa's Museum of New Zealand, while Hiakai's innovative menus are a contemporary culinary treasure.
Enlivening the city's English heritage, the post-earthquake rebirth of Christchurch is introducing the energy of street art and contemporary architecture. Local tour guides, cultural institutions and innovative chefs are all equally inspired, and essential diversions from the city include Akaroa's spectacular harbour and French history, and the cool-climate wines of the Waipara Valley.
Vineyards concealed in Marlborough's rolling hills produce New Zealand's world-renowned sauvignon blanc, while the bays of Abel Tasman National Park are popular for kayaking and gentle hiking. Slightly more strenuous is negotiating the necklace of remote coves fringing the Queen Charlotte Track.
Active adventures amid alpine scenery make Queenstown the country's premier summer and winter destination, while history, fine wine and superb mountain views combine around heritage Arrowtown, lakeside Wanaka and the nearby Central Otago wine region.