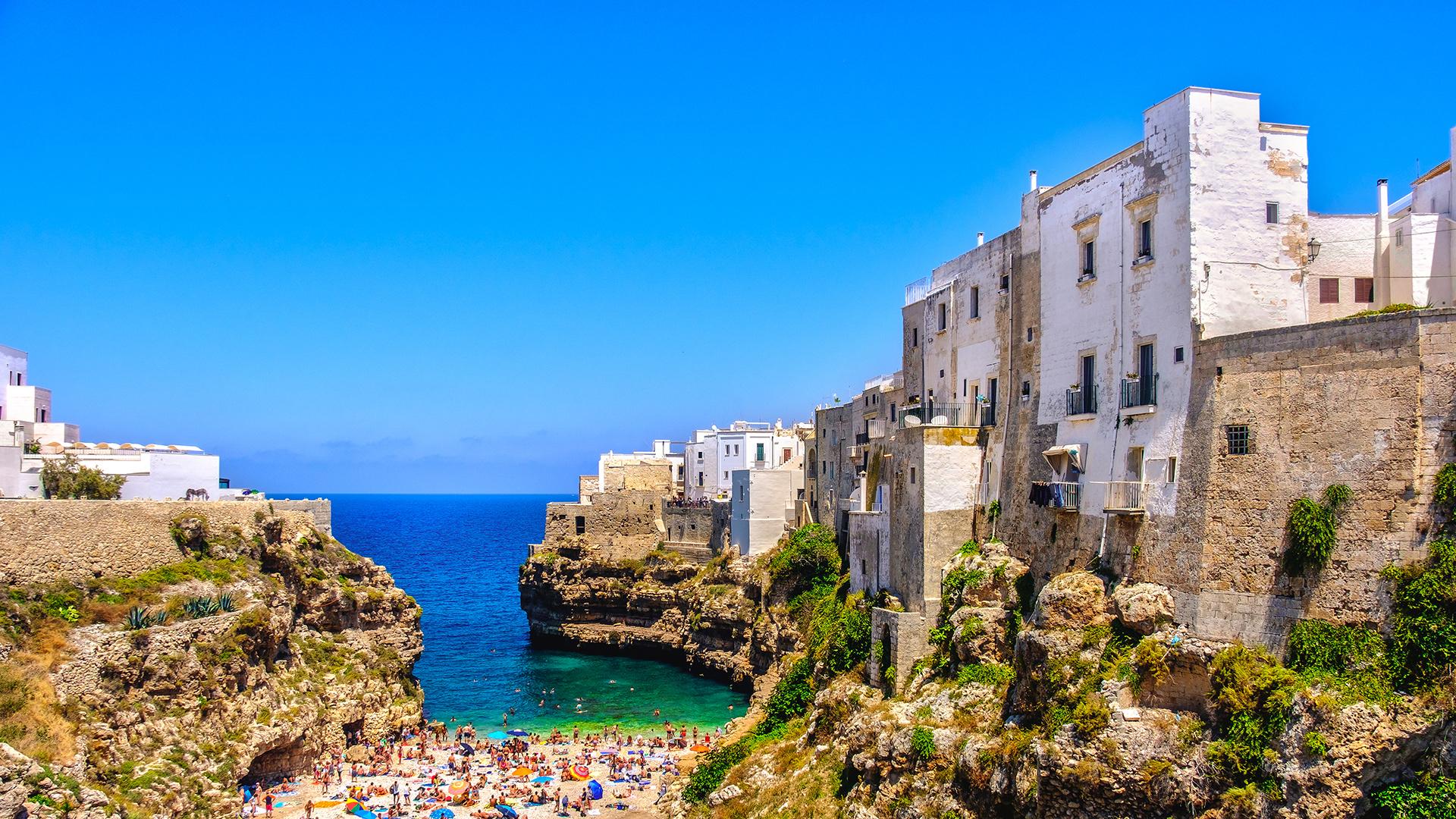 Puglia: Discover World-Class Gastronomy in Italy's Best-Kept Secret
Discover Puglia, Italy's best kept secret and most exciting culinary destination, on a luxury seven-day small-group tour (max. 16 travellers). Immerse yourself in the beauty, culture and gastronomy of this sun-bleached region whilst staying in a luxurious Palazzo and a 17th-century farmhouse. Set sail on the Adriatic Sea on a private sail boat, receive expert culinary tuition from Italian chefs, and gain access to local artisan producers, including a burrata cheese maker, Puglia's oldest existing olive oil estate and a prestigious local winery. Includes daily breakfasts, two gourmet lunches, five unforgettable dinners, return airport transfers, private transportation, sightseeing, expert local guides, insider experiences and so much more.
Extend your tour: Continue through Italy and discover the incredible UNESCO World Heritage-listed cave town of Matera.
Interest-free payment options available 

package Options
7 Days from
Valued up to A$7,350
Sold out
Earn 4,999 Qantas Points
Inclusion highlights:
Package valid for one person (twin share) - You must purchase two packages
Six nights in luxury accommodation selected for excellence and location, including two nights at Palazzo de Noha and four nights at Masseria Montenapoleone
Daily breakfasts including freshly-baked cakes, preserves and other homemade delicacies crafted using organic, locally grown produce
Two lunches including an atmospheric lunch served in the private dining room of one of the Salento Province's most prestigious wineries
Five memorable dinners, including a meal created during your cooking extravaganza with chef Gianna Greco
Two authentic Italian cooking lessons with expert Italian chefs, during which you'll handcraft pasta and other delicacies
A scenic boat trip on a private sail boat on the Adriatic Sea
Guided walking tours of some of the region's most beautiful and characteristic towns including Monopoli, Ostuni and Polignano a Mare
Access to small local producers that are not known to the public
Return private airport transfers
A hands-on Burrata making experience
Visit to an ancient olive grove and olive oil tasting
Private transportation throughout the tour
Expert local guides with insider knowledge and experiences
All sightseeing and entrance fees
Small group sizes of just 16 people max. for the perfect balance of intimacy and freedom throughout your tour
7 Days from
Valued up to A$7,975
Sold out
Earn 5,499 Qantas Points
Inclusion highlights:
Package valid for one person (twin share) - You must purchase two packages
Six nights in luxury accommodation selected for excellence and location, including two nights at Palazzo de Noha and four nights at Masseria Montenapoleone
Daily breakfasts including freshly-baked cakes, preserves and other homemade delicacies crafted using organic, locally grown produce
Two lunches including an atmospheric lunch served in the private dining room of one of the Salento Province's most prestigious wineries
Five memorable dinners, including a meal created during your cooking extravaganza with chef Gianna Greco
Two authentic Italian cooking lessons with expert Italian chefs, during which you'll handcraft pasta and other delicacies
A scenic boat trip on a private sail boat on the Adriatic Sea
Guided walking tours of some of the region's most beautiful and characteristic towns including Monopoli, Ostuni and Polignano a Mare
Access to small local producers that are not known to the public
Return private airport transfers
A hands-on Burrata making experience
Visit to an ancient olive grove and olive oil tasting
Private transportation throughout the tour
Expert local guides with insider knowledge and experiences
All sightseeing and entrance fees
Small group sizes of just 16 people max. for the perfect balance of intimacy and freedom throughout your tour
TWIN SHARE - LOW SEASON EXTENSION
9 Days from
Valued up to A$8,575
Sold out
Earn 5,999 Qantas Points
Inclusion highlights:
Package valid for one person (twin share) - You must purchase two packages
Six nights in luxury accommodation selected for excellence and location, including two nights at Palazzo de Noha and four nights at Masseria Montenapoleone
Daily breakfasts including freshly-baked cakes, preserves and other homemade delicacies crafted using organic, locally grown produce
Two lunches including an atmospheric lunch served in the private dining room of one of the Salento Province's most prestigious wineries
Five memorable dinners, including a meal created during your cooking extravaganza with chef Gianna Greco
Two authentic Italian cooking lessons with expert Italian chefs, during which you'll handcraft pasta and other delicacies
A scenic boat trip on a private sail boat on the Adriatic Sea
Guided walking tours of some of the region's most beautiful and characteristic towns including Monopoli, Ostuni and Polignano a Mare
Access to small local producers that are not known to the public
Return private airport transfers
A hands-on Burrata making experience
Visit to an ancient olive grove and olive oil tasting
Private transportation throughout the tour
Expert local guides with insider knowledge and experiences
All sightseeing and entrance fees
Small group sizes of just 16 people max. for the perfect balance of intimacy and freedom throughout your tour
TOUR EXTENSION INCLUDES:
Two additional nights in luxury accommodations at Aquatio Cave Luxury Hotel & Spa, located in the heart of the UNESCO World Heritage Site Sassi
Daily breakfast, one lunch and one dinner
Explore the UNESCO World Heritage-listed cave town of Matera
Discover the town of Martina Franca – the home of the D.O.P Capocollo
Visit a local bakery to see the artisans at work creating D.O.P certified bread
TWIN SHARE - HIGH SEASON EXTENSION
9 Days from
Valued up to A$9,150
Sold out
Earn 6,499 Qantas Points
Inclusion highlights:
Package valid for one person (twin - share) - You must purchase two packages
Six nights in luxury accommodation selected for excellence and location, including two nights at Palazzo de Noha and four nights at Masseria Montenapoleone
Daily breakfasts including freshly-baked cakes, preserves and other homemade delicacies crafted using organic, locally grown produce
Two lunches including an atmospheric lunch served in the private dining room of one of the Salento Province's most prestigious wineries
Five memorable dinners, including a meal created during your cooking extravaganza with chef Gianna Greco
Two authentic Italian cooking lessons with expert Italian chefs, during which you'll handcraft pasta and other delicacies
A scenic boat trip on a private sail boat on the Adriatic Sea
Guided walking tours of some of the region's most beautiful and characteristic towns including Monopoli, Ostuni and Polignano a Mare
Access to small local producers that are not known to the public
Return private airport transfers
A hands-on Burrata making experience
Visit to an ancient olive grove and olive oil tasting
Private transportation throughout the tour
Expert local guides with insider knowledge and experiences
All sightseeing and entrance fees
Small group sizes of just 16 people max. for the perfect balance of intimacy and freedom throughout your tour
TOUR EXTENSION INCLUDES:
Two additional nights in luxury accommodations at Aquatio Cave Luxury Hotel & Spa, located in the heart of the UNESCO World Heritage Site Sassi
Daily breakfast, one lunch and one dinner
Explore the UNESCO World Heritage-listed cave town of Matera
Discover the town of Martina Franca – the home of the D.O.P Capocollo
Visit a local bakery to see the artisans at work creating D.O.P certified bread
SOLO TRAVELLER - LOW SEASON
7 Days from
Valued up to A$9,575
Sold out
Earn 6,799 Qantas Points
Inclusion highlights:
Package valid for one person
Six nights in luxury accommodation selected for excellence and location, including two nights at Palazzo de Noha and four nights at Masseria Montenapoleone
Daily breakfasts including freshly-baked cakes, preserves and other homemade delicacies crafted using organic, locally grown produce
Two lunches including an atmospheric lunch served in the private dining room of one of the Salento Province's most prestigious wineries
Five memorable dinners, including a meal created during your cooking extravaganza with chef Gianna Greco
Two authentic Italian cooking lessons with expert Italian chefs, during which you'll handcraft pasta and other delicacies
A scenic boat trip on a private sail boat on the Adriatic Sea
Guided walking tours of some of the region's most beautiful and characteristic towns including Monopoli, Ostuni and Polignano a Mare
Access to small local producers that are not known to the public
Return private airport transfers
A hands-on Burrata making experience
Visit to an ancient olive grove and olive oil tasting
Private transportation throughout the tour
Expert local guides with insider knowledge and experiences
All sightseeing and entrance fees
Small group sizes of just 16 people max. for the perfect balance of intimacy and freedom throughout your tour
SOLO TRAVELLER - HIGH SEASON
7 Days from
Valued up to A$9,850
Sold out
Earn 7,299 Qantas Points
Inclusion highlights:
Package valid for one person
Six nights in luxury accommodation selected for excellence and location, including two nights at Palazzo de Noha and four nights at Masseria Montenapoleone
Daily breakfasts including freshly-baked cakes, preserves and other homemade delicacies crafted using organic, locally grown produce
Two lunches including an atmospheric lunch served in the private dining room of one of the Salento Province's most prestigious wineries
Five memorable dinners, including a meal created during your cooking extravaganza with chef Gianna Greco
Two authentic Italian cooking lessons with expert Italian chefs, during which you'll handcraft pasta and other delicacies
A scenic boat trip on a private sail boat on the Adriatic Sea
Guided walking tours of some of the region's most beautiful and characteristic towns including Monopoli, Ostuni and Polignano a Mare
Access to small local producers that are not known to the public
Return private airport transfers
A hands-on Burrata making experience
Visit to an ancient olive grove and olive oil tasting
Private transportation throughout the tour
Expert local guides with insider knowledge and experiences
All sightseeing and entrance fees
Small group sizes of just 16 people max. for the perfect balance of intimacy and freedom throughout your tour
SOLO TRAVELLER - LOW SEASON EXTENSION
9 Days from
Valued up to A$12,150
Sold out
Earn 8,499 Qantas Points
Inclusion highlights:
Package valid for one person
Six nights in luxury accommodation selected for excellence and location, including two nights at Palazzo de Noha and four nights at Masseria Montenapoleone
Daily breakfasts including freshly-baked cakes, preserves and other homemade delicacies crafted using organic, locally grown produce
Two lunches including an atmospheric lunch served in the private dining room of one of the Salento Province's most prestigious wineries
Five memorable dinners, including a meal created during your cooking extravaganza with chef Gianna Greco
Two authentic Italian cooking lessons with expert Italian chefs, during which you'll handcraft pasta and other delicacies
A scenic boat trip on a private sail boat on the Adriatic Sea
Guided walking tours of some of the region's most beautiful and characteristic towns including Monopoli, Ostuni and Polignano a Mare
Access to small local producers that are not known to the public
Return private airport transfers
A hands-on Burrata making experience
Visit to an ancient olive grove and olive oil tasting
Private transportation throughout the tour
Expert local guides with insider knowledge and experiences
All sightseeing and entrance fees
Small group sizes of just 16 people max. for the perfect balance of intimacy and freedom throughout your tour
TOUR EXTENSION INCLUDES:
Two additional nights in luxury accommodations at Aquatio Cave Luxury Hotel & Spa, located in the heart of the UNESCO World Heritage Site Sassi
Daily breakfast, one lunch and one dinner
Explore the UNESCO World Heritage-listed cave town of Matera
Discover the town of Martina Franca – the home of the D.O.P Capocollo
Visit a local bakery to see the artisans at work creating D.O.P certified bread
SOLO TRAVELLER - HIGH SEASON EXTENSION
9 Days from
Valued up to A$12,850
Sold out
Earn 8,999 Qantas Points
Inclusion highlights:
Package valid for one person
Six nights in luxury accommodation selected for excellence and location, including two nights at Palazzo de Noha and four nights at Masseria Montenapoleone
Daily breakfasts including freshly-baked cakes, preserves and other homemade delicacies crafted using organic, locally grown produce
Two lunches including an atmospheric lunch served in the private dining room of one of the Salento Province's most prestigious wineries
Five memorable dinners, including a meal created during your cooking extravaganza with chef Gianna Greco
Two authentic Italian cooking lessons with expert Italian chefs, during which you'll handcraft pasta and other delicacies
A scenic boat trip on a private sail boat on the Adriatic Sea
Guided walking tours of some of the region's most beautiful and characteristic towns including Monopoli, Ostuni and Polignano a Mare
Access to small local producers that are not known to the public
Return private airport transfers
A hands-on Burrata making experience
Visit to an ancient olive grove and olive oil tasting
Private transportation throughout the tour
Expert local guides with insider knowledge and experiences
All sightseeing and entrance fees
Small group sizes of just 16 people max. for the perfect balance of intimacy and freedom throughout your tour
TOUR EXTENSION INCLUDES:
Two additional nights in luxury accommodations at Aquatio Cave Luxury Hotel & Spa, located in the heart of the UNESCO World Heritage Site Sassi
Daily breakfast, one lunch and one dinner
Explore the UNESCO World Heritage-listed cave town of Matera
Discover the town of Martina Franca – the home of the D.O.P Capocollo
Visit a local bakery to see the artisans at work creating D.O.P certified bread