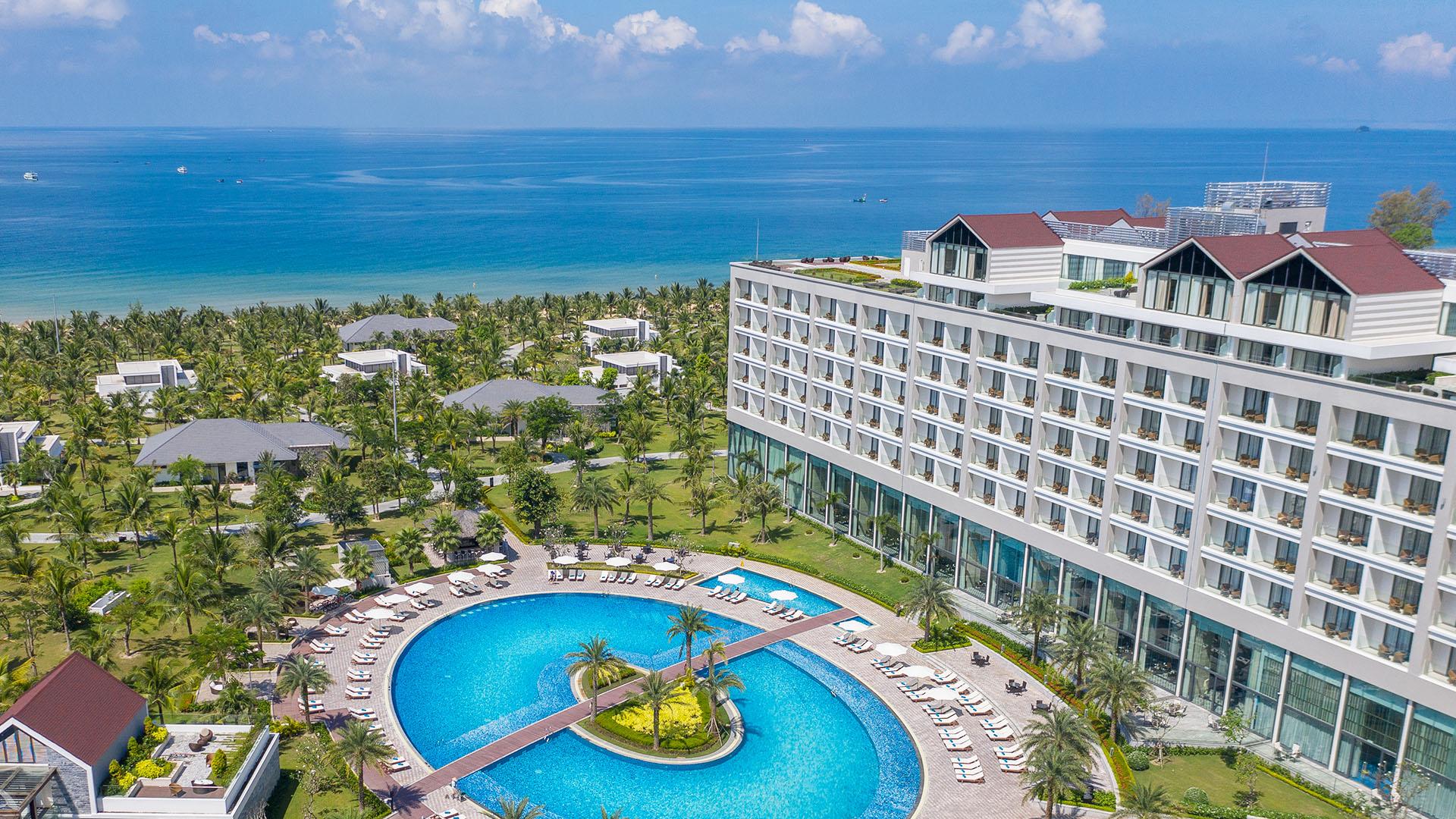 Island Beachfront Bliss with Daily Dining and Nightly Cocktails
Discover beachfront tranquillity at the recently-opened Radisson Blu Phu Quoc, perched on Bai Dai Beach on Vietnam's lushest island. You'll enjoy tropical luxury staying in an extra-spacious Deluxe Room with daily buffet breakfast, your choice of daily buffet lunch or dinner, nightly cocktail each and return airport transfers. Plus, one child (aged 11 years and under) stays free with all inclusions and complimentary daily access to the resort's Giggles' Kids Club.

Book now. Pay Later.
Package Options
---
TROPICAL ESCAPE
Deluxe Room
Inclusion Highlights:
Inclusions valid for two people
One child (11 years and under) stays free with all inclusions and daily kids club access
Signature Super Breakfast Buffet each day at Avenue restaurant
Choice of daily buffet lunch or dinner at Avenue restaurant
SEA VIEW UPGRADE
Deluxe Room Sea View
Inclusion Highlights:
Inclusions valid for two people
One child (11 years and under) stays free with all inclusions and daily kids club access
Nightly free-flow drinks for one hour
Signature Super Breakfast Buffet each day at Avenue restaurant
CELEBRITY UPGRADE
Two Bedroom Villa
Inclusion Highlights:
Inclusions valid for two people
Two children (11 years and under) stay free with all inclusions and daily kids club access
Nightly free-flow drinks for one hour
Signature Super Breakfast Buffet each day at Avenue restaurant
TROPICAL ESCAPE
Deluxe Room
Inclusion Highlights:
Inclusions valid for two people
One child (11 years and under) stays free with all inclusions and daily kids club access
Signature Super Breakfast Buffet each day at Avenue restaurant
Choice of daily buffet lunch or dinner at Avenue restaurant
SEA VIEW UPGRADE
Deluxe Room Sea View
Inclusion Highlights:
Inclusions valid for two people
One child (11 years and under) stays free with all inclusions and daily kids club access
Nightly free-flow drinks for one hour
Signature Super Breakfast Buffet each day at Avenue restaurant
CELEBRITY UPGRADE
Two Bedroom Villa
Inclusion Highlights:
Inclusions valid for two people
Two children (11 years and under) stay free with all inclusions and daily kids club access
Nightly free-flow drinks for one hour
Signature Super Breakfast Buffet each day at Avenue restaurant
*Price is indicative and based on sample return fares (inclusive of booking fees on Low Cost Carriers). To view live pricing, conduct a full search. Luxury Escapes full Terms and Conditions apply