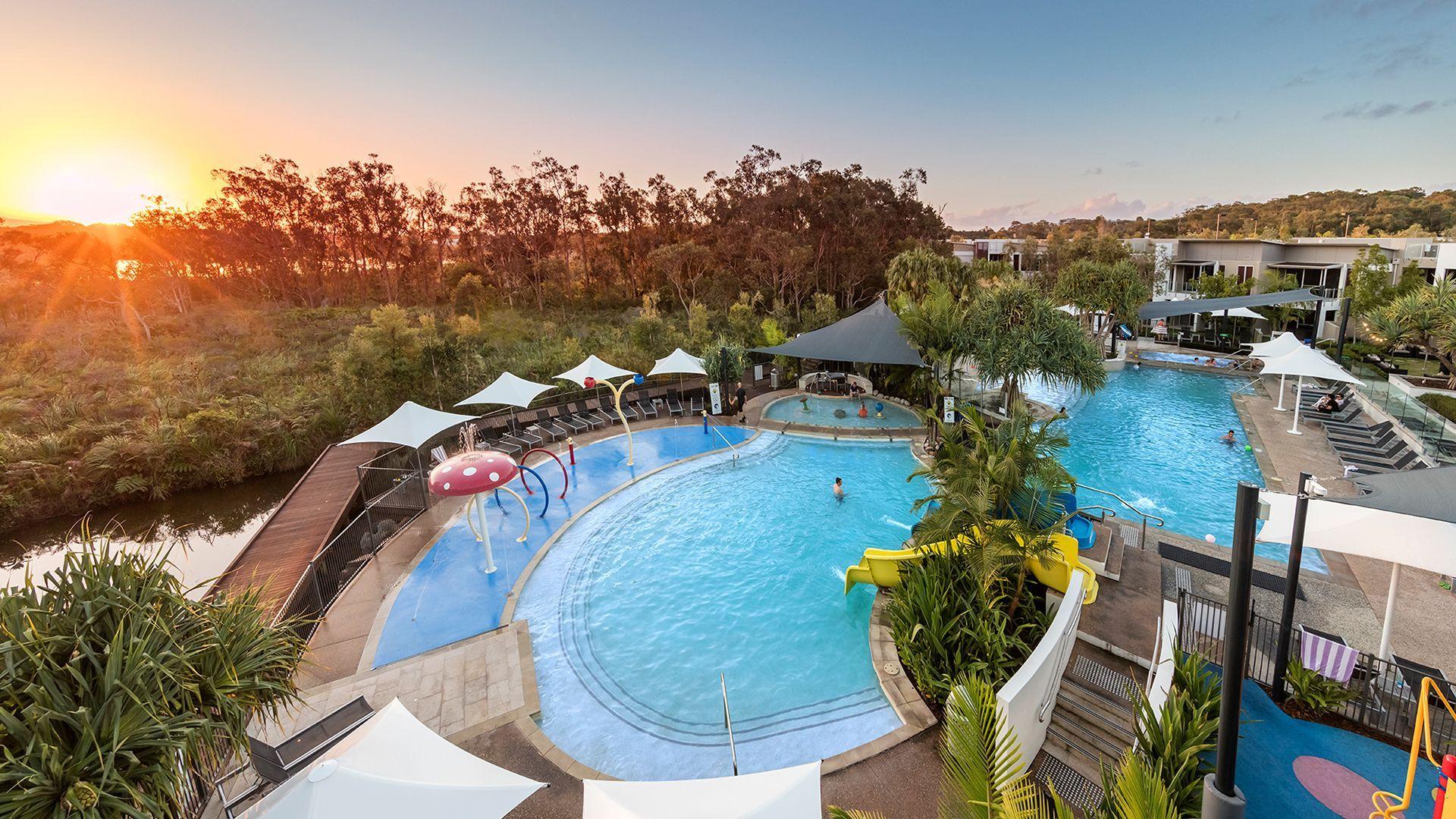 Award-Winning Noosa Apartment Stay with Daily Breakfast
Embrace the laid-back lifestyle of one of Australia's favourite destinations, Noosa, staying at the award-winning RACV Noosa Resort. Relax in your modern apartment and enjoy daily buffet breakfast, a A$50 resort voucher to use towards food, drinks and more, two A$20 credits to use on treatments at One Spa, a complimentary bottle of wine on arrival and complimentary Wi-Fi, plus exclusive discounts and offers just for Luxury Escapes guests.

Book now. Pay Later.
package Options
NOOSA APARTMENT STAY
One-Bedroom Apartment
Inclusion highlights:
Inclusions valid for two people
A$50 resort credit to put towards relaxing spa treatments, delicious food, drinks and more
Sumptuous daily buffet breakfast served at Arcuri Restaurant, overlooking the gorgeous lagoon pool
Two A$20 Spa vouchers to put towards two treatments
A complimentary bottle of wine on arrival
EXPERIENCE PASSPORT:
A 20% discount on airport transfers with Con-X-ion
A 50% discount on your food bill at 10 Hastings Boutique Motel & Cafe and at Piccolino for tables booked for four people or less for 5:30pm
A 20% discount on a six-hour hinterland cheese and wine tour with lunch from Creative Events and Tours
Deluxe seafood experience for two at Noosa Boathouse plus a bottle of wine and complimentary one-way ferry ride from Sofitel Jetty to the restaurant for just A$149
A 20% discount on all tours By Earth and Ocean for six people and less
25% off your food bill at Miss Moneypenny's up to A$50
20% off Sunshine Coast Craft Beer Tours' Noosa brewery trail tour with lunch
GROUP UPGRADE
Two-Bedroom Apartment
Inclusion highlights:
Inclusions valid for four people
A$100 resort credit to put towards relaxing spa treatments, delicious food, drinks and more
Sumptuous daily buffet breakfast served at Arcuri Restaurant, overlooking the gorgeous lagoon pool
Two A$20 Spa vouchers to put towards two treatments
A complimentary bottle of wine on arrival
EXPERIENCE PASSPORT:
A 20% discount on airport transfers with Con-X-ion
A 50% discount on your food bill at 10 Hastings Boutique Motel & Cafe and at Piccolino for tables booked for four people or less for 5:30pm
A 20% discount on a six-hour hinterland cheese and wine tour with lunch from Creative Events and Tours
Deluxe seafood experience for two at Noosa Boathouse plus a bottle of wine and complimentary one-way ferry ride from Sofitel Jetty to the restaurant for just A$149
A 20% discount on all tours By Earth and Ocean for six people and less
25% off your food bill at Miss Moneypenny's up to A$50
20% off Sunshine Coast Craft Beer Tours' Noosa brewery trail tour with lunch
ULTIMATE GROUP UPGRADE
Three-Bedroom Apartment
Inclusion highlights:
Inclusions valid for six people
A$150 resort credit to put towards relaxing spa treatments, delicious food, drinks and more
Sumptuous daily buffet breakfast served at Arcuri Restaurant, overlooking the gorgeous lagoon pool
Two A$20 Spa vouchers to put towards two treatments
A complimentary bottle of wine on arrival
EXPERIENCE PASSPORT:
A 20% discount on airport transfers with Con-X-ion
A 50% discount on your food bill at 10 Hastings Boutique Motel & Cafe and at Piccolino for tables booked for four people or less for 5:30pm
A 20% discount on a six-hour hinterland cheese and wine tour with lunch from Creative Events and Tours
Deluxe seafood experience for two at Noosa Boathouse plus a bottle of wine and complimentary one-way ferry ride from Sofitel Jetty to the restaurant for just A$149
A 20% discount on all tours By Earth and Ocean for six people and less
25% off your food bill at Miss Moneypenny's up to A$50
20% off Sunshine Coast Craft Beer Tours' Noosa brewery trail tour with lunch
NOOSA APARTMENT STAY
One-Bedroom Apartment
Inclusion highlights:
Inclusions valid for two people
A$50 resort credit to put towards relaxing spa treatments, delicious food, drinks and more
Sumptuous daily buffet breakfast served at Arcuri Restaurant, overlooking the gorgeous lagoon pool
Two A$20 Spa vouchers to put towards two treatments
A complimentary bottle of wine on arrival
EXPERIENCE PASSPORT:
A 20% discount on airport transfers with Con-X-ion
A 50% discount on your food bill at 10 Hastings Boutique Motel & Cafe and at Piccolino for tables booked for four people or less for 5:30pm
A 20% discount on a six-hour hinterland cheese and wine tour with lunch from Creative Events and Tours
Deluxe seafood experience for two at Noosa Boathouse plus a bottle of wine and complimentary one-way ferry ride from Sofitel Jetty to the restaurant for just A$149
A 20% discount on all tours By Earth and Ocean for six people and less
25% off your food bill at Miss Moneypenny's up to A$50
20% off Sunshine Coast Craft Beer Tours' Noosa brewery trail tour with lunch
GROUP UPGRADE
Two-Bedroom Apartment
Inclusion highlights:
Inclusions valid for four people
A$100 resort credit to put towards relaxing spa treatments, delicious food, drinks and more
Sumptuous daily buffet breakfast served at Arcuri Restaurant, overlooking the gorgeous lagoon pool
Two A$20 Spa vouchers to put towards two treatments
A complimentary bottle of wine on arrival
EXPERIENCE PASSPORT:
A 20% discount on airport transfers with Con-X-ion
A 50% discount on your food bill at 10 Hastings Boutique Motel & Cafe and at Piccolino for tables booked for four people or less for 5:30pm
A 20% discount on a six-hour hinterland cheese and wine tour with lunch from Creative Events and Tours
Deluxe seafood experience for two at Noosa Boathouse plus a bottle of wine and complimentary one-way ferry ride from Sofitel Jetty to the restaurant for just A$149
A 20% discount on all tours By Earth and Ocean for six people and less
25% off your food bill at Miss Moneypenny's up to A$50
20% off Sunshine Coast Craft Beer Tours' Noosa brewery trail tour with lunch
ULTIMATE GROUP UPGRADE
Three-Bedroom Apartment
Inclusion highlights:
Inclusions valid for six people
A$150 resort credit to put towards relaxing spa treatments, delicious food, drinks and more
Sumptuous daily buffet breakfast served at Arcuri Restaurant, overlooking the gorgeous lagoon pool
Two A$20 Spa vouchers to put towards two treatments
A complimentary bottle of wine on arrival
EXPERIENCE PASSPORT:
A 20% discount on airport transfers with Con-X-ion
A 50% discount on your food bill at 10 Hastings Boutique Motel & Cafe and at Piccolino for tables booked for four people or less for 5:30pm
A 20% discount on a six-hour hinterland cheese and wine tour with lunch from Creative Events and Tours
Deluxe seafood experience for two at Noosa Boathouse plus a bottle of wine and complimentary one-way ferry ride from Sofitel Jetty to the restaurant for just A$149
A 20% discount on all tours By Earth and Ocean for six people and less
25% off your food bill at Miss Moneypenny's up to A$50
20% off Sunshine Coast Craft Beer Tours' Noosa brewery trail tour with lunch
NOOSA APARTMENT STAY
One-Bedroom Apartment
Inclusion highlights:
Inclusions valid for two people
A$50 resort credit to put towards relaxing spa treatments, delicious food, drinks and more
Sumptuous daily buffet breakfast served at Arcuri Restaurant, overlooking the gorgeous lagoon pool
Two A$20 Spa vouchers to put towards two treatments
A complimentary bottle of wine on arrival
EXPERIENCE PASSPORT:
A 20% discount on airport transfers with Con-X-ion
A 50% discount on your food bill at 10 Hastings Boutique Motel & Cafe and at Piccolino for tables booked for four people or less for 5:30pm
A 20% discount on a six-hour hinterland cheese and wine tour with lunch from Creative Events and Tours
Deluxe seafood experience for two at Noosa Boathouse plus a bottle of wine and complimentary one-way ferry ride from Sofitel Jetty to the restaurant for just A$149
A 20% discount on all tours By Earth and Ocean for six people and less
25% off your food bill at Miss Moneypenny's up to A$50
20% off Sunshine Coast Craft Beer Tours' Noosa brewery trail tour with lunch
GROUP UPGRADE
Two-Bedroom Apartment
Inclusion highlights:
Inclusions valid for four people
A$100 resort credit to put towards relaxing spa treatments, delicious food, drinks and more
Sumptuous daily buffet breakfast served at Arcuri Restaurant, overlooking the gorgeous lagoon pool
Two A$20 Spa vouchers to put towards two treatments
A complimentary bottle of wine on arrival
EXPERIENCE PASSPORT:
A 20% discount on airport transfers with Con-X-ion
A 50% discount on your food bill at 10 Hastings Boutique Motel & Cafe and at Piccolino for tables booked for four people or less for 5:30pm
A 20% discount on a six-hour hinterland cheese and wine tour with lunch from Creative Events and Tours
Deluxe seafood experience for two at Noosa Boathouse plus a bottle of wine and complimentary one-way ferry ride from Sofitel Jetty to the restaurant for just A$149
A 20% discount on all tours By Earth and Ocean for six people and less
25% off your food bill at Miss Moneypenny's up to A$50
20% off Sunshine Coast Craft Beer Tours' Noosa brewery trail tour with lunch
ULTIMATE GROUP UPGRADE
Three-Bedroom Apartment
Inclusion highlights:
Inclusions valid for six people
A$150 resort credit to put towards relaxing spa treatments, delicious food, drinks and more
Sumptuous daily buffet breakfast served at Arcuri Restaurant, overlooking the gorgeous lagoon pool
Two A$20 Spa vouchers to put towards two treatments
A complimentary bottle of wine on arrival
EXPERIENCE PASSPORT:
A 20% discount on airport transfers with Con-X-ion
A 50% discount on your food bill at 10 Hastings Boutique Motel & Cafe and at Piccolino for tables booked for four people or less for 5:30pm
A 20% discount on a six-hour hinterland cheese and wine tour with lunch from Creative Events and Tours
Deluxe seafood experience for two at Noosa Boathouse plus a bottle of wine and complimentary one-way ferry ride from Sofitel Jetty to the restaurant for just A$149
A 20% discount on all tours By Earth and Ocean for six people and less
25% off your food bill at Miss Moneypenny's up to A$50
20% off Sunshine Coast Craft Beer Tours' Noosa brewery trail tour with lunch
NOOSA APARTMENT STAY
One-Bedroom Apartment
Inclusion highlights:
Inclusions valid for two people
A$50 resort credit to put towards relaxing spa treatments, delicious food, drinks and more
Sumptuous daily buffet breakfast served at Arcuri Restaurant, overlooking the gorgeous lagoon pool
Two A$20 Spa vouchers to put towards two treatments
A complimentary bottle of wine on arrival
EXPERIENCE PASSPORT:
A 20% discount on airport transfers with Con-X-ion
A 50% discount on your food bill at 10 Hastings Boutique Motel & Cafe and at Piccolino for tables booked for four people or less for 5:30pm
A 20% discount on a six-hour hinterland cheese and wine tour with lunch from Creative Events and Tours
Deluxe seafood experience for two at Noosa Boathouse plus a bottle of wine and complimentary one-way ferry ride from Sofitel Jetty to the restaurant for just A$149
A 20% discount on all tours By Earth and Ocean for six people and less
25% off your food bill at Miss Moneypenny's up to A$50
20% off Sunshine Coast Craft Beer Tours' Noosa brewery trail tour with lunch
GROUP UPGRADE
Two-Bedroom Apartment
Inclusion highlights:
Inclusions valid for four people
A$100 resort credit to put towards relaxing spa treatments, delicious food, drinks and more
Sumptuous daily buffet breakfast served at Arcuri Restaurant, overlooking the gorgeous lagoon pool
Two A$20 Spa vouchers to put towards two treatments
A complimentary bottle of wine on arrival
EXPERIENCE PASSPORT:
A 20% discount on airport transfers with Con-X-ion
A 50% discount on your food bill at 10 Hastings Boutique Motel & Cafe and at Piccolino for tables booked for four people or less for 5:30pm
A 20% discount on a six-hour hinterland cheese and wine tour with lunch from Creative Events and Tours
Deluxe seafood experience for two at Noosa Boathouse plus a bottle of wine and complimentary one-way ferry ride from Sofitel Jetty to the restaurant for just A$149
A 20% discount on all tours By Earth and Ocean for six people and less
25% off your food bill at Miss Moneypenny's up to A$50
20% off Sunshine Coast Craft Beer Tours' Noosa brewery trail tour with lunch
ULTIMATE GROUP UPGRADE
Three-Bedroom Apartment
Inclusion highlights:
Inclusions valid for six people
A$150 resort credit to put towards relaxing spa treatments, delicious food, drinks and more
Sumptuous daily buffet breakfast served at Arcuri Restaurant, overlooking the gorgeous lagoon pool
Two A$20 Spa vouchers to put towards two treatments
A complimentary bottle of wine on arrival
EXPERIENCE PASSPORT:
A 20% discount on airport transfers with Con-X-ion
A 50% discount on your food bill at 10 Hastings Boutique Motel & Cafe and at Piccolino for tables booked for four people or less for 5:30pm
A 20% discount on a six-hour hinterland cheese and wine tour with lunch from Creative Events and Tours
Deluxe seafood experience for two at Noosa Boathouse plus a bottle of wine and complimentary one-way ferry ride from Sofitel Jetty to the restaurant for just A$149
A 20% discount on all tours By Earth and Ocean for six people and less
25% off your food bill at Miss Moneypenny's up to A$50
20% off Sunshine Coast Craft Beer Tours' Noosa brewery trail tour with lunch
NOOSA APARTMENT STAY
One-Bedroom Apartment
Inclusion highlights:
Inclusions valid for two people
A$50 resort credit to put towards relaxing spa treatments, delicious food, drinks and more
Sumptuous daily buffet breakfast served at Arcuri Restaurant, overlooking the gorgeous lagoon pool
Two A$20 Spa vouchers to put towards two treatments
A complimentary bottle of wine on arrival
EXPERIENCE PASSPORT:
A 20% discount on airport transfers with Con-X-ion
A 50% discount on your food bill at 10 Hastings Boutique Motel & Cafe and at Piccolino for tables booked for four people or less for 5:30pm
A 20% discount on a six-hour hinterland cheese and wine tour with lunch from Creative Events and Tours
Deluxe seafood experience for two at Noosa Boathouse plus a bottle of wine and complimentary one-way ferry ride from Sofitel Jetty to the restaurant for just A$149
A 20% discount on all tours By Earth and Ocean for six people and less
25% off your food bill at Miss Moneypenny's up to A$50
20% off Sunshine Coast Craft Beer Tours' Noosa brewery trail tour with lunch
GROUP UPGRADE
Two-Bedroom Apartment
Inclusion highlights:
Inclusions valid for four people
A$100 resort credit to put towards relaxing spa treatments, delicious food, drinks and more
Sumptuous daily buffet breakfast served at Arcuri Restaurant, overlooking the gorgeous lagoon pool
Two A$20 Spa vouchers to put towards two treatments
A complimentary bottle of wine on arrival
EXPERIENCE PASSPORT:
A 20% discount on airport transfers with Con-X-ion
A 50% discount on your food bill at 10 Hastings Boutique Motel & Cafe and at Piccolino for tables booked for four people or less for 5:30pm
A 20% discount on a six-hour hinterland cheese and wine tour with lunch from Creative Events and Tours
Deluxe seafood experience for two at Noosa Boathouse plus a bottle of wine and complimentary one-way ferry ride from Sofitel Jetty to the restaurant for just A$149
A 20% discount on all tours By Earth and Ocean for six people and less
25% off your food bill at Miss Moneypenny's up to A$50
20% off Sunshine Coast Craft Beer Tours' Noosa brewery trail tour with lunch
ULTIMATE GROUP UPGRADE
Three-Bedroom Apartment
Inclusion highlights:
Inclusions valid for six people
A$150 resort credit to put towards relaxing spa treatments, delicious food, drinks and more
Sumptuous daily buffet breakfast served at Arcuri Restaurant, overlooking the gorgeous lagoon pool
Two A$20 Spa vouchers to put towards two treatments
A complimentary bottle of wine on arrival
EXPERIENCE PASSPORT:
A 20% discount on airport transfers with Con-X-ion
A 50% discount on your food bill at 10 Hastings Boutique Motel & Cafe and at Piccolino for tables booked for four people or less for 5:30pm
A 20% discount on a six-hour hinterland cheese and wine tour with lunch from Creative Events and Tours
Deluxe seafood experience for two at Noosa Boathouse plus a bottle of wine and complimentary one-way ferry ride from Sofitel Jetty to the restaurant for just A$149
A 20% discount on all tours By Earth and Ocean for six people and less
25% off your food bill at Miss Moneypenny's up to A$50
20% off Sunshine Coast Craft Beer Tours' Noosa brewery trail tour with lunch
*Price is indicative and based on sample return fares (inclusive of booking fees on Low Cost Carriers). To view live pricing, conduct a full search. Luxury Escapes full Terms and Conditions apply