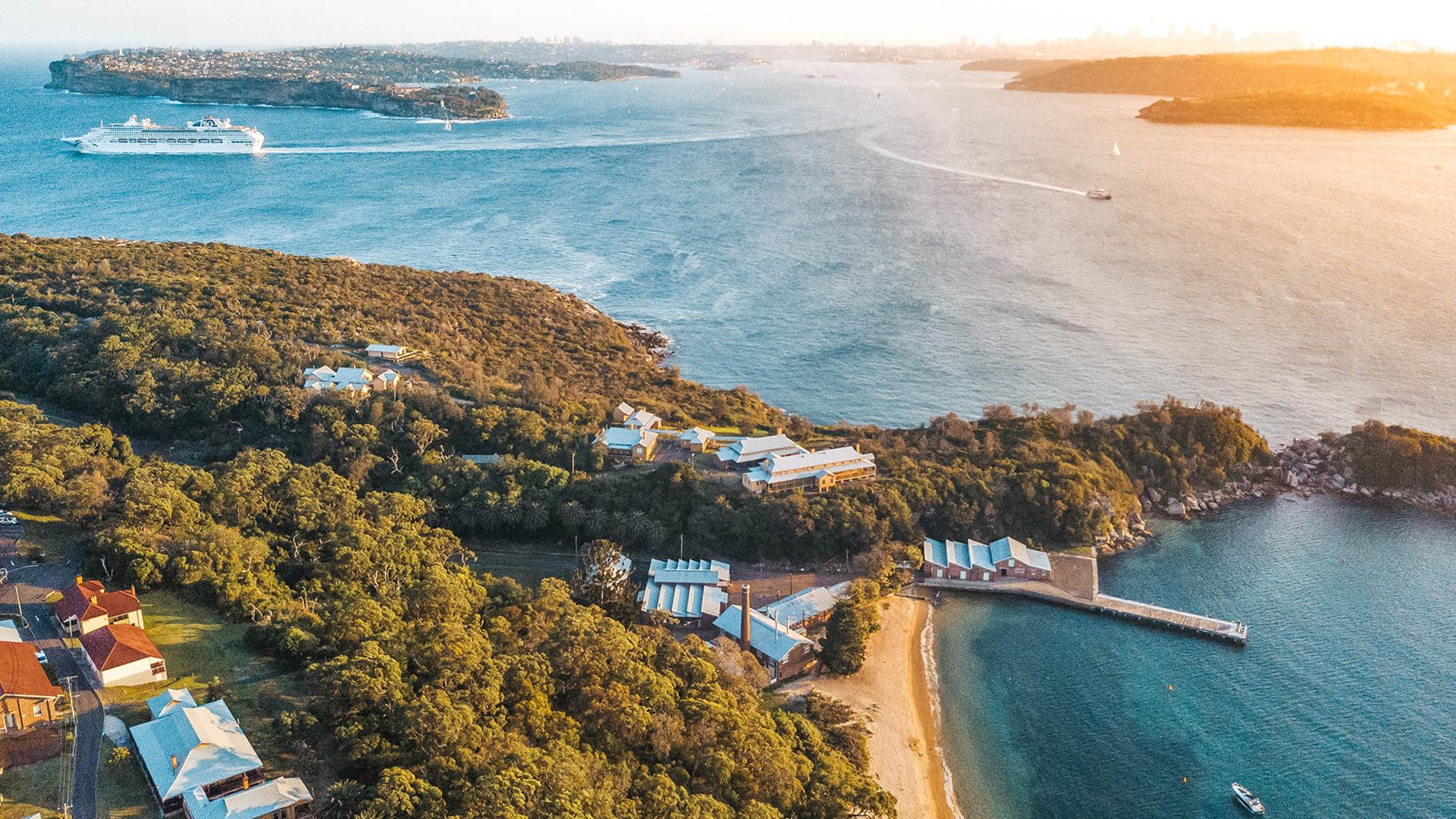 Heritage Harbourside Luxury with Private Beach and Daily Buffet Breakfast
Private beachfront and mesmerising harbour views meets luxe heritage at the historic Q Station beachside retreat, located a short 30-minute ferry ride from the Sydney CBD or five-minute drive from Manly's main hub. Experience a unique city break with daily buffet breakfast, a 45-minute Wharf Wander guided tour, one-time four-hour bike hire to ride along the pristine beachfront, one-time complimentary bottle of wine when dining at the Boilerhouse Restaurant & Bar for dinner (minimum $60 combined spend), daily snorkel hire and espresso coffees throughout your stay at the on-site cafe.

Book now. Pay Later.
Package Options
---
HERITAGE ESCAPE
Deluxe Queen Room
Inclusion Highlights:
Inclusions valid for two adults
One-time free bottle of wine when dining at the Boilerhouse Restaurant & Bar for dinner^
Unlimited espresso coffees from the cafe throughout your stay
Daily breakfast at Views Restaurant
FAMILY UPGRADE
Deluxe Queen Suite
Inclusion Highlights:
Inclusions valid for two adults and two children
Kids eat free per paying adult with a main meal at Boilerhouse, Engine Room or Cafe
Daily breakfast at Views Restaurant
Wharf Wanderer Tour
HARBOUR-VIEW UPGRADE
Deluxe Queen Harbourside Room
Inclusion Highlights:
Inclusions valid for two adults
One-time free bottle of wine when dining at the Boilerhouse Restaurant & Bar for dinner^
Unlimited espresso coffees from the cafe throughout your stay
Daily breakfast at Views Restaurant
COTTAGE FAMILY UPGRADE
Three-Bedroom Cottage
Inclusion Highlights:
Inclusions valid for six people
Kids eat free per paying adult with a main meal at Boilerhouse, Engine Room or Cafe
Daily breakfast at Views Restaurant
Wharf Wanderer Tour
HERITAGE ESCAPE
Deluxe Queen Room
Inclusion Highlights:
Inclusions valid for two adults
One-time free bottle of wine when dining at the Boilerhouse Restaurant & Bar for dinner^
Unlimited espresso coffees from the cafe throughout your stay
Daily breakfast at Views Restaurant
FAMILY UPGRADE
Deluxe Queen Suite
Inclusion Highlights:
Inclusions valid for two adults and two children
Kids eat free per paying adult with a main meal at Boilerhouse, Engine Room or Cafe
Daily breakfast at Views Restaurant
Wharf Wanderer Tour
HARBOUR-VIEW UPGRADE
Deluxe Queen Harbourside Room
Inclusion Highlights:
Inclusions valid for two adults
One-time free bottle of wine when dining at the Boilerhouse Restaurant & Bar for dinner^
Unlimited espresso coffees from the cafe throughout your stay
Daily breakfast at Views Restaurant
COTTAGE FAMILY UPGRADE
Three-Bedroom Cottage
Inclusion Highlights:
Inclusions valid for six people
Kids eat free per paying adult with a main meal at Boilerhouse, Engine Room or Cafe
Daily breakfast at Views Restaurant
Wharf Wanderer Tour
*Price is indicative and based on sample return fares (inclusive of booking fees on Low Cost Carriers). To view live pricing, conduct a full search. Luxury Escapes full Terms and Conditions apply