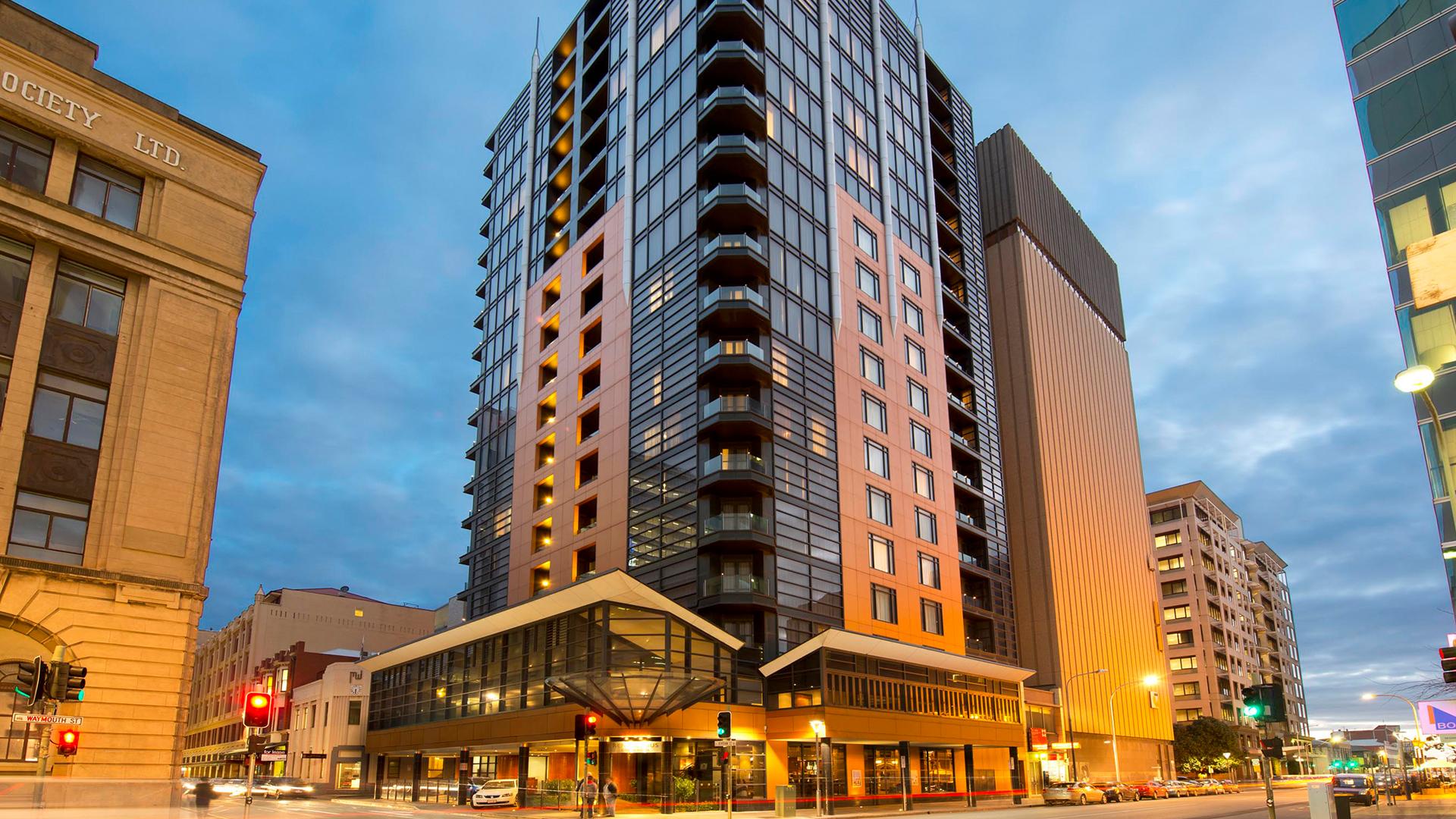 Peppers Indulgence in the Heart of Adelaide
Discover South Australia's cosmopolitan capital city as you indulge in quintessential Peppers luxury in the heart of Adelaide's CBD, at Peppers Waymouth Hotel. Let this stylish hotel be your elegant launchpad as you explore the city's vibrant dining and entertainment scene - all of this as you get pampered with a guaranteed upgrade to a Deluxe Room, decadent daily full hot buffet breakfast, a nightly drink per person, a 15% discount on dinner at the hotel's restaurants and a guaranteed, leisurely late 12pm check out.

Book now. Pay Later.
package Options
Inclusion highlights:
Inclusions valid for two adults
Guaranteed upgrade from a Guest Room to a Deluxe Room
Deluxe daily hot buffet breakfasts at Essay Kitchen, featuring lavish spreads of fresh fruit, cheese, bread, pastries and more
A nightly drink per person to be enjoyed at Barketta restaurant between 4pm and 6pm
CELEBRITY UPGRADE
Deluxe Spa Suite
Inclusion highlights:
Inclusions valid for two adults
Deluxe daily hot buffet breakfasts at Essay Kitchen, featuring lavish spreads of fresh fruit, cheese, bread, pastries and more
A nightly drink per person to be enjoyed at Barketta restaurant between 4pm and 6pm
15% dinner discount at any of the hotel's restaurants, Barketta or Essay Kitchen, where you can indulge in local South Australian delicacies and exceptional wines
Inclusion highlights:
Inclusions valid for two adults
Guaranteed upgrade from a Guest Room to a Deluxe Room
Deluxe daily hot buffet breakfasts at Essay Kitchen, featuring lavish spreads of fresh fruit, cheese, bread, pastries and more
A nightly drink per person to be enjoyed at Barketta restaurant between 4pm and 6pm
CELEBRITY UPGRADE
Deluxe Spa Suite
Inclusion highlights:
Inclusions valid for two adults
Deluxe daily hot buffet breakfasts at Essay Kitchen, featuring lavish spreads of fresh fruit, cheese, bread, pastries and more
A nightly drink per person to be enjoyed at Barketta restaurant between 4pm and 6pm
15% dinner discount at any of the hotel's restaurants, Barketta or Essay Kitchen, where you can indulge in local South Australian delicacies and exceptional wines
Inclusion highlights:
Inclusions valid for two adults
Guaranteed upgrade from a Guest Room to a Deluxe Room
Deluxe daily hot buffet breakfasts at Essay Kitchen, featuring lavish spreads of fresh fruit, cheese, bread, pastries and more
A nightly drink per person to be enjoyed at Barketta restaurant between 4pm and 6pm
Inclusion highlights:
Inclusions valid for two adults
Guaranteed upgrade from a Guest Room to a Deluxe Room
Deluxe daily hot buffet breakfasts at Essay Kitchen, featuring lavish spreads of fresh fruit, cheese, bread, pastries and more
A nightly drink of house wine, beer or soft drink per person to be enjoyed at Barketta restaurant between 4pm and 6pm
CELEBRITY UPGRADE
Deluxe Spa Suite
Inclusion highlights:
Inclusions valid for two adults
Deluxe daily hot buffet breakfasts at Essay Kitchen, featuring lavish spreads of fresh fruit, cheese, bread, pastries and more
A nightly drink per person to be enjoyed at Barketta restaurant between 4pm and 6pm
15% dinner discount at any of the hotel's restaurants, Barketta or Essay Kitchen, where you can indulge in local South Australian delicacies and exceptional wines
CELEBRITY UPGRADE
Deluxe Spa Suite
Inclusion highlights:
Inclusions valid for two adults
Deluxe daily hot buffet breakfasts at Essay Kitchen, featuring lavish spreads of fresh fruit, cheese, bread, pastries and more
A nightly drink per person to be enjoyed at Barketta restaurant between 4pm and 6pm
15% dinner discount at any of the hotel's restaurants, Barketta or Essay Kitchen, where you can indulge in local South Australian delicacies and exceptional wines