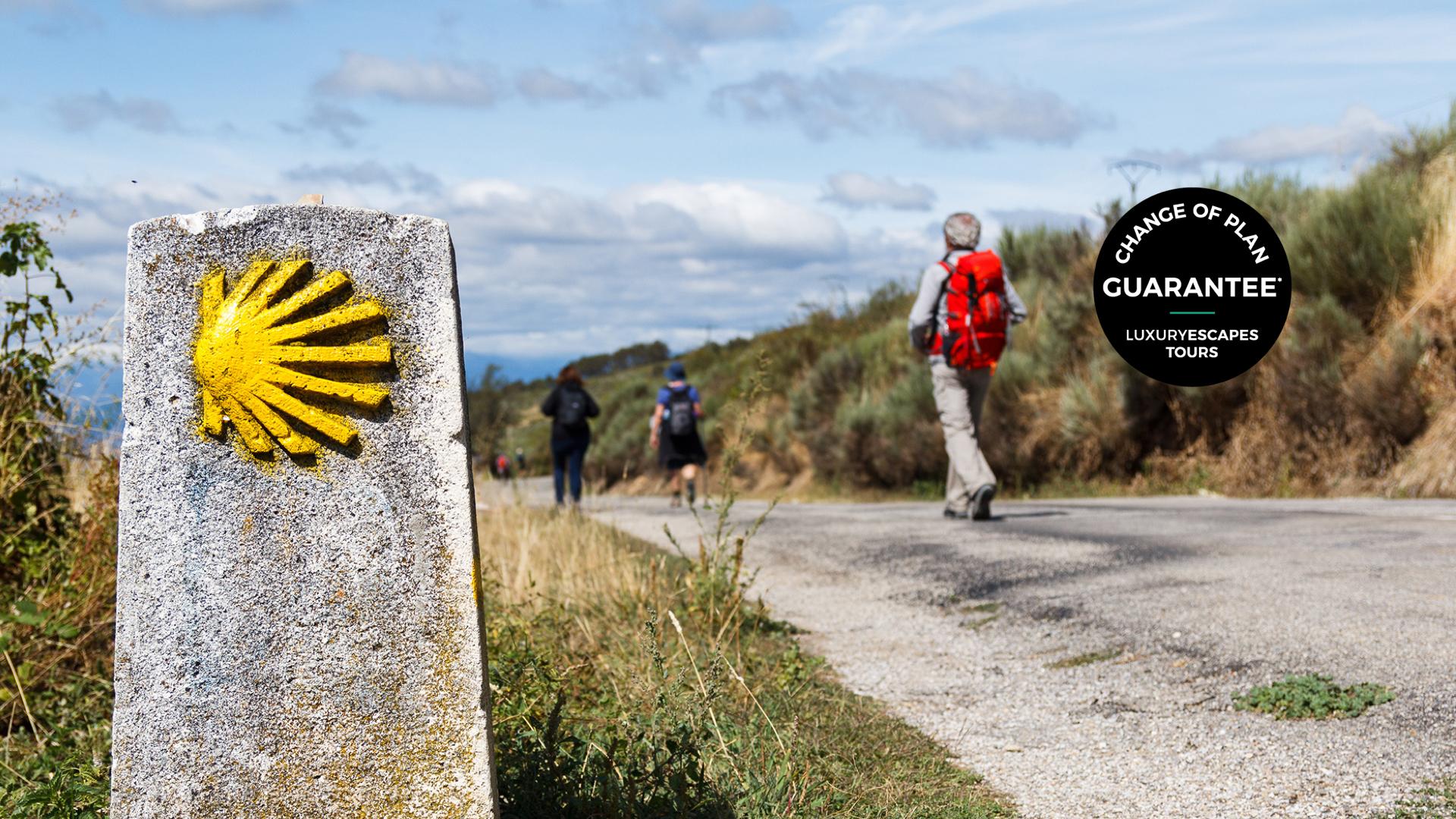 Walk the Camino Francés: 16-Day Small-Group Walking Tour from León to Santiago de Compostela with Daily Dining
Follow in the footsteps of thousands of pilgrims on the centuries-old Camino Francés (or French Way), the most famous of all Camino de Santiago routes. Take a once-in-a-lifetime, 16-day small-group walking tour (max. 16 travellers) from the beautiful city of León, Spain through the picturesque Castile-León region to the ancient splendour of Santiago de Compostela, a city imbued with a rich history and the resting place of St. James.
The Camino Francés is by far the most popular, travelled and documented of all Camino routes. A truly remarkable and spectacular route, the 276km French Way traverses mountainous and flat terrain dotted with Romanesque and gothic architecture, Templar castles and Benedictine monasteries, lush forests and rushing rivers.
Learn the legends of Medieval Europe as you pass through some of the most beautiful parts of Spain, including great cities like León, quaint villages such as Molinaseca and Cacabelos, and important pilgrimage towns like Sarria, Portomarín and Santiago de Compostela.
Your unforgettable walking tour includes 15 nights of accommodation, including 13 nights in selected family-run hotels and pensione (guesthouse) accommodation with private ensuites, plus one night in a hotel at the beginning and end of your tour, daily breakfast and 10 three-course dining experiences with local wine. Walk uninhibited with daily luggage transfer to your next destination, a Pilgrim's passport to collect stamps throughout, the services of an expert, English-speaking walking guide, a Compostela certificate from Santiago de Compostela upon completion, and countless once-in-a-lifetime experiences.
The Portuguese Coastal Way: To see a different side of this iconic trail's beauty, you could join the 15-day walking tour of the popular Portuguese Coastal Way from the UNESCO World Heritage-listed city of Porto, Portugal along the stunning Atlantic Ocean to the ancient splendour of Santiago de Compostela, Spain.
2021 Holy Year departures available: Experience this iconic walk during the 2021 'Camino Holy Year', an event that only happens a handful of times per century and sees the cities along the Camino path come to life with festivals celebrating the feast of St. James.
Your journey takes you to: León — Hospital de Orbigo — Astorga — Rabanal del Camino — Molinaseca — Cacabelos — Las Herrerias — O Cebreiro — Triacastela — Sarria — Portomarín — Palas de Rei — Melide — Arzua — A Rúa — Santiago de Compostela.
Book with confidence: Our Change of Plan Guarantee will permit you to alter your booking, no questions asked up to 90 days before departure. Furthermore, if you are unable to travel as a result of Government travel restrictions, Luxury Escapes will assist you with a date change, provide you with a credit or process a refund for your booking less any non-recoverable costs. See Fine Print for details.
Interest-free payment options available 

package Options
TWIN SHARE — 2021 HOLY YEAR DEPARTURE
16 Days From
Valued up to A$3,945
Sold out
Inclusion highlights:
Inclusions valid for one person (twin share) — you must purchase two packages
15 nights of authentic accommodation including one night in León, one night in Santiago de Compostela and 13 nights in selected family-run hotels and pensione (guesthouse) accommodation with private ensuites in rural cities and Galicia towns along the Camino Francés
Daily breakfast plus 10 unique three-course dining experiences with local wine as per the itinerary
Guided walking tour through countryside villages and rural Galicia towns across northern Spain
TWIN SHARE — 2022 DEPARTURE
16 Days From
Valued up to A$4,535
Sold out
Inclusion highlights:
Inclusions valid for one person (twin share) — you must purchase two packages
15 nights of authentic accommodation including one night in León, one night in Santiago de Compostela and 13 nights in selected family-run hotels and pensione (guesthouse) accommodation with private ensuites in rural cities and Galicia towns along the Camino Francés
Daily breakfast plus 10 unique three-course dining experiences with local wine as per the itinerary
Guided walking tour through countryside villages and rural Galicia towns across northern Spain
SOLO TRAVELLER — 2021 HOLY YEAR DEPARTURE
16 Days From
Valued up to A$5,261
Sold out
Inclusion highlights:
Inclusions valid for one person (solo traveller)
15 nights of authentic accommodation including one night in León, one night in Santiago de Compostela and 13 nights in selected family-run hotels and pensione (guesthouse) accommodation with private ensuites in rural cities and Galicia towns along the Camino Francés
Daily breakfast plus 10 unique three-course dining experiences with local wine as per the itinerary
Guided walking tour through countryside villages and rural Galicia towns across northern Spain
SOLO TRAVELLER — 2022 DEPARTURE
16 Days From
Valued up to A$5,990
Sold out
Inclusion highlights:
Inclusions valid for one person (solo traveller)
15 nights of authentic accommodation including one night in León, one night in Santiago de Compostela and 13 nights in selected family-run hotels and pensione (guesthouse) accommodation with private ensuites in rural cities and Galicia towns along the Camino Francés
Daily breakfast plus 10 unique three-course dining experiences with local wine as per the itinerary
Guided walking tour through countryside villages and rural Galicia towns across northern Spain