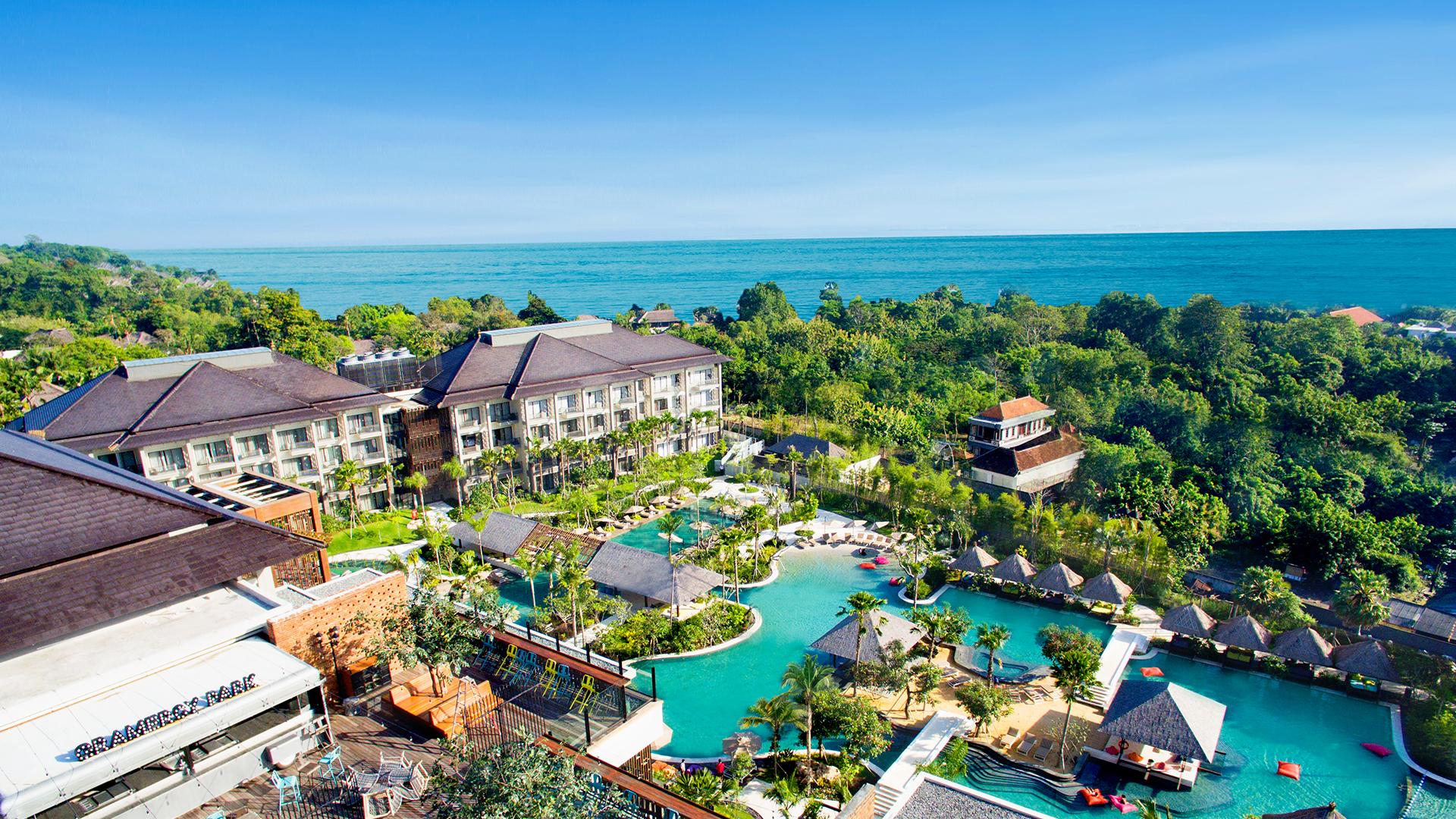 Mövenpick Luxury: Stay at Bali's Leading Family Resort with Daily Dining
Treat yourself to five-star family indulgence at Mövenpick Resort & Spa Jimbaran Bali. With access to Jimbaran Beach, this paradise is home to a world-class rooftop bar, a range of high-end restaurants and high-end amenities including an amazing kids' club in a pirate ship for little ones. Jam-packed with VIP inclusions, your escape features daily buffet breakfast with unlimited ice cream, daily choice of lunch or dinner and a daily decadent Mövenpick chocolate hour with Swiss-style desserts. You'll also enjoy a 60-minute Balinese massage for two, a private one-way airport transfer and much more – plus one child aged 11 years and under stays free with dining inclusions, four hours of Kids' Club access daily and two hours of babysitting per stay.

Book now. Pay Later.
package Options
Inclusion highlights:
Inclusions valid for two adults (one child aged 11 years and under stays free with all package inclusions except massages)
Daily buffet breakfast with unlimited Mövenpick ice cream at Anarasa
Daily choice of three-course lunch or dinner at Anarasa
One 60-minute Balinese massage per adult
POOL VIEW UPGRADE
Classic Pool View Room
Inclusion highlights:
Inclusions valid for two adults (one child aged 11 years and under stays free with all package inclusions except massages)
Daily buffet breakfast with unlimited Mövenpick ice cream at Anarasa
Daily choice of three-course lunch or dinner at Anarasa
One 60-minute Balinese massage per adult
FAMILY UPGRADE
Interconnecting Classic Rooms
Inclusion highlights:
Inclusions valid for two adults (two children aged 11 years and under stays free with all package inclusions except massages)
Daily buffet breakfast with unlimited Mövenpick ice cream at Anarasa
Daily choice of three-course lunch or dinner at Anarasa
One 60-minute Balinese massage per adult
SUITE UPGRADE
Junior Suite
Inclusion highlights:
Inclusions valid for two adults (one child aged 11 years and under stays free with all package inclusions except massages)
Daily buffet breakfast with unlimited Mövenpick ice cream at Anarasa
Daily choice of three-course lunch or dinner at Anarasa
One 60-minute Balinese massage per adult
Inclusion highlights:
Inclusions valid for two adults (one child aged 11 years and under stays free with all package inclusions except massages)
Daily buffet breakfast with unlimited Mövenpick ice cream at Anarasa
Daily choice of three-course lunch or dinner at Anarasa
One 60-minute Balinese massage per adult
POOL VIEW UPGRADE
Classic Pool View Room
Inclusion highlights:
Inclusions valid for two adults (one child aged 11 years and under stays free with all package inclusions except massages)
Daily buffet breakfast with unlimited Mövenpick ice cream at Anarasa
Daily choice of three-course lunch or dinner at Anarasa
One 60-minute Balinese massage per adult
FAMILY UPGRADE
Interconnecting Classic Rooms
Inclusion highlights:
Inclusions valid for two adults (two children aged 11 years and under stays free with all package inclusions except massages)
Daily buffet breakfast with unlimited Mövenpick ice cream at Anarasa
Daily choice of three-course lunch or dinner at Anarasa
One 60-minute Balinese massage per adult
SUITE UPGRADE
Junior Suite
Inclusion highlights:
Inclusions valid for two adults (one child aged 11 years and under stays free with all package inclusions except massages)
Daily buffet breakfast with unlimited Mövenpick ice cream at Anarasa
Daily choice of three-course lunch or dinner at Anarasa
One 60-minute Balinese massage per adult
*Price is indicative and based on sample return fares (inclusive of booking fees on Low Cost Carriers). To view live pricing, conduct a full search. Luxury Escapes full Terms and Conditions apply