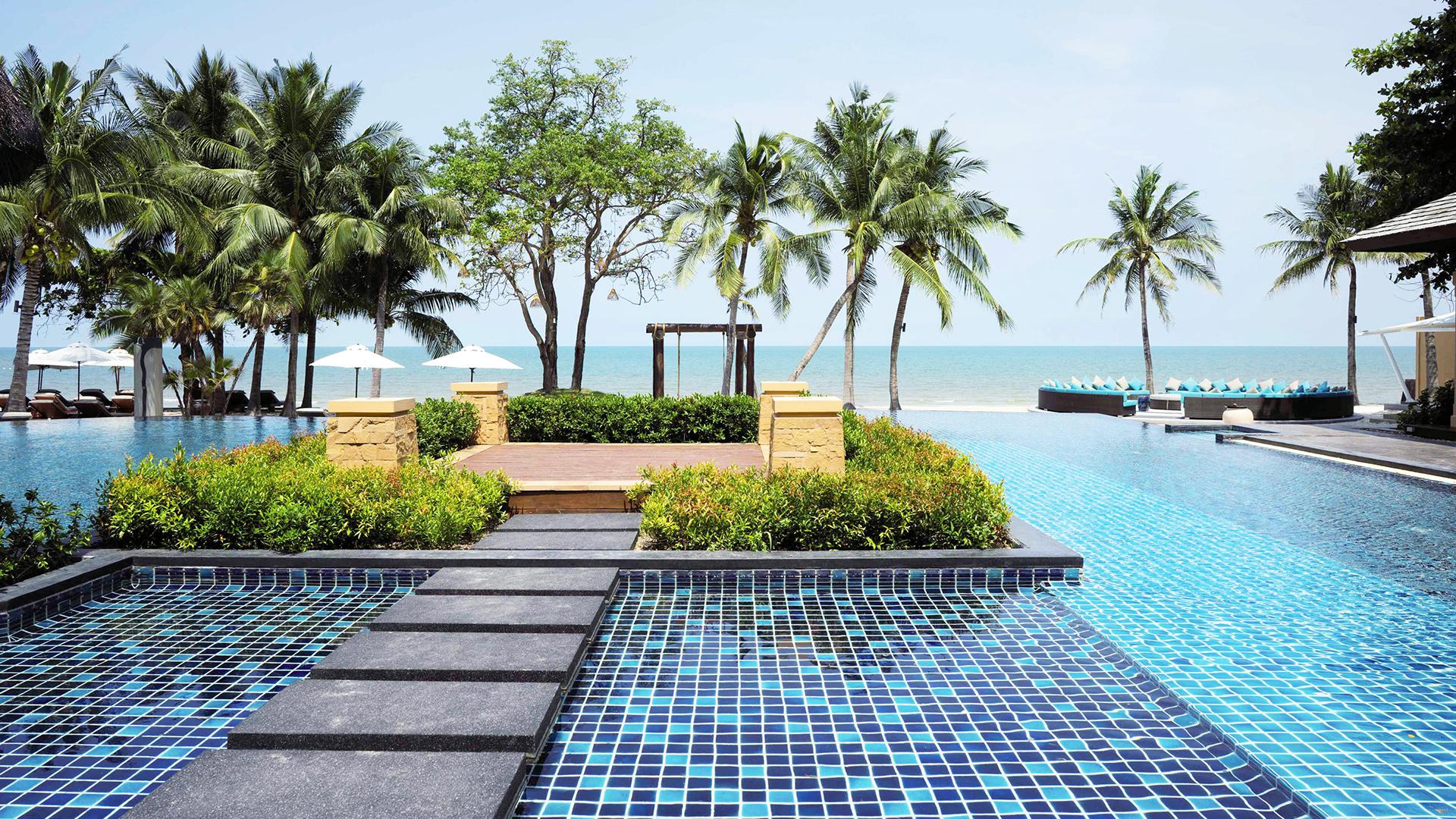 City to Beachfront: Five-Star Escape with Daily Cocktails and Indulgent Dining
From an inner-city oasis in Thailand's vibrant capital to five-star oceanfront relaxation, this ultimate easy-to-plan Thai holiday takes you from the city to the beach in style with a two-night city stay at Mövenpick BDMS Wellness Resort Bangkok followed by a stay at the award-winning Mövenpick Asara Resort & Spa Hua Hin. If you'd prefer to begin your holiday on the beach, that is no problem! Enjoy daily buffet breakfast, private transfers between the airport and both hotels, daily lunch or dinner plus a cocktail each in Hua Hin, and a 30-minute Thai massage each at Hua Hin's sumptuous Asara Spa.

Book now. Pay Later.
Package Options
---
CITY TO OCEAN ESCAPE
Junior Suite (Hua Hin) + Superior Room (Bangkok)
Inclusion Highlights:
Inclusions valid for two people and one child
All private return transfers between the airport and both hotels
Your choice of daily lunch or dinner at Mövenpick Asara Resort & Spa Hua Hin
Nightly cocktail each at Mövenpick BDMS Wellness Resort Bangkok
POOL VILLA UPGRADE
Private Pool Villa (Hua Hin) + Superior Room (Bangkok)
Inclusion Highlights:
Inclusions valid for two people and one child
All private return transfers between the airport and both hotels
Your choice of daily lunch or dinner at Mövenpick Asara Resort & Spa Hua Hin
Nightly cocktail each at Mövenpick BDMS Wellness Resort Bangkok
CITY TO OCEAN ESCAPE
Junior Suite (Hua Hin) + Superior Room (Bangkok)
Inclusion Highlights:
Inclusions valid for two people and one child
All private return transfers between the airport and both hotels
Your choice of daily lunch or dinner at Mövenpick Asara Resort & Spa Hua Hin
Nightly cocktail each at Mövenpick BDMS Wellness Resort Bangkok
POOL VILLA UPGRADE
Private Pool Villa (Hua Hin) + Superior Room (Bangkok)
Inclusion Highlights:
Inclusions valid for two people and one child
All private return transfers between the airport and both hotels
Your choice of daily lunch or dinner at Mövenpick Asara Resort & Spa Hua Hin
Nightly cocktail each at Mövenpick BDMS Wellness Resort Bangkok
*Price is indicative and based on sample return fares (inclusive of booking fees on Low Cost Carriers). To view live pricing, conduct a full search. Luxury Escapes full Terms and Conditions apply