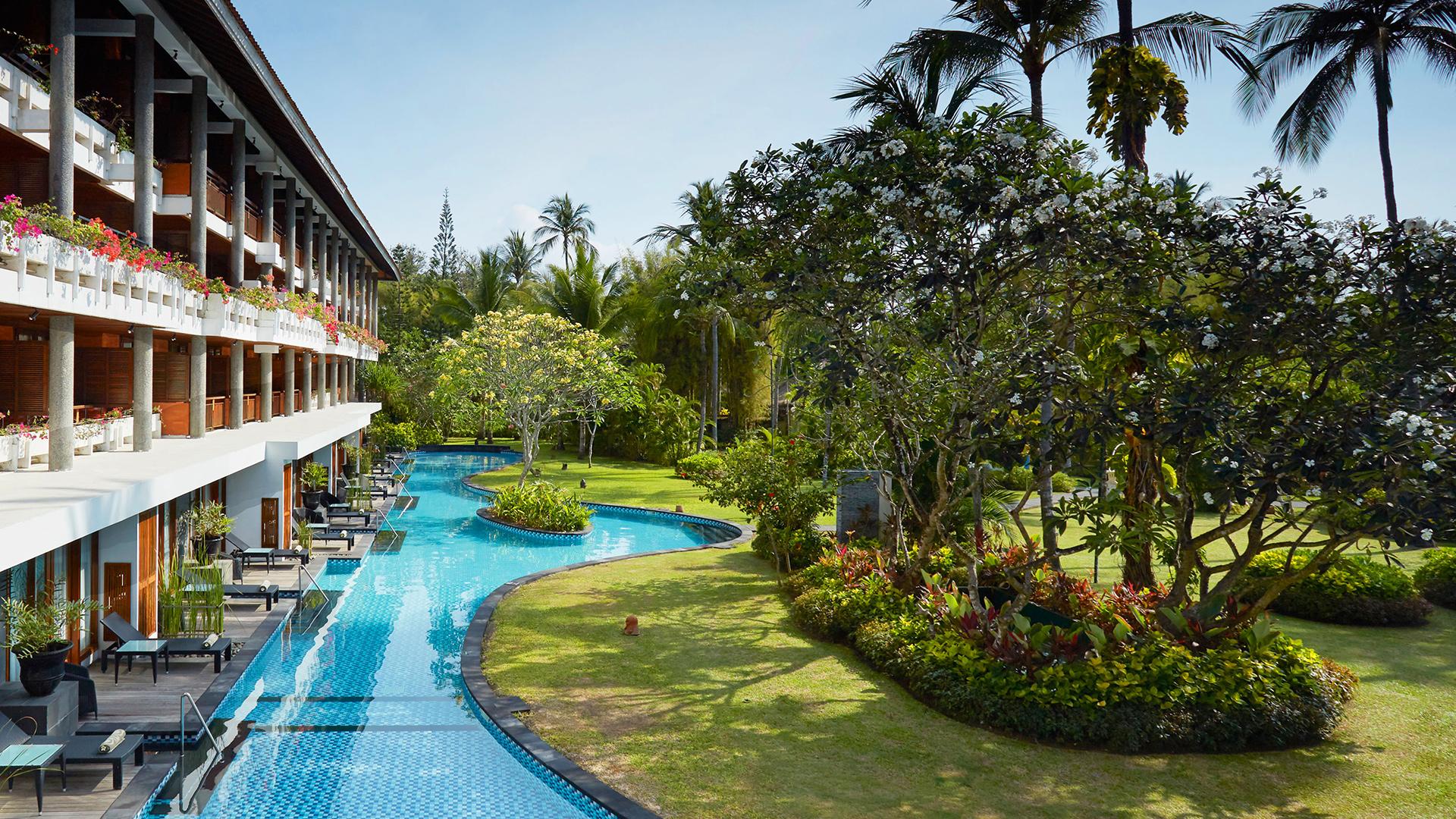 All-Inclusive Round-the-Clock Indulgence: Luxe Suite and Villa Escape with VIP Lounge Access
Travel until
Buy now, choose dates later
Lock it in today, choose dates when you're ready
Whatever you want, whenever you want it: Meliá Bali's round-the-clock indulgence takes all-inclusive luxury to new heights, with exclusive The Level Lounge access adding an extra touch of VIP. Want a midnight snack, cocktails by the pool or a multi-course feast? You truly can have it all with this all-inclusive suite or villa package, featuring unlimited dining (plus complimentary 24-hour room service), free-flow alcoholic and non-alcoholic beverages, complimentary minibar, one-way airport transfer, savings on spa treatments and much more.
The Level Lounge benefits include a personalised check-in service and late checkout, nightly free-flow cocktails, VIP concierge service, access to a private pool and beach area and the choice of taking breakfast in the premium surrounds of Sorrento Restaurant's private guest area.

Book now. Pay Later.
package Options
ALL-INCLUSIVE LUXURY
The Level Junior Suite
Inclusion highlights:
Inclusions valid for two people
All-Inclusive Drinks & Dining: Daily buffet breakfast, lunch and dinner across five restaurants, unlimited select alcoholic drinks at all restaurants and bars (soft, juices, water, local beer and wines, local spirits and cocktails), complimentary 24-hour room service, poolside snacks and complimentary minibar treats restocked once daily
Exclusive The Level Lounge Access: Personalised check-in with sparkling wine and welcome gift plus late 2pm check-out, nightly free-flow cocktails, option to dine in Sorrento restaurant for breakfast, personalised concierge service, unlimited Level private pool and beach access and 24-hour porters
One-way airport transfer on arrival from Bali's international airport
POOL ACCESS UPGRADE
The Level Lagoon Access Junior Suite
Inclusion highlights:
Inclusions valid for two people
All-Inclusive Drinks & Dining: Daily buffet breakfast, lunch and dinner across five restaurants, unlimited select alcoholic drinks at all restaurants and bars (soft, juices, water, local beer and wines, local spirits and cocktails), complimentary 24-hour room service, poolside snacks and complimentary minibar treats restocked once daily
Exclusive The Level Lounge Access: Personalised check-in with sparkling wine and welcome gift plus late 2pm check-out, nightly free-flow cocktails, option to dine in Sorrento restaurant for breakfast, personalised concierge service, unlimited Level private pool and beach access and 24-hour porters
One-way airport transfer on arrival from Bali's international airport
POOL VILLA UPGRADE
The Level Garden Villa
Inclusion highlights:
Inclusions valid for two people
All-Inclusive Drinks & Dining: Daily buffet breakfast, lunch and dinner across five restaurants, unlimited select alcoholic drinks at all restaurants and bars (soft, juices, water, local beer and wines, local spirits and cocktails), complimentary 24-hour room service, poolside snacks and complimentary minibar treats restocked once daily
Exclusive The Level Lounge Access: Personalised check-in with sparkling wine and welcome gift plus late 2pm check-out, nightly free-flow cocktails, option to dine in Sorrento restaurant for breakfast, personalised concierge service, unlimited Level private pool and beach access and 24-hour porters
One-way airport transfer on arrival from Bali's international airport
FAMILY SUITE UPGRADE
The Level Family Suite
Inclusion highlights:
Inclusions valid for two adults and two children (aged 11 years and under)
All-Inclusive Drinks & Dining: Daily buffet breakfast, lunch and dinner across five restaurants, unlimited select alcoholic drinks at all restaurants and bars (soft, juices, water, local beer and wines, local spirits and cocktails), complimentary 24-hour room service, poolside snacks and complimentary minibar treats restocked once daily
Exclusive The Level Lounge Access: Personalised check-in with sparkling wine and welcome gift plus late 2pm check-out, nightly free-flow cocktails, option to dine in Sorrento restaurant for breakfast, personalised concierge service, unlimited Level private pool and beach access and 24-hour porters
One-way airport transfer on arrival from Bali's international airport
*Price is indicative and based on sample return fares (inclusive of booking fees on Low Cost Carriers). To view live pricing, conduct a full search. Luxury Escapes full Terms and Conditions apply