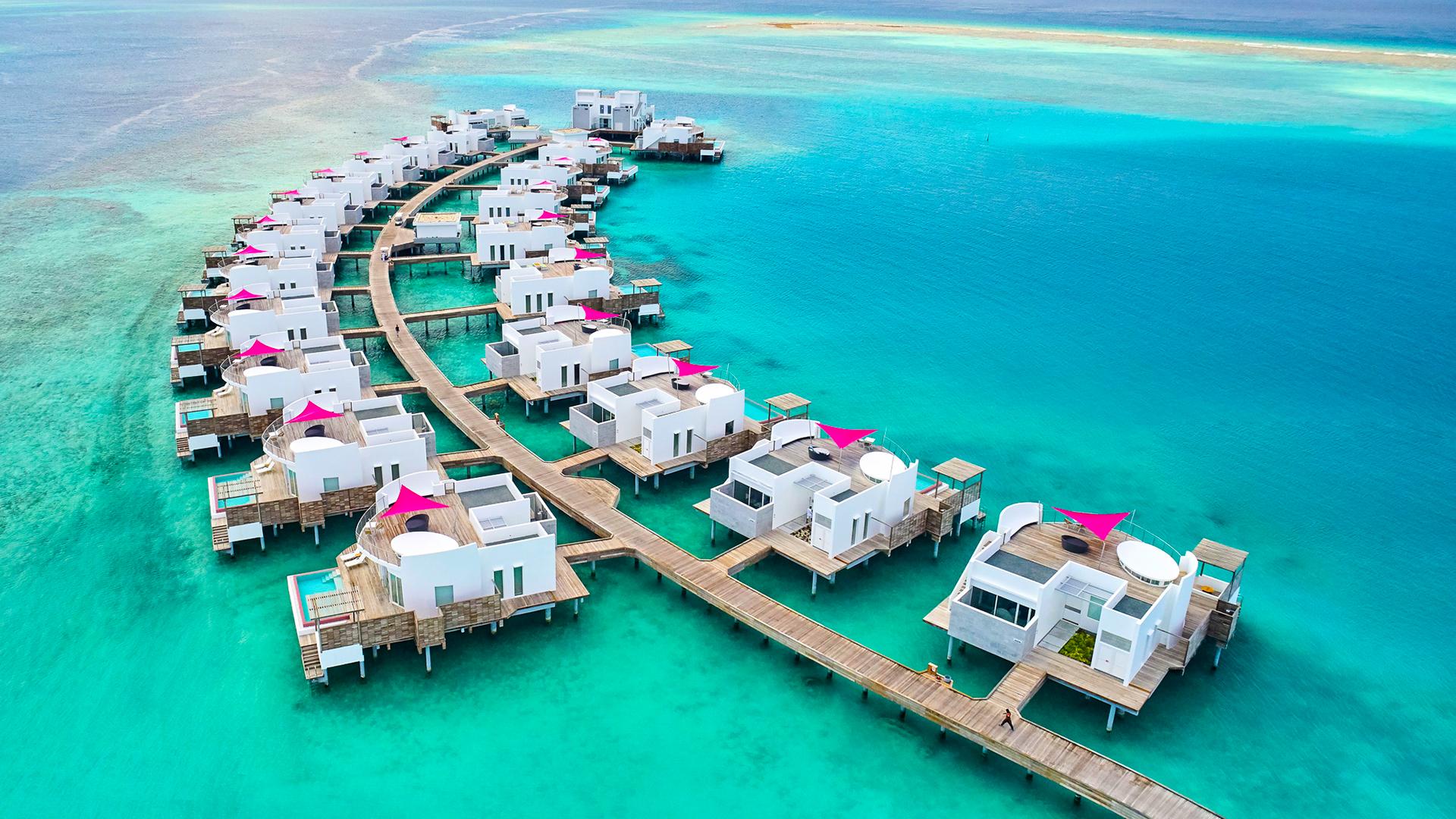 #1 Resort in the Maldives with Daily Dining and 24-Hour Butler Service
Step into a universe of out-of-this-world luxury — inspired by James Bond high-life glamour and ultra-luxe super-yacht style — and experience a once-in-a-lifetime escape that has disrupted the Maldivian mould. Here, celebrity-grade luxury meets an unrivalled backdrop of seemingly endless hues of blue. Holiday like royalty in a secluded overwater paradise with lavish daily à la carte and buffet breakfast, nightly three-course dinner, nightly sunset cocktail, return speedboat transfers, 24-hour butler service and more.

Book now. Pay Later.
Package Options
---
VILLA PARADISE
Garden Villa
Inclusion Highlights:
Inclusions valid for two people
Dining inclusions: daily breakfast, nightly three-course dinners and nightly sunset cocktails
Return speedboat transfers from Malé Airport
Welcome in-room bottle of French Champagne on ice
FLOATING VILLA UPGRADE
Water Villa
Inclusion Highlights:
Inclusions valid for two people
Upgraded huge 351sqm overwater villa with 360-degree** **ocean, lagoon and sunset views
Dining inclusions: daily breakfast, nightly three-course dinners and nightly sunset cocktails
Return speedboat transfers from Malé Airport
ONCE-IN-A-LIFETIME UPGRADE
Deluxe Water Villa
Inclusion Highlights:
Inclusions valid for two people
Upgraded huge 351sqm overwater villa with 360-degree ocean views
Dining inclusions: daily breakfast, nightly three-course dinners and nightly sunset cocktails
Return speedboat transfers from Malé Airport
VILLA PARADISE
Garden Villa
Inclusion Highlights:
Inclusions valid for two people
Dining inclusions: daily breakfast, nightly three-course dinners and nightly sunset cocktails
Return speedboat transfers from Malé Airport
Welcome in-room bottle of French Champagne on ice
FLOATING VILLA UPGRADE
Water Villa
Earn 11,198 Qantas Points
Inclusion Highlights:
Inclusions valid for two people
Upgraded huge 351sqm overwater villa with 360-degree** **ocean, lagoon and sunset views
Dining inclusions: daily breakfast, nightly three-course dinners and nightly sunset cocktails
Return speedboat transfers from Malé Airport
ONCE-IN-A-LIFETIME UPGRADE
Deluxe Water Villa
Earn 12,599 Qantas Points
Inclusion Highlights:
Inclusions valid for two people
Upgraded huge 351sqm overwater villa with 360-degree ocean views
Dining inclusions: daily breakfast, nightly three-course dinners and nightly sunset cocktails
Return speedboat transfers from Malé Airport
*Price is indicative and based on sample return fares (inclusive of booking fees on Low Cost Carriers). To view live pricing, conduct a full search. Luxury Escapes full Terms and Conditions apply