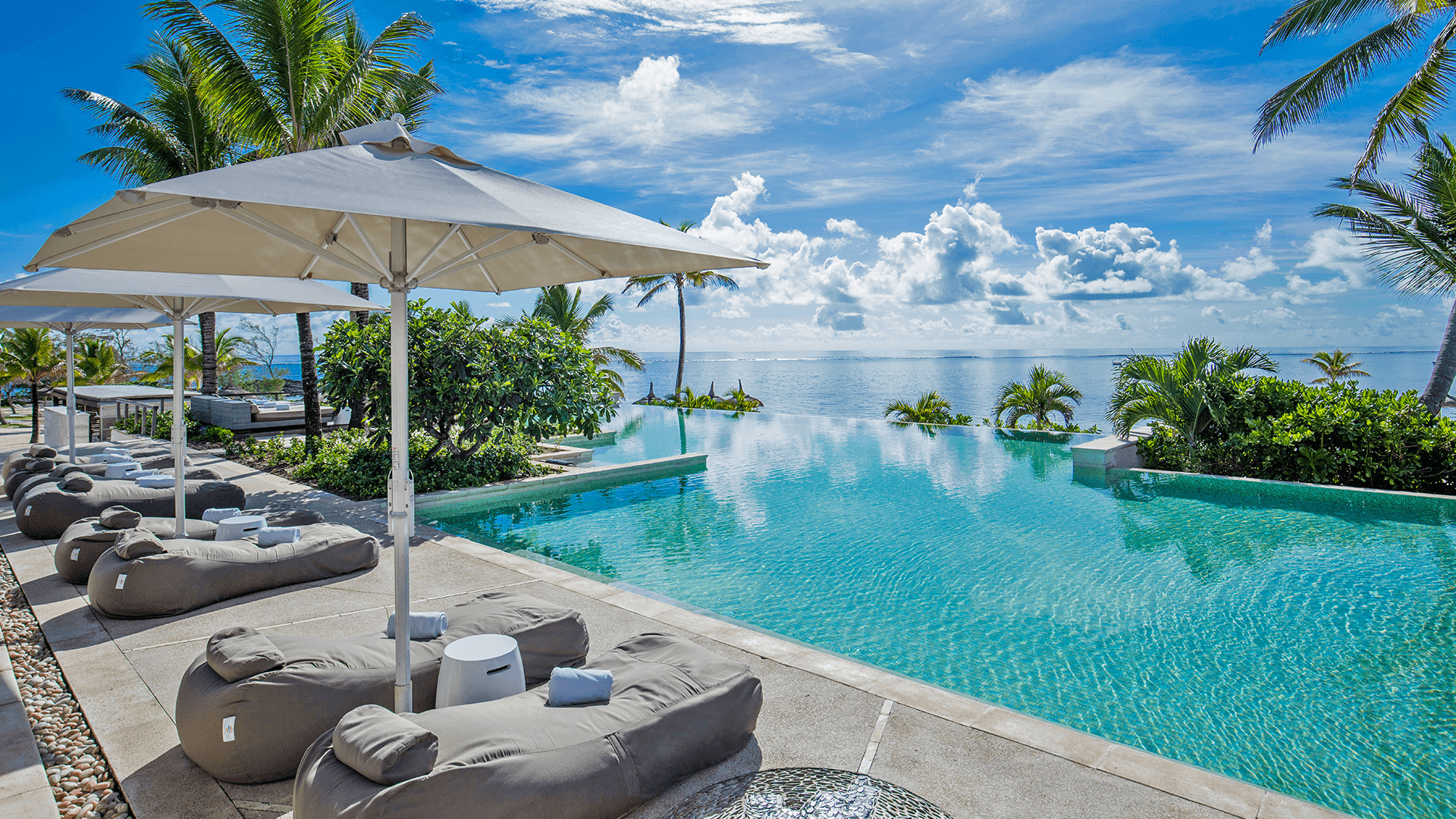 Stylish Mauritius Escape with Daily Breakfast & Nightly Dinner
Discover the beauty of Mauritius on an exotic getaway at the stylish and modern Long Beach Resort. Located in the east of the island, the resort boasts a private stretch of the beautiful Belle Mare Beach, where you can make the most of this luxury resort's huge range of activities and gourmet dining destinations. A private arrival transfer from the airport is included, plus daily buffet breakfast, nightly dinner (your choice of buffet or three-course à la carte) with one drink per person every evening and 20% off all treatments at the on-site spa retreat. Whisk the whole family away, with two children aged 11 years and under staying free of charge, with meals and complimentary Kids' Club activities.

Book now. Pay Later.
package Options
---
TROPICAL ESCAPE
Junior Suite
Inclusion Highlights:
Inclusions valid for two adults (two children aged 11 years and under stay and eat free with transfers and Kids' Club included)
Nightly dinner, choosing either a buffet at Le Marché or three-course meal at Chopsticks or Sapori, with one beer, wine or soft drink per person and a bottle of water for the table
An extensive daily buffet breakfast at Le Marché
One-way private arrival transfer for all guests
POOL LOVERS' UPGRADE
Junior Suite Pool-Access
Inclusion Highlights:
Inclusions valid for two adults (two children aged 11 years and under stay and eat free with transfers and Kids' Club included)
Return private airport transfers for all guests
One 20-minute foot reflexology treatment per adult
Nightly dinner, choosing either a buffet at Le Marché or three-course meal at Chopsticks or Sapori, with one beer, wine or soft drink per person and a bottle of water for the table
BEACH LOVERS' UPGRADE
Junior Suite Beach-Access
Double Points

Earn 4,998 Qantas Points
Inclusion Highlights:
Inclusions valid for two adults (two children aged 11 years and under stay and eat free with transfers and Kids' Club included)
Return private airport transfers for all guests
One 50-minute massage per adult
Nightly dinner, choosing either a buffet at Le Marché or three-course meal at Chopsticks or Sapori, with one beer, wine or soft drink per person and a bottle of water for the table
TROPICAL ESCAPE
Junior Suite
Inclusion Highlights:
Inclusions valid for two adults (two children aged 11 years and under stay and eat free with transfers and Kids' Club included)
Nightly dinner, choosing either a buffet at Le Marché or three-course meal at Chopsticks or Sapori, with one beer, wine or soft drink per person and a bottle of water for the table
An extensive daily buffet breakfast at Le Marché
One-way private arrival transfer for all guests
POOL LOVERS' UPGRADE
Junior Suite Pool-Access
Inclusion Highlights:
Inclusions valid for two adults (two children aged 11 years and under stay and eat free with transfers and Kids' Club included)
Return private airport transfers for all guests
One 20-minute foot reflexology treatment per adult
Nightly dinner, choosing either a buffet at Le Marché or three-course meal at Chopsticks or Sapori, with one beer, wine or soft drink per person and a bottle of water for the table
BEACH LOVERS' UPGRADE
Junior Suite Beach-Access
Double Points

Earn 6,598 Qantas Points
Inclusion Highlights:
Inclusions valid for two adults (two children aged 11 years and under stay and eat free with transfers and Kids' Club included)
Return private airport transfers for all guests
One 50-minute massage per adult
Nightly dinner, choosing either a buffet at Le Marché or three-course meal at Chopsticks or Sapori, with one beer, wine or soft drink per person and a bottle of water for the table