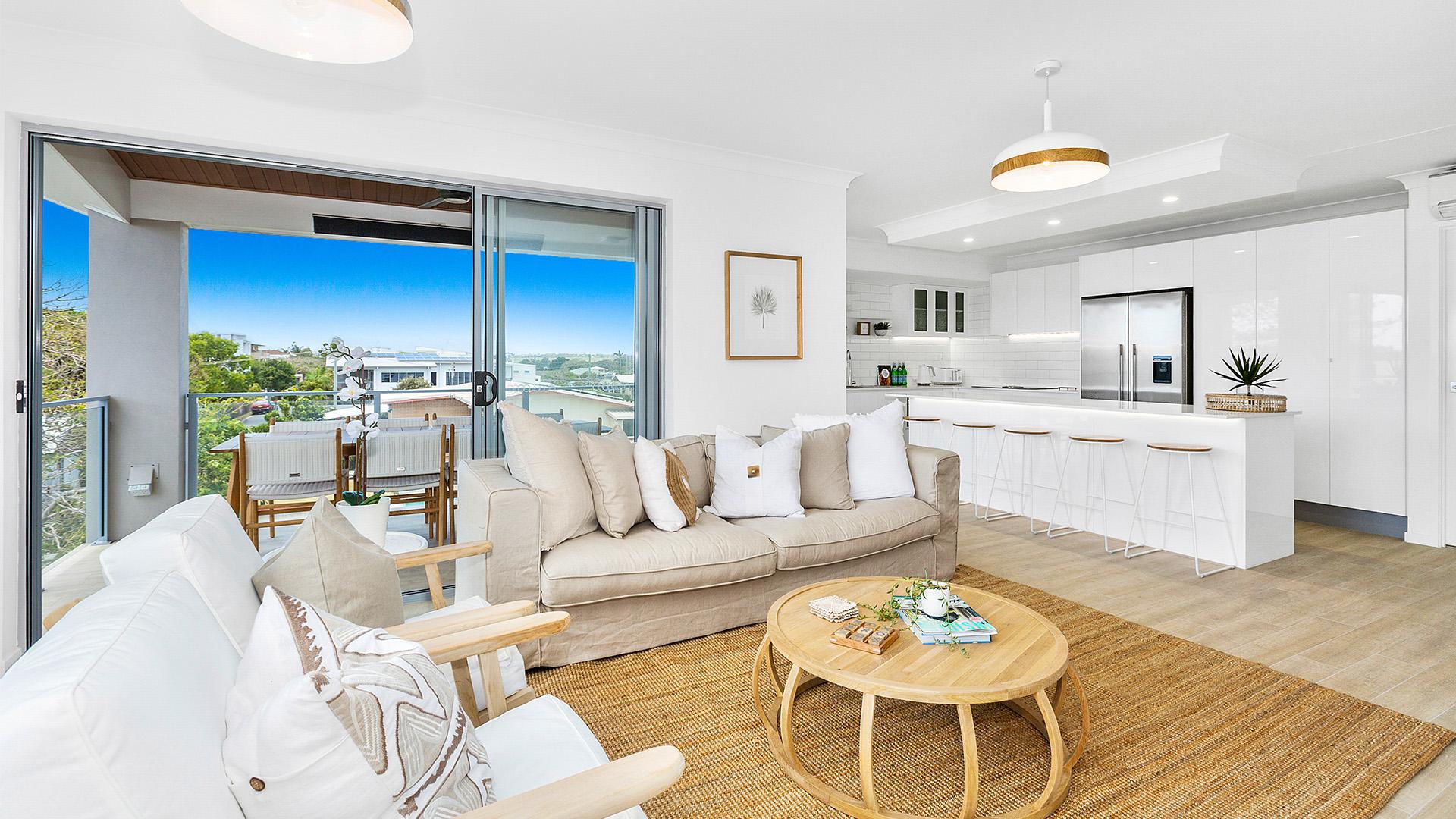 Beachside Group Villa Escape Near Gold Coast & Byron Bay
Take a trip to the popular beach destination of Kingscliff on the New South Wales North Coast with a villa stay for eight, 10 or 12 people. Choose a luxury beach house to suit your needs and enjoy spacious indoor/outdoor entertainment and stunning, modern living areas with easy access to the white sands of Kingscliff in Tweed Heads, a 20-minute drive from the Gold Coast and 50 minutes' drive north of Byron Bay. Includes a bottle of wine on arrival and half-day hire of paddle boards, kayaks and snorkelling equipment from Sunrise Cove.

Book now. Pay Later.
package Options
KINGSCLIFF LANE DUAL VILLAS (8 PEOPLE)
Kingscliff Lane Dual Villas
Inclusion highlights:
Inclusions valid for eight people
A bottle of wine on arrival
Half-day paddleboard, kayak and snorkelling equipment hire from Sunrise Cove
Check-in: From 2pm / Checkout: 10am
COTTONWOOD BEACH HOUSE (12 PEOPLE)
Cottonwood Beach House
Inclusion highlights:
Inclusions valid for 12 people
A bottle of wine on arrival
Half-day paddleboard, kayak and snorkelling equipment hire from Sunrise Cove
Check-in: From 2pm / Checkout: 10am
MALIBU BEACH HOUSE (10 PEOPLE)
Malibu Beach House
Inclusion highlights:
Inclusions valid for 10 people
A bottle of wine on arrival
Half-day paddleboard, kayak and snorkelling equipment hire from Sunrise Cove
Check-in: From 2pm / Checkout: 10am
KINGSCLIFF LANE DUAL VILLAS (8 PEOPLE)
Kingscliff Lane Dual Villas
Inclusion highlights:
Inclusions valid for eight people
A bottle of wine on arrival
Half-day paddleboard, kayak and snorkelling equipment hire from Sunrise Cove
Check-in: From 2pm / Checkout: 10am
COTTONWOOD BEACH HOUSE (12 PEOPLE)
Cottonwood Beach House
Inclusion highlights:
Inclusions valid for 12 people
A bottle of wine on arrival
Half-day paddleboard, kayak and snorkelling equipment hire from Sunrise Cove
Check-in: From 2pm / Checkout: 10am
MALIBU BEACH HOUSE (10 PEOPLE)
Malibu Beach House
Inclusion highlights:
Inclusions valid for 10 people
A bottle of wine on arrival
Half-day paddleboard, kayak and snorkelling equipment hire from Sunrise Cove
Check-in: From 2pm / Checkout: 10am
*Price is indicative and based on sample return fares (inclusive of booking fees on Low Cost Carriers). To view live pricing, conduct a full search. Luxury Escapes full Terms and Conditions apply