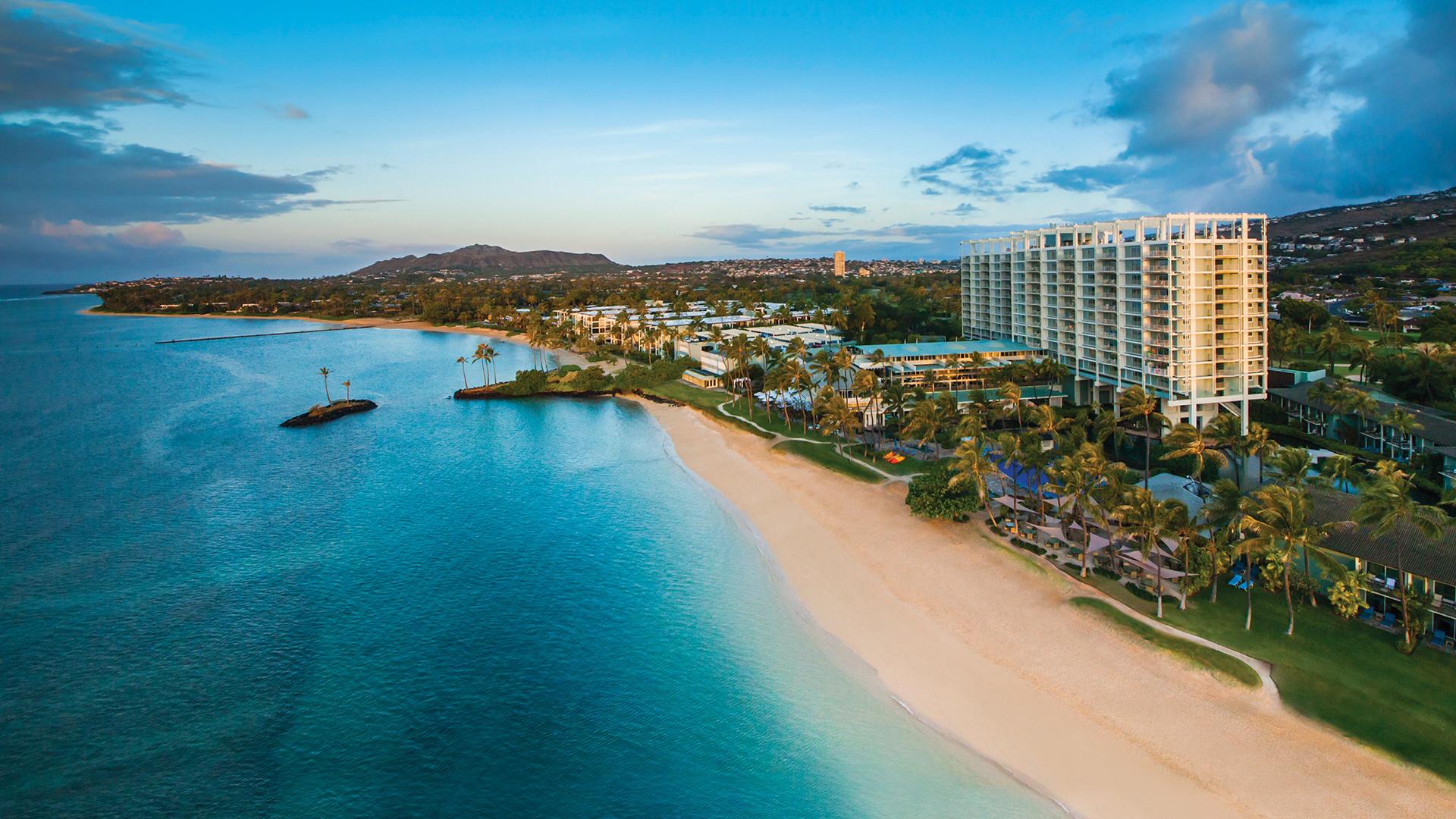 Five-Star Beachfront Resort Stay Near Waikiki with Buffet Breakfast
Experience the unrivalled luxury of The Kahala Hotel & Resort, offering the tranquil exclusivity and five-star facilities of a sprawling beachfront resort while only being a 15-minute drive from Waikiki. An oceanfront hideaway for the rich and famous, The Kahala has played host to Hollywood stars including Angelina Jolie and Marlon Brando, plus every US President since Lyndon B. Johnson. It also boasts an impressive list of awards and was named Hawaii's Best at the People's Choice Awards 2019. Join this prestigious list of guests with a stay that includes daily buffet breakfast, a three-course dinner for two, daily scheduled resort transfers to Waikiki and more. Plus, up to two children (aged five years and under) stay free with breakfast included.

Book now. Pay Later.
package Options
Inclusion highlights:
Inclusions valid for two people (up to two children aged five years and under stay free with breakfast included)
Daily buffet breakfast at Plumeria Beach House
One three-course dinner for two
Daily scheduled resort transfers to Waikiki, Ala Moana Shopping Center and Kahala Mall
BALCONY UPGRADE
Scenic Lanai Room
Inclusion highlights:
Inclusions valid for two people (up to two children aged five years and under stay free with breakfast included)
Daily buffet breakfast at Plumeria Beach House
One three-course dinner for two
Daily scheduled resort transfers to Waikiki, Ala Moana Shopping Center and Kahala Mall
OCEAN VIEW UPGRADE
Ocean View Room
Inclusion highlights:
Inclusions valid for two people (up to two children aged five years and under stay free with breakfast included)
Daily buffet breakfast at Plumeria Beach House
One three-course dinner for two
Daily scheduled resort transfers to Waikiki, Ala Moana Shopping Center and Kahala Mall
OCEAN VIEW BALCONY UPGRADE
Ocean View Lanai Room
Inclusion highlights:
Inclusions valid for two people (up to two children aged five years and under stay free with breakfast included)
Daily buffet breakfast at Plumeria Beach House
One three-course dinner for two
Daily scheduled resort transfers to Waikiki, Ala Moana Shopping Center and Kahala Mall
Inclusion highlights:
Inclusions valid for two people (up to two children aged five years and under stay free with breakfast included)
Two three-course dinners for two
Daily buffet breakfast at Plumeria Beach House
Daily scheduled resort transfers to Waikiki, Ala Moana Shopping Center and Kahala Mall
BALCONY UPGRADE
Scenic Lanai Room
Inclusion highlights:
Inclusions valid for two people (up to two children aged five years and under stay free with breakfast included)
Two three-course dinners for two
Daily buffet breakfast at Plumeria Beach House
Daily scheduled resort transfers to Waikiki, Ala Moana Shopping Center and Kahala Mall
OCEAN VIEW UPGRADE
Ocean View Room
Inclusion highlights:
Inclusions valid for two people (up to two children aged five years and under stay free with breakfast included)
Two three-course dinners for two
Daily buffet breakfast at Plumeria Beach House
Daily scheduled resort transfers to Waikiki, Ala Moana Shopping Center and Kahala Mall
OCEAN VIEW BALCONY UPGRADE
Ocean View Lanai Room
Inclusion highlights:
Inclusions valid for two people (up to two children aged five years and under stay free with breakfast included)
Two three-course dinners for two
Daily buffet breakfast at Plumeria Beach House
Daily scheduled resort transfers to Waikiki, Ala Moana Shopping Center and Kahala Mall
Inclusion highlights:
Inclusions valid for two people (up to two children aged five years and under stay free with breakfast included)
Three three-course dinners for two
Daily buffet breakfast at Plumeria Beach House
Daily scheduled resort transfers to Waikiki, Ala Moana Shopping Center and Kahala Mall
BALCONY UPGRADE
Scenic Lanai Room
Inclusion highlights:
Inclusions valid for two people (up to two children aged five years and under stay free with breakfast included)
Three three-course dinners for two
Daily buffet breakfast at Plumeria Beach House
Daily scheduled resort transfers to Waikiki, Ala Moana Shopping Center and Kahala Mall
OCEAN VIEW UPGRADE
Ocean View Room
Inclusion highlights:
Inclusions valid for two people (up to two children aged five years and under stay free with breakfast included)
Three three-course dinners for two
Daily buffet breakfast at Plumeria Beach House
Daily scheduled resort transfers to Waikiki, Ala Moana Shopping Center and Kahala Mall
OCEAN VIEW BALCONY UPGRADE
Ocean View Lanai Room
Inclusion highlights:
Inclusions valid for two people (up to two children aged five years and under stay free with breakfast included)
Three three-course dinners for two
Daily buffet breakfast at Plumeria Beach House
Daily scheduled resort transfers to Waikiki, Ala Moana Shopping Center and Kahala Mall
*Price is indicative and based on sample return fares (inclusive of booking fees on Low Cost Carriers). To view live pricing, conduct a full search. Luxury Escapes full Terms and Conditions apply