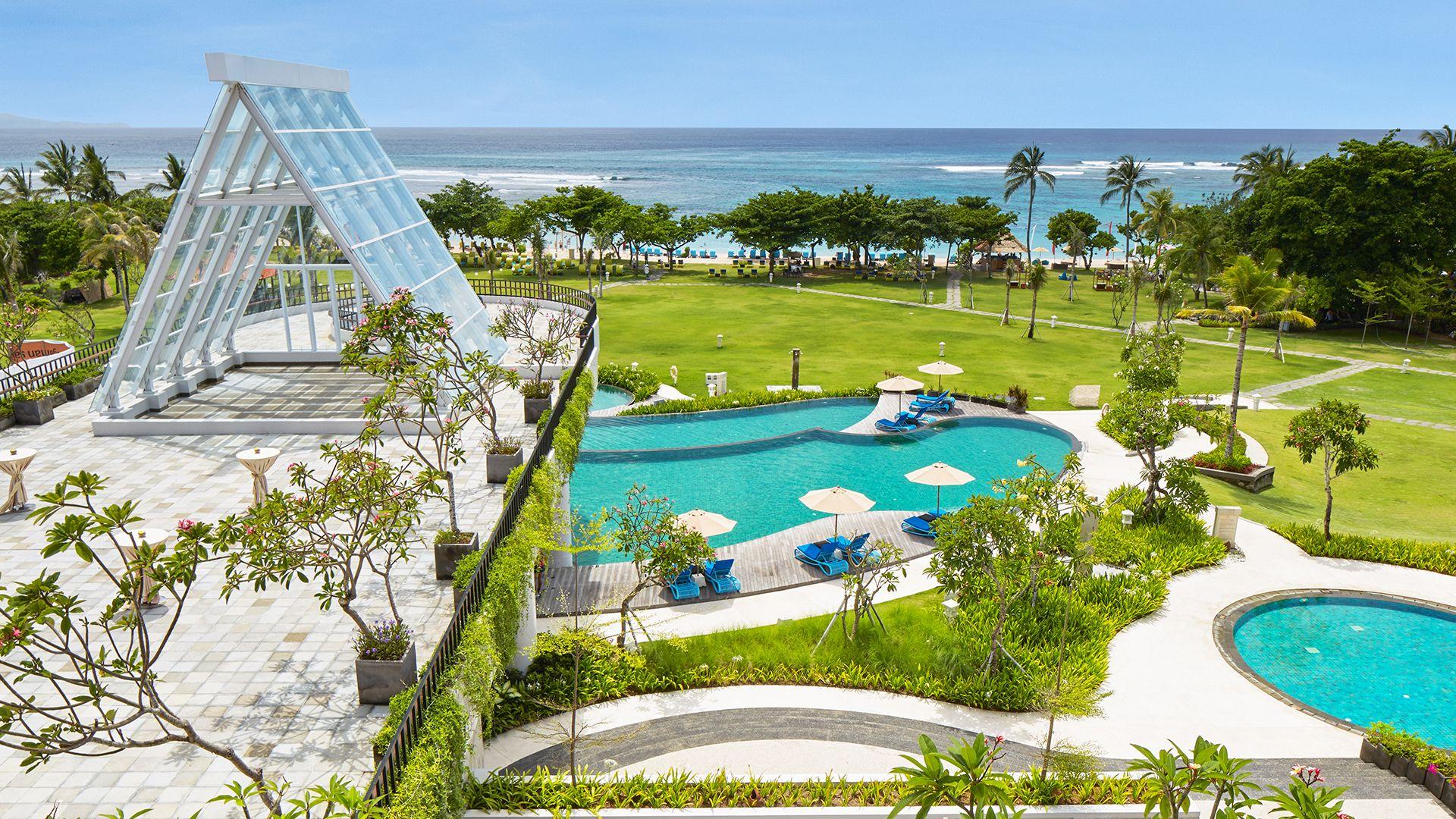 Award-Winning Beachfront Stay with Decadent Dining Inclusions
Discover the spirit of high-end Bali at a beachfront sanctuary perched on the sparkling shores of Nusa Dua at the five-star INAYA Putri Bali. Enjoy daily buffet breakfast, three decadent dinners, two cocktails each, 90-minute Balinese couples' massage, private return airport transfers, guaranteed late 1pm checkout and more. Plus two children aged 11 years and under stay free with breakfast included.

Book now. Pay Later.
package Options
NUSA DUA ESCAPE
Deluxe Room
Inclusion highlights:
Inclusions valid for two adults
Up to two children aged 11 years and under stay free with daily breakfast
Dining Inclusions: Daily buffet breakfast, three multi-course dinners, two cocktails each
A 90-minute Balinese massage for two adults
POOL ACCESS UPGRADE
Deluxe Pool Access Room
Inclusion highlights:
Inclusions valid for two adults
Up to two children aged 11 years and under stay free with daily breakfast
Dining Inclusions: Daily buffet breakfast, three multi-course dinners, two cocktails each
A 90-minute Balinese massage for two adults
VIP CLUB UPGRADE
One Bedroom Suite Ocean View
Inclusion highlights:
Inclusions valid for two adults
Up to two children aged 11 and under stay free with daily breakfast
Club Access: nightly cocktails from 6pm to 7:30pm, daily afternoon tea from 3pm to 4:30pm and complimentary all-day tea and coffee
Dining Inclusions: Daily buffet breakfast, three multi-course dinners, two cocktails each
A 90-minute Balinese massage for two adults
POOL VILLA CLUB UPGRADE
One Bedroom Villa
Inclusion highlights:
Inclusions valid for two adults
Club Access: nightly cocktails from 6pm to 7:30pm, daily afternoon tea from 3pm to 4:30pm and complimentary all-day tea and coffee
Dining Inclusions: Daily buffet breakfast, three multi-course dinners, two cocktails each
A 90-minute Balinese massage for two adults
NUSA DUA ESCAPE
Deluxe Room
Inclusion highlights:
Inclusions valid for two adults
Up to two children aged 11 years and under stay free with daily breakfast
Dining Inclusions: Daily buffet breakfast, three multi-course dinners, two cocktails each
A 90-minute Balinese massage for two adults
POOL ACCESS UPGRADE
Deluxe Pool Access Room
Inclusion highlights:
Inclusions valid for two adults
Up to two children aged 11 years and under stay free with daily breakfast
Dining Inclusions: Daily buffet breakfast, three multi-course dinners, two cocktails each
A 90-minute Balinese massage for two adults
VIP CLUB UPGRADE
One Bedroom Suite Ocean View
Inclusion highlights:
Inclusions valid for two adults
Up to two children aged 11 and under stay free with daily breakfast
Club Access: nightly cocktails from 6pm to 7:30pm, daily afternoon tea from 3pm to 4:30pm and complimentary all-day tea and coffee
Dining Inclusions: Daily buffet breakfast, three multi-course dinners, two cocktails each
A 90-minute Balinese massage for two adults
POOL VILLA CLUB UPGRADE
One Bedroom Villa
Inclusion highlights:
Inclusions valid for two adults
Club Access: nightly cocktails from 6pm to 7:30pm, daily afternoon tea from 3pm to 4:30pm and complimentary all-day tea and coffee
Dining Inclusions: Daily buffet breakfast, three multi-course dinners, two cocktails each
A 90-minute Balinese massage for two adults
*Price is indicative and based on sample return fares (inclusive of booking fees on Low Cost Carriers). To view live pricing, conduct a full search. Luxury Escapes full Terms and Conditions apply