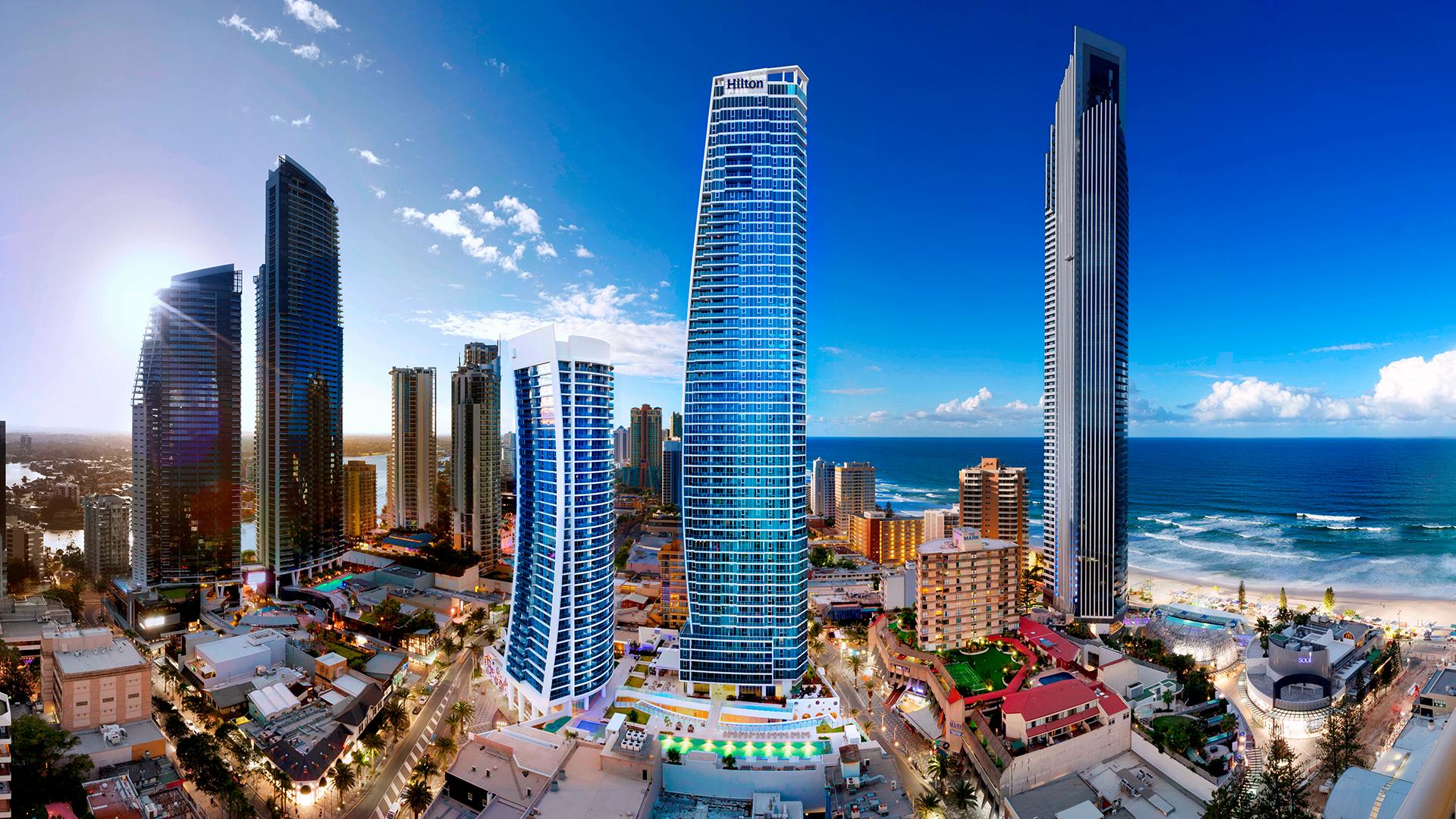 Five-Star Luxury with Ocean Views at the Hilton Surfers Paradise
Explore Queensland's most famous beach town staying at the five-star Hilton Surfers Paradise on the Gold Coast. Conveniently located close to Surfers Paradise beach you'll enjoy daily buffet breakfast, AU$100 food and beverage credit, a welcome bottle of wine and two beers on arrival, daily on-site parking and 25% off treatments at the on-site spa. Want even more luxury? Upgrade to an Executive Room with stunning ocean views and access to the Executive Lounge and its benefits including nightly drinks and canapes, and all-day tea and coffee.

Book now. Pay Later.
package Options
GOLD COAST ESCAPE
King Hilton Guest Room
Inclusion highlights:
Inclusions valid for two people
Daily buffet breakfast at the signature Catch Restaurant
AU$100 credit to use at the hotel's high-end bars and restaurants
Welcome bottle of Jade Estate semillon wine and two Sydney Brewery beers on arrival
OCEAN BALCONY UPGRADE
King Hilton Deluxe room
Inclusion highlights:
Inclusions valid for two people
Daily buffet breakfast at the signature Catch Restaurant
AU$100 credit to use at the hotel's high-end bars and restaurants
Welcome bottle of Jade Estate semillon wine and two Sydney Brewery beers on arrival
EXECUTIVE LOUNGE UPGRADE
King Hilton Executive room
Inclusion highlights:
Inclusions valid for two people
Executive Lounge Access: nightly sunset drinks and canapes & all-day tea and coffee
Daily buffet breakfast at the signature Catch Restaurant
AU$100 credit to use at the hotel's high-end bars and restaurants
GOLD COAST ESCAPE
King Hilton Guest Room
Inclusion highlights:
Inclusions valid for two people
AU$150 credit to use at the hotel's high-end bars and restaurants
Daily buffet breakfast at the signature Catch Restaurant
Welcome bottle of Jade Estate semillon wine and two Sydney Brewery beers on arrival
OCEAN BALCONY UPGRADE
King Hilton Deluxe room
Inclusion highlights:
Inclusions valid for two people
AU$150 credit to use at the hotel's high-end bars and restaurants
Daily buffet breakfast at the signature Catch Restaurant
Welcome bottle of Jade Estate semillon wine and two Sydney Brewery beers on arrival
EXECUTIVE LOUNGE UPGRADE
King Hilton Executive room
Inclusion highlights:
Inclusions valid for two people
Executive Lounge Access: nightly sunset drinks and canapes & all-day tea and coffee
AU$150 credit to use at the hotel's high-end bars and restaurants
Daily buffet breakfast at the signature Catch Restaurant
GOLD COAST ESCAPE
King Hilton Guest Room
Inclusion highlights:
Inclusions valid for two people
AU$200 credit to use at the hotel's high-end bars and restaurants
Daily buffet breakfast at the signature Catch Restaurant
Welcome bottle of Jade Estate semillon wine and two Sydney Brewery beers on arrival
OCEAN BALCONY UPGRADE
King Hilton Deluxe room
Inclusion highlights:
Inclusions valid for two people
AU$200 credit to use at the hotel's high-end bars and restaurants
Daily buffet breakfast at the signature Catch Restaurant
Welcome bottle of Jade Estate semillon wine and two Sydney Brewery beers on arrival
EXECUTIVE LOUNGE UPGRADE
King Hilton Executive room
Inclusion highlights:
Inclusions valid for two people
Executive Lounge Access: nightly sunset drinks and canapes & all-day tea and coffee
AU$200 credit to use at the hotel's high-end bars and restaurants
Daily buffet breakfast at the signature Catch Restaurant
*Price is indicative and based on sample return fares (inclusive of booking fees on Low Cost Carriers). To view live pricing, conduct a full search. Luxury Escapes full Terms and Conditions apply