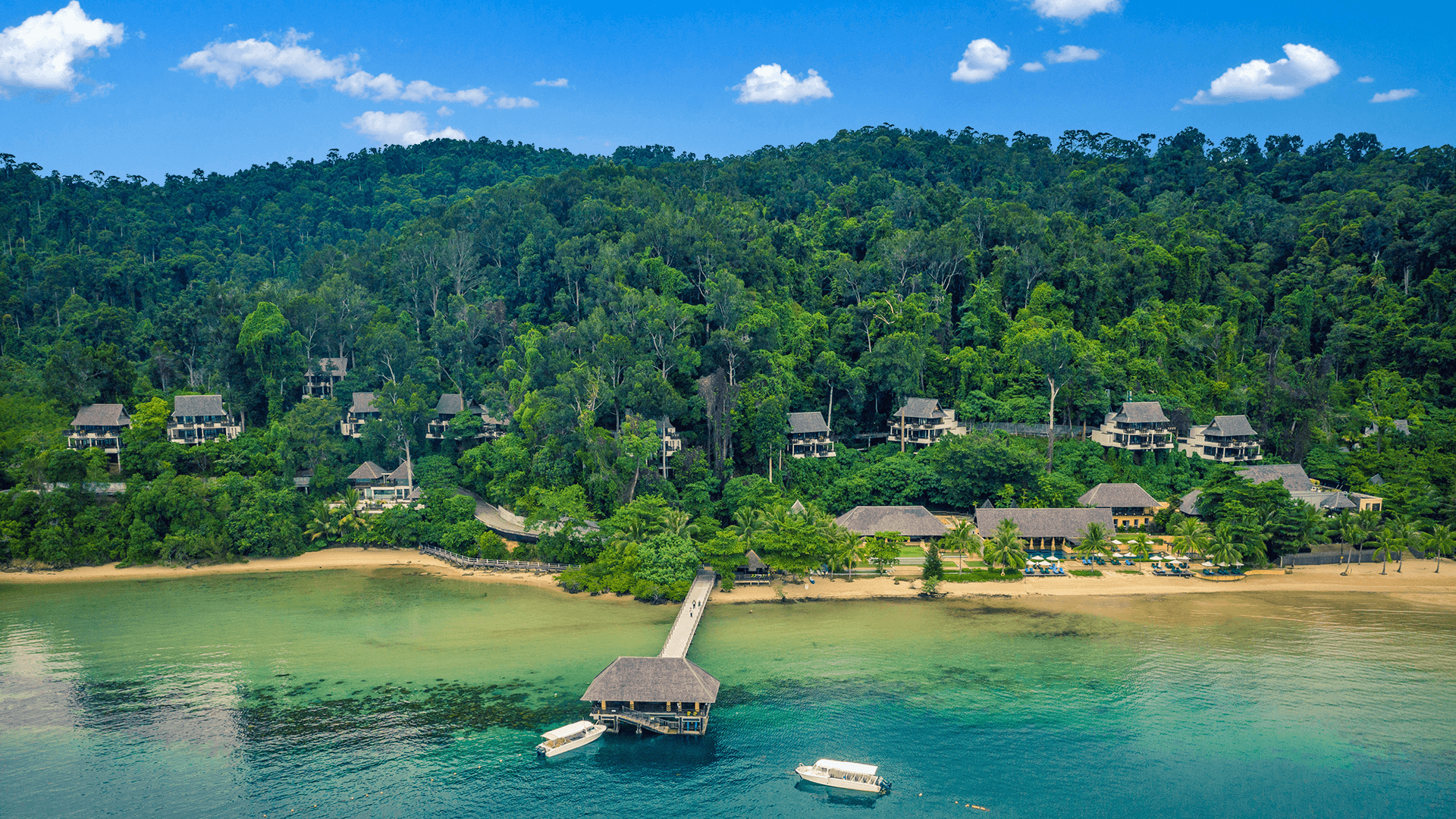 Escape to Nature with an Island Retreat in Borneo
Discover the unspoiled beauty of Borneo at the award-winning Gaya Island Resort, a tranquil nature retreat tucked into the protected Tunku Abdul Rahman Marine Park. This beachfront property offers moments of relaxation alongside unforgettable experiences, including guided nature walks, snorkelling and kayaking. Included in your escape is daily breakfast, nightly dinner, a 50-minute couple's massage, return boat transfers to the island from mainland Borneo, and more.
Package Options
---
ISLAND ESCAPE
Kinabalu Villa
Inclusion Highlights:
Inclusions valid for two people
Daily buffet breakfast
Nightly dinner with a choice of buffet at Feast Village or Japanese at Omakase
One 50-minute couple's massage
ISLAND ESCAPE
Kinabalu Villa
Inclusion Highlights:
Inclusions valid for two people
One daily house beer or wine each at the Pool Bar
Daily buffet breakfast
Nightly dinner with a choice of buffet at Feast Village or Japanese at Omakase
Just off the coast of Borneo lies Gaya Island, an unspoiled natural gem and home to the Tunku Abdul Rahman Marine Park. This peaceful slice of paradise is the ideal location for reconnecting with nature and enjoying some time away from day-to-day life.
What You'll Love…
The Hotel – Eco-friendly luxury nestled into a protected marine park
Amid protected mangroves, sheltered coral reefs and a pristine private beach you'll find the Gaya Island Resort, an eco-friendly oasis in the heart of the Tunku Abdul Rahman Marine Park.
An included boat transfer will deliver you straight from mainland Borneo to the island and back on your day of departure.
Conservation is a top priority for the resort, which prides itself on protecting the local wildlife by promoting sustainable seafood options, coral reef restoration and turtle rescue. However, these eco-conscious choices don't come at the cost of a luxury experience. Gaya Island Resort offers comfortable villas, four restaurants (including the very special Tavajun Bay, located on a private island, a short five-minute boat ride from the resort), a pool with bar and lounge and the Spa Village, where you can indulge in relaxing treatments based on ancient healing traditions.
Included in your escape is a 50-minute full-body massage for two, allowing you to truly unwind and reset to island time.
The Villa – Premium accommodation offering the best views in the resort
Stay in a Kinabalu Villa, with views across the South China Sea and the distant silhouette of Mount Kinabalu. Considered the villas with the resort's best views, you'll benefit from comfortable bedding, a writing desk, flat-screen TV, free Wi-Fi, an en-suite bathroom with oversized tub and an outdoor veranda with day beds. Each villa uses local materials that blend harmoniously with the natural environment, while interiors are designed with a contemporary elegance.
The Food – Daily breakfast and dinner with a choice of gourmet experiences on offer
Every morning you'll rise to an included breakfast at Feast Village, offering diverse cuisine from the Asia-Pacific region. You'll find a bakery, Japanese/Korean, Asian and Western stations, catering for every taste.
Every night, choose to return here for a buffet dinner or opt for Omakase, the resort's two-storey Japanese restaurant, surrounded by ancient rainforest. Try traditional steamboat dining, a shabu shabu hot pot dish or teppanyaki, Japanese food cooked on an iron griddle.
Staying for seven nights? You'll also enjoy a nightly house beer or wine, served at the pool bar between 5pm and 11pm.
See & Do – Make the most of your surrounds, with kayaking and snorkelling
It's all about getting back to nature at Gaya Island Resort. A snorkelling session is included in your stay, allowing you a chance to marvel at the diverse marine life and spectacular coral reefs.
Those staying for five or seven nights will also enjoy a kayaking experience, the perfect way to enjoy the still waters surrounding the island.
Through its Pure programme, the resort offers a variety of activities that will help you make the most of Gaya Island's natural beauty. On offer are deep-sea and leisure fishing, guided nature walks (complimentary), rainforest trekking (complimentary), and traditional Borneo handicraft sessions.
Getting over to mainland Borneo is easy, with the resort running an affordable, regular boat service. Visit Kinabalu Park and enjoy views of the majestic mountain, marvel at the deer caves in Gunung Mulu National Park or head to Tanjung Putting and meet some of Borneo's famous orangutans.
Perfect for… A relaxing break at one with nature
Enjoy the luxury of a villa getaway alongside the stunning natural beauty of Borneo. This is a break that will captivate and stay with you for many years to come.
Additional Fees Payable Direct - Tourism Tax: A compulsory Tourism Tax of RM10 per room, per night must be paid to the hotel upon check-out.
Conservation Fee: A conservation fee of MYR32 on the first night of stay and an additional MYR22 for each day thereafter is applied to each guest, including children, for every night of stay by Sabah Parks, an organisation set up as the caretaker of Tunku Abdul Rahman Marine Park. The conservation fee is contributed to Sabah Parks in support of their effort towards preserving the rich ecosystem of the region.
Valid for travel from 6 January until 19 December 2019 (bookings must be made before 5 November 2019).
Blackout Dates: Not valid for travel  on
1-9 February 2019
19-21 April 2019
1-7 October 2019
Check Availability: To confirm your dates of stay at purchase, click on 'Check Availability' and select your preferred package. Use the calendar to browse and select available dates. Dates with a surcharge are identified.
Buy Now Book Later: If you want to secure this offer and don't know when you want to travel please select 'Buy Now & Book Later'. This will secure your package and give you the flexibility to choose your travel dates - within the book by and validity period and subject to availability. To select dates post purchase, simply select 'My Escapes' under the 'My Account' tab and follow the prompts.
7-Day Change of Mind 'No Questions Asked' Refund Guarantee: Things don't always work out. Our 7-day Change of Mind Guarantee is there to help. Within 7 days of purchase we'll happily provide a full refund on cancellation of your escape (so long as you don't have a confirmed booking/stay in the next 14 days).
Feel Like Changing your Dates? No worries…
You can make one (1) change to the date of your booking provided the change is made no less than 45 days before the start of your original booking date and provided you choose dates which are of an equal value and are available. Any change to booking dates is subject to and must be made online in accordance with our Terms and Conditions.
Kinabalu Villa – Package valid for  two adults
Maximum Room Capacity: The maximum room capacity is two adults and two children. See the 'Extra Guest Policy' below:
Extra Guest Policy: Additional guests aged 12 years and over not permitted.
Child Policy: Two children (aged 11 and under) may stay for a surcharge of AU$210 per child for three-night stays, AU$325 per child for five nights or AU$450 per child for seven nights, sleeping on a sofa bed with accommodation, transfer, daily breakfast and nightly dinner only. Payable directly to the resort. Max. one sofa bed per villa, second child will need to share existing king bed with parents.
Baby Policy: One infant (aged two years and under) may stay free of charge and will count towards maximum room occupancy. A cot can be provided by the hotel free of charge.
Boat Transfer: Boats depart from and return to Jesselton Point Jetty. You will be transferred by speedboat, taking around ten minutes. Boats depart from Jessellton every two hours, starting at 8am and finishing at 6pm, with a 9pm departure available on request. Boats leave the resort every two hours starting at 9am and finishing at 6.30pm, with a 9.30pm departure available on request. Private chartered boat available at MYR500 (MYR700 between 9pm and 7am).
Dining inclusions do not include beverages (unless otherwise stated). Menus are subject to change without notice.
Please note that full terms and conditions apply. Refer to website's terms and conditions.
Booking Guarantee
Purchase with confidence. We offer a 7-day 'Change of Mind' no questions asked guarantee.
Exclusively negotiated offers. We go direct to ensure you get the best price possible.
Quality guaranteed.