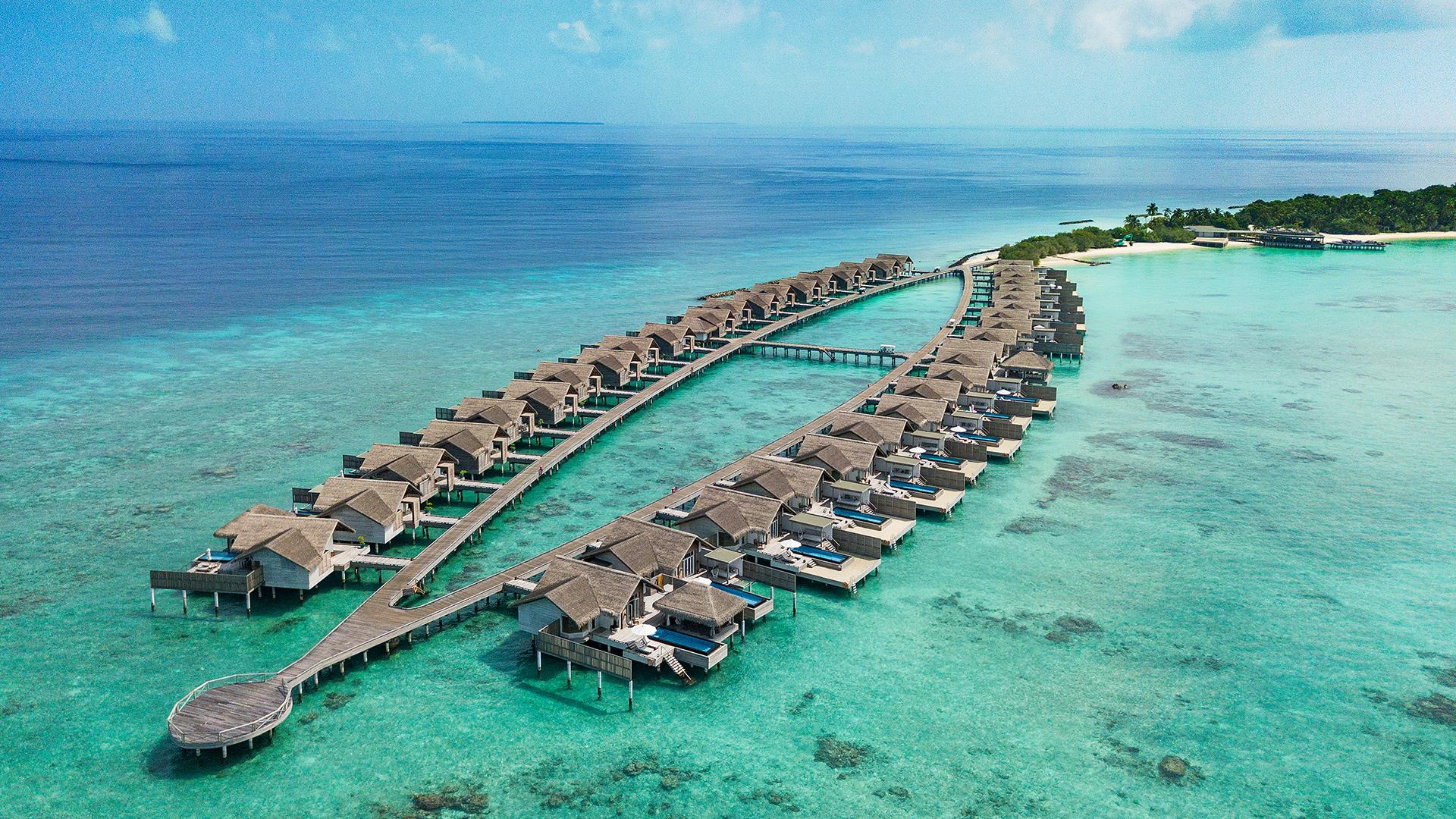 World-Class Fairmont Indulgence with All-Inclusive Dining and Return Transfers
Indulge in world-class Fairmont luxury in one of the world's most sought-after holiday destinations at the exquisite Fairmont Maldives Sirru Fen Fushi. A secluded jewel in the Shaviyani Atoll, this five-star resort offers beautiful rustic-chic villas dotted across the beach and azure lagoon, plus a 200m long infinity pool, a dreamy spa and gourmet local and international cuisine. Your escape includes all meals, with a lavish buffet breakfast every day, plus lunch and dinner at your choice of any three of the resort's excellent restaurants, one hour of unlimited drinks with dinner and VIP return domestic flight and speedboat transfers.

Book now. Pay Later.
package Options
---
SECLUDED JUNGLE ESCAPE
Tented Jungle Villa
Inclusion Highlights:
Inclusions valid for two people
One child (aged 11 years and under) stays and eats free
Indulgent All-Inclusive Dining: Daily breakfast, daily lunch and decadent nightly dinner with one hour of unlimited drinks
VIP return domestic flight and speedboat transfers from Malé
LUXURY BEACHFRONT UPGRADE
Beach Sunrise Villa
Inclusion Highlights:
Inclusions valid for two people
One child (aged 11 years and under) stays and eats free^
Upgraded 360sqm villa on the edge of the spectacular shoreline
Indulgent All-Inclusive Dining: Daily breakfast, daily lunch and decadent nightly dinner with one hour of unlimited drinks
VIP return domestic flight and speedboat transfers from Malé
QUINTESSENTIAL OVERWATER UPGRADE
Water Sunrise Villa
Inclusion Highlights:
Inclusions valid for two people
One child (aged 11 years and under) stays and eats free^
Upgraded 185sqm quintessential overwater Maldives villa with direct lagoon access
Indulgent All-Inclusive Dining: Daily breakfast, daily lunch and decadent nightly dinner with one hour of unlimited drinks
VIP return domestic flight and speedboat transfers from Malé
EXCLUSIVE SUNSET UPGRADE
Grand Water Sunset Villa
Inclusion Highlights:
Inclusions valid for two people
One child (aged 11 years and under) stays and eats free^
Over-sized 235sqm overwater villa with an outdoor sala and your own private plunge pool
Indulgent All-Inclusive Dining: Daily breakfast, daily lunch and decadent nightly dinner with one hour of unlimited drinks
VIP return domestic flight and speedboat transfers from Malé
THE SPECIAL OCCASION UPGRADE
Grand Water Sunset Villa
Inclusion Highlights:
Inclusions valid for two people & one child (aged 11 years and under) stays and eats free^
Over-sized 235sqm overwater villa with an outdoor sala and your own private plunge pool
Ultra-romantic VIP dinner set up to end one magical day in paradise
Welcome bottle of sparkling wine and fruit basket on arrival
Indulgent All-Inclusive Dining: Daily breakfast, daily lunch and decadent nightly dinner with one hour of unlimited drinks
SECLUDED JUNGLE ESCAPE
Tented Jungle Villa
Inclusion Highlights:
Inclusions valid for two people
One child (aged 11 years and under) stays and eats free^
Indulgent All-Inclusive Dining: Daily breakfast, daily lunch and decadent nightly dinner with one hour of unlimited drinks
VIP return domestic flight and speedboat transfers from Malé
LUXURY BEACHFRONT UPGRADE
Beach Sunrise Villa
Inclusion Highlights:
Inclusions valid for two people
One child (aged 11 years and under) stays and eats free^
Upgraded 360sqm villa on the edge of the spectacular shoreline
Indulgent All-Inclusive Dining: Daily breakfast, daily lunch and decadent nightly dinner with one hour of unlimited drinks
VIP return domestic flight and speedboat transfers from Malé
QUINTESSENTIAL OVERWATER UPGRADE
Water Sunrise Villa
Inclusion Highlights:
Inclusions valid for two people
One child (aged 11 years and under) stays and eats free^
Upgraded 185sqm quintessential overwater Maldives villa with direct lagoon access
Indulgent All-Inclusive Dining: Daily breakfast, daily lunch and decadent nightly dinner with one hour of unlimited drinks
VIP return domestic flight and speedboat transfers from Malé
EXCLUSIVE SUNSET UPGRADE
Grand Water Sunset Villa
Earn 11,199 Qantas Points
Inclusion Highlights:
Inclusions valid for two people
One child (aged 11 years and under) stays and eats free^
Indulgent All-Inclusive Dining: Daily breakfast, daily lunch and decadent nightly dinner with one hour of unlimited drinks
VIP return domestic flight and speedboat transfers from Malé
THE SPECIAL OCCASION UPGRADE
Grand Water Sunset Villa
Earn 11,499 Qantas Points
Inclusion Highlights:
Inclusions valid for two people & one child (aged 11 years and under) stays and eats free^
Over-sized 235sqm overwater villa with an outdoor sala and your own private plunge pool
Ultra-romantic VIP dinner set up to end one magical day in paradise
Welcome bottle of sparkling wine and fruit basket on arrival
Indulgent All-Inclusive Dining: Daily breakfast, daily lunch and decadent nightly dinner with one hour of unlimited drinks
*Price is indicative and based on sample return fares (inclusive of booking fees on Low Cost Carriers). To view live pricing, conduct a full search. Luxury Escapes full Terms and Conditions apply