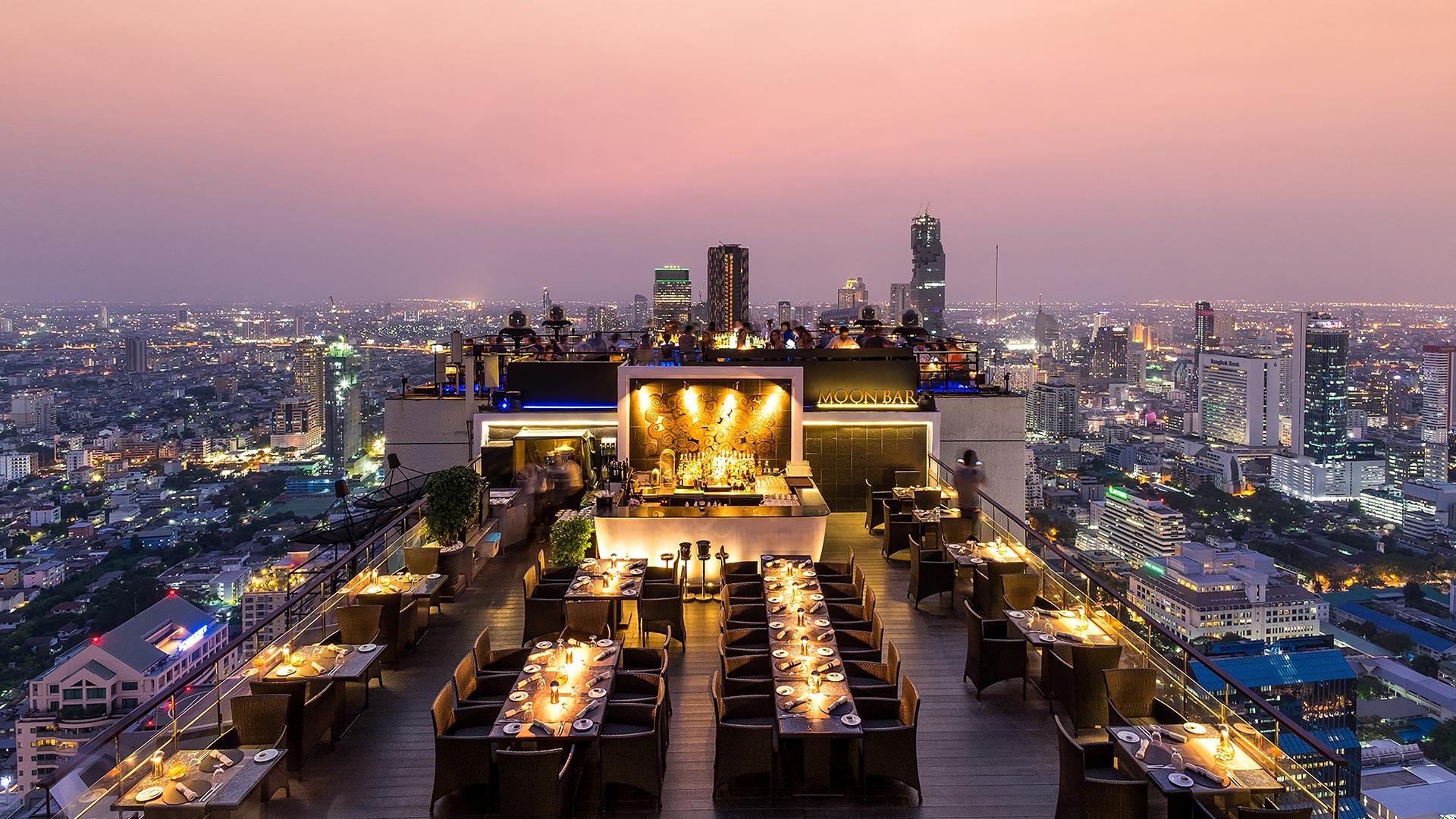 Sky-High Luxury with Club Access at Iconic Banyan Tree Bangkok
Experience five-star luxury at the all-suite Banyan Tree Bangkok. One of Asia's tallest and most iconic hotels, it features 10 bars and restaurants - including the world-famous, newly renovated rooftop Moon Bar - and a chic outdoor pool deck offering views over the striking city skyline. You'll feel the pulse of one of the liveliest cities in the world with a high-end urban stopover that includes one cocktail each at Moon Bar and exclusive VIP access to the Club Lounge with daily buffet breakfast, nightly happy hour, daily free-flow beer, coffee, tea and snacks, daily laundry or clothes pressing and more. Plus, one child (aged 11 years and under) stay free with Club access included!

Book now. Pay Later.
package Options
SKY-HIGH BANGKOK
Horizon Suite
Inclusion highlights:
Inclusions valid for two people (one child aged 11 years and under stays free on a rollaway bed with Club access)
VIP Club Serenity access with daily buffet breakfast, nightly free-flow alcoholic drinks and canapes, free-flow beer, all-day soft drinks, snacks, tea and coffee, complimentary laundry or pressing and welcome herbal drinks
One cocktail per adult at the world-famous rooftop Moon Bar
Check-in: From 2pm / Checkout: 12 noon
SERENITY UPGRADE
Serenity Club Suite
Double Points

Earn 1,798 Qantas Points
Inclusion highlights:
Inclusions valid for two people (one child aged 11 years and under stays free on a rollaway bed with Club access)
VIP Club Serenity access with daily buffet breakfast, nightly free-flow alcoholic drinks and canapes, free-flow beer, all-day soft drinks, snacks, tea and coffee, complimentary laundry or pressing and welcome herbal drinks
One-way airport transfer
One cocktail per adult at the world-famous rooftop Moon Bar
VIP UPGRADE
One-Bedroom Suite
Double Points

Earn 1,998 Qantas Points
Inclusion highlights:
Inclusions valid for two people (one child aged 11 years and under stays free on a rollaway bed with Club access)
VIP Club Serenity access with daily buffet breakfast, nightly free-flow alcoholic drinks and canapes, free-flow beer, all-day soft drinks, snacks, tea and coffee, complimentary laundry or pressing and welcome herbal drinks
One-way airport transfer
One cocktail per adult at the world-famous rooftop Moon Bar
SKY-HIGH BANGKOK
Horizon Suite
Inclusion highlights:
Inclusions valid for two people (one child aged 11 years and under stays free on a rollaway bed with Club access)
VIP Club Serenity access with daily buffet breakfast, nightly free-flow alcoholic drinks and canapes, free-flow beer, all-day soft drinks, snacks, tea and coffee, complimentary laundry or pressing and welcome herbal drinks
One cocktail per adult a Saffron Sky Garden
One cocktail per adult at the world-famous rooftop Moon Bar
SERENITY UPGRADE
Serenity Club Suite
Double Points

Earn 2,998 Qantas Points
Inclusion highlights:
Inclusions valid for two people (one child aged 11 years and under stays free on a rollaway bed with Club access)
VIP Club Serenity access with daily buffet breakfast, nightly free-flow alcoholic drinks and canapes, free-flow beer, all-day soft drinks, snacks, tea and coffee, complimentary laundry or pressing and welcome herbal drinks
One cocktail per adult a Saffron Sky Garden
One-way airport transfer
VIP UPGRADE
One-Bedroom Suite
Double Points

Earn 3,318 Qantas Points
Inclusion highlights:
Inclusions valid for two people (one child aged 11 years and under stays free on a rollaway bed with Club access)
VIP Club Serenity access with daily buffet breakfast, nightly free-flow alcoholic drinks and canapes, free-flow beer, all-day soft drinks, snacks, tea and coffee, complimentary laundry or pressing and welcome herbal drinks
One cocktail per adult a Saffron Sky Garden
One-way airport transfer
SKY-HIGH BANGKOK
Horizon Suite
Inclusion highlights:
Inclusions valid for two people (one child aged 11 years and under stays free on a rollaway bed with Club access)
VIP Club Serenity access with daily buffet breakfast, nightly free-flow alcoholic drinks and canapes, free-flow beer, all-day soft drinks, snacks, tea and coffee, complimentary laundry or pressing and welcome herbal drinks
One four-course menu for two at Saffron Restaurant
One cocktail per adult a Saffron Sky Garden
SERENITY UPGRADE
Serenity Club Suite
Double Points

Earn 4,198 Qantas Points
Inclusion highlights:
Inclusions valid for two people (one child aged 11 years and under stays free on a rollaway bed with Club access)
VIP Club Serenity access with daily buffet breakfast, nightly free-flow alcoholic drinks and canapes, free-flow beer, all-day soft drinks, snacks, tea and coffee, complimentary laundry or pressing and welcome herbal drinks
One four-course menu for two at Saffron Restaurant
One cocktail per adult a Saffron Sky Garden
VIP UPGRADE
One-Bedroom Suite
Double Points

Earn 4,598 Qantas Points
Inclusion highlights:
Inclusions valid for two people (o**ne child aged 11 years and under stays free on a rollaway bed with Club access)**
VIP Club Serenity access with daily buffet breakfast, nightly free-flow alcoholic drinks and canapes, free-flow beer, all-day soft drinks, snacks, tea and coffee, complimentary laundry or pressing and welcome herbal drinks
One four-course menu for two at Saffron Restaurant
One cocktail per adult a Saffron Sky Garden
*Price is indicative and based on sample return fares (inclusive of booking fees on Low Cost Carriers). To view live pricing, conduct a full search. Luxury Escapes full Terms and Conditions apply