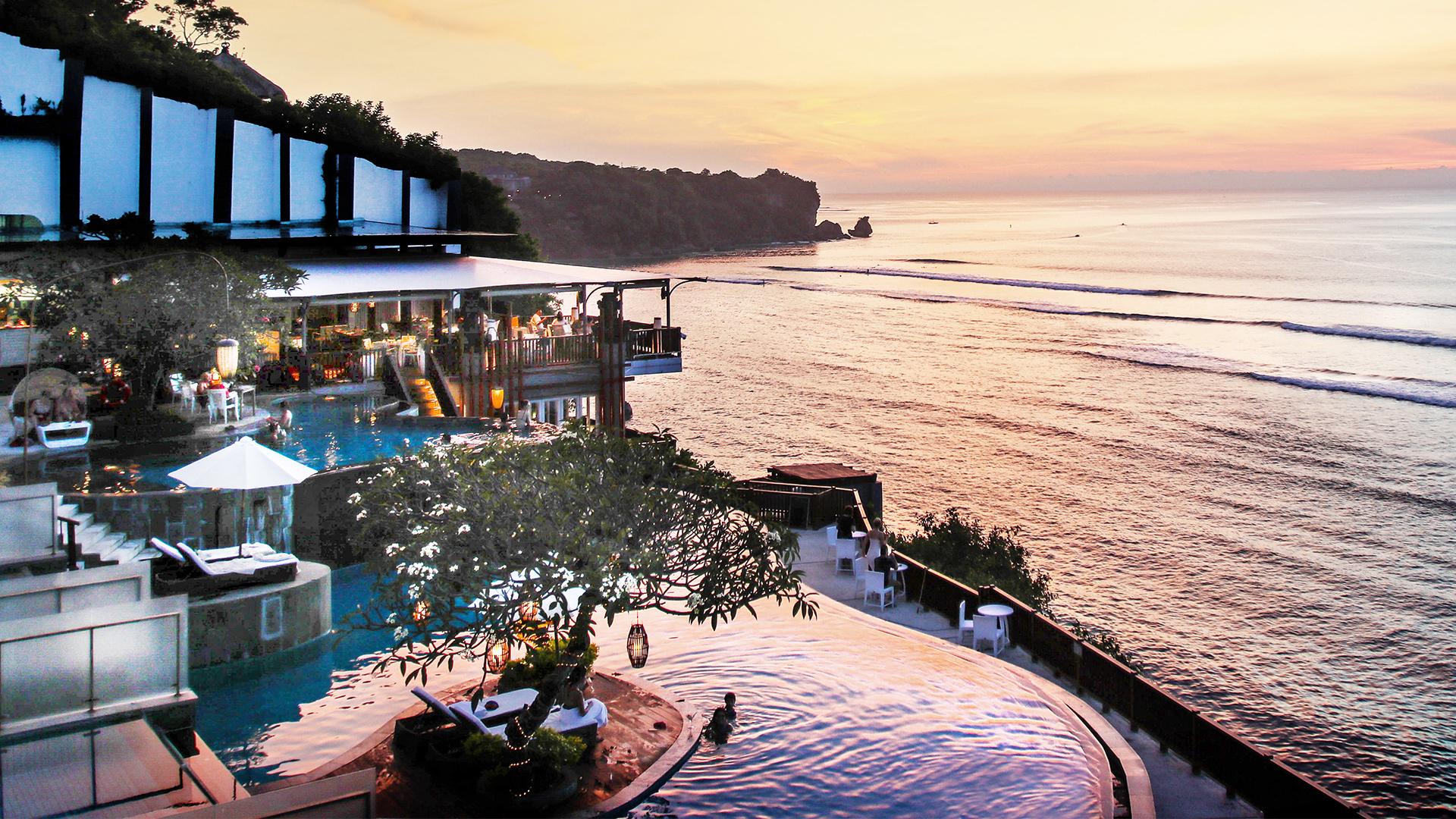 Romantic Cliffside Suites with Gourmet Dining
If secluded luxury in a romantic setting is what you're seeking, look no further than the award-winning Anantara Uluwatu. Spectacularly located on a cliffside on Bali's south coast, overlooking the Indian Ocean, this cliff's edge sanctuary has recently been given a sizzling makeover, with an Insta-worthy infinity pool and ocean-facing suites with private Jacuzzis. Your escape includes daily breakfast, your choice of indulgent multi-course lunches or dinners, a sunset cocktail for two, scheduled refreshments by the pool, a 60-minute Balinese massage each and a private one-way airport transfer.

Book now. Pay Later.
Package Options
---
SUITE ESCAPE
Ocean View Suite
Inclusion Highlights:
Inclusions valid for two adults
Daily buffet breakfast at 360 Rooftop Restaurant
Two multi-course lunches or dinners at 360 Rooftop Restaurant or Botol Biru Bar & Grill
A one-time sunset cocktail each at Botol Biru Bar & Grill
POOL ACCESS UPGRADE
Garden View Pool Suite
Inclusion Highlights:
Inclusions valid for two adults
Daily buffet breakfast at 360 Rooftop Restaurant
Two multi-course lunches or dinners at 360 Rooftop Restaurant or Botol Biru Bar & Grill
A one-time sunset cocktail each at Botol Biru Bar & Grill
CLIFFTOP UPGRADE
Ocean Front Suite
Inclusion Highlights:
Inclusions valid for two adults
Daily buffet breakfast at 360 Rooftop Restaurant
Two multi-course lunches or dinners at 360 Rooftop Restaurant or Botol Biru Bar & Grill
A one-time sunset cocktail each at Botol Biru Bar & Grill
SUITE ESCAPE
Ocean View Suite
Inclusion Highlights:
Inclusions valid for two adults
Three multi-course lunches or dinners at 360 Rooftop Restaurant or Botol Biru Bar & Grill
Two sunset cocktails each at Botol Biru Bar & Grill
Daily breakfast at 360 Rooftop Restaurant
POOL ACCESS UPGRADE
Garden View Pool Suite
Inclusion Highlights:
Inclusions valid for two adults
Three multi-course lunches or dinners at 360 Rooftop Restaurant or Botol Biru Bar & Grill
Two sunset cocktails each at Botol Biru Bar & Grill
Daily buffet breakfast at 360 Rooftop Restaurant
CLIFFTOP UPGRADE
Ocean Front Suite
Inclusion Highlights:
Inclusions valid for two adults
Three multi-course lunches or dinners at 360 Rooftop Restaurant or Botol Biru Bar & Grill
Two sunset cocktails each at Botol Biru Bar & Grill
Daily buffet breakfast at 360 Rooftop Restaurant
SUITE ESCAPE
Ocean View Suite
Inclusion Highlights:
Inclusions valid for two adults
Four multi-course lunches or dinners at 360 Rooftop Restaurant or Botol Biru Bar & Grill
Three sunset cocktails each at Botol Biru Bar & Grill
Daily breakfast at 360 Rooftop Restaurant
POOL ACCESS UPGRADE
Garden View Pool Suite
Inclusion Highlights:
Inclusions valid for two adults
Four multi-course lunches or dinners at 360 Rooftop Restaurant or Botol Biru Bar & Grill
Three sunset cocktails each at Botol Biru Bar & Grill
Daily buffet breakfast at 360 Rooftop Restaurant
CLIFFTOP UPGRADE
Ocean Front Suite
Inclusion Highlights:
Inclusions valid for two adults
Four multi-course lunches or dinners at 360 Rooftop Restaurant or Botol Biru Bar & Grill
Three sunset cocktails each at Botol Biru Bar & Grill
Daily breakfast at 360 Rooftop Restaurant
*Price is indicative and based on sample return fares (inclusive of booking fees on Low Cost Carriers). To view live pricing, conduct a full search. Luxury Escapes full Terms and Conditions apply