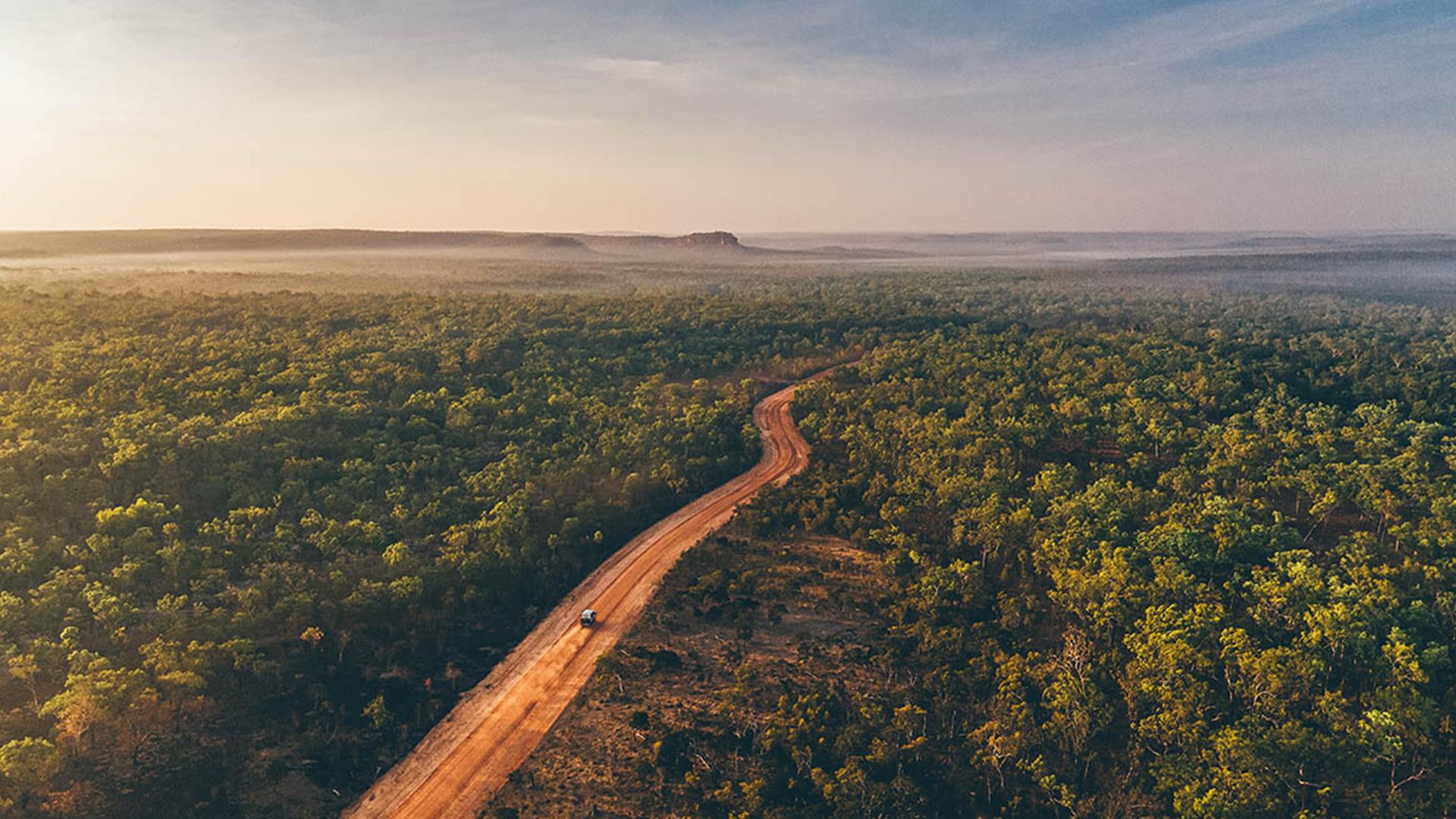 Tropical North Queensland: 8-Day Small-Group Tour with Low Isles Cruise, Daintree Visit & Indigenous Experiences
Reconnect with Australia's Indigenous past and natural beauty on an eight-day small-group tour of Tropical North Queensland (max. 14 travellers). Moving from colourful reef to 20,000-year-old rock art, let the Traditional Owners of the land guide you through the Daintree Rainforest, Mossman Gorge, Cooktown and Laura.
Travelling in a private vehicle accompanied by an expert local driver-guide, discover what true connection to our country feels like. Take a peaceful Low Isles cruise, visit the UNESCO-listed Daintree and Mossman Gorge to learn about the Kuku Yalanji — the area's Traditional Owners — and embrace conservation at the private ethnobotanical Botanical Ark. Take in the wonder of the world's oldest rainforest by cruise, bush-bash through the Bloomfield Track and visit the heritage-listed Cooktown Cemetery before watching the daylight fade while sharing stories around the fire and listening to the sounds of the didgeridoo reverberating through Jarramali Campsite. In Laura, you will find magnificent rock art dating back as far as 20,000 years, as you visit the outback museums of Magnificent Gallery and Rainbow Serpent Gallery.
Enjoy unique accommodation, including an incredible stay at the acclaimed Pullman Port Douglas Sea Temple Resort & Spa, a five-star resort in the heart of Port Douglas, an authentic Indigenous camping experience under the night sky in Cape York, and a decadent night at the luxe Crystalbrook Flynn in Cairns.
Your tour includes:
Seven nights of hand-selected accommodation including two nights at the acclaimed Pullman Port Douglas Sea Temple Resort & Spa, a two-night camping experience at Jarramali Campsite and one night at the brand-new designer Crystalbrook Flynn on the glistening Cairns Esplanade
Daily breakfast, four lunches and three delicious dinners, including a welcome dinner and Chef's Table lunch at the Botanical Ark in the Daintree
Soak up the peace and tranquillity on a Low Isles cruise with a welcome drink and delicious canapés
Take a guided Ngadiku Dreamtime Walk through the rainforest canopy alongside the waters of Mossman Gorge
Participate in an authentic smoking ceremony and learn about the uses of plants in the UNESCO World Heritage-listed Daintree National Park
Discover the Botanical Ark, a private ethnobotanical garden and enjoy an interpretive garden tour with the founder
Take a journey down the Daintree River and bask in the magic of the world's oldest rainforest, rich with crocodiles, snakes, butterflies and birds
Travel along the Bloomfield Track, one of Australia's most iconic outback roads, through dense sections of rainforest, steep climbs and challenging creek crossings
Voyage to Grassy Hill and experience panoramic views over Cooktown, the Coral Sea and Endeavour River
Take a guided walk through Cooktown Botanic Gardens and the heritage-listed Cooktown Cemetery
Immerse yourself in ancient stories while uncovering the rock art of the Kuku Yalanji people and their connection to the land at Jarramali, Cape York region
The services of an expert driver-guide who will accompany you throughout
Transportation in an air-conditioned vehicle, including complimentary bottled water
All sightseeing and national park entry fees as per the itinerary
Your journey takes you to: Cairns — Port Douglas — Daintree National Park — Cooktown — Laura — Cairns.
Book with 100% confidence: If you are unable to travel as a result of Government travel restrictions, Luxury Escapes will assist you with a date change, provide you with a credit or process a refund for your booking less any non-recoverable costs. See Fine Print for details.
Interest-free payment options available 

package Options
8 Days from
Valued up to A$5,456
Sold out
Inclusion highlights:
Packages valid for one person (twin share) — you MUST purchase TWO packages
Seven nights of hand-selected accommodation, including two nights at the acclaimed Pullman Port Douglas Sea Temple Resort & Spa, a two-night camping experience at Jarramali Campsite and one night at the brand-new designer Crystalbrook Flynn on the glistening Cairns Esplanade
Daily breakfast, four lunches and three delicious dinners, including a welcome dinner and Chef's Table lunch at the Botanical Ark in the Daintree
Soak up the peace and tranquillity on a Low Isles cruise with a welcome drink and delicious canapés
Take a guided Ngadiku Dreamtime Walk through the rainforest canopy alongside the waters of Mossman Gorge
Participate in an authentic smoking ceremony and learn about the uses of plants in the UNESCO World Heritage-listed Daintree National Park
Discover the Botanical Ark, a private ethnobotanical garden and enjoy an interpretive garden tour with the founder
Take a journey down the Daintree River and bask in the magic of the world's oldest rainforest, rich with crocodiles, snakes, butterflies and birds
Travel along the Bloomfield Track, one of Australia's most iconic outback roads, through dense sections of rainforest, steep climbs and challenging creek crossings
Voyage to Grassy Hill and experience panoramic views over Cooktown, the Coral Sea and Endeavour River
Take a guided walk through Cooktown Botanic Gardens and the heritage-listed Cooktown Cemetery
Immerse yourself in ancient stories while uncovering the rock art of the Kuku Yalanji people and their connection to the land at Jarramali, Laura
The services of an expert driver-guide who will accompany you throughout
Transportation in an air-conditioned vehicle, including complimentary bottled water
All sightseeing and national park entry fees as per the itinerary
8 Days from
Valued up to A$6,173
Sold out
Inclusion highlights:
Inclusions valid for one person (solo traveller)
Seven nights of hand-selected accommodation, including two nights at the acclaimed Pullman Port Douglas Sea Temple Resort & Spa, a two-night camping experience at Jarramali Campsite and one night at the brand-new designerCrystalbrook Flynn on the glistening Cairns Esplanade
Daily breakfast, four lunches and three delicious dinners, including a welcome dinner and Chef's Table lunch at the Botanical Ark in the Daintree
Soak up the peace and tranquillity on a Low Isles cruise with a welcome drink and delicious canapés
Take a guided Ngadiku Dreamtime Walk through the rainforest canopy alongside the waters of Mossman Gorge
Participate in an authentic smoking ceremony and learn about the uses of plants in the UNESCO World Heritage-listed Daintree National Park
Discover the Botanical Ark, a private ethnobotanical garden and enjoy an interpretive garden tour with the founder
Take a journey down the Daintree River and bask in the magic of the world's oldest rainforest, rich with crocodiles, snakes, butterflies and birds
Travel along the Bloomfield Track, one of Australia's most iconic outback roads, through dense sections of rainforest, steep climbs and challenging creek crossings
Voyage to Grassy Hill and experience panoramic views over Cooktown, the Coral Sea and Endeavour River
Take a guided walk through Cooktown Botanic Gardens and the heritage-listed Cooktown Cemetery
Immerse yourself in ancient stories while uncovering the rock art of the Kuku Yalanji people and their connection to the land at Jarramali, Laura
The services of an expert driver-guide who will accompany you throughout
Transportation in an air-conditioned vehicle, including complimentary bottled water
All sightseeing and national park entry fees as per the itinerary