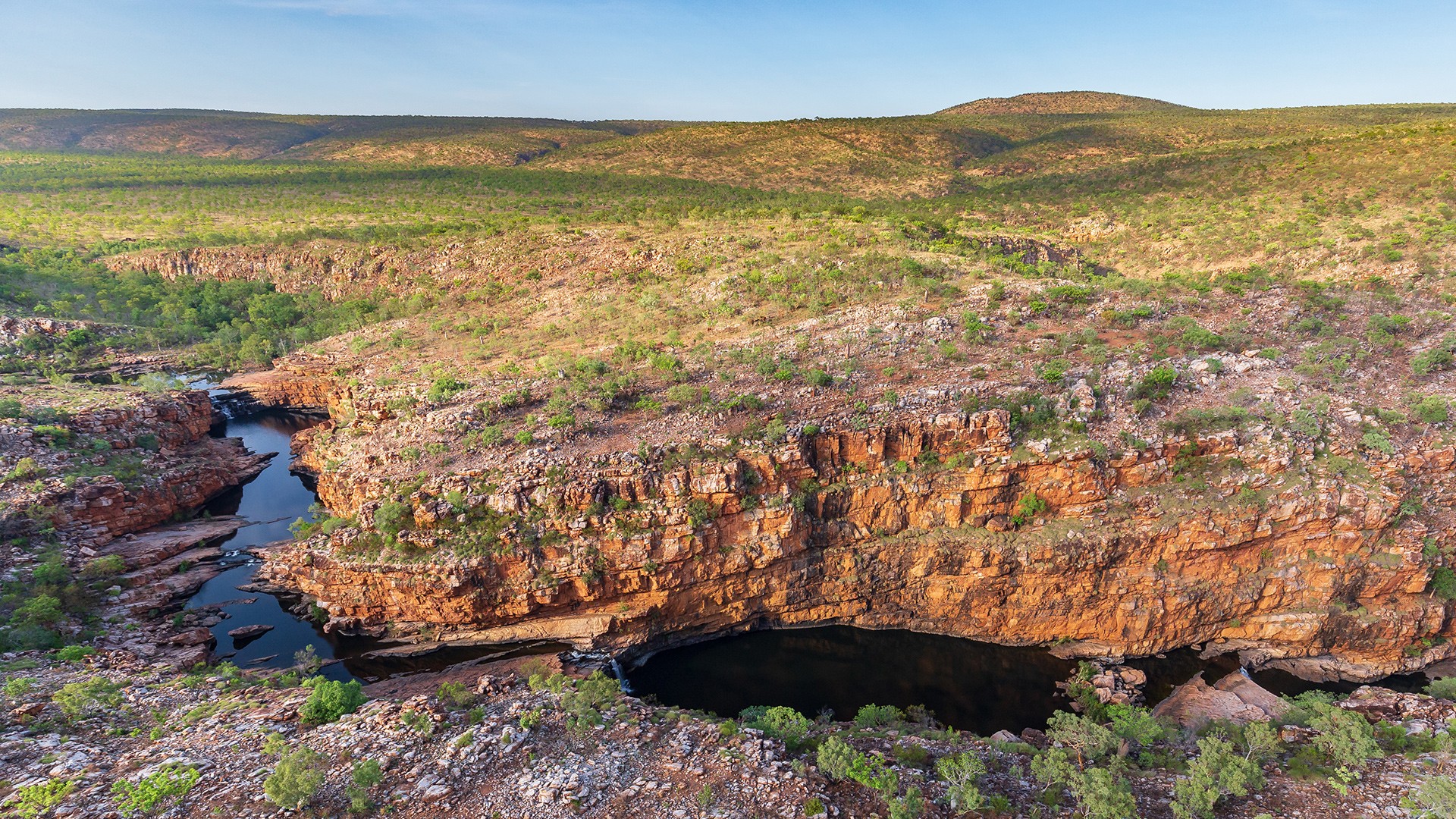 The Kimberley: 5-Day Gibb River Road Small-Group Tour from Broome with All-Inclusive Dining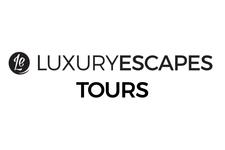 Experience one of the country's most iconic 4WD tracks — the Gibb River Road — on this five-day small-group (max. 22 people) luxury tour through Western Australia's captivating Kimberley wilderness. Your experienced driver-guide will take you on a breathtaking journey to striking natural wonders, including the impressive sandstone formations of Bell Gorge with its wonderfully refreshing natural pools, and the serene oasis of Windjana Gorge — a 3.5-kilometre gorge, carved out of the Napier Range by the Lennard River.
Wade through the cool waters of Tunnel Creek, Western Australia's oldest cave system, venture through the rugged Wunaamin Miliwundi Ranges, admire Aboriginal masterpieces at Derby's Mowanjum Art and Culture Centre, and stand in the shadow of the 1,500-year-old Boab Prison Tree while hearing of its infamous history. Relax in luxurious accommodation including a five-star resort stay at Broome's oceanfront Cable Beach Club Resort and Spa where you'll enjoy a welcome dinner, and an elevated camping experience at Bell Gorge Wilderness Lodge in the heart of the breathtaking King Leopold Ranges, where you'll dine in style with two three-course star-lit dinners at your wilderness lodge.
Your tour includes:
Four nights of deluxe accommodation including two nights at Bell Gorge Wilderness Lodge and two nights at five-star Cable Beach Club Resort and Spa
All meals including a welcome dinner at the Sunset Bar & Grill and locally inspired dining experiences under the stars at Bell Gorge Wilderness Lodge
Take in the stunning natural surrounds of the Kimberley region on a scenic drive along the iconic Gibb River Road
Experience the geological wonder of Windjana Gorge, a 375-million-year-old gorge that is part of the ancient Devonian limestone reef
Wade through the cool waters of Tunnel Creek, a 750-metre tunnel and emerge to a serene oasis
Enjoy a full day of adventure at Bell Gorge with a leisurely hike through the striking sandstone formations
Venture through the rugged Wunaamin Miliwundi Ranges and admire Aboriginal artwork at Derby's Mowanjum Art and Culture Centre
Visit the Boab Prison Tree, believed to be more than 1,500 years old
The services of an expert driver-guide
Roundtrip transfers from Broome International Airport
All national park entry fees
Your journey takes you to: Broome — Windjana Gorge — Tunnel Creek — Bell Gorge — Wunaamin Miliwundi Ranges — Derby — Broome.
Book with 100% Confidence: Right up until 90 days before departure you can enjoy unlimited, free date changes, or cancel and get a 100% credit to use at Luxury Escapes for any other Limited Time Lux Exclusive accommodation, tour or cruise offer. Excludes flights, see the Fine Print for details.
Furthermore, if you are unable to travel on your tour as a result of Government travel restrictions, even right up to the day of departure, Luxury Escapes will assist you with a date change. We can also provide you with a credit or refund for your booking (less any non-recoverable costs). See below for full terms and conditions.
Interest-free payment options available 

package Options
5 Days from
Includes taxes & fees
Sold out
Inclusion highlights:
Inclusions valid for one person (twin share) – you must purchase two packages
Includes private ensuite throughout tour with king bed or twin single beds
Four nights of deluxe accommodation including two nights at Bell Gorge Wilderness Lodge and two nights at five-star Cable Beach Club Resort and Spa
All meals including a welcome dinner at the Sunset Bar & Grill and locally inspired dining experiences under the stars at Bell Gorge Wilderness Lodge
Take in the stunning natural surrounds of the Kimberley region on a scenic drive along the iconic Gibb River Road
Experience the geological wonder of Windjana Gorge, a 375-million-year-old gorge
Wade through the cool waters of Tunnel Creek, a 750-metre tunnel and emerge to a serene oasis
Enjoy a full day of adventure at Bell Gorge with a leisurely hike through the striking sandstone formations
Venture through the rugged Wunaamin Miliwundi Ranges and admire Aboriginal artwork at Derby's Mowanjum Art and Culture Centre
Visit the Boab Prison Tree, believed to be more than 1,500 years old and 14 metres in diameter
The services of an expert driver-guide
Roundtrip transfers from Broome International Airport
All national park entry fees
5 Days from
Includes taxes & fees
Sold out
Inclusion highlights:
Inclusions valid for one person (solo traveller)
Includes private room with ensuite throughout tour with king bed or twin single beds
Four nights of deluxe accommodation including two nights at Bell Gorge Wilderness Lodge and two nights at five-star Cable Beach Club Resort and Spa
All meals including a welcome dinner at the Sunset Bar & Grill and locally inspired dining experiences under the stars at Bell Gorge Wilderness Lodge
Take in the stunning natural surrounds of the Kimberley region on a scenic drive along the iconic Gibb River Road
Experience the geological wonder of Windjana Gorge, a 375-million-year-old gorge
Wade through the cool waters of Tunnel Creek, a 750-metre tunnel and emerge to a serene oasis
Enjoy a full day of adventure at Bell Gorge with a leisurely hike through the striking sandstone formations
Venture through the rugged Wunaamin Miliwundi Ranges and admire Aboriginal artwork at Derby's Mowanjum Art and Culture Centre
Visit the Boab Prison Tree, believed to be more than 1,500 years old and 14 metres in diameter
The services of an expert driver-guide
Roundtrip transfers from Broome International Airport
All national park entry fees
Sign up for instant access
Exclusive hand-picked offers
1,315,267 followers
---