Malaysia
From bustling cities to lush rainforests, pristine beaches to sleek skyscrapers, Malaysia is a country of diverse people, cultures and landscapes. There's a surprise waiting for you around every corner of this amazing country.
Get exclusive offers to Malaysia and other amazing destinations
1,206,988 people like us
Get exclusive offers to Malaysia and other amazing destinations
1,206,988 people like us
We are currently sold out of our Malaysia escapes!
Our travel experts are working hard on curating new Malaysia offers. In the meantime check out our available offers in other exciting destinations.
Malaysia
Malaysia Destination Guide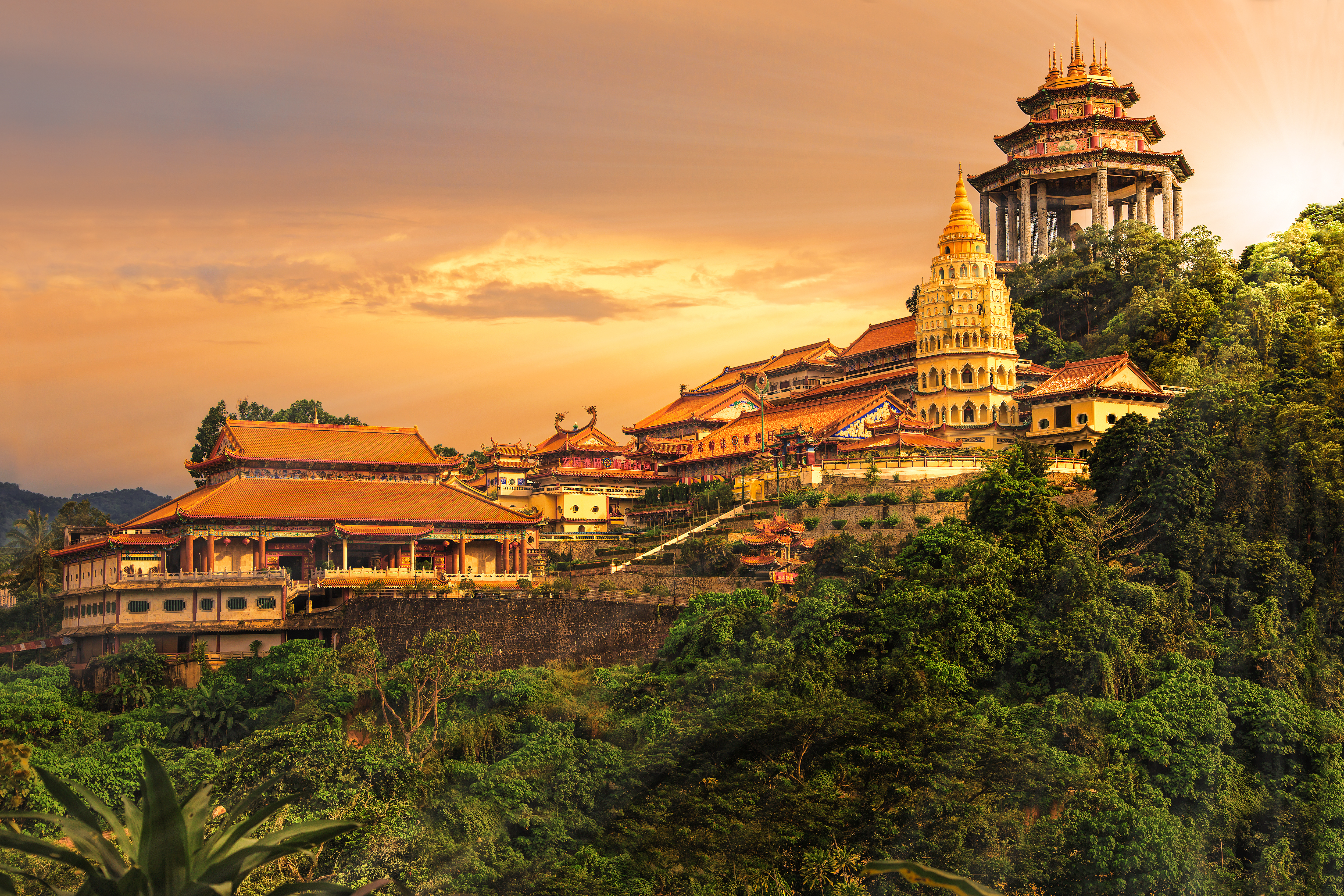 Escape to a country unlike any other and embrace Malaysia's unique culture, tropical climate and natural wonders. All across this beautiful country you will find a diverse mix of people, traditions and environments, ensuring a journey with something for every type of traveller.
The dynamic capital of Kuala Lumpur is a sensory feast, with tall buildings reaching to the heavens, narrow streets lined with market stalls and lush green spaces dotted throughout the city. Further north you'll find Penang, a UNESCO World Heritage-listed gem that offers insight into its colonial past and melting pot of cultural influences, as well as one of the best street food scenes in the world. And then there is the tropical paradise of Langkawi, an archipelago of over 100 islands that are famous for their shimmering azure blue waters and pristine white sands.
Best time to visit Malaysia
Malaysia has a tropical climate, so you will enjoy showers, heat and humidity all year around. Weather differs from coast to coast, so make sure to plan your trip so you can make the most of this amazing country.
East Coast
The east coast of Malaysia tends to have its driest months between April and October, which is a prime time to visit. Between November to February, the east coast experiences a very heavy wet season, and most resorts will close during this time.
West Coast
The west coast will have its dry season during the east coast's wet season, so you can still enjoy a fabulous holiday between November to February in this part of the country. The wet season in the west coast is between April to October and is usually less heavy than the east coast. You are likely to experience thunderstorms during the wet season, but they are usually brief and help to reduce humidity.
Attractions & Things to Do
Whether you want to get back to nature, get your adrenaline going or wander through buzzing city streets, you'll find all that and more in Malaysia. In the vibrant capital city of Kuala Lumpur, you can shop 'til you drop at sleek designer shopping malls, witness the splendor of the Batu caves, or take in incredible city views with a drink in hand at the award-winning Sky Bar. Even if you're only in the city for a quick stopover, you can still make the most of your time in KL – make sure you read our guide to 48 Hours in Kuala Lumpur for all the best insider tips.
But the hustle and bustle of its glittering capital isn't all Malaysia has to offer. For a change of pace, Langkawi is the place to be. This striking archipelago in the Andaman Sea is famous for its sapphire blue waters and pristine beaches, perfect for a laidback resort holiday. But these gorgeous islands still have plenty to offer thrill-seekers with the opportunity to zip-line through the world's oldest rainforest, canyon down gushing waterfalls or walk on the world-famous Sky Bridge, suspended above Machinchang Mountain. Check out our guide to Langkawi's Must-Do Adventures for tips on all these experiences and more.
Best Restaurants & Places to Eat
Follow your nose and find fragrant curries, delicious skewers piled high with beef and chicken, refreshing tropical juices and so much more. As you explore Malaysia's incredible culinary scene, you'll notice the unique mix of Indian, Chinese and Malay influences that combine to create a truly singular foodie destination. From Michelin-starred fine dining to chaotic street markets, you're sure to find delicious dishes to satisfy any hunger.
The food capital of the country has to be Penang, boasting everything from French haute cuisine, ethnic specialties and family-run market stalls that have been serving locals and tourists alike for decades. We've compiled a list of the Best Places to Eat in Penang to get you started on your gourmet adventure. Not to be outdone, Kuala Lumpur boasts its own incredible dining scene, featuring rooftop bars, speakeasies, and chic restaurants serving up imaginative dishes and Malay staples. In a city as bustling as KL, it can be hard to know where to go first, so we have found the Ten Hottest Bars and Restaurants in the city for you to experience.
Where to Stay
Let your imagination guide you while planning your Malaysian getaway. Can you picture yourself sipping cocktails on the beach in Langkawi? Maybe you're envisioning a chic city escape in the lively hub of Kuala Lumpur. Or maybe you'd rather uncover history and culture in Penang. No matter what your holiday style is, you will be spoiled for choice when it comes to luxe hotels, resorts and retreats in Malaysia.
Malaysian Visa: Do I Need One?
When travelling internationally, a visa may be required to the destination you are visiting. It is each traveller's responsibility to ensure they are holding a current visa. Please take the time to visit our preferred vendor website Visa's Direct to assist you with any visa application requirements and processes.
Passport
Please ensure that you have a current passport before travelling. Your passport needs an accurate photo and should be valid for at least six months after you are scheduled to return home. It should also have at least two blank pages left for passport stamps.
Allow plenty of time if you need to send your passport to the Passport Office for renewal, particularly prior to peak travel periods.
All travellers, especially honeymooners, should ensure that names in passports are those given out on the booking form. Airline tickets must be booked in the same name that appears on your passport.
It is useful to carry photo ID with you at all times, so get several good quality photocopies. This also makes replacing a lost passport easier.
Government Travel Advice
The safety of our travellers is the utmost importance. With your safety in mind, we monitor world events very closely, however we recommend visiting the Australian Government Department of Foreign Affairs and Trade's Smart Traveller website to stay informed.