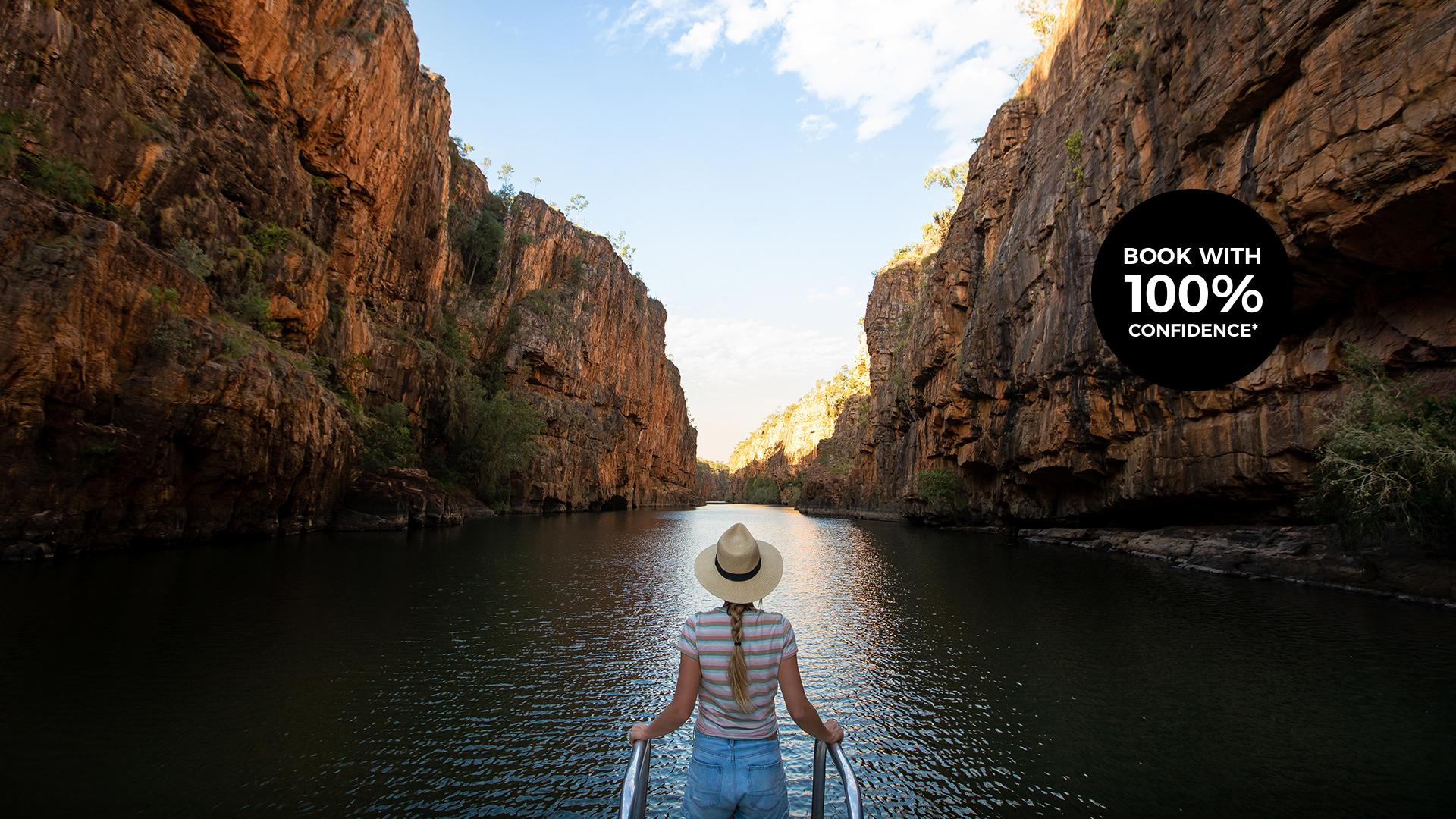 Top End 2022: 6-Day Luxury Small-Group Tour with Kakadu National Park Scenic Flight & Katherine River Sunset Cruise

Unearth the spectacular grandeur of Australia's Top End, home to one of the world's oldest cultures and Australia's largest national park, on a six-day luxury small-group tour (max. 16 travellers). Delve into the wild heart of UNESCO World Heritage-listed Kakadu National Park, tracing more than 20,000 years of history at Ubirr rock art site, cruising the iconic Yellow Water Billabong and gliding over rich wetlands and waterfalls on a scenic flight that soars above the renowned landscapes stretching far into the horizon.
Throw open the doors of your room at the five-star Cicada Lodge, and let in the sights and sounds of Nitmiluk National Park, home to the rushing Edith Falls and picturesque Katherine Gorge. Cruise the peaceful Katherine River at sunset, spotting wildlife and learning about the Jawoyn people — Traditional Custodians of the land. Be captivated by the endless wonders of Litchfield National Park, home to verdant monsoon rainforests, magnetic termite mounds and numerous historic sacred sites. Beginning and concluding in Darwin, this outback adventure is a showcase of natural beauty, revealing the Northern Territory as one of Australia's best-kept travel secrets.
Your tour includes:
Five nights of luxury accommodation: three nights in Darwin, one in Kakadu National Park and one in Nitmiluk National Park
Daily breakfast, four lunches and four dinners
Take a scenic flight over the UNESCO World Heritage-listed Kakadu National Park
Enjoy a candlelit Katherine Gorge sunset dinner cruise
Uncover the sights of Litchfield National Park on a full-day tour
Cruise through the ancient waterways of the Yellow Water Billabong
Visit Ubirr, an Aboriginal rock art site dating back more than 20,000 years
Visit the Adelaide River War Cemetery
Take a guided tour of Darwin's city sights
Expert local guides
Air-conditioned transportation as per the itinerary
Roundtrip shared airport transfers
Your tour takes you to: Darwin – Litchfield National Park – Kakadu National Park – Katherine Gorge (Nitmiluk National Park) – Darwin.
Book with 100% Confidence: Right up until 60 days before departure you can enjoy unlimited, free date changes, or cancel and get a 100% credit to use at Luxury Escapes for any other Limited Time Lux Exclusive accommodation, tour or cruise offer. Excludes flights, see the Fine Print for details.
Furthermore, if you are unable to travel on your tour as a result of Government travel restrictions, even right up to the day of departure, Luxury Escapes will assist you with a date change. We can also provide you with a credit or refund for your booking (less any non-recoverable costs). See below for full terms and conditions.
package Options
6 Days from
Valued up to US$5,112
Inclusion highlights:
Inclusions valid for one person (twin share) — you MUST purchase TWO packages
Includes private room with ensuite throughout tour
Five nights of luxury accommodation: three nights in Darwin, one in Kakadu National Park and one in Nitmiluk National Park
Daily breakfast, four lunches and four dinners
Take a scenic flight over the UNESCO World Heritage-listed Kakadu National Park
Enjoy a candlelit Katherine Gorge sunset dinner cruise
Uncover the sights of Litchfield National Park on a full-day tour
Cruise through the ancient waterways of the Yellow Water Billabong
Visit Ubirr, an Aboriginal rock art site dating back more than 20,000 years
Visit the Adelaide River War Cemetery
Take a guided tour of Darwin's city sights
Expert local guides
Air-conditioned transportation as per the itinerary
Roundtrip shared airport transfers
6 Days from
Valued up to US$5,674
Inclusion highlights:
Inclusions valid for one person (solo traveller)
Includes private room with ensuite throughout tour
Five nights of luxury accommodation: three nights in Darwin, one in Kakadu National Park and one in Nitmiluk National Park
Daily breakfast, four lunches and four dinners
Take a scenic flight over the UNESCO World Heritage-listed Kakadu National Park
Enjoy a candlelit Katherine Gorge sunset dinner cruise
Uncover the sights of Litchfield National Park on a full-day tour
Cruise through the ancient waterways of the Yellow Water Billabong
Visit Ubirr, an Aboriginal rock art site dating back more than 20,000 years
Visit the Adelaide River War Cemetery
Take a guided tour of Darwin's city sights
Expert local guides
Air-conditioned transportation as per the itinerary
Roundtrip shared airport transfers