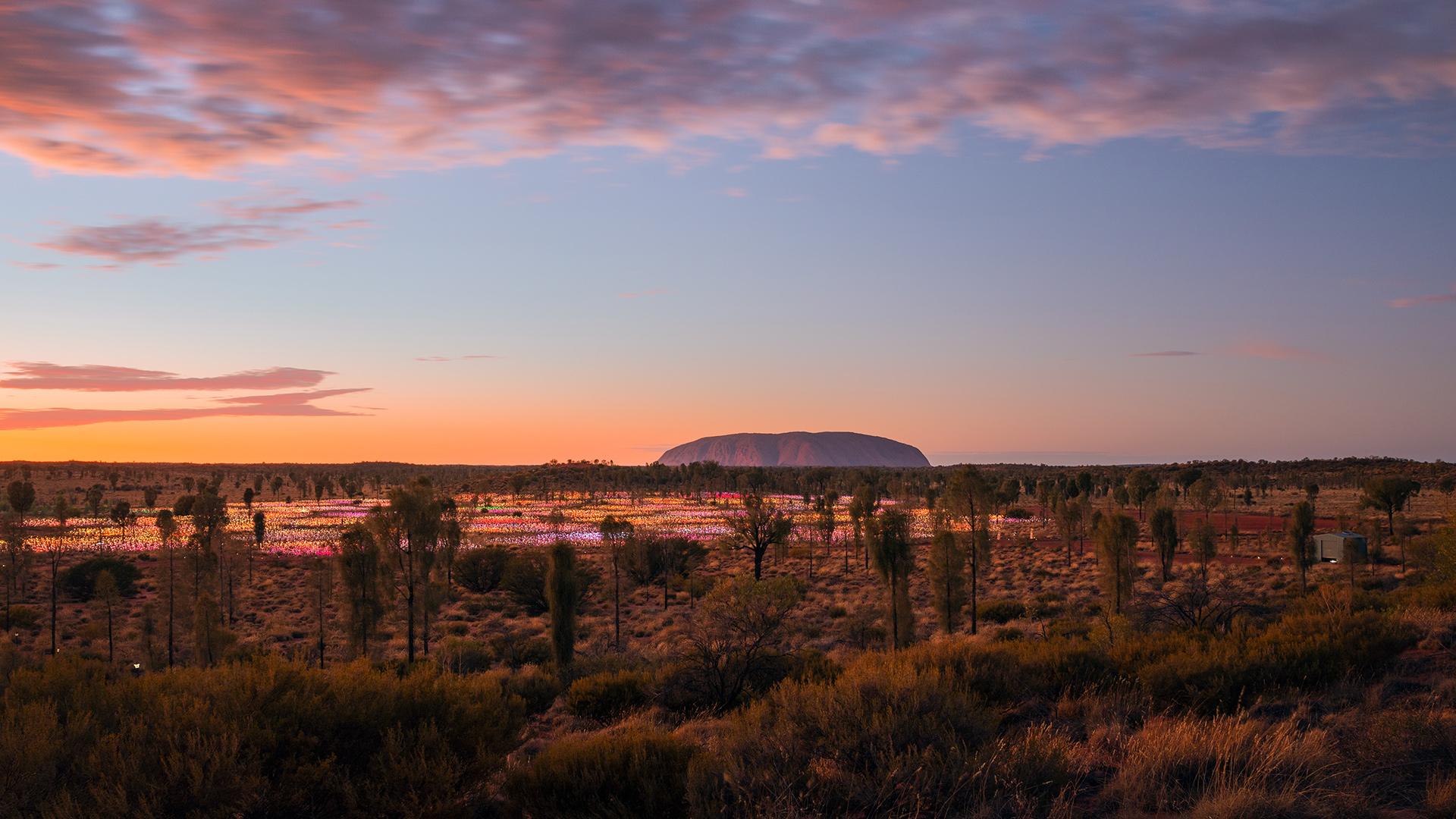 Red Centre: 5-Day Alice Springs & Uluru Outback Tour with Field of Light Sunrise Experience & Under the Moon Degustation
New dates added, don't miss out.
Embark on an unforgettable journey into Australian history on a five-day luxury tour to magical Uluru and Alice Springs. Discover an ancient culture dating back thousands of years, delight your senses with gourmet dining experiences and enjoy access to departure dates exclusive to Luxury Escapes travellers on this bespoke outback adventure (see the Fine Print for information).
Unearth the immensity, grandeur and mystery of the Northern Territory's Red Centre, a spiritual place where one of the world's oldest cultures still thrives. At Uluru, experience the renowned Field of Light art installation by Bruce Munro on a sunrise tour and watch thousands of spindles of warm light glow in the darkness – an unmissable, memorable moment. At the end of the day, watch as the colours of sunset illuminate the rockface over drinks and canapés.
Immerse yourself in outback life with a visit to a cattle farm and learn about the age-old traditions of the local Aboriginal community. Dine under the stars beside the campfire, see ancient rock art and walk in the footsteps of the land's Traditional Owners. Marvel at the rugged landscapes carved by the hands of time at Kings Canyon and Alice Springs, where your unforgettable experience concludes.
Your tour includes:
Premium nightly accommodation including a stay at the five-star Sails in the Desert, Uluru
Daily breakfast plus additional dining experiences: three dinners with wine including an authentic outback BBQ under the stars and sunset drinks and nibbles at Uluru
Unforgettable sunrise Field of Light experience at Uluru
Aboriginal cultural experience – discover bush food and medicine used for spirituality and healing
Guided walk around the rim of the spectacular Kings Canyon (high-level fitness required, alternate Creek Bed Walk also offered)
Tour the historic Alice Springs Telegraph Station
Entrance fees for Uluru-Kata Tjuta National Park
The services of a highly experienced driver-guide with specialist accreditation at Uluru National Park and Watarrka National Park
The services of local specialist guides at Alice Springs and Kings Canyon
Airport transfers on arrival and departure
Your journey takes you to: Uluru – Kings Canyon – Alice Springs.
Reverse itinerary (21 September 2021) takes you to: Alice Springs – Kings Canyon – Uluru.
Book with confidence: If you are unable to travel as a result of Government travel restrictions, Luxury Escapes will assist you with a date change, provide you with a credit or process a refund for your booking less any non-recoverable costs. See Fine Print for details.
package Options
5 Days from
Valued up to US$2,318
Sold out
Inclusion highlights:
Package is valid for one person (twin share) – you MUST purchase TWO packages
Premium nightly accommodation including a stay at the five-star Sails in the Desert, Uluru
Daily breakfast plus additional dining experiences: three dinners with wine including an authentic outback BBQ under the stars and sunset drinks and nibbles at Uluru
Unforgettable sunrise Field of Light experience at Uluru
5 Days from
Valued up to US$3,068
Sold out
Inclusion highlights:
Package is valid for one person (solo traveller)
Premium nightly accommodation including a stay at the five-star Sails in the Desert, Uluru
Daily breakfast plus additional dining experiences: three dinners with wine including an authentic outback BBQ under the stars and sunset drinks and nibbles at Uluru
Unforgettable sunrise Field of Light experience at Uluru