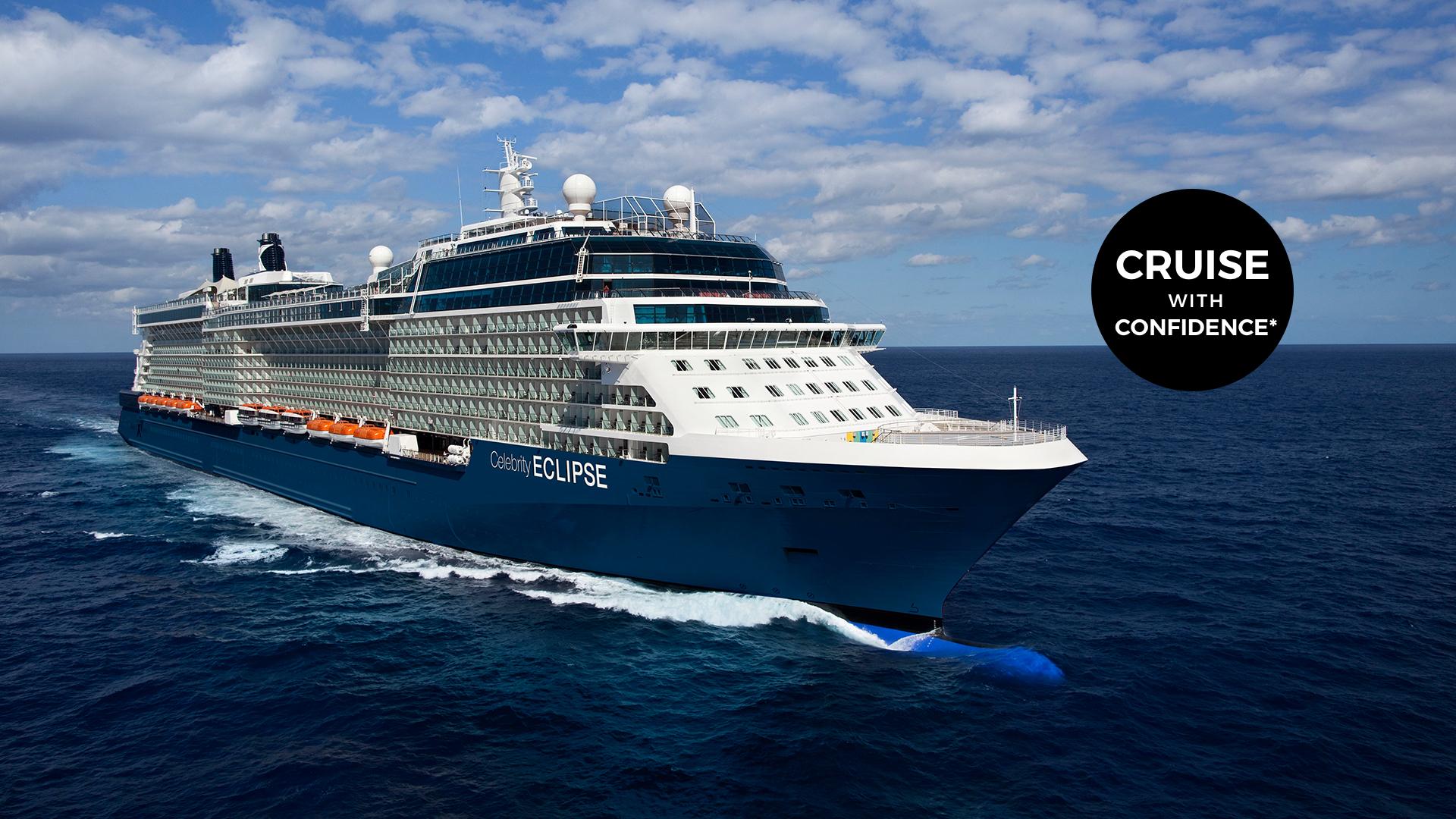 Great Barrier Reef: 11-Night All-Inclusive Celebrity Eclipse Cruise with US$100 Credit & Five-Star Sydney Stay
Succumb to the magic of the Great Barrier Reef on a captivating 11-night cruise along Australia's East Coast, from Sydney all the way up to Port Douglas, onboard the luxurious Celebrity Eclipse®. Uncover native wildlife, make footprints in silky white sand, go snorkelling in rainbow-bright coral reefs and uncover convict history – all while delighting in daily onboard dining, an exciting drinks package, including standard spirits, cocktails and liqueurs, minimum US$100 onboard credit per person, per stay, and second-to-none service throughout.
Your unforgettable experience kicks off on 7 February with a one-night stay at The Darling at The Star Sydney (or similar), a five-star boutique hotel boasting panoramas of the world-famous harbour. After a full day in Sydney, set off on 8 February 2022 on your Great Barrier Reef voyage, exploring some of Australia's most iconic destinations, including Brisbane and Port Douglas. A day spent exploring Cairns (Yorkeys Know) allows you to tick off the Great Barrier Reef, Daintree Rainforest and more, before making your way to Airlie Beach and Newcastle en route back to Sydney.
Days at sea allow you to make the most of Celebrity Eclipse®'s unbelievable onboard facilities, including exquisite onboard dining at a variety of restaurants, plus a world-class, ice-topped martini bar, The Spa, pools, sun-drenched decks and world-class entertainment.
Your cruise includes:
One night pre-cruise stay at The Darling at The Star Sydney (or similar) with breakfast
11 nights onboard Celebrity Eclipse® in your choice of stateroom
Daily all-inclusive meals onboard with breakfast, lunch and dinner in select restaurants
Classic drinks package with standard spirits, cocktails, liqueurs, beers, wines by the glass and non-alcoholic drinks
Minimum US$100 onboard credit per person, per stay
Complimentary onboard entertainment, including full stage musicals and live bands
Get to know one of Australia's most iconic cities with a full day docked in Brisbane
Discover the laidback lifestyle of Airlie Beach with a full-day tender
Explore the Great Barrier Reef and Daintree Rainforest with one full day in Cairns
Embrace the beauty of Newcastle, one of Australia's oldest and most-loved cities
All service charges onboard
Complimentary Wi-Fi
Your journey takes you to: Sydney — Brisbane — Willis Island — Port Douglas — Cairns (Yorkeys Knob) — Airlie Beach — Newcastle — Sydney.
Cruise with confidence: Book with confidence knowing that if your cruise is impacted as a direct result of government-imposed travel restrictions, you can cancel up to 48 hours prior to departure and will receive a Celebrity Cruises Future Cruise Credit. Our trusted cruise partner has prepared a COVID safe plan, please see Fine Print for further details.
package Options
TWIN SHARE — INTERIOR STATEROOM
13 Days from
Valued up to US$2,391
Sold out
Inclusion highlights:
Packages valid for one person (twin share) – You MUST purchase TWO packages
One night of pre-cruise accommodation at The Darling at The Star Sydney (or similar) with delicious breakfast
11 nights onboard Celebrity Eclipse® in an Interior Stateroom
Daily all-inclusive meals onboard with breakfast, lunch and dinner in select restaurants
Classic drinks package with standard spirits, cocktails, liqueurs, beers, wines by the glass and non-alcoholic drinks
US$100 onboard credit per person, per stay
TWIN SHARE — OCEAN-VIEW STATEROOM
13 Days from
Valued up to US$2,776
Sold out
Inclusion highlights:
Packages valid for one person (twin share) – You MUST purchase TWO packages
11 nights onboard Celebrity Eclipse® in an Ocean-View Stateroom
One night of pre-cruise accommodation at The Darling at The Star Sydney (or similar) with delicious breakfast
Daily all-inclusive meals onboard with breakfast, lunch and dinner in select restaurants
Classic drinks package with standard spirits, cocktails, liqueurs, beers, wines by the glass and non-alcoholic drinks
US$100 onboard credit per person, per stay
TWIN SHARE — VERANDA STATEROOM
13 Days from
Valued up to US$2,952
Sold out
Inclusion highlights:
Packages valid for one person (twin share) – You MUST purchase TWO packages
11 nights onboard Celebrity Eclipse® in a Veranda Stateroom
US$200 onboard credit per person, per stay
One night of pre-cruise accommodation at The Darling at The Star Sydney (or similar) with delicious breakfast
TWIN SHARE — CONCIERGE VERANDA STATEROOM
13 Days from
Valued up to US$3,337
Sold out
Inclusion highlights:
Packages valid for one person (twin share) – You MUST purchase TWO packages
11 nights onboard Celebrity Eclipse® in a Concierge Veranda Stateroom
US$200 onboard credit per person, per stay
VIP bonus inclusions such as exclusive embarkation day lunch, personalised concierge service, sparkling wine upon request and daily delectable delights
One night of pre-cruise accommodation at The Darling at The Star Sydney (or similar) with delicious breakfast
Daily all-inclusive meals onboard with breakfast, lunch and dinner in select restaurants
Classic drinks package with standard spirits, cocktails, liqueurs, beers, wines by the glass and non-alcoholic drinks
TWIN SHARE — AQUA CLASS STATEROOM
13 Days from
Valued up to US$3,992
Sold out
Inclusion highlights:
Packages valid for one person (twin share) – You MUST purchase TWO packages
11 nights onboard Celebrity Eclipse® in an AquaClass® Stateroom
US$200 onboard credit per person, per stay
VIP inclusions such as welcome bottle of wine, access to the Persian Garden, complimentary dining at Blu restaurant and more
One night of pre-cruise accommodation at The Darling at The Star Sydney (or similar) with delicious breakfast
Daily all-inclusive meals onboard with breakfast, lunch and dinner in select restaurants
Classic drinks package with standard spirits, cocktails, liqueurs, beers, wines by the glass and non-alcoholic drinks