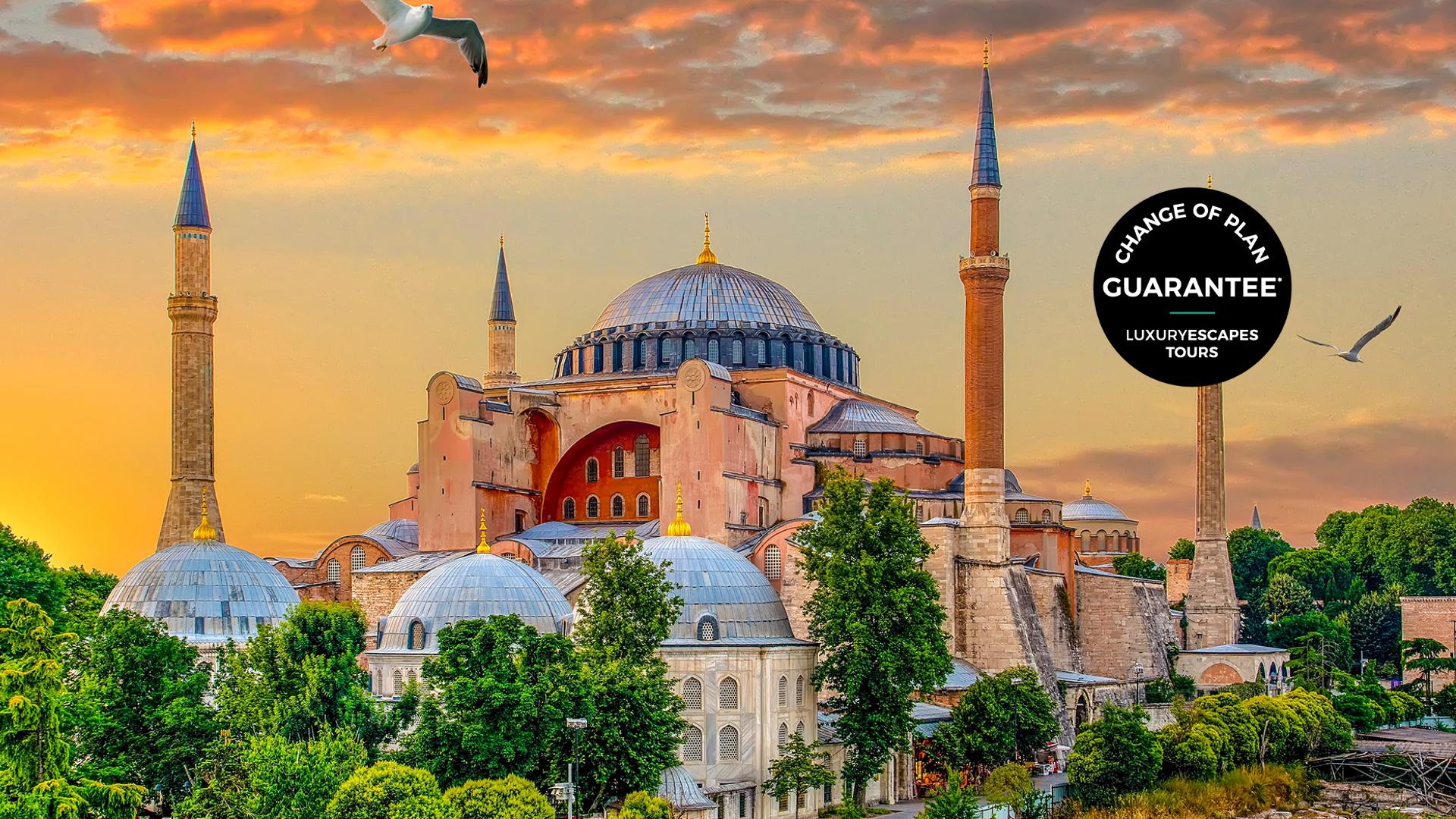 Turkey: 11-Day Luxury Small-Group Tour from Istanbul to Cappadocia with Gallipoli Visit & Bosphorus Cruise
Unveil Turkey's mesmerising treasures, culinary delights and UNESCO World Heritage-listed sites on this 11-day, luxury small-group tour (max. 12 travellers). Staying in luxurious five-star accommodation throughout, you'll go behind the scenes of ancient sites with your expert guide while having ample time to explore at your own pace. Bargain at the Grand Bazaar in enchanting Istanbul before paying your respects to soldiers passed on the famous shores of Gallipoli. Marvel at the Trojan Horse at Troy and witness the ruins of once-glorious cities steeped in mythological and historical significance. Discover Ephesus, one of the Seven Wonders of the Ancient World, sink into the mineral-rich thermal waters of Pammukale, descend into the storied depths of Kaymakli Underground City and sail across the glistening Bosphorus on an unforgettable cruise between two continents.
You'll also have the chance to taste authentic cuisine with nine exceptional included dinners and get hands-on with carpet-weaving and pottery-making workshops — two of the finest and oldest crafts in Turkey.
Your tour includes:
10 nights of five-star accommodation — including three nights at the luxurious Hilton Istanbul Bosphorus in the heart of Istanbul
Daily breakfast and nine authentic dinners
Discover the historic beauty of Hagia Sophia with a guided tour
Enjoy a once-in-a-lifetime cruise along the glittering Bosphorus
Bargain your way through Istanbul's incredible Grand Bazaar
Take a picturesque ferry ride from Eceabat to Çanakkale
Visit the ancient city of Troy with its iconic Trojan Horse
Hear the tales of World War I's historic battlefields and memorial sites at Gallipoli
Stroll through the UNESCO World Heritage-listed ancient city of Ephesus
Soak in the UNESCO World Heritage-listed Pamukkale hot springs
Delve into history at the ancient city of Hierapolis
Visit Konya, home of the famous whirling dervishes
Explore the fairy chimneys of Cappadocia, one of the most iconic sites in Turkey
The knowledge and recommendations of an expert travel director throughout your journey
Comfortable air-conditioned transportation throughout
Return private airport transfers
Tips, taxes and seamless baggage handling
All sightseeing and entrance fees per itinerary
Your journey takes you to: Istanbul — Gallipoli — Troy — Pergamum — Izmir — Ephesus — Pamukkale — Konya — Cappadocia — Ankara — Istanbul.
Optional activities: Tailor-make your own adventure with myriad optional activities: ascend above Cappadocia's ethereal 'fairy chimneys' on a hot air balloon flight, find yourself in awe of whirling dervishes during a live show or conclude your adventure with an unforgettable Turkish dining experience.
Book with confidence: Our Change of Plan Guarantee will permit you to alter your booking, no questions asked up to 90 days before departure. Furthermore, if you are unable to travel as a result of Government travel restrictions, Luxury Escapes will assist you with a date change, provide you with a credit or process a refund for your booking less any non-recoverable costs. See Fine Print for details.
package Options
11 Days from
Valued up to US$2,493
Sold out
Inclusion highlights:
Packages valid for one person (twin share) – you MUST purchase TWO packages
10 nights of five-star accommodation — including three nights at the luxurious Hilton Istanbul Bosphorus in the heart of Istanbul
Daily breakfast and nine authentic dinners
Discover the historic beauty of Hagia Sophia with a guided tour
Explore Istanbul's enchanting Old Town and admire mesmerising sites including the Blue Mosque, Hagia Sophia and the mysterious Basilica Cistern
Enjoy a once-in-a-lifetime cruise along the glittering Bosphorus — an impressive waterway that divides Europe from Asia
Pay your respects to the fallen Turkish and Australian soldiers at Gallipoli and visit Anzac Cove, Lone Pine, Chunuk Bair and more
Take a picturesque ferry ride from Eceabat to Çanakkale
Visit the ancient city of Troy with its iconic Trojan Horse and witness the ruins of this once glorious city
Discover the healing waters and ruins of Pergamon's Asklepion Medical Centre
Stroll through the UNESCO World Heritage-listed ancient city of Ephesus
Head into the hills to see Virgin Mary's house in the mountains – where she is believed to have lived her final days
Enjoy an afternoon of culinary discovery at a countryside restaurant famously known for delicious gözleme
Sink into the mineral-rich depths of the UNESCO World Heritage-listed Pamukkale hot springs
Delve into history at the ancient city Hierapolis and visit Konya, home of the famous whirling dervishes
Explore the stunning caves and fairy-chimneys of other-worldly Cappadocia, one of the most iconic sites in Turkey
Learn all about pottery-making with an interactive workshop at Avanos, famous for its top-quality clay
Discover the UNESCO World Heritage-listed Goreme Open-Air Museum and admire the wondrous formations up close
Delve into one of the finest and oldest crafts of Turkey on a visit to a carpet-weaving workshop
Tunnel through the famous underground city of Kaymakli where ancient Christians took refuge for centuries
Journey to the capital of Ankara and visit the impressive Museum of Anatolian Civilizations
The knowledge and recommendations of an expert travel director throughout your journey
Comfortable air-conditioned transportation throughout
Return private airport transfers
Tips, taxes and seamless baggage handling
All sightseeing and entrance fees per itinerary
11 Days from
Valued up to US$3,614
Sold out
Inclusion highlights:
Inclusions valid for one person (solo traveller)
10 nights of five-star accommodation — including three nights at the luxurious Hilton Istanbul Bosphorus in the heart of Istanbul
Daily breakfast and nine authentic dinners
Discover the historic beauty of Hagia Sophia with a guided tour
Explore Istanbul's enchanting Old Town and admire mesmerising sites including the Blue Mosque, Hagia Sophia and the mysterious Basilica Cistern
Enjoy a once-in-a-lifetime cruise along the glittering Bosphorus — an impressive waterway that divides Europe from Asia
Pay your respects to the fallen Turkish and Australian soldiers at Gallipoli and visit Anzac Cove, Lone Pine, Chunuk Bair and more
Take a picturesque ferry ride from Eceabat to Çanakkale
Visit the ancient city of Troy with its iconic Trojan Horse and witness the ruins of this once glorious city
Discover the healing waters and ruins of Pergamon's Asklepion Medical Centre
Stroll through the UNESCO World Heritage-listed ancient city of Ephesus
Head into the hills to see Virgin Mary's house in the mountains – where she is believed to have lived her final days
Enjoy an afternoon of culinary discovery at a countryside restaurant famously known for delicious gözleme
Sink into the mineral-rich depths of the UNESCO World Heritage-listed Pamukkale hot springs
Delve into history at the ancient city of Hierapolis and visit Konya, home of the famous whirling dervishes
Explore the stunning caves and fairy-chimneys of other-worldly Cappadocia, one of the most iconic sites in Turkey
Learn all about pottery-making with an interactive workshop at Avanos, famous for its top-quality clay
Discover the UNESCO World Heritage-listed Goreme Open-Air Museum and admire the wondrous formations up close
Delve into one of the finest and oldest crafts of Turkey on a visit to a carpet-weaving workshop
Tunnel through the famous underground city of Kaymakli where ancient Christians took refuge for centuries
Journey to the capital of Ankara and visit the impressive Museum of Anatolian Civilizations
The knowledge and recommendations of an expert travel director throughout your journey
Comfortable air-conditioned transportation throughout
Return private airport transfers
Tips, taxes and seamless baggage handling
All sightseeing and entrance fees per itinerary