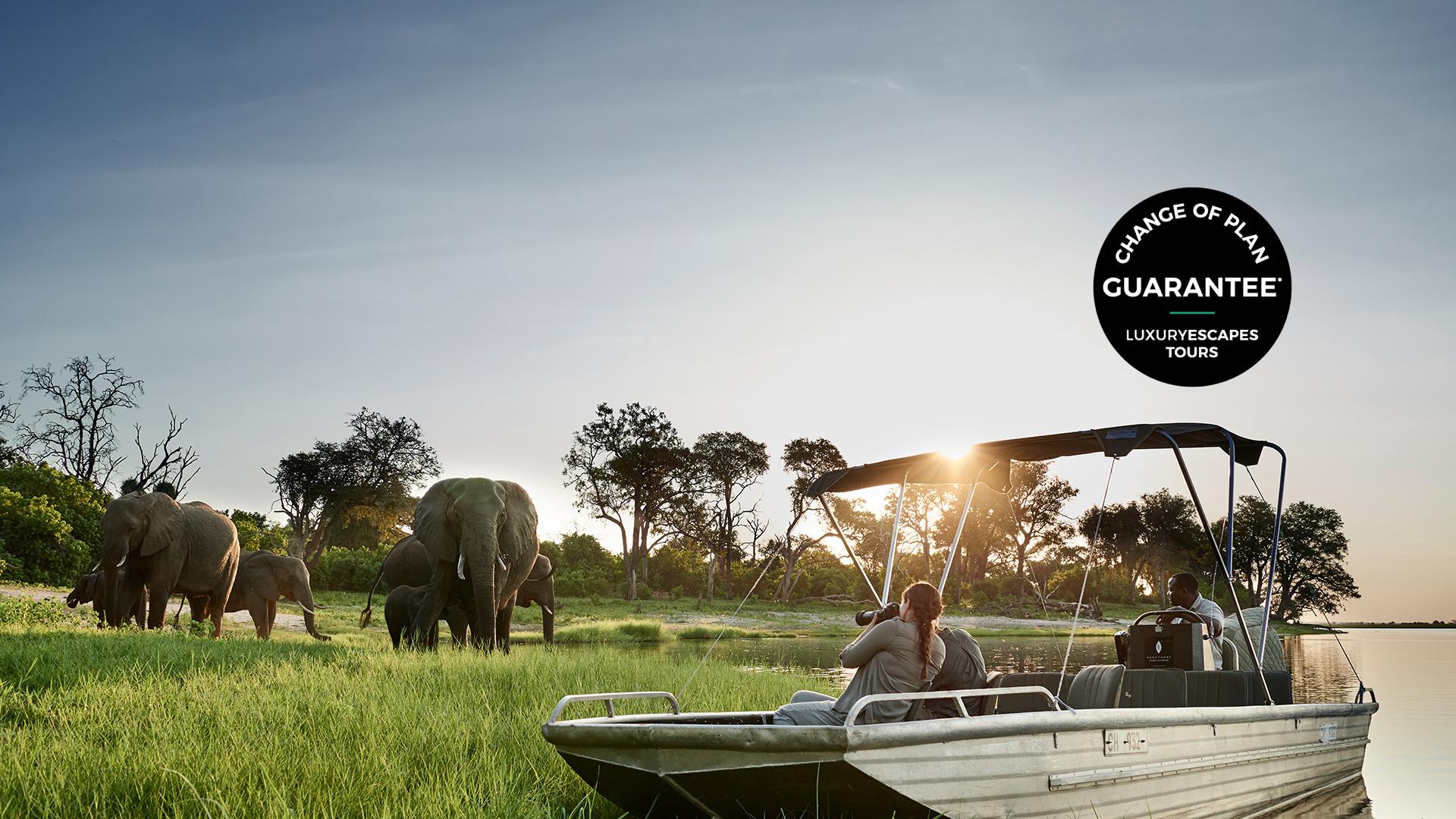 Botswana: 9-Day Luxury Small-Group Safari with All-Inclusive Stays, Victoria Falls Helicopter Flight & Wildlife Encounters
From natural wonders to spectacular wildlife and ancient cultures, discover where it all began on a nine-day luxury small-group safari (max. six travellers). A land where wild creatures roam free and rugged landscapes stretch as far as the eye can see, nowhere else on Earth like Africa. Uncover it all while staying in luxurious, five-star Sanctuary Retreats lodges and camps throughout Zambia and Botswana, sharing your experiences with a small group of like-minded travellers.
Be privy to Africa's daily soap opera of life in the wild on multiple daily scheduled safari activities — including morning and afternoon game drives, walking safaris, and traditional mokoro excursions — rejuvenate the soul through a birds-eye view of the Victoria Falls on a 'Flight of Angels' scenic helicopter experience, relish delectable delicacies under the starry sky and pause to enjoy refreshing sundowner drinks amid breathtaking African landscapes.
Accompanied by expert local, English-speaking naturalist guides, traverse varied landscapes in open 4x4s, cruise peaceful rivers and soar over stunning scenery by included air transfers, all while enjoying gourmet daily breakfast, lunch and dinner, drinks including local wines and spirits, a blissful spa treatment and so much more.
Your tour includes:
Eight nights of luxury accommodation in five-star safari lodges in Livingstone, Chobe National Park and the Okavango Delta
All-inclusive gourmet dining (daily breakfast, lunch and dinner)
Drinks including local wines and spirits at the lodges
Refreshments including morning and afternoon teas plus evening sundowners in the African bush with free-flowing drinks and canapés in Botswana
Multiple daily scheduled safari activities with knowledgeable guides, including morning and afternoon game drives, walking safaris, and seasonal mokoro excursions
Flight of Angels scenic helicopter flight over Victoria Falls at Sanctuary Sussi & Chuma
30-minute Royal Hand & Foot Ceremony spa treatment at Sanctuary Chobe Chilwero
Evening sunset cruise on the Zambezi River with drinks and canapés
Shared scheduled flights from Kasane to Stanley's Camp, Stanley's Camp to Chief's Camp and Chief's Camp to Maun, plus all transfers to and from each camp and airport
Laundry service during your stay at all lodges
All park fees, heritage fee (for 'Tour of the Falls' inclusion) and emergency medical evacuation insurance
Your journey takes you to: Livingstone — Chobe National Park — Stanley's Camp — Chief's Camp — Maun.
Book with confidence: This tour is covered by our Change of Plan Guarantee, which will permit you to alter your travel plans up to 90 days before departure. You can rest easy knowing that should you not be able to travel as a result of Government travel restrictions, even right up to the day of departure Luxury Escapes will assist you with a date change, provide you with a credit or process a refund for your booking less any non-recoverable costs. See below for full terms and conditions.
package Options
9 Days from
Valued up to US$7,811
Sold out
Inclusion highlights:
Packages valid for one person (twin share – you must purchase two packages)
Eight nights of luxury accommodation in five-star safari lodges in Livingstone, Chobe National Park and the Okavango Delta
All-inclusive gourmet dining (daily breakfast, lunch and dinner)
Drinks including local wines and spirits at the lodges
LOW SEASON — SOLO TRAVELLER
9 Days from
Valued up to US$8,161
Sold out
Inclusion highlights:
Packages valid for one person
Eight nights of luxury accommodation in five-star safari lodges in Livingstone, Chobe National Park and the Okavango Delta
All-inclusive gourmet dining (daily breakfast, lunch and dinner)
Drinks including local wines and spirits at the lodges
9 Days from
Valued up to US$9,621
Sold out
Inclusion highlights:
Packages valid for one person (twin share – you must purchase two packages)
Eight nights of luxury accommodation in five-star safari lodges in Livingstone, Chobe National Park and the Okavango Delta
All-inclusive gourmet dining (daily breakfast, lunch and dinner)
Drinks including local wines and spirits at the lodges
HIGH SEASON — SOLO TRAVELLER
9 Days from
Valued up to US$13,699
Sold out
Inclusion highlights:
Packages valid for one person
Eight nights of luxury accommodation in five-star safari lodges in Livingstone, Chobe National Park and the Okavango Delta
All-inclusive gourmet dining (daily breakfast, lunch and dinner)
Drinks including local wines and spirits at the lodges
9 Days from
Valued up to US$13,756
Sold out
Inclusion highlights:
Packages valid for one person (twin share – you must purchase two packages)
Eight nights of luxury accommodation in five-star safari lodges in Livingstone, Chobe National Park and the Okavango Delta
All-inclusive gourmet dining (daily breakfast, lunch and dinner)
Drinks including local wines and spirits at the lodges
PEAK SEASON — SOLO TRAVELLER
9 Days from
Valued up to US$21,304
Sold out
Inclusion highlights:
Packages valid for one person
Eight nights of luxury accommodation in five-star safari lodges in Livingstone, Chobe National Park and the Okavango Delta
All-inclusive gourmet dining (daily breakfast, lunch and dinner)
Drinks including local wines and spirits at the lodges