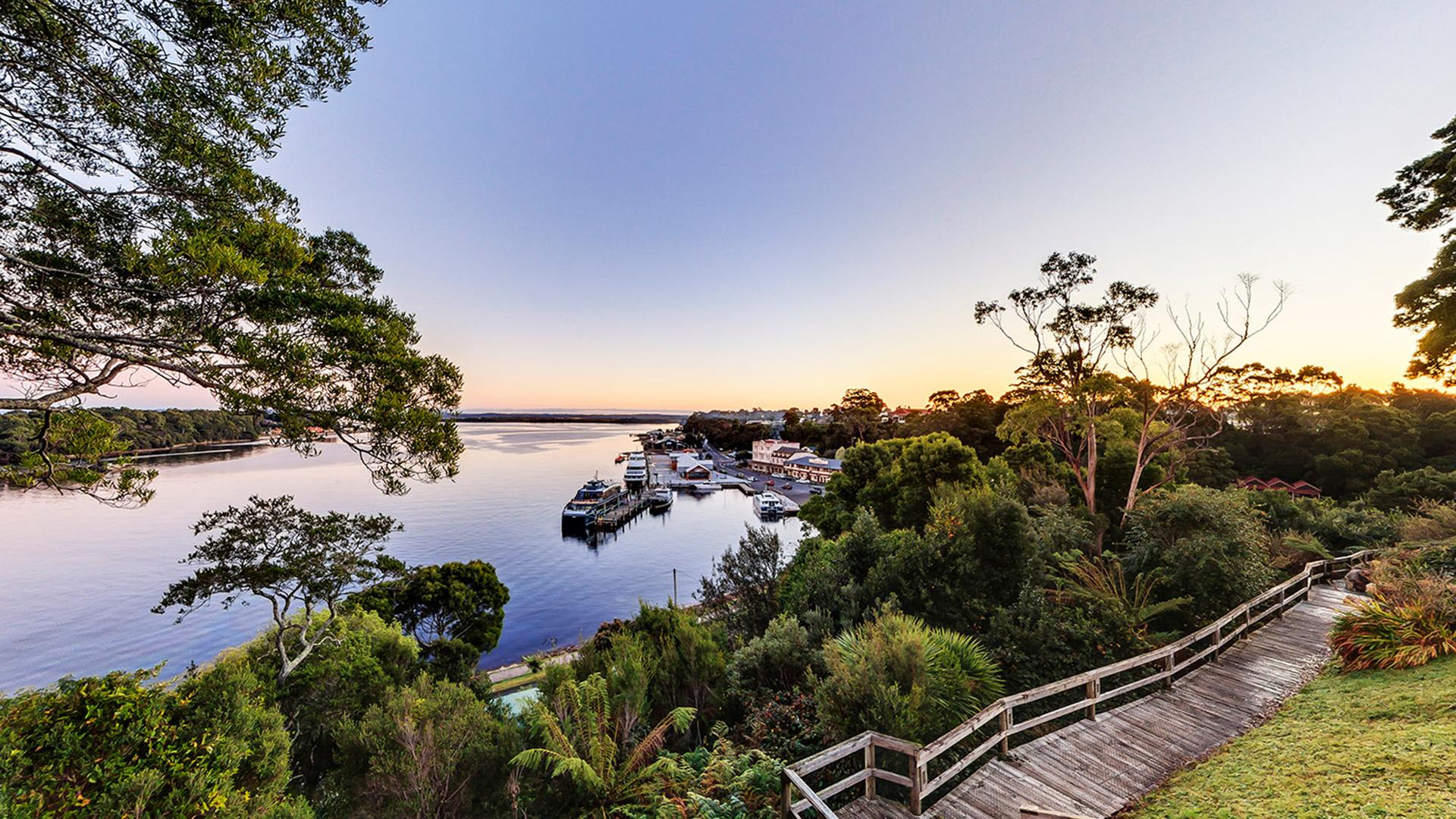 Historic West Coast Waterfront Stay with Luxurious Gordon River Cruise
Travel until
Buy now, choose dates later
Lock it in today, choose dates when you're ready
Incredibly picturesque with historic federation buildings and fishing boats bobbing on the edge of the iconic Macquarie Harbour, and a gateway to the pure and wild scenery of the ancient Gordon River, Hells Gates and Sarah Island — the site of Australia's first penal colony — Strahan is one of Australia's best-kept secrets.
Discover this charming 19th-century village, framed by the UNESCO World Heritage-listed Franklin-Gordon Wild Rivers National Park and the glittering Macquarie Harbour. Soak up the beautiful surrounding scenery with one Gordon River Cruise Main Deck ticket per adult included, plus enjoy a guaranteed upgrade from a Hilltop Standard Room to a Hilltop Harbour View Room in the hotel, with daily breakfast, a bottle of wine on arrival and complimentary 1pm late checkout.
Getting there is easy: Strahan is just a 3.5-hour drive from Launceston Airport or a 4.5-hour drive from Hobart International Airport.
package Options
HISTORIC STRAHAN ESCAPE
Hilltop Executive Harbour View Room and Main Deck Tickets
Inclusion highlights:
Inclusions valid for two adults
Gordon River Cruise: Main Deck ticket per adult with two on-shore guided tours and buffet lunch
Daily breakfast
A welcome bottle of wine in-room on arrival
Guaranteed upgrade to a Hilltop Harbour View Room
Guaranteed 1pm late checkout
SUITE UPGRADE
Village Waterfront Executive Spa Suite and Main Deck Tickets
Inclusion highlights:
Inclusions valid for two adults
Gordon River Cruise: Main Deck ticket per adult with two on-shore guided tours and buffet lunch
Daily breakfast
A welcome bottle of wine in-room on arrival
Guaranteed upgrade to a Village Waterfront Executive Spa Suite
Guaranteed 1pm late checkout
PREMIUM CRUISE UPGRADE
Hilltop Executive Harbour View Room and Premier Upper Deck Tickets
Inclusion highlights:
Inclusions valid for two adults
Gordon River Cruise: Premier Upper Deck upgrade with complimentary wine and beer, a private viewing area, morning and afternoon tea, and a chef-prepared lunch with dessert
Daily breakfast
A welcome bottle of wine in-room on arrival
Guaranteed upgrade to a Hilltop Harbour View Room
Guaranteed 1pm late checkout
VIP SUITE and CRUISE UPGRADE
Village Waterfront Executive Spa Suite and Premier Upper Deck Tickets
Inclusion highlights:
Inclusions valid for two adults
Gordon River Cruise: Premier Upper Deck ticket per adult with complimentary wine and beer, a private viewing area, morning and afternoon tea, and a chef-prepared lunch with dessert
Daily breakfast
A welcome bottle of wine in-room on arrival
Guaranteed upgrade to a Village Waterfront Executive Spa Suite
Guaranteed 1pm late checkout