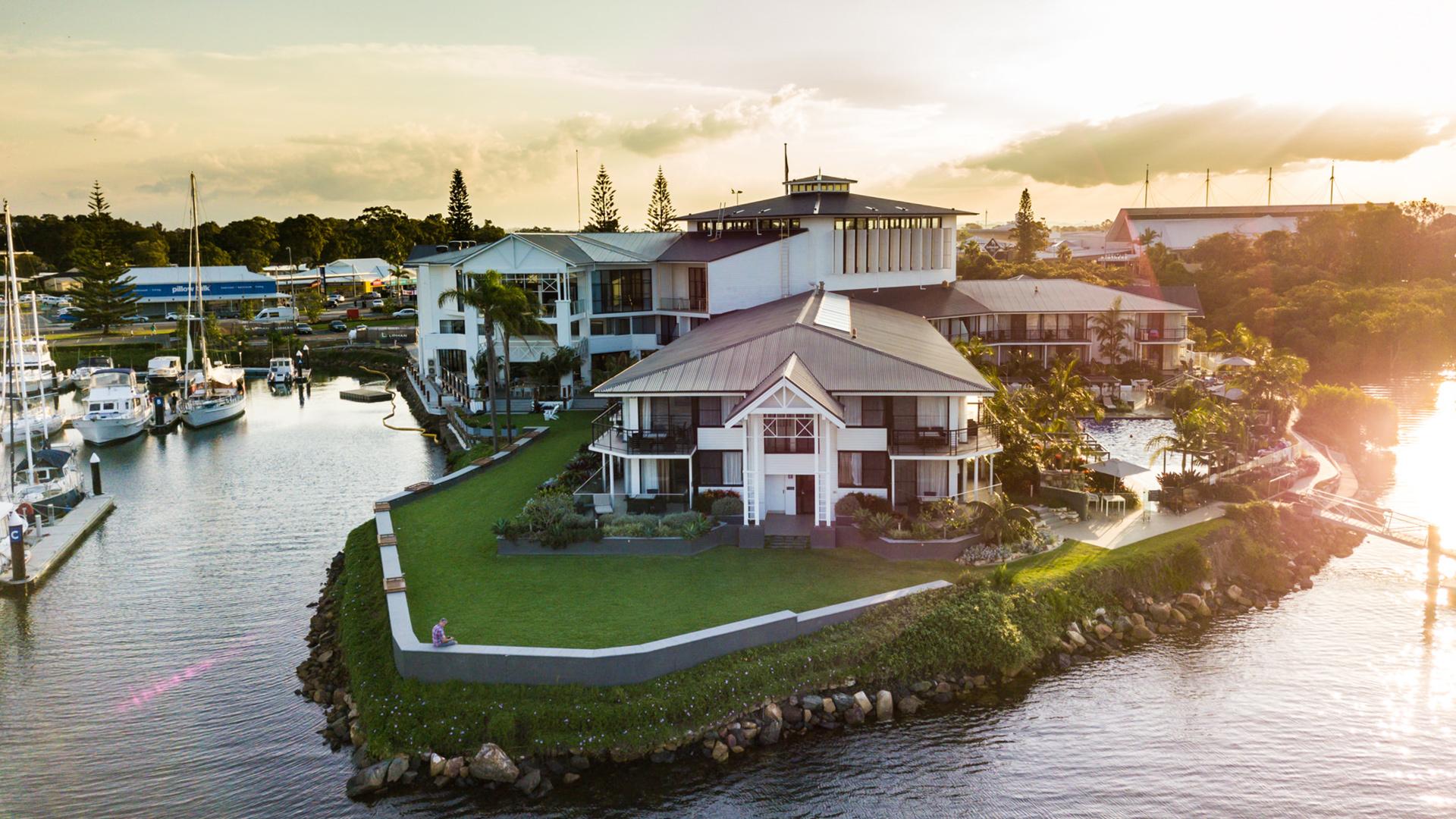 Port Macquarie, New South Wales • view map
Sails Port Macquarie by Rydges
Port Macquarie Top-Rated Waterfront Oasis with Daily Breakfast

Embrace the fresh salty air and seaside beauty of New South Wales' Mid North Coast with a tranquil escape at Sails Port Macquarie by Rydges – an idyllic and recently refurbished destination overlooking the Hastings River, adjacent to Port Macquarie Marina. With glorious beaches, lush hinterland, and a near-perfect climate year-round, Port Macquarie is a firm favourite for couple's breaks and family escapes. Discover a natural paradise frequented by dolphins, whales, koalas and more, and use Sails Port Macquarie by Rydges as a launchpad for adventures near and far.
Unparalleled sophistication, state-of-the-art amenities and outstanding service to match; it's little surprise Sails Port Macquarie by Rydges was awarded a Tripadvisor Travellers' Choice 2021 badge, ranking it among the top 10% of properties worldwide on the review site. Plunge into the crystal-clear, resort-style pool with views overlooking the Hastings River, laze in the shade of a private cabana or stroll down to the renowned Boathouse Bar & Restaurant, where delicious cocktails and expertly prepared meals await.
Your handpicked inclusions:
Start each day with your choice of hot breakfast item at The Boathouse Restaurant & Bar
Enjoy a daily barista-made coffee per person to fuel your adventures
Toast your escape with a bottle of sparkling wine on arrival
Travelling as a family? Check out the Garden View or Water View Suite upgrades for two adults and up to two children (11 and under).
package Options
Select your package type
Superior Standard King Room
Slip into superior comfort in this recently renovated room, featuring a balcony or terrace
Room Size: 23 m²
Inclusion highlights:
Daily hot breakfast item from a selected à la carte menu
Daily barista-made coffee per person
Welcome bottle of sparkling wine
Check-in: 3pm / Checkout: 11am
Inclusions valid for up to two guests
Garden-View King Room
Embrace tropical relaxation with views over landscaped gardens from your private balcony or terrace
Room Size: 23 m²
Inclusion highlights:
Daily hot breakfast item from a selected à la carte menu
Daily barista-made coffee per person
Welcome bottle of sparkling wine
Check-in: 3pm / Checkout: 11am
Inclusions valid for up to two guests
Water-View King Room
Peaceful water views over the Hastings River, marina or pool await from your balcony or terrace in this luxe room
Room Size: 23 m²
Inclusion highlights:
Daily hot breakfast item from a selected à la carte menu
Daily barista-made coffee per person
Welcome bottle of sparkling wine
Check-in: 3pm / Checkout: 11am
Inclusions valid for up to two guests
FAMILY GARDEN-VIEW SUITE UPGRADE
Garden-View Suite
Let relaxation take over in this generously sized suite, featuring views over landscaped gardens from a private balcony or terrace
Room Size: 33 m²
Inclusion highlights:
Daily hot breakfast item from a selected à la carte menu
Daily barista-made coffee per person
Welcome bottle of sparkling wine
Check-in: 3pm / Checkout: 11am
Inclusions valid for up to two adults and two children (11 and under)
FAMILY WATER-VIEW SUITE UPGRADE
Water-View Suite
Sweeping water views over the Hastings River, marina or pool await in this generous suite with lounge area plus private balcony or terrace
Room Size: 33 m²
Inclusion highlights:
Daily hot breakfast item from a selected à la carte menu
Daily barista-made coffee per person
Welcome bottle of sparkling wine
Check-in: 3pm / Checkout: 11am
Inclusions valid for up to two adults and two children (11 and under)
*Price is indicative and based on sample return fares (inclusive of booking fees on Low Cost Carriers). To view live pricing, conduct a full search. Luxury Escapes full Terms and Conditions apply