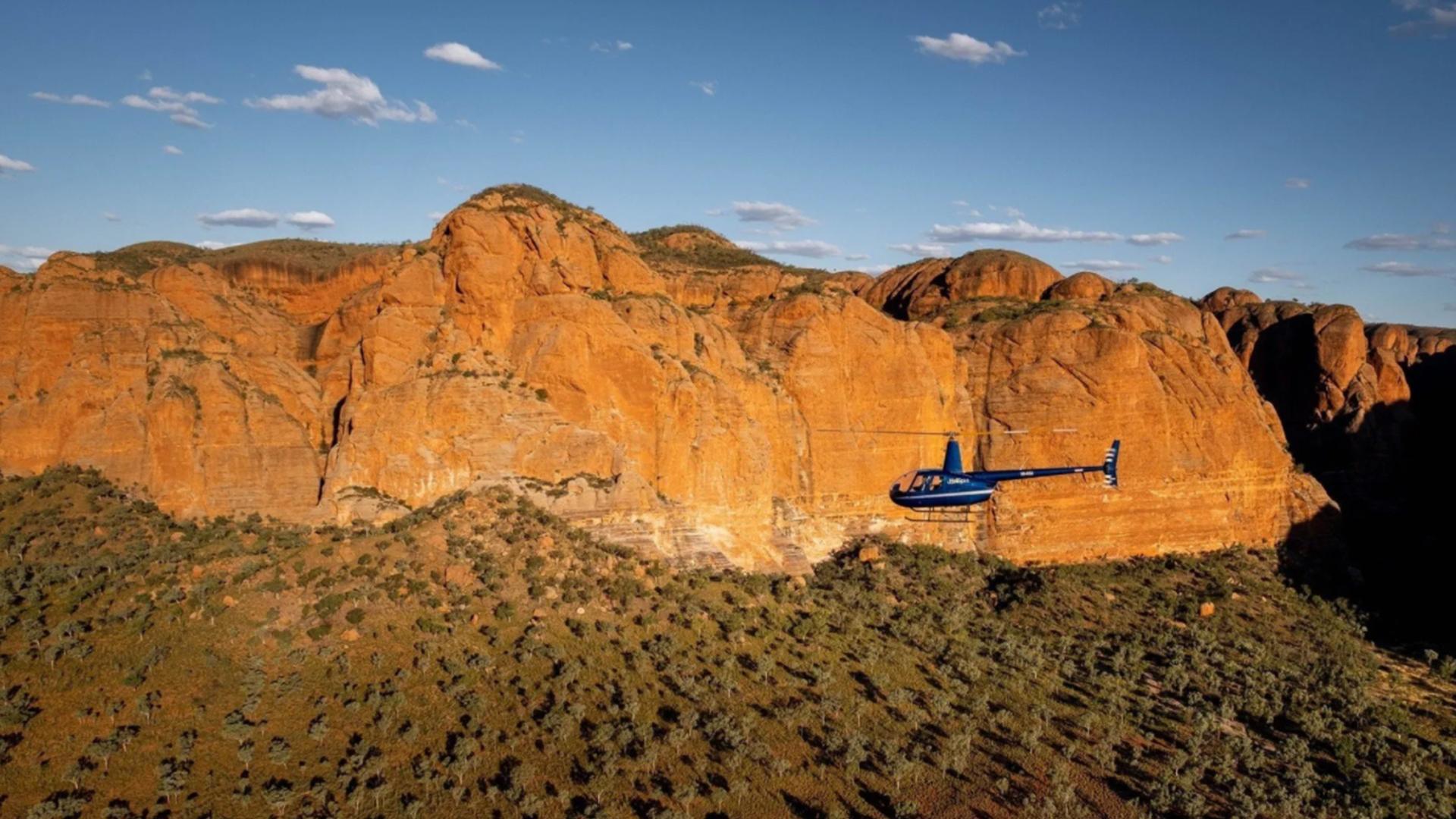 Kimberley 2022: 7-Day Small-Group Tour with Horizontal Falls, El Questro Touring & Scenic Bungle Bungle Helicopter Flight

Tick off those bucket-list Kimberley sights on this immersive and fascinating seven-day small-group Kimberley tour (max. eight travellers) through some of Western Australia's most iconic destinations. Travel from Broome to Kununurra (or reverse for select dates; see the Fine Print for details), stopping along the way for unforgettable experiences at Horizontal Falls, the Bungle Bungle Range and El Questro Wilderness Park.
Zip across the region aboard an air-conditioned private vehicle while enjoying included dining and stays at handpicked accommodation. Spend your days chasing spectacular west coast sunsets, taking a tour of a working pearl farm, hearing Aboriginal Dreamtime tales, visiting authentic outback towns and embarking on a once-in-a-lifetime helicopter flight over Purnululu National Park and the Bungle Bungle Range.
Your tour includes:
Six nights of accommodation – including two nights at Oaks Cable Beach Resort in Broome, a night at Cygnet Bay Pearl Farm and a night at Fitzroy River Lodge
Daily breakfast, five lunches, and six dinners, including an indulgent three-course dinner and authentic outback BBQ
Board a seaplane for the exciting journey to Horizontal Falls where an exhilarating ride across the rapids awaits and a Talbot Bay cruise follows
Learn about Broome's fascinating history on a guided city tour
Learn about the world's largest and most beautiful pearls during a Pearl Farm Tour in Cygnet Bay
You have the best seats in the house to enjoy a spectacular Kimberley sunset on a boat cruise with a glass of bubbly
Learn about Aboriginal Dreamtime stories, history and culture on a tour around Cygnet Bay
Reflect in the shade of the Boab Prison Tree
Discover the significance of the Mimbi Caves on a guided tour through its reef system
Take to the skies with a helicopter flight over the Bungle Bungle Range
Tour El Questro Wilderness Park's natural wonders including Zebedee Springs
The services of an expert local driver-guide
Private transfers in an air-conditioned vehicle
Your journey takes you to: Broome – Horizontal Falls – Cygnet Bay – Derby – Fitzroy Crossing – Halls Creek – Purnululu National Park – El Questro Wilderness Park – Kununurra.
Reverse itinerary available: You might prefer to start your trip in Kununurra and finish in Broome. See Fine Print for dates available.
Private departures available: With private touring available for two and up to eight people, you can embark on the journey of a lifetime on an alternative date or on your own private tour with friends.
Book with 100% Confidence: You can rest easy knowing that should you not be able to travel as a result of Government travel restrictions, even right up to the day of departure, Luxury Escapes will assist you with a date change. We can also provide you with a credit or refund for your booking (less any non-recoverable costs). See below for full terms and conditions.
package Options
KUNUNURRA DEPARTURE – TWIN SHARE
7 Days from
Valued up to US$5,505
Sold out
Inclusion highlights:
Packages valid for one person (twin share) – you MUST purchase TWO packages
Includes private room and bath throughout tour with king or queen bed
Six nights of accommodation – including two nights at Oaks Cable Beach Resort in Broome, a night at Cygnet Bay Pearl Farm and a night at Fitzroy River Lodge
Dining as specified in the itinerary
Board a seaplane for the exciting journey to Horizontal Falls where an exhilarating ride across the rapids awaits
Learn about Broome's fascinating history on a guided city tour
Learn about the world's largest and most beautiful pearls during a Pearl Farm Tour in Cygnet Bay
You have the best seats in the house to enjoy a spectacular Kimberley sunset on a boat cruise with a glass of bubbly
Learn about Aboriginal Dreamtime stories, history and culture on a tour around Cygnet Bay
Reflect in the shade of the Boab Prison Tree
Discover the significance of the Mimbi Caves on a guided tour through its reef system
Take to the skies with a helicopter flight over the Bungle Bungle Range
Tour El Questro Wilderness Park's natural wonders including Zebedee Springs
The services of an expert local driver-guide
Private transfers in an air-conditioned vehicle
BROOME DEPARTURE – TWIN SHARE
7 Days from
Valued up to US$5,505
Sold out
Inclusion highlights:
Packages valid for one person (twin share) – you MUST purchase TWO packages
Includes private room and bath throughout tour with king or queen bed
Six nights of accommodation – including two nights at Oaks Cable Beach Resort in Broome, a night at Cygnet Bay Pearl Farm and a night at Fitzroy River Lodge
Dining as specified in the itinerary
Board a seaplane for the exciting journey to Horizontal Falls where an exhilarating ride across the rapids awaits
Learn about Broome's fascinating history on a guided city tour
Learn about the world's largest and most beautiful pearls during a Pearl Farm Tour in Cygnet Bay
You have the best seats in the house to enjoy a spectacular Kimberley sunset on a boat cruise with a glass of bubbly
Learn about Aboriginal Dreamtime stories, history and culture on a tour around Cygnet Bay
Reflect in the shade of the Boab Prison Tree
Discover the significance of the Mimbi Caves on a guided tour through its reef system
Take to the skies with a helicopter flight over the Bungle Bungle Range
Tour El Questro Wilderness Park's natural wonders including Zebedee Springs
The services of an expert local driver-guide
Private transfers in an air-conditioned vehicle
BROOME DEPARTURE – SOLO TRAVELLER
7 Days from
Valued up to US$6,442
Sold out
Inclusion highlights:
Inclusions valid for one person (solo traveller)
Includes private room and bath throughout tour with king or queen bed
Six nights of accommodation – including two nights at Oaks Cable Beach Resort in Broome, a night at Cygnet Bay Pearl Farm and a night at Fitzroy River Lodge
Dining as specified in the itinerary
Board a seaplane for the exciting journey to Horizontal Falls where an exhilarating ride across the rapids awaits
Learn about Broome's fascinating history on a guided city tour
Learn about the world's largest and most beautiful pearls during a Pearl Farm Tour in Cygnet Bay
You have the best seats in the house to enjoy a spectacular Kimberley sunset on a boat cruise with a glass of bubbly
Learn about Aboriginal Dreamtime stories, history and culture on a tour around Cygnet Bay
Reflect in the shade of the Boab Prison Tree
Discover the significance of the Mimbi Caves on a guided tour through its reef system
Take to the skies with a helicopter flight over the Bungle Bungle Range
Tour El Questro Wilderness Park's natural wonders including Zebedee Springs
The services of an expert local driver-guide
Private transfers in an air-conditioned vehicle
KUNUNURRA DEPARTURE – SOLO TRAVELLER
7 Days from
Valued up to US$6,442
Sold out
Inclusion highlights:
Inclusions valid for one person (solo traveller)
Includes private room and bath throughout tour with king or queen bed
Six nights of accommodation – including two nights at Oaks Cable Beach Resort in Broome, a night at Cygnet Bay Pearl Farm and a night at Fitzroy River Lodge
Dining as specified in the itinerary
Board a seaplane for the exciting journey to Horizontal Falls where an exhilarating ride across the rapids awaits
Learn about Broome's fascinating history on a guided city tour
Learn about the world's largest and most beautiful pearls during a Pearl Farm Tour in Cygnet Bay
You have the best seats in the house to enjoy a spectacular Kimberley sunset on a boat cruise with a glass of bubbly
Learn about Aboriginal Dreamtime stories, history and culture on a tour around Cygnet Bay
Reflect in the shade of the Boab Prison Tree
Discover the significance of the Mimbi Caves on a guided tour through its reef system
Take to the skies with a helicopter flight over the Bungle Bungle Range
Tour El Questro Wilderness Park's natural wonders including Zebedee Springs
The services of an expert local driver-guide
Private transfers in an air-conditioned vehicle