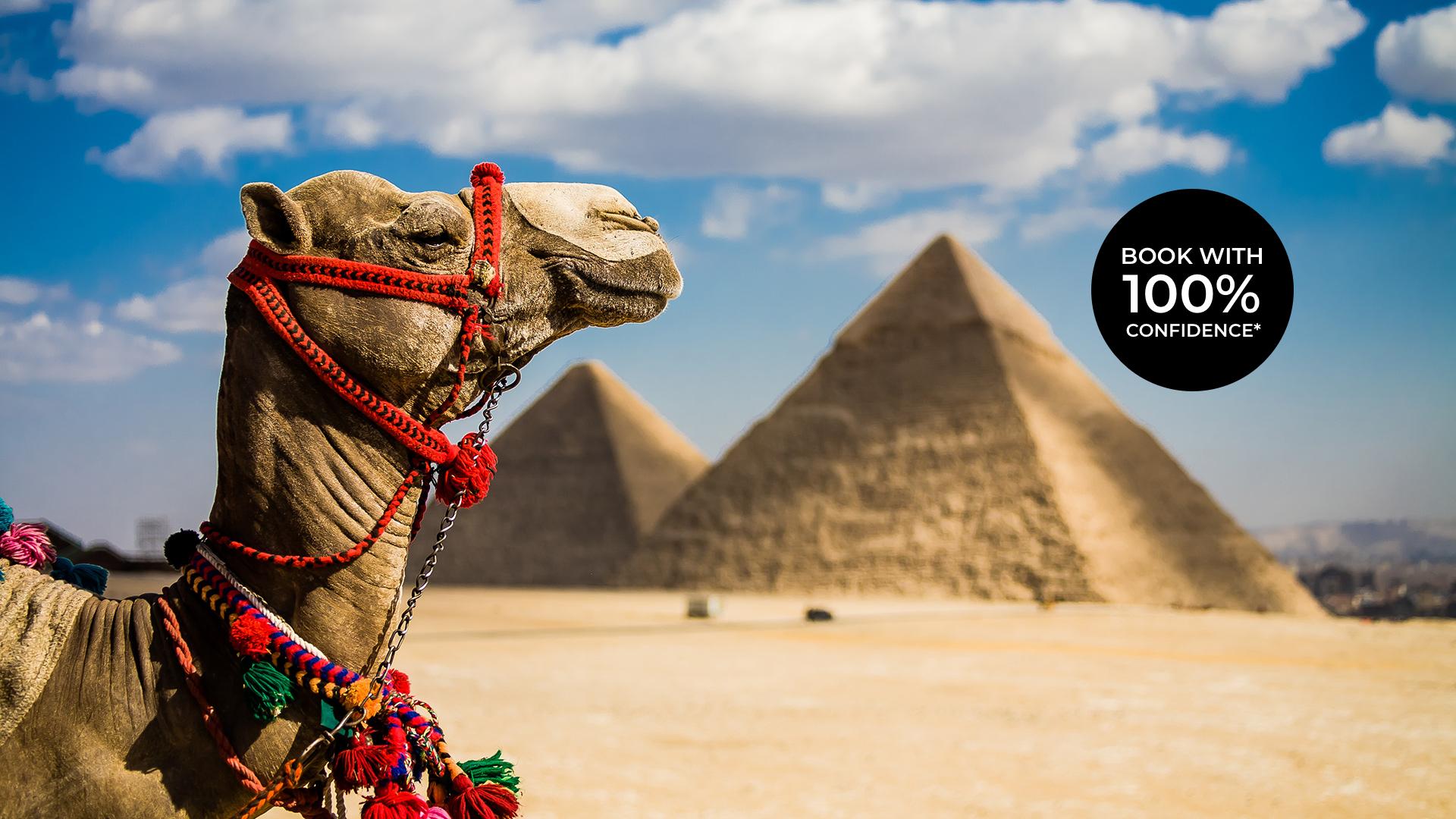 Egypt's Ancient Wonders: 9-Day Luxury Small-Group Tour with Five-Star Nile Cruise, Abu Simbel & Internal Flights

Follow the path of the pharaohs on this nine-day luxury small-group tour (max. 12 travellers) and watch history come to life on this awe-inspiring journey through Egypt.
Accompanied by an expert Egyptologist, uncover tombs preserved by desert sands in the Valley of the Kings, watch the sunset from the deck on a five-star Nile cruise, lose yourself in the colourful chaos of Cairo's Khan-al-Khalili bazaar and marvel at mummies and impressive treasures in The Egyptian Museum. Capture the iconic image of Egypt – the Pyramids of Giza and the Sphinx – rising high above the desert plateau and step back in time on an unforgettable excursion to the UNESCO World Heritage-listed Abu Simbel; two stunning temples carved into the bedrock in impressive detail to honour the rule of Pharaoh Ramesses II.
Experience ancient wonders and modern comforts with eight luxurious nights of accommodation, included economy-class one-way flights between Cairo and Luxor and Aswan and Cairo, the services of an expert local Egyptologist guide, all entrance fees per itinerary, luxury transportation throughout and so much more.
Your tour includes:
Eight luxurious nights of accommodation — including four nights at the five-star Steigenberger Pyramids Cairo Hotel in a Deluxe Pyramids View Room and four nights onboard MS Miriam on a five-star Nile cruise
One-way economy-class flights from Cairo to Luxor and Aswan to Cairo
Daily breakfast, three lunches and seven dinners – including an authentic dining experience along the Nile with live music
The expertise of a local English-speaking Egyptologist guide
Witness the magnificent Pyramids of Giza and the Sphinx
Excursion to the impressive complex of Abu Simbel — a must for history enthusiasts
Uncover centuries of fascinating history with entrance into The Egypt and Luxor Museums
Explore a myriad of impressive sites including Amun, Luxor and Philae Temples
Discover the Valley of The Kings, Temple of Queen Hatshepsut and Colossi of Memnon
Feel the Nile breeze onboard a felucca – an ancient mode of transport
Deluxe air-conditioned transportation with roundtrip airport transfers
All sightseeing and entrance fees per itinerary
Tips at the hotels and restaurants, all taxes and porterage fees
Your journey takes you to: Cairo — Luxor — Nile Cruise — Aswan — Abu Simbel — Cairo.
Book with 100% Confidence: Right up until 60 days before departure you can enjoy unlimited, free date changes, or cancel and get a 100% credit to use at Luxury Escapes for any other Limited Time Lux Exclusive accommodation, tour or cruise offer. Excludes flights, see the Fine Print for details.
Furthermore, if you are unable to travel on your tour as a result of Government travel restrictions, even right up to the day of departure, Luxury Escapes will assist you with a date change. We can also provide you with a credit or refund for your booking (less any non-recoverable costs). See below for full terms and conditions.
package Options
9 Days from
Valued up to US$2,652
Sold out
Inclusion highlights:
Packages valid for one person (twin share) – you MUST purchase TWO packages
Eight luxurious nights of accommodation — including four nights at the five-star Steigenberger Pyramids Cairo Hotel and four nights onboard MS Miriam on a five-star Nile cruise
Includes private room and bath throughout tour with king or queen bed, or two bed options
One-way economy-class flights from Cairo to Luxor and Aswan to Cairo
Daily breakfast, three lunches and seven dinners – including an authentic dining experience along the Nile with live music
The expertise of a local English-speaking Egyptologist guide
Witness the magnificent Pyramids of Giza and the Sphinx
Excursion to the impressive complex of Abu Simbel — a must for history enthusiasts
Uncover centuries of fascinating history with entrance into The Egypt and Luxor Museums
Explore a myriad of impressive sites including Amun, Luxor and Philae Temples
Discover the Valley of The Kings, Temple of Queen Hatshepsut and Colossi of Memnon
Feel the Nile breeze onboard a felucca – an ancient mode of transport
Deluxe air-conditioned transportation with roundtrip airport transfers
All sightseeing and entrance fees per itinerary
Tips at the hotels and restaurants, all taxes and porterage fees
9 Days from
Valued up to US$3,476
Sold out
Inclusion highlights:
Packages valid for one person (solo traveller)
Eight luxurious nights of accommodation — including four nights at the five-star Steigenberger Pyramids Cairo Hotel and four nights onboard MS Miriam on a five-star Nile cruise
Includes private room and bath throughout tour with king or queen bed, or two bed options
One-way economy-class flights from Cairo to Luxor and Aswan to Cairo
Daily breakfast, three lunches and seven dinners – including an authentic dining experience along the Nile with live music
The expertise of a local English-speaking Egyptologist guide
Witness the magnificent Pyramids of Giza and the Sphinx
Excursion to the impressive complex of Abu Simbel — a must for history enthusiasts
Uncover centuries of fascinating history with entrance into The Egypt and Luxor Museums
Explore a myriad of impressive sites including Amun, Luxor and Philae Temples
Discover the Valley of The Kings, Temple of Queen Hatshepsut and Colossi of Memnon
Feel the Nile breeze onboard a felucca – an ancient mode of transport
Deluxe air-conditioned transportation with roundtrip airport transfers
All sightseeing and entrance fees per itinerary
Tips at the hotels and restaurants, all taxes and porterage fees