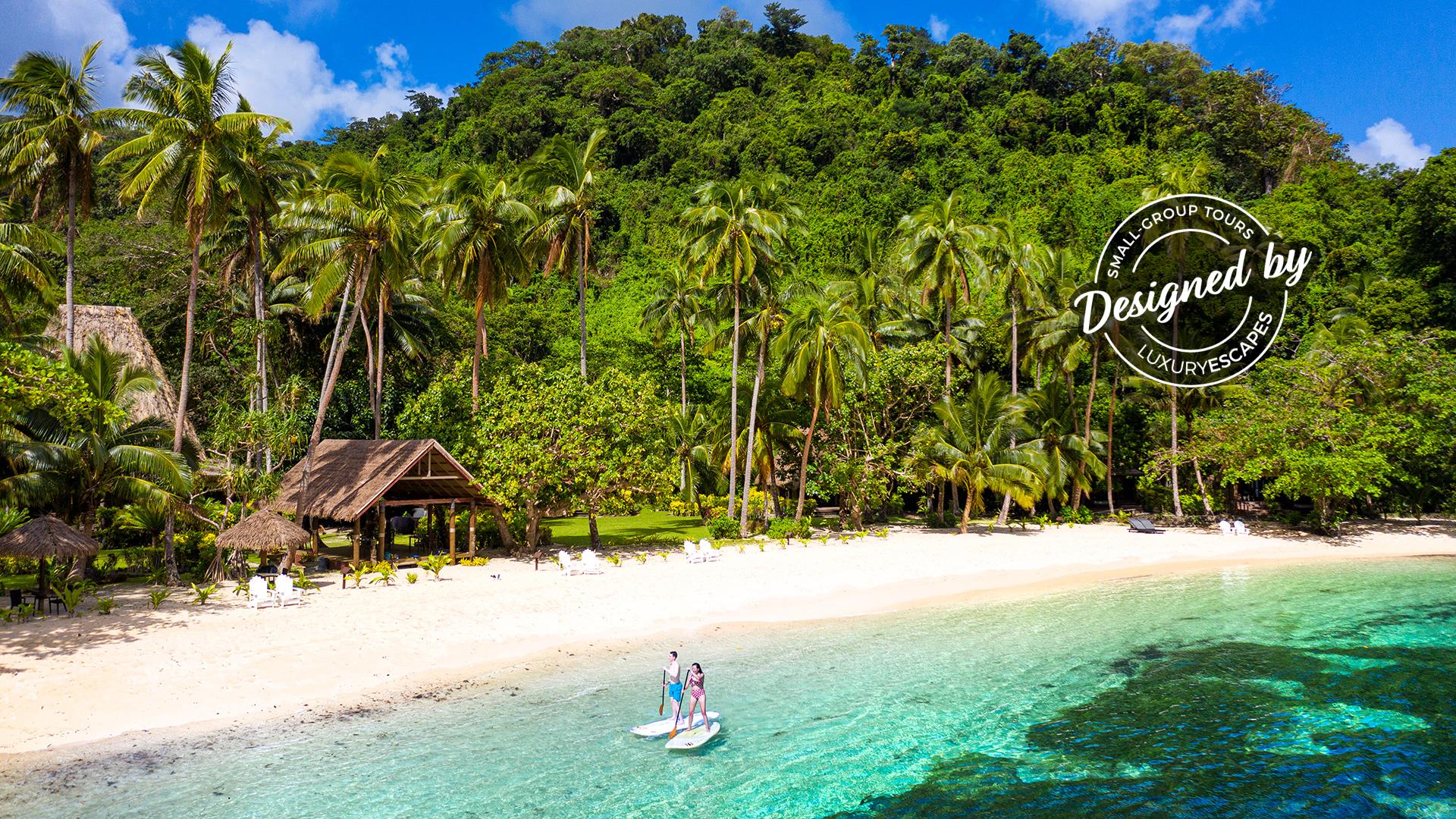 Fiji: 7-Day Luxury Small-Group Island Adventure with Daily Dining, Cultural Experiences & Optional Diving
The vibrant reefs, mesmerising marine life and crystal-clear waters of Fiji are calling. Embark on a unique seven-day small-group tour (max. 14 travellers) with certified and beginner's dive packages and wellness options available. Choose to discover why Fiji is dubbed the 'soft coral capital of the world' — diving into an underwater world boasting over 390 types of flamboyant coral reefs and over 1,200 fish species — or explore Qamea Island and learn the cultural, social and environmental features of the local area. Your exciting adventure includes six nights' accommodation at Qamea Resort and Spa in a Beachfront Bure, daily breakfast and nightly dinner, return airport transfers, complimentary use of water equipment and your choice of one of three personalised packages.
Package one – certified divers: includes eight incredible dives among the marine life of Taveuni Island with a local dive expert. From the world-famous Purple Wall to the magnificent Rainbows End Rainbow Reef, get to know the very best of Fiji's underwater world.
Package two – beginner divers: learn to dive and discover the amazing diversity of Fiji's marine life with a PADI Open Water Course. Split into three parts – Knowledge Development, Confined Water Dives and Open Water Dives – the course includes all theory and practical instruction, dive tables, dive equipment and your PADI Open Water Certification Card.
Package three – wellness: enjoy a relaxing Fiji experience with nature tours and wellness treatments. From guided hikes to a traditional cooking class and blissful massages, this package offers travellers the chance to rejuvenate. Should you wish to incorporate some action, you have the option of one introductory dive course including shore dive.
Your journey takes you to: Taveuni Island – Qamea Island – Taveuni Island.
Book with confidence: If you are unable to travel as a result of Government travel restrictions, Luxury Escapes will assist you with a date change, provide you with a credit or process a refund for your booking less any non-recoverable costs. See Fine Print for details.
package Options
7 Days From
Valued up to US$3,454
Inclusion highlights:
Inclusions valid for one person (twin share) — you must purchase two packages
Six nights of luxe accommodation at Qamea Resort and Spa in a Beachfront Bure
Daily breakfast, nightly two-course dinner and welcome and farewell dinners as specified in the itinerary
Your choice of one of three personalised packages (see below for individual package inclusions)
7 Days From
Valued up to US$3,944
Inclusion highlights:
Inclusions valid for one person (twin share) — you must purchase two packages
Six nights' upgraded accommodation at Qamea Resort and Spa in a Honeymoon Bure
Daily breakfast, nightly two-course dinner and welcome and farewell dinners as specified in the itinerary
Your choice of one of three personalised packages (see below for individual package inclusions)
7 Days From
Valued up to US$5,383
Inclusion highlights:
Inclusions valid for one person (solo traveller)
Six nights of luxe accommodation at Qamea Resort and Spa in a Beachfront Bure
Daily breakfast, nightly two-course dinner and welcome and farewell dinners as specified in the itinerary
Your choice of one of three personalised packages (see below for individual package inclusions)
VIP UPGRADE — SOLO TRAVELLER
7 Days From
Valued up to US$6,380
Inclusion highlights:
Inclusions valid for one person (solo traveller)
Six nights' upgraded accommodation at Qamea Resort and Spa in a Honeymoon Bure
Daily breakfast, nightly two-course dinner and welcome and farewell dinners as specified in the itinerary
Your choice of one of three personalised packages (see below for individual package inclusions)