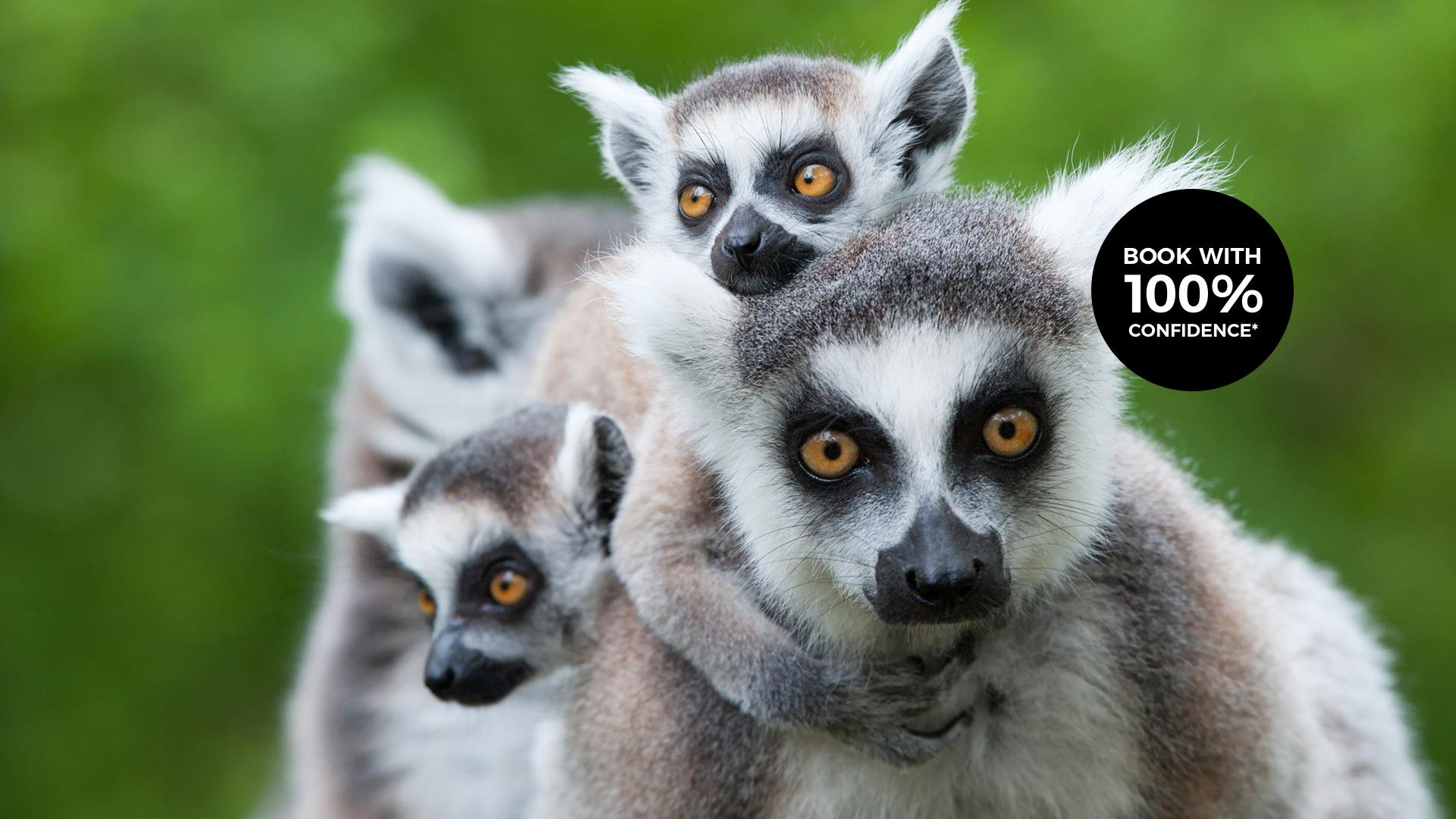 Madagascar 2022 & 2023: 10-Day Small-Group Eco-Tour with Rare Wildlife Viewing, National Parks & Unique Cultural Experiences

Immerse yourself in the colourful and exotic beauty of Madagascar on a 10-day small-group eco-tour (max. 16 travellers). A nature lover's dream, this unique tour offers the chance to spot incredible wildlife in its natural habitat, including lemurs, chameleons and birds. Trek through the rainforest to see pristine flora found nowhere else in the world, discover the biodiversity of three national parks and reserves, see native baobab trees and much more.
Promoting the pillars of eco-tourism, which include employing environmentally friendly practices, protecting both cultural and natural heritage, and supporting local communities, this incredible tour will allow you to discover the biodiversity of Ranomafana National Park, meet the locals of the small village of Ambatolampy and learn how to protect the incredible flora and fauna of this exotic destination. As the world's fourth-biggest island, Madagascar is a haven off the southeast coast of Africa and the ultimate natural paradise
Your tour includes:
Nine nights accommodation in Madagascar's finest properties, including a heritage stay in a 1920s villa in Fianarantsoa and an idyllic stay by Ifaty lagoon
Daily breakfast and nightly dinner, plus select lunches
The services of expert local naturalist guides
Visit three of Madagascar's premier National Parks and Reserves
Go lemur spotting in search of up to 14 different species, including the rare and endangered greater bamboo lemur
See reptiles and birdlife native to Madagascar
Trek rainforests to see unique species of fauna found nowhere else in the world
Experience the culture of the unique Mahafaly tribe
Enjoy a rickshaw ride through the colonial town of Antsirabe
Visit local markets in search of Madagascan handicrafts
An internal flight from Toliara to Antananarivo
Private roundtrip airport transfers and air-conditioned transportation throughout
Your journey takes you to: Antananarivo — Antsirabe — Ambositra — Ranomafana National Park — Fianarantsoa — Anja Community Reserve — Ranohira — Isalo National Park — Ifaty — Antananarivo.
Book with 100% Confidence: Right up until 90 days before departure you can enjoy unlimited, free date changes, or cancel and get a 100% credit to use at Luxury Escapes for any other Limited Time Lux Exclusive accommodation, tour or cruise offer. Excludes flights, see the Fine Print for details.
Furthermore, if you are unable to travel on your tour as a result of Government travel restrictions, even right up to the day of departure, Luxury Escapes will assist you with a date change. We can also provide you with a credit or refund for your booking (less any non-recoverable costs). See below for full terms and conditions.
package Options
10 Days from
Valued up to US$3,267
Inclusion highlights:
Packages valid for one person (twin share) – you MUST purchase TWO packages
Includes private room and bath throughout tour with king or queen bed, or two-bed options
Nine nights accommodation in Madagascar's finest properties, including a heritage stay in a 1920s villa in Fianarantsoa and an idyllic stay by Ifaty lagoon
Daily breakfast and nightly dinner, plus select lunches
The services of expert local naturalist guides
Visit three of Madagascar's premier National Parks and Reserves
Go lemur spotting in search of up to 14 different species, including the rare and endangered greater bamboo lemur
See reptiles and birdlife native to Madagascar
Trek rainforests to see unique species of fauna found nowhere else in the world
Experience the culture of the unique Mahafaly tribe
Enjoy a rickshaw ride through the colonial town of Antsirabe
Visit local markets in search of Madagascan handicrafts
An internal flight from Toliara to Antananarivo
Private roundtrip airport transfers and air-conditioned transportation throughout
10 Days from
Valued up to US$3,451
Inclusion highlights:
Packages valid for one person (twin share) – you MUST purchase TWO packages
Includes private room and bath throughout tour with king or queen bed, or two-bed options
Nine nights accommodation in Madagascar's finest properties, including a heritage stay in a 1920s villa in Fianarantsoa and an idyllic stay by Ifaty lagoon
Daily breakfast and nightly dinner, plus select lunches
The services of expert local naturalist guides
Visit three of Madagascar's premier National Parks and Reserves
Go lemur spotting in search of up to 14 different species, including the rare and endangered greater bamboo lemur
See reptiles and birdlife native to Madagascar
Trek rainforests to see unique species of fauna found nowhere else in the world
Experience the culture of the unique Mahafaly tribe
Enjoy a rickshaw ride through the colonial town of Antsirabe
Visit local markets in search of Madagascan handicrafts
An internal flight from Toliara to Antananarivo
Private roundtrip airport transfers and air-conditioned transportation throughout
SOLO TRAVELLER – LOW SEASON
10 Days from
Valued up to US$4,028
Inclusion highlights:
Inclusions valid for one person (solo traveller)
Includes private room and bath throughout tour with king or queen bed
Nine nights accommodation in Madagascar's finest properties, including a heritage stay in a 1920s villa in Fianarantsoa and an idyllic stay by Ifaty lagoon
Daily breakfast and nightly dinner, plus select lunches
The services of expert local naturalist guides
Visit three of Madagascar's premier National Parks and Reserves
Go lemur spotting in search of up to 14 different species, including the rare and endangered greater bamboo lemur
See reptiles and birdlife native to Madagascar
Trek rainforests to see unique species of fauna found nowhere else in the world
Experience the culture of the unique Mahafaly tribe
Enjoy a rickshaw ride through the colonial town of Antsirabe
Visit local markets in search of Madagascan handicrafts
An internal flight from Toliara to Antananarivo
Private roundtrip airport transfers and air-conditioned transportation throughout
SOLO TRAVELLER – HIGH SEASON
10 Days from
Valued up to US$4,251
Inclusion highlights:
Inclusions valid for one person (solo traveller)
Includes private room and bath throughout tour with king or queen bed
Nine nights accommodation in Madagascar's finest properties, including a heritage stay in a 1920s villa in Fianarantsoa and an idyllic stay by Ifaty lagoon
Daily breakfast and nightly dinner, plus select lunches
The services of expert local naturalist guides
Visit three of Madagascar's premier National Parks and Reserves
Go lemur spotting in search of up to 14 different species, including the rare and endangered greater bamboo lemur
See reptiles and birdlife native to Madagascar
Trek rainforests to see unique species of fauna found nowhere else in the world
Experience the culture of the unique Mahafaly tribe
Enjoy a rickshaw ride through the colonial town of Antsirabe
Visit local markets in search of Madagascan handicrafts
An internal flight from Toliara to Antananarivo
Private roundtrip airport transfers and air-conditioned transportation throughout