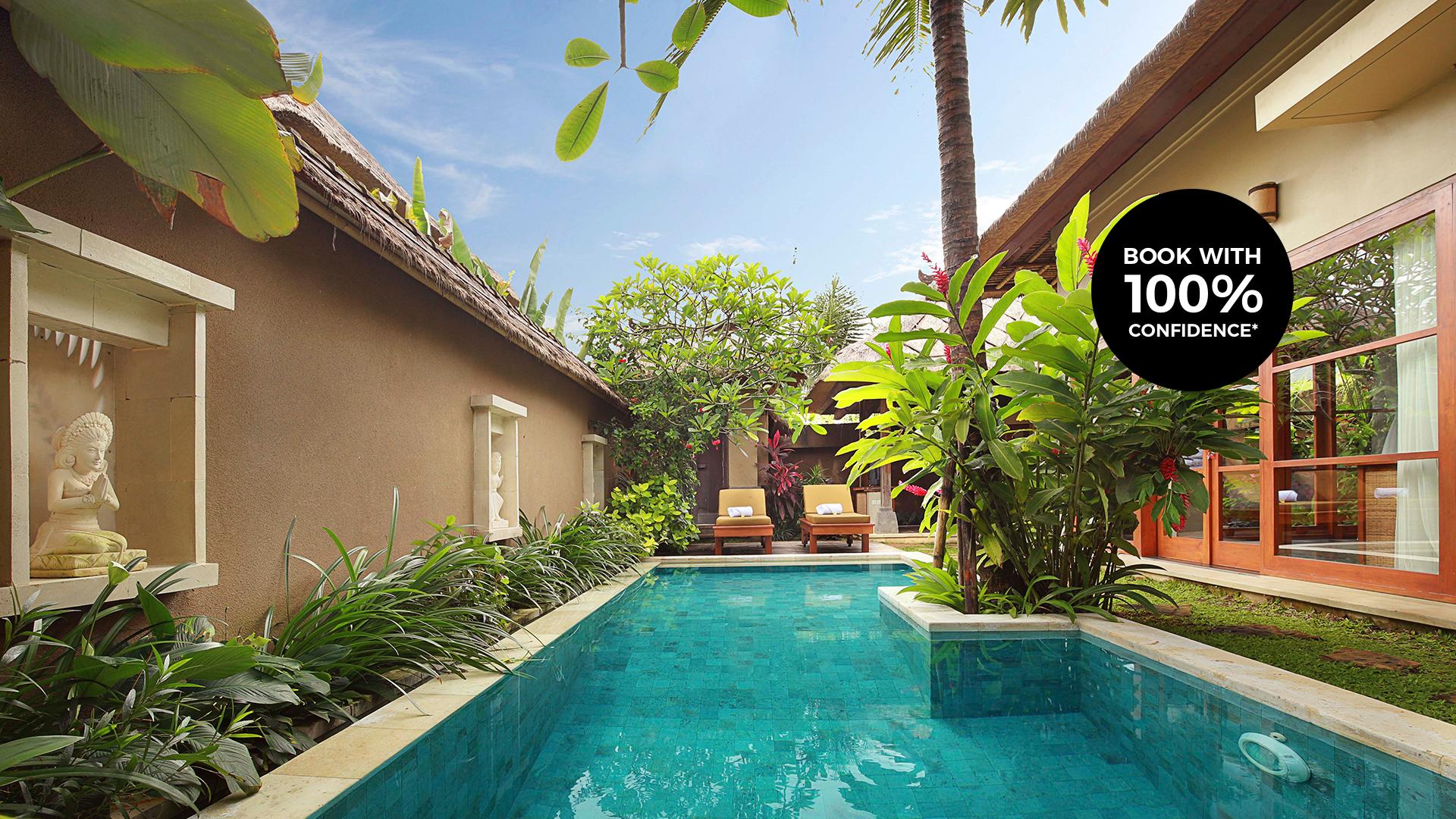 Ubud Nyuh Bali Resort & Spa
Ubud Private Pool Villas with Floating Breakfast, Delicious Dining & Daily Cocktails

Escape to a private pool villa oasis at Ubud Nyuh Bali Resort & Spa, a tranquil wellness oasis in Bali's cultural heartland. Prepare to be nurtured, inspired and reinvigorated amid Ubud's serene jungles and rice paddies. The resort is a stunning mix of traditional and modern design, made up of spacious villas, each with a private pool. The resort's Lumbini Restaurant serves up delicious, nourishing food and herbal detox drinks (as well as mouthwatering handcrafted cocktails... you are on holiday, after all). Treat your mind, body and soul to daily yoga classes, leisurely morning walks to the lush green rice fields and complimentary bicycle hire.
Ubud is the perfect hideaway for soul searching and cultural experiences. Spend a day exploring the endless rice fields, an abundance of healthy cafés and the lush jungle of Ubud with scheduled shuttle transfers around the Ubud area.
Your handpicked inclusions:
Wake up to daily à la carte breakfast at Lumbini Restaurant
Enjoy a one-time upgrade to a decadent floating breakfast in your villa's private pool
Tuck into daily afternoon tea at Lumbini Restaurant
Indulge with a one-time two-course set menu lunch or dinner at Lumbini Restaurant
Toast your escape with a daily handcrafted cocktail per person
Go with the flow with daily morning yoga and rice field walks
Enjoy easy exploration with complimentary use of the resort's bicycles
Feel invigorated with a daily herbal detox drink each
Be welcomed to the resort with a plate of fresh seasonal fruits
Complimentary shuttle service to Ubud centre, as per the resort's schedule
Stay in the moment with 1pm late checkout, subject to availability
Travelling with friends or family? Upgrade to the Two Bedroom Pool Villa for up to four guests.
Book with 100% Confidence: Right up until 14 days before check-in you can enjoy unlimited, free date changes, or cancel and get a 100% credit to use at Luxury Escapes for any other Limited Time Lux Exclusive accommodation, tour or cruise offer. Excludes flights, see the Fine Print for details.
Time limited offer
hotel
3 to 21 nights from
Incl. taxes & fees
Valued up to NT$24,024
package Options
Select your package type
One-Bedroom Deluxe Pool Villa
Relax in a luxuriously spacious villa featuring a private outdoor pool, sunbeds, natural stone bathtub and outdoor shower
Room Size: 240 m²
Inclusion highlights:
Daily à la carte breakfast at Lumbini Restaurant with one-time upgrade to a floating breakfast
Daily afternoon tea at Lumbini Restaurant
One-time two-course set menu lunch or dinner at Lumbini Restaurant
One daily handcrafted cocktail and detox drink per person
Daily morning yoga and rice field walk
Complimentary use of the resort's bicycles
Plate of fresh seasonal fruits on arrival (replenished daily)
Complimentary shuttle service to Ubud centre, as per the resort's schedule
1pm late checkout, subject to availability
Inclusions valid for up to two guests
Hotel
Total from
NT$8,754
Incl. taxes & fees
Valued up to NT$24,024
Two-Bedroom Pool Villa
Featuring two bedrooms, two bathrooms, a large private pool and outdoor kitchen and dining area, this villa is ideal for groups or families
Room Size: 300 m²
Inclusion highlights:
Inclusions valid for up to four guests
Daily à la carte breakfast at Lumbini Restaurant with one-time upgrade to a floating breakfast
Daily afternoon tea at Lumbini Restaurant
One-time two-course set menu lunch or dinner at Lumbini Restaurant
One daily handcrafted cocktail and detox drink per person
Daily morning yoga and rice field walk
Complimentary use of the resort's bicycles
Plate of fresh seasonal fruits on arrival (replenished daily)
Complimentary shuttle service to Ubud centre, as per the resort's schedule
1pm late checkout, subject to availability
Hotel
Total from
NT$15,336
Incl. taxes & fees
Valued up to NT$41,730