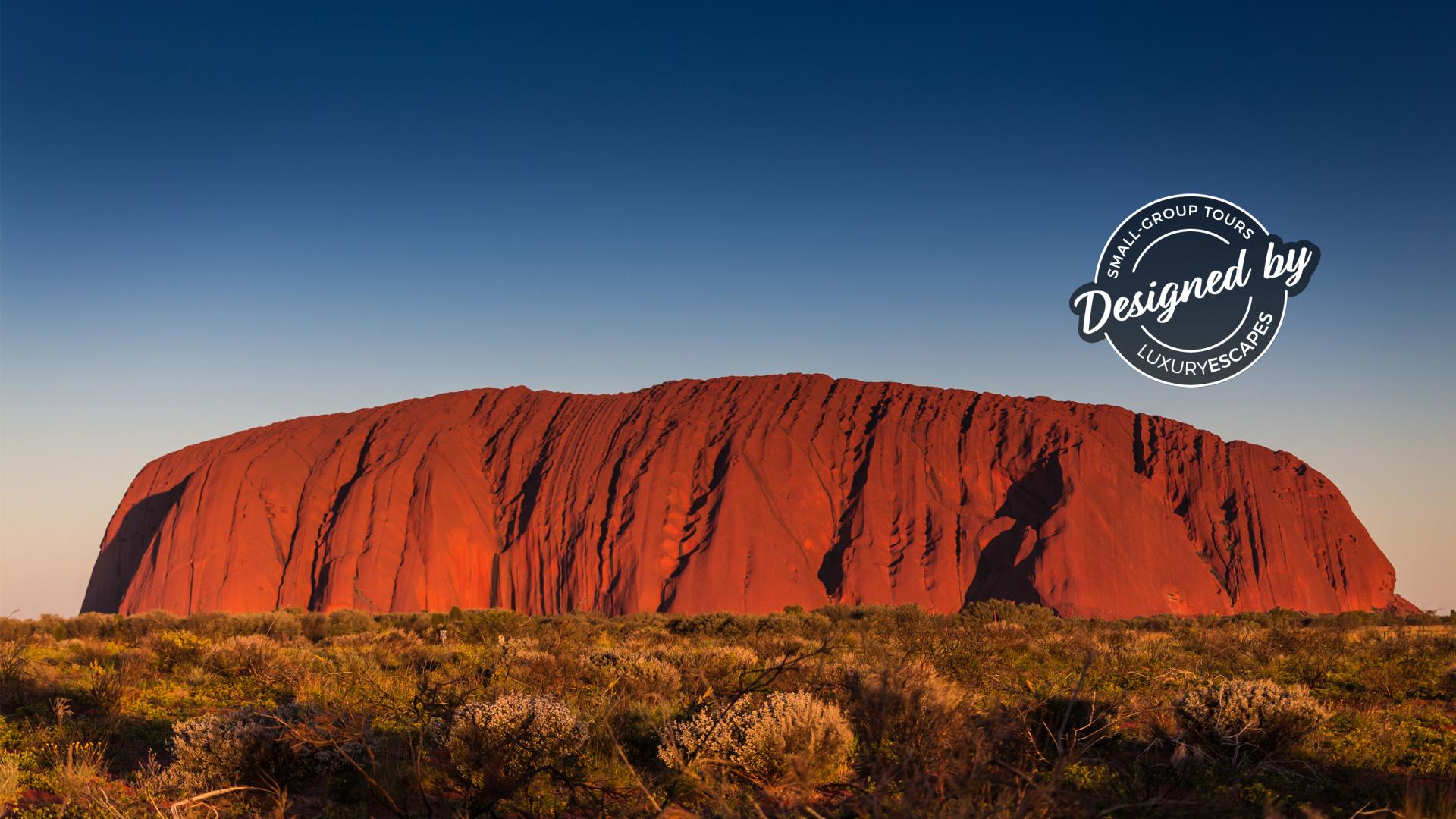 Australia's Sacred Sites 2021: 8-Day Small-Group Tour from Darwin to Uluru with Field of Light and Sounds of Silence Dinner
Unearth the immensity, grandeur and mystery of Australia's sacred sites in the Top End and Australia's Red Centre, a spiritual place where one of the world's oldest cultures still thrives, on this unmissable eight-day luxury small-group tour (max. 16 travellers) from Darwin to Alice Springs, Kings Canyon and Uluru.
Experience something powerful and ancient as you connect with the spiritual land of Uluru-Kata Tjuta, watch the sunrise over Bruce Munro's Field of Light art installation, visit the Indigenous Arnhem Land and marvel at the Kata Tjuta (The Olgas). Dine on the striking red earth with a Sounds of Silence dinner, explore the UNESCO World Heritage-listed Kakadu National Park and hike the Kings Canyon Rim Walk — 440-million-years in the making.
Your outback exploration includes seven nights of handpicked, premium accommodation — including two nights at the iconic, five-star Sails in the Desert, where Uluru serves a striking backdrop — daily breakfast, four lunches and one unmissable Sounds of Silence dining experience in Uluru. Cruise down Yellow Water Billabong in Kakadu, take a Guluyambi Cultural Cruise with an Aboriginal guide, see the Field of Light art installation, and visit Kings Creek and Curtin Springs Station. Your package includes a one-way flight from Darwin to Alice Springs, the services of local insider guides/drivers, incredible experiences and more.
Your journey takes you to: Darwin — Kakadu National Park — Arnhem Land — Darwin — Alice Springs — Kings Canyon — Uluru.
Book with confidence: If you are unable to travel as a result of Government travel restrictions, Luxury Escapes will assist you with a date change, provide you with a credit or process a refund for your booking less any non-recoverable costs. See Fine Print for details.
package Options
8 Days From
Valued up to S$5,678
Inclusion highlights:
Inclusions valid for one person (twin share) — you must purchase TWO packages
Seven nights of handpicked accommodation, including two nights at Vibe Hotel Darwin Waterfront, one night in Kakadu at Mercure Kakadu Crocodile Hotel, one night at DoubleTree by Hilton Alice Springs, one night at Kings Canyon Resort and two nights at the five-star Sails in the Desert
Daily breakfast, four lunches and one unmissable Sounds of Silence gourmet BBQ dinner with champagne and Uluru vistas
One-way economy-class flight from Darwin to Alice Springs
8 Days From
Valued up to S$7,083
Inclusion highlights:
Inclusions valid for one person (twin share) — you must purchase TWO packages
Seven nights of handpicked accommodation, including two nights at Vibe Hotel Darwin Waterfront, one night in Kakadu at Mercure Kakadu Crocodile Hotel, one night at DoubleTree by Hilton Alice Springs, one night at Kings Canyon Resort and two nights at the five-star Sails in the Desert
Daily breakfast, four lunches and one unmissable Sounds of Silence gourmet BBQ dinner with champagne and Uluru vistas
One-way economy-class flight from Darwin to Alice Springs
SOLO TRAVELLER — LOW SEASON
8 Days From
Valued up to S$6,832
Inclusion highlights:
Inclusions valid for one person (solo traveller)
Seven nights of handpicked accommodation, including two nights at Vibe Hotel Darwin Waterfront, one night in Kakadu at Mercure Kakadu Crocodile Hotel, one night at DoubleTree by Hilton Alice Springs, one night at Kings Canyon Resort and two nights at the five-star Sails in the Desert
Daily breakfast, four lunches and one unmissable Sounds of Silence gourmet BBQ dinner with champagne and Uluru vistas
One-way economy-class flight from Darwin to Alice Springs
SOLO TRAVELLER — HIGH SEASON
8 Days From
Valued up to S$8,567
Inclusion highlights:
Inclusions valid for one person (solo traveller)
Seven nights of handpicked accommodation, including two nights at Vibe Hotel Darwin Waterfront, one night in Kakadu at Mercure Kakadu Crocodile Hotel, one night at DoubleTree by Hilton Alice Springs, one night at Kings Canyon Resort and two nights at the five-star Sails in the Desert
Daily breakfast, four lunches and one unmissable Sounds of Silence gourmet BBQ dinner with champagne and Uluru vistas
One-way economy-class flight from Darwin to Alice Springs