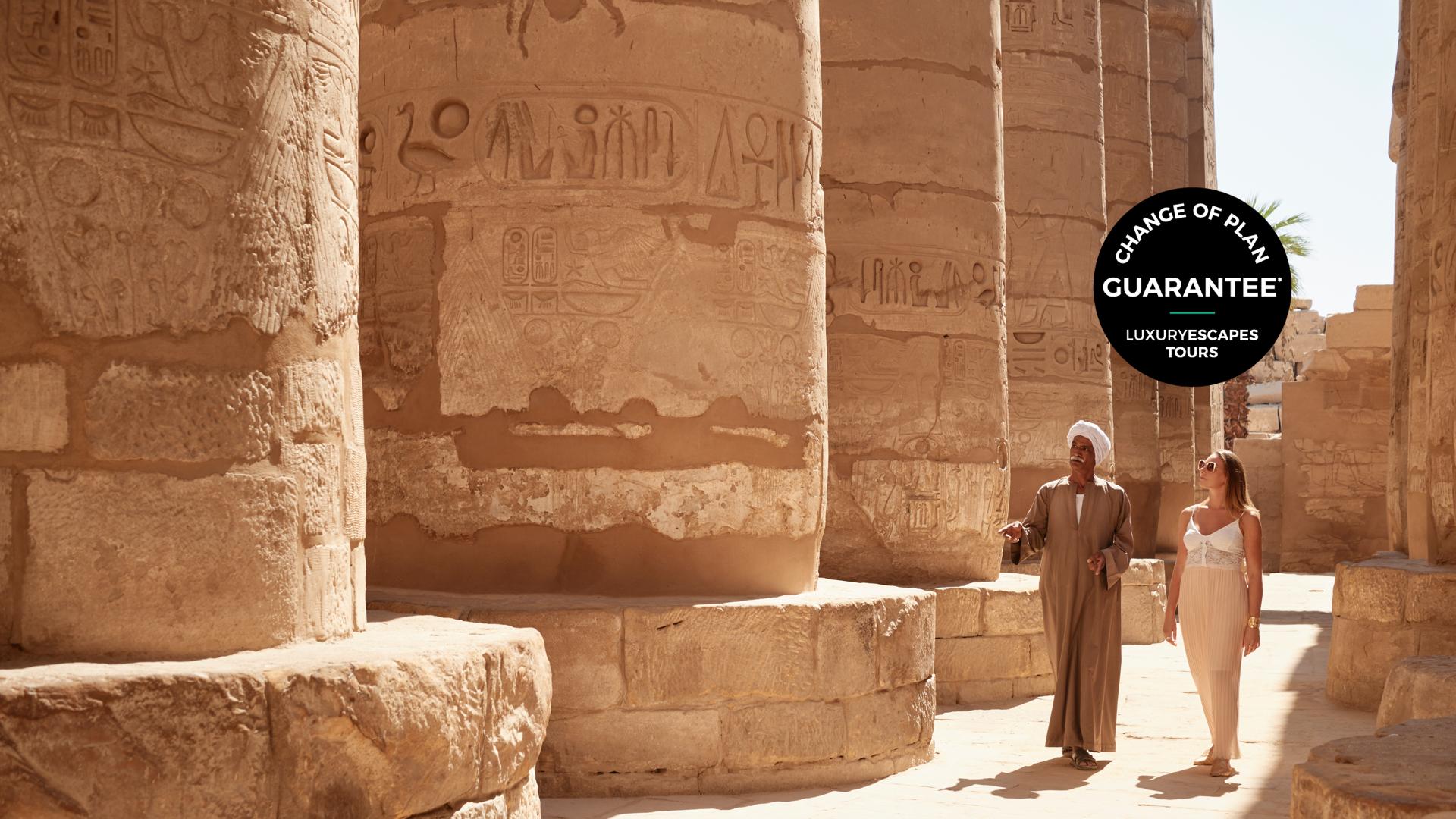 Ancient Egypt: 9-Day Luxury Small-Group Tour with Four Seasons Stay, Nile River Cruise & Egyptologist-Guided Tours
Step back in time to an ancient land of pharaohs and pyramids on this once-in-a-lifetime nine-day, luxury small-group tour and Nile River cruise (max. 16 travellers). Stay in Four Seasons opulence and visit the only remaining Wonder of the Ancient World, the Great Pyramid of Giza, and the astounding Valley of the Kings – home to the tomb of Tutankhamun. Let the vivid colours of Cairo's Grand Bazaar enchant you and relax while sailing up the Nile River, with stops at the Temple of Luxor, UNESCO World Heritage-listed Theban Necropolis burial site, Temple of Edfu and more. Finally, fly to the spectacular Abu Simbel, part of the UNESCO World Heritage-listed Nubian Monuments site.
Includes five-star accommodation at the prestigious Four Seasons Hotel Cairo at The First Residence and Hilton Cairo Heliopolis, a four-night luxury Nile cruise, daily breakfast and a selection of gourmet experiences, all internal flights, private transfers and transportation, a tour of Abu Simbel with return flights, the services of expert local guides, all sightseeing and entrance fees and so much more.
Your tour includes:
Four nights of luxury accommodation in Egypt's best five-star hotels, including three nights at Four Seasons Hotel Cairo at The First Residence and a night at Hilton Cairo Heliopolis with Executive Lounge access
Four-night luxury Nile cruise aboard the boutique M.S. Mayflower or an opulent Sanctuary Nile boat, offering an intimate luxury cruising experience
All-inclusive dining and onboard entertainment throughout your cruise
Guided sightseeing with an expert local Egyptologist guide in Cairo and shared guide on board the Nile cruise and from Abu Simble
Daily breakfast and a selection of additional meals as noted in the itinerary, including a welcome dinner at Four Seasons Hotel Cairo at The First Residence
All internal flights – including Cairo to Luxor, Aswan to Abu Simbel and back to Cairo
Visit the awe-inspiring Giza pyramid complex – one of the last remaining Seven Wonders of the Ancient World – and surrounding pyramids
Experience the UNESCO World Heritage-listed Valley of the Kings in Luxor including entrance to Tutankhamun's tomb
Explore Khan El-Khalili Bazaar, also known as Cairo's Grand Bazaar
Visit the Temple of Kom Ombo, built 180-47 BC
Cruise the Aswan islands in a traditional felucca
Fly to Abu Simbel to discover the UNESCO World Heritage-listed twin temples
All airport transfers and air-conditioned transport throughout
The services of an expert local, English-speaking guide
All entrance fees and porterage per itinerary
Your journey takes you to: Cairo — Luxor — River Nile — Aswan — Abu Simbel — Cairo.
VIP Upgrade available: Enjoy even more luxury with upgraded accommodation, a once-in-a-lifetime hot air balloon ride over Luxor and an upgrade to Business Class for your internal flights.
Jordan Extension: Why not choose to uncover the Treasures of Jordan after your Egypt tour? Taste your way through the country's diverse heritage, visit the UNESCO World Heritage-listed Petra and Wadi Rum desert, float in the Dead Sea and more. Discover the 8-day tour here.
Book with confidence: This tour is covered by our Change of Plan Guarantee, which will permit you to alter your travel plans up to 90 days before departure. You can rest easy knowing that should you not be able to travel as a result of Government travel restrictions, even right up to the day of departure Luxury Escapes will assist you with a date change, provide you with a credit or process a refund for your booking less any non-recoverable costs. See below for full terms and conditions.
package Options
9 Days from
Valued up to S$6,508
Sold out
Inclusion highlights:
Inclusions valid for one person based on twin share – you must purchase two packages
Four nights of luxury accommodation in Egypt's best five-star hotels, including three nights at Four Seasons Hotel Cairo at The First Residence and a night at Hilton Cairo Heliopolis with Executive Lounge access
Four-night luxury Nile cruise aboard the boutique M.S. Mayflower or an opulent Sanctuary Nile boat, offering an intimate luxury cruising experience
All-inclusive dining and onboard entertainment throughout your cruise
9 Days from
Valued up to S$7,158
Sold out
Inclusion highlights:
Inclusions valid for one person based on twin share – you must purchase two packages
Four nights of luxury accommodation in Egypt's best five-star hotels, including three nights at Four Seasons Hotel Cairo at The First Residence and a night at Hilton Cairo Heliopolis with Executive Lounge access
Four-night luxury Nile cruise aboard the boutique M.S. Mayflower or an opulent Sanctuary Nile boat, offering an intimate luxury cruising experience
All-inclusive dining and onboard entertainment throughout your cruise
SOLO TRAVELLER (LOW SEASON)
9 Days from
Valued up to S$11,159
Sold out
Inclusion highlights:
Inclusions valid for one person
Four nights of luxury accommodation in Egypt's best five-star hotels, including three nights at Four Seasons Hotel Cairo at The First Residence and a night at Hilton Cairo Heliopolis with Executive Lounge access
Four-night luxury Nile cruise aboard the boutique M.S. Mayflower or an opulent Sanctuary Nile boat, offering an intimate luxury cruising experience
All-inclusive dining and onboard entertainment throughout your cruise
SOLO TRAVELLER (HIGH SEASON)
9 Days from
Valued up to S$12,319
Sold out
Inclusion highlights:
Inclusions valid for one person
Four nights of luxury accommodation in Egypt's best five-star hotels, including three nights at Four Seasons Hotel Cairo at The First Residence and a night at Hilton Cairo Heliopolis with Executive Lounge access
Four-night luxury Nile cruise aboard the boutique M.S. Mayflower or an opulent Sanctuary Nile boat, offering an intimate luxury cruising experience
All-inclusive dining and onboard entertainment throughout your cruise
VIP UPGRADE –TWIN SHARE (LOW SEASON)
9 Days from
Valued up to S$9,483
Sold out
Inclusion highlights:
Inclusions valid for one person based on twin share – you must purchase two packages
Four nights of upgraded luxury accommodation in Egypt's best five-star hotels, including three nights at Four Seasons Hotel Cairo at The First Residence in a One-Bedroom Executive Suite and a night at Hilton Cairo Heliopolis in a One-Bedroom Suite with Executive Lounge access
Upgraded four-night luxury Nile cruise aboard the boutique M.S. Mayflower (Deluxe Cabin with Veranda), offering an intimate luxury cruising experience
Luxury hot air balloon ride over Luxor, the world's greatest open-air museum, including roundtrip transportation and live tour commentary
VIP UPGRADE –TWIN SHARE (HIGH SEASON)
9 Days from
Valued up to S$10,431
Sold out
Inclusion highlights:
Inclusions valid for one person based on twin share – you must purchase two packages
Four nights of upgraded luxury accommodation in Egypt's best five-star hotels, including three nights at Four Seasons Hotel Cairo at The First Residence in a One-Bedroom Executive Suite and a night at Hilton Cairo Heliopolis in a One-Bedroom Suite with Executive Lounge access
Upgraded four-night luxury Nile cruise aboard the boutique M.S. Mayflower (Deluxe Cabin with Veranda), offering an intimate luxury cruising experience
Luxury hot air balloon ride over Luxor, the world's greatest open-air museum, including roundtrip transportation and live tour commentary
VIP UPGRADE – SOLO TRAVELLER (LOW SEASON)
9 Days from
Valued up to S$16,882
Sold out
Inclusion highlights:
Inclusions valid for one person
Four nights of upgraded luxury accommodation in Egypt's best five-star hotels, including three nights at Four Seasons Hotel Cairo at The First Residence in a One-Bedroom Executive Suite and a night at Hilton Cairo Heliopolis in a One-Bedroom Suite with Executive Lounge access
Upgraded four-night luxury Nile cruise aboard the boutique M.S. Mayflower (Deluxe Cabin with Veranda), offering an intimate luxury cruising experience
Luxury hot air balloon ride over Luxor, the world's greatest open-air museum, including roundtrip transportation and live tour commentary
VIP UPGRADE – SOLO TRAVELLER (HIGH SEASON)
9 Days from
Valued up to S$18,613
Sold out
Inclusion highlights:
Inclusions valid for one person
Four nights of upgraded luxury accommodation in Egypt's best five-star hotels, including three nights at Four Seasons Hotel Cairo at The First Residence in a One-Bedroom Executive Suite and a night at Hilton Cairo Heliopolis in a One-Bedroom Suite with Executive Lounge access
Upgraded four-night luxury Nile cruise aboard the boutique M.S. Mayflower (Deluxe Cabin with Veranda), offering an intimate luxury cruising experience
Luxury hot air balloon ride over Luxor, the world's greatest open-air museum, including roundtrip transportation and live tour commentary