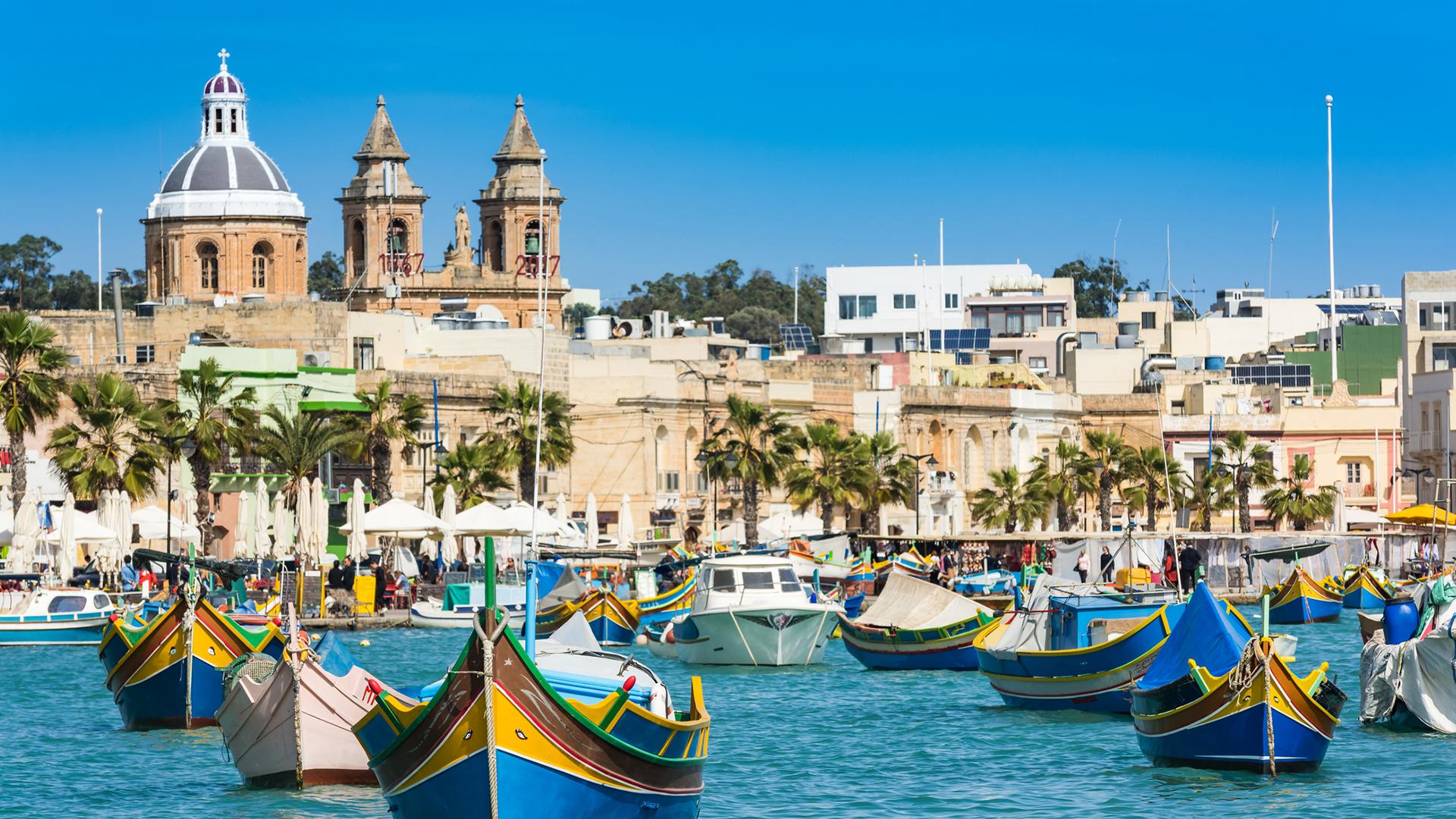 2021 Malta: 7-Day Luxury Small-Group Tour with Private Boat Ride to Vittoriosa & Full-Day Gozo Island Visit
Venture to one of the most alluring archipelagos of the Mediterranean and discover the charms of Malta on a seven-day, luxury small-group tour (max. 16 travellers). Visit Valletta, the striking City of the Knights, marvel at the breathtaking beauty of Gozo Island and the fortified walls of Mdina city, and immerse yourself in Maltese traditions with visits to local markets, an exclusive winery and local restaurants, sampling traditional delicacies along the way.
Includes six nights of five-star accommodation at The Phoenicia Malta – member of the Leading Hotels of the World – daily breakfast and memorable dining experiences, private airport transfers, all transportation, English-speaking expert local guides, sightseeing, entrance fees and so much more.
package Options
Inclusion highlights:
This package is valid for one person based on twin share – you must purchase two packages
Six nights luxury accommodation at The Phoenicia Malta, a member of the Leading Hotels of the World
Daily breakfast, plus select additional dining experiences
City tour of Malta's capital Valletta with visits to the Upper Barakka gardens, St. John's Cathedral and more
LOW SEASON – SOLO TRAVELLER
Inclusion highlights:
This package is valid for one person
Six nights luxury accommodation at The Phoenicia Malta, a member of the Leading Hotels of the World
Daily breakfast, plus select additional dining experiences
City tour of Malta's capital Valletta with visits to the Upper Barakka gardens, St. John's Cathedral and more
Inclusion highlights:
This package is valid for one person based on twin share – you must purchase two packages
Six nights luxury accommodation at The Phoenicia Malta, a member of the Leading Hotels of the World
Daily breakfast, plus select additional dining experiences
City tour of Malta's capital Valletta with visits to the Upper Barakka gardens, St. John's Cathedral and more
HIGH SEASON – SOLO TRAVELLER
Inclusion highlights:
This package is valid for one person
Six nights luxury accommodation at The Phoenicia Malta, a member of the Leading Hotels of the World
Daily breakfast, plus select additional dining experiences
City tour of Malta's capital Valletta with visits to the Upper Barakka gardens, St. John's Cathedral and more
VIP UPGRADE – LOW SEASON TWIN SHARE
Inclusion highlights:
This package is valid for one person based on twin share – you must purchase two packages
Six nights luxury accommodation in an upgraded Deluxe Harbour View Room at The Phoenicia Malta, a member of the Leading Hotels of the World
Daily breakfast, plus select additional dining experiences
City tour of Malta's capital Valletta with visits to the Upper Barakka gardens, St. John's Cathedral and more
VIP UPGRADE – LOW SEASON SOLO TRAVELLER
Inclusion highlights:
This package is valid for one person
Six nights luxury accommodation in an upgraded Deluxe Harbour View Room at The Phoenicia Malta, a member of the Leading Hotels of the World
Daily breakfast, plus select additional dining experiences
City tour of Malta's capital Valletta with visits to the Upper Barakka gardens, St. John's Cathedral and more
VIP UPGRADE – HIGH SEASON TWIN SHARE
Inclusion highlights:
This package is valid for one person based on twin share – you must purchase two packages
Six nights luxury accommodation in an upgraded Deluxe Harbour View Room at The Phoenicia Malta, a member of the Leading Hotels of the World
Daily breakfast, plus select additional dining experiences
City tour of Malta's capital Valletta with visits to the Upper Barakka gardens, St. John's Cathedral and more
VIP UPGRADE – HIGH SEASON SOLO TRAVELLER
Inclusion highlights:
This package is valid for one person
Six nights luxury accommodation in an upgraded Deluxe Harbour View Room at The Phoenicia Malta, a member of the Leading Hotels of the World
Daily breakfast, plus select additional dining experiences
City tour of Malta's capital Valletta with visits to the Upper Barakka gardens, St. John's Cathedral and more