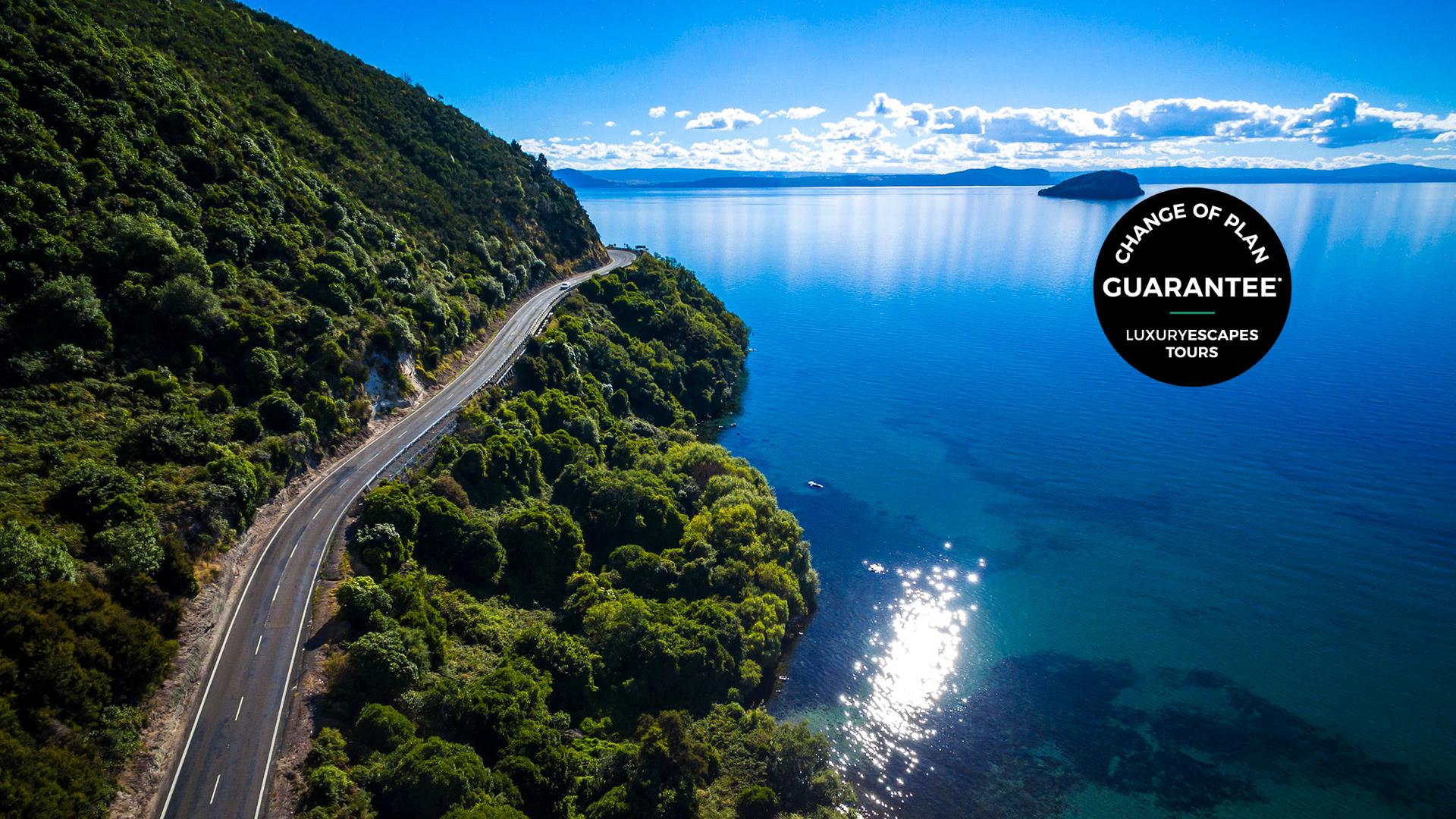 New Zealand's North Island: 7-Day Luxury Self-Drive Tour with Scenic Lake Taupo Helicopter Flight & Gourmet Wine Tour
There's something addictive about New Zealand's north. On the drive from Wellington to Auckland, the stunning landscape ranges from verdant green hills to black-sand beaches to vibrant farmland and vineyards to verdant old-growth bus, but it's worth taking the scenic route for many more reasons than just the scenery.
Experience this majestic stretch of winding coastline on this incredible seven-day self-drive tour with included car hire and handpicked guided experiences, then cosy up with five-star hotel stays — including Sofitel Wellington, the historic McHardy Lodge built in 1890 and River Birches on the Edge of Lake Taupo. Whether you prefer to frolic among the vines and indulge at epicurean eateries or delve deep into underground caverns and soar into the crystal-clear skies, this unique self-drive adventure has something for everyone.
Be treated to the epicurean delights of Wellington with a gourmet walking tour, spoil yourself with a stay among some of New Zealand's oldest vines in Hawke's Bay and a 4WD safari of Cape Kidnappers. Take in a bird's eye view of Lake Taupo during an included helicopter flight, witness the majesty of Huka Falls with a jet boat experience and marvel at the fluorescence of Footwhistle Glowworm Caves, before arriving in Auckland.
Your Self-Drive Tour Includes:
Six nights of handpicked, five-star accommodation, including two nights at the sophisticated Sofitel Wellington, two nights at the exclusive McHardy Lodge in Napier and two nights at the luxurious Birches River Lodge near famous Lake Taupo
Daily breakfast and selected dining experiences, including a three-course progressive dinner at three of Hawke's Bay's top-rated restaurants with paired wine tastings
Five days of all-inclusive, full-size AWD car rental with GPS
Helicopter flight over glittering Lake Taupo, Craters of The Moon, Wairakei geothermal valley and Huka Falls
Scenic 90-minute cruise on Lake Taupo
Thrilling 30-minute Huka Falls jet boat experience
Gourmet providore walking tour of Wellington, including cheese, coffee and chocolate tastings with a two-course lunch and matched New Zealand wines
Private guided tour of Cape Kidnappers, home to world's largest gannet colony, with included refreshments
Private tour of the Footwhistle Glowworm Caves in Waitomo
Room upgrades (subject to availability), complimentary bottle of New Zealand wine, and NZD50 voucher per booking towards resort activities at River Birches Lodge in Lake Taupo
Select private transfers per itinerary
Sightseeing with expert local guides per itinerary
Your journey takes you to: Wellington — Napier — Taupo — Auckland.
Keen to see the South Island? Kick-off your tour with a 7-Day South Island luxury self-drive tour pre-tour.
Book with confidence: Our Change of Plan Guarantee will permit you to alter your booking, no questions asked up to 90 days before departure. Furthermore, if you are unable to travel as a result of Government travel restrictions, Luxury Escapes will assist you with a date change, provide you with a credit or process a refund for your booking less any non-recoverable costs. See Fine Print for details.
package Options
Inclusion highlights:
Package valid for one person (twin-share) — you must purchase TWO packages
Six nights of handpicked, five-star luxury accommodation, including two nights at Sofitel Wellington
Daily breakfast and selected dining experiences, including a Hawke's Bay progressive dinner with paired wine tastings
Helicopter flight over Lake Taupo with a scenic 90-minute lake cruise and Huka Falls jet boat experience
Gourmet providore walking tour of Wellington and a two-course lunch paired with New Zealand wines
Private guided 4WD safari tour of Cape Kidnappers, home to the world's largest gannet colony
Private tour of Footwhistle Glowworm Caves in Waitomo
Room upgrades (subject to availability), complimentary bottle of New Zealand wine, and NZD50 voucher per booking towards resort activities at River Birches Lodge in Lake Taupo
Inclusion highlights:
Package valid for one person (twin-share) — you must purchase TWO packages
Six nights of handpicked, five-star luxury accommodation, including two nights at Sofitel Wellington
Daily breakfast and selected dining experiences, including a Hawke's Bay progressive dinner with paired wine tastings
Five days of all-inclusive, full-size AWD car rental with GPS
Helicopter flight over Lake Taupo with a scenic 90-minute lake cruise and Huka Falls jet boat experience
Gourmet providore walking tour of Wellington and a two-course lunch paired with New Zealand wines
Private guided 4WD safari tour of Cape Kidnappers, home to the world's largest gannet colony
Private tour of Footwhistle Glowworm Caves in Waitomo
Room upgrades (subject to availability), complimentary bottle of New Zealand wine, and NZD50 voucher per booking towards resort activities at River Birches Lodge in Lake Taupo
SOLO TRAVELLER — LOW SEASON
Inclusion highlights:
Package valid for one person (solo traveller)
Six nights of handpicked, five-star luxury accommodation, including two nights at Sofitel Wellington
Daily breakfast and selected dining experiences, including a Hawke's Bay progressive dinner with paired wine tastings in Hawke's Bay
Five days of all-inclusive, full-size AWD car rental with GPS
Helicopter flight over Lake Taupo with a scenic 90-minute lake cruise and Huka Falls jet boat experience
Gourmet providore walking tour of Wellington and a two-course lunch paired with New Zealand wines
Private guided 4WD safari tour of Cape Kidnappers, home to the world's largest gannet colony
Private tour of Footwhistle Glowworm Caves in Waitomo
Room upgrades (subject to availability), complimentary bottle of New Zealand wine, and NZD50 voucher per booking towards resort activities at River Birches Lodge in Lake Taupo
SOLO TRAVELLER — HIGH SEASON
Inclusion highlights:
Package valid for one person (solo traveller)
Six nights of handpicked, five-star luxury accommodation, including two nights at Sofitel Wellington
Daily breakfast and selected dining experiences, including a Hawke's Bay progressive dinner with paired wine tastings
Five days of all-inclusive, full-size AWD car rental with GPS
Helicopter flight over Lake Taupo with a scenic 90-minute lake cruise and Huka Falls jet boat experience
Gourmet providore walking tour of Wellington and a two-course lunch paired with New Zealand wines
Private guided 4WD safari tour of Cape Kidnappers, home to the world's largest gannet colony
Room upgrades (subject to availability), complimentary bottle of New Zealand wine, and NZD50 voucher per booking towards resort activities at River Birches Lodge in Lake Taupo
Private tour of Footwhistle Glowworm Caves in Waitomo